November Sip & See
November 13 @ 5:00 pm

-

7:00 pm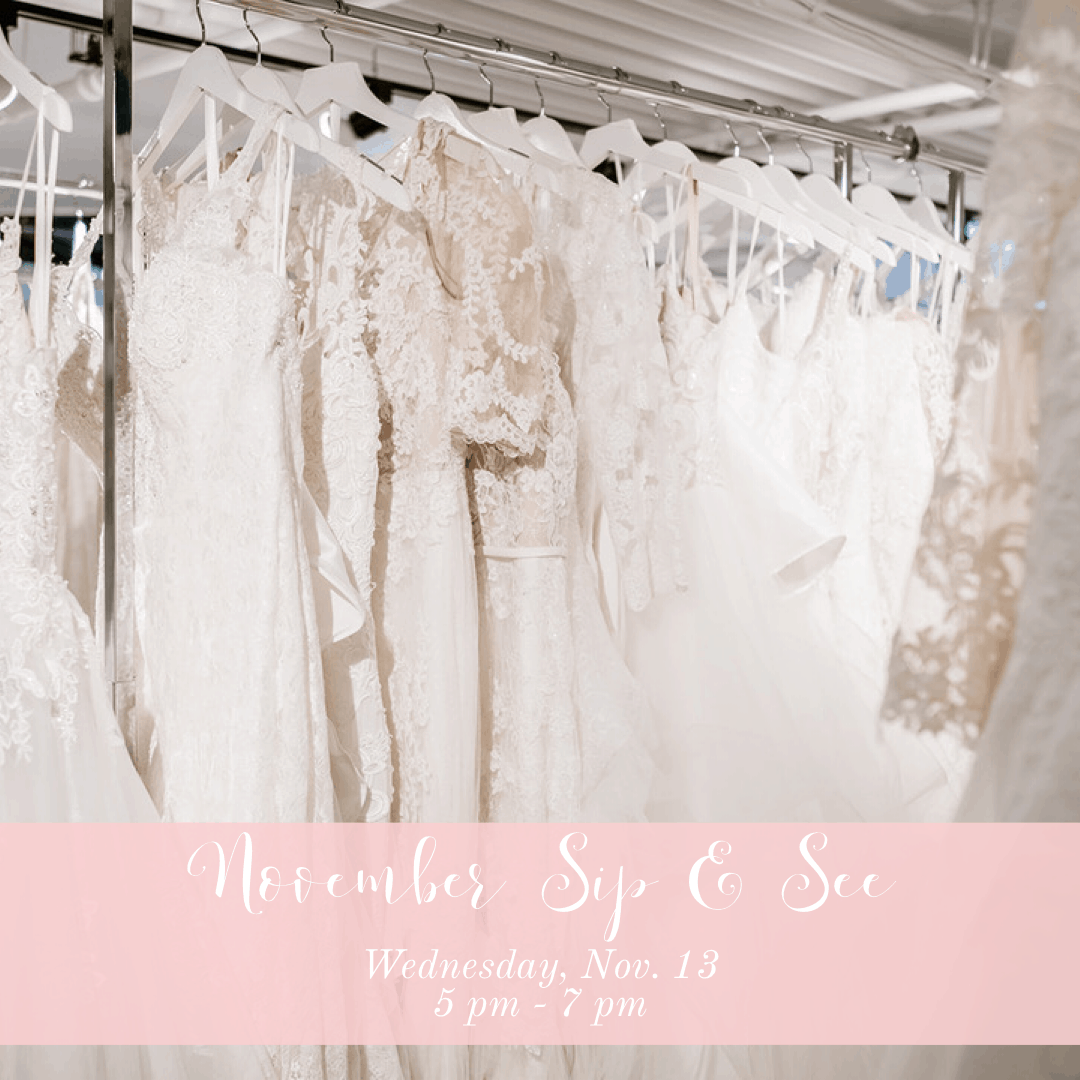 We are SO excited to begin a monthly sip and see event at Savvy Bridal! These events will be held the second Wednesday of each month from 5pm until 8pm. Keep reading for fun details of what to expect!
What is a Sip and See?
A sip and See at Savvy Bridal is an open house of sorts- it's a special evening every month we open our doors after hours for all of our current and future brides, and their friends!
At a sip and see you can come and go any time through the evening to grab a glass of champagne** and a treat after work, relax, and look at gorgeous gowns & accessories! Most months we will also have at least one local vendor there adding to the party- think braid bars, cookie decorating, and unlimited Q&A with a local expert! (Not to mention you'll have the chance to win a raffle item or two from us here at Savvy Bridal!)
Savvy Bridal strives to not be like any other bridal shop- connecting to our brides and our community is super important to us! We would be thrilled and honored to host you at our next monthly Sip and See :
Is it okay to come in if I have not purchased a gown from you?
Absolutely YES!! Lots of current Savvy brides love sip and sees so they can bring in any engaged friends or family members and show them around the shop where they found their dream gown. Gals who have not shopped with us love sip and sees because it gives them an opportunity browse our selection or get ideas before they are ready to come in for a full appointment and purchase a gown. We don't suggest booking a full appointment at Savvy bridal until you are ready to purchase- so this is a perfect opportunity to get the lay of the land before you come in. We are also an appointment only boutique, so this is a great way to avoid having to make an appointment if you are just interested in browsing or "pre-shopping"!
We often have brides who like to "pre-shop" before friends and family come in for an appointment, so this is a great opportunity to do this as well! We will have consultants available to help you slip into a gown or two if you're interested in doing that!
Why do you suggest I hold off on an appointment if I'm not ready to purchase?
There are several different reasons we encourage you only to shop when you are ready to find "the one", and they all center around giving you the best experience possible!
Many brides don't realize that over time, gowns currently in stock may be discontinued, sold in sample sales, or experience a price increase. If you come in to shop without the intention to find a gown, unfortunately it may not be possible for you to still order your dream dress if you wait until weeks or months later! We also have discovered through years of experience that "pre-shopping appointments" sound super fun and glamorous- but in actuality they are not. Most times when a bride comes in with the intention to come back a second time, she ends up finding her dress the first go round! This is deflating because you only have one "first time" getting zipped into your gown and if you are missing your important people or not in a place to purchase it, the end of the appointment is generally all around disappointing.  We want to be sure when you come in to shop with us you can fully embrace your special moments with no hesitations!
We can't wait to see you at our next event! If you have any questions, please don't hesitate to give us a call or send us an email!
-XoXo, Team Savvy