When shopping for wedding shoes, you really can't go wrong with whatever you decide. It's really up to personal preference. Many brides will come shop for their wedding dress with their bridal shoes already chosen. However, if you don't have anything picked out yet, don't worry!
Whichever way you decide to style your dress, our Savvy Bridal consultants are here to help answer any questions and give advice on anything you need to complete your bridal vision! Check out some of our wedding shoe tips below!
They don't HAVE to be white and they don't NEED to have a heel!

Your shoes can be an opportunity to be creative and or comfortable. This can be a way to add a pop of color, touch of sparkle and anything else your heart desires.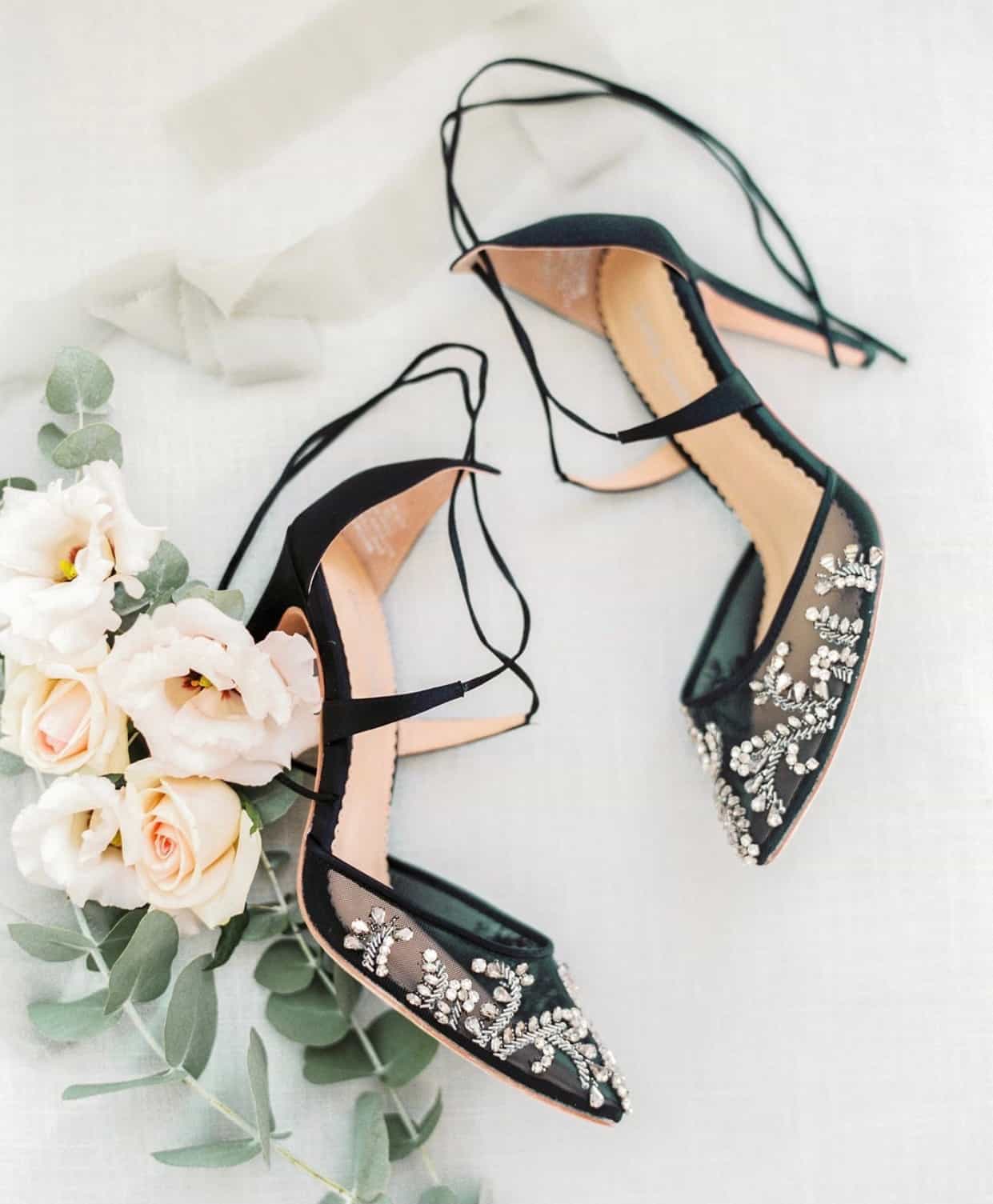 Photo: @elisabethvanlentphotography  | @bridalmusings  + Shoes: @bellabelleshoes Florence, Black Evening Shoes
Say yes to the dress first, then the shoes!

At Savvy Bridal, we always suggest finding your dream dress before the perfect shoes. This is one of the most important and special pieces you'll wear. Keep that as your main focus, and everything else will fall into place.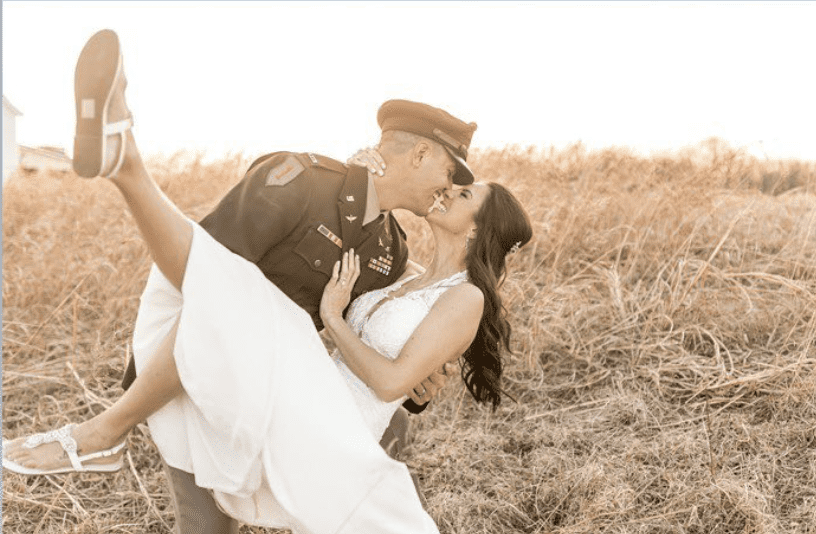 Photo: @nkgimagery
Thicker block heels or smaller kitten heels may be a more comfortable option than a traditional stiletto.

Deciding on heels doesn't exactly mean you're tied to the traditional stiletto style. Brands like Dolce Vita and Marc Fischer have unique designs that have various heel widths and heights.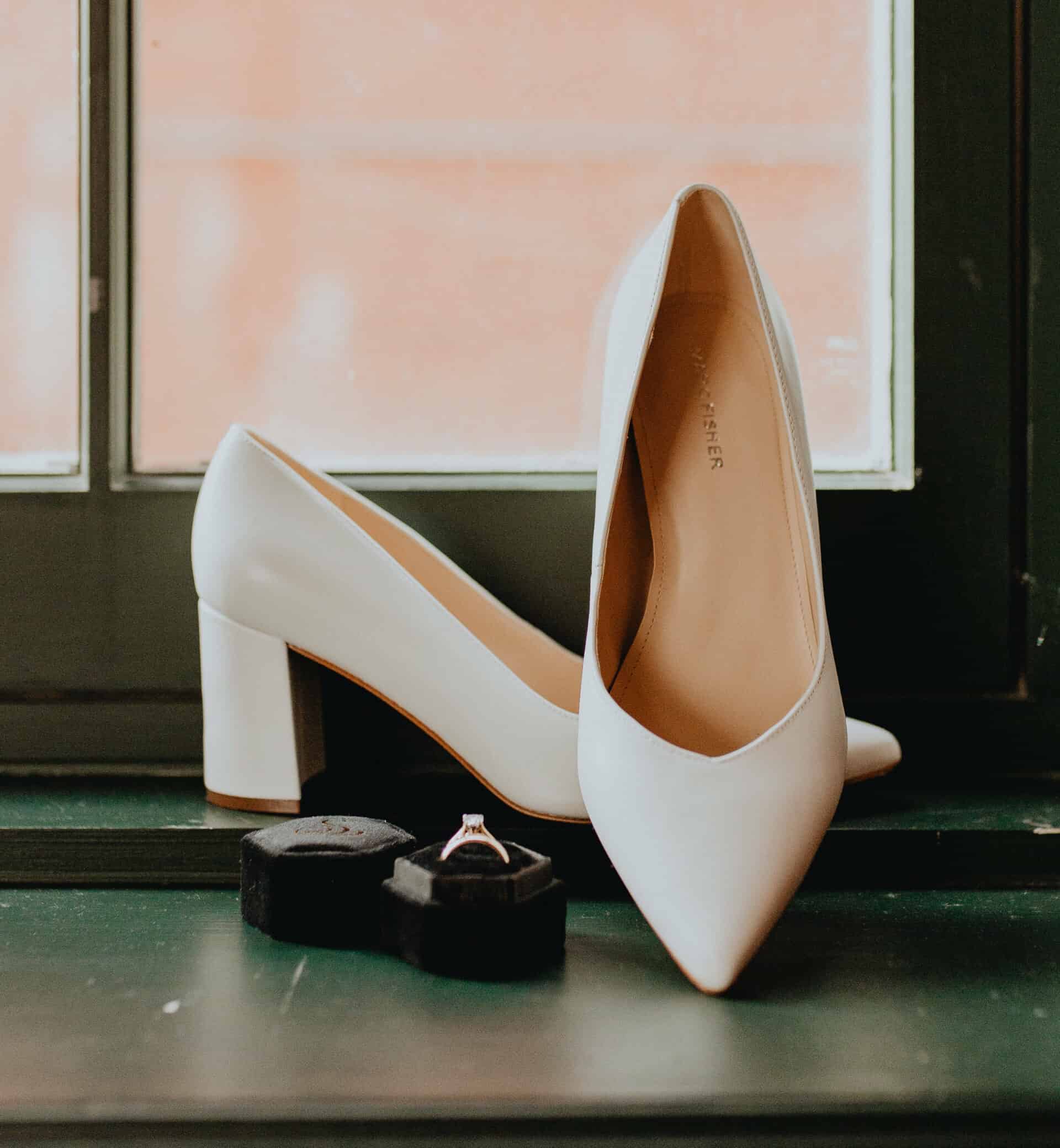 Photo:  @photo__kc | #SavvyBride Grace + Shoes: @marc.fisher Caitlin Pump in Off White
Going with heels? Don't forget to break them in before your wedding day!

Make sure you take a few laps in those new shoes before wearing them on the big day. Practice your aisle walk, and have fun with it – your feet will thank you later! Pro tip: pack an emergency bag of bandaids, and other foot rescue supplies just in case.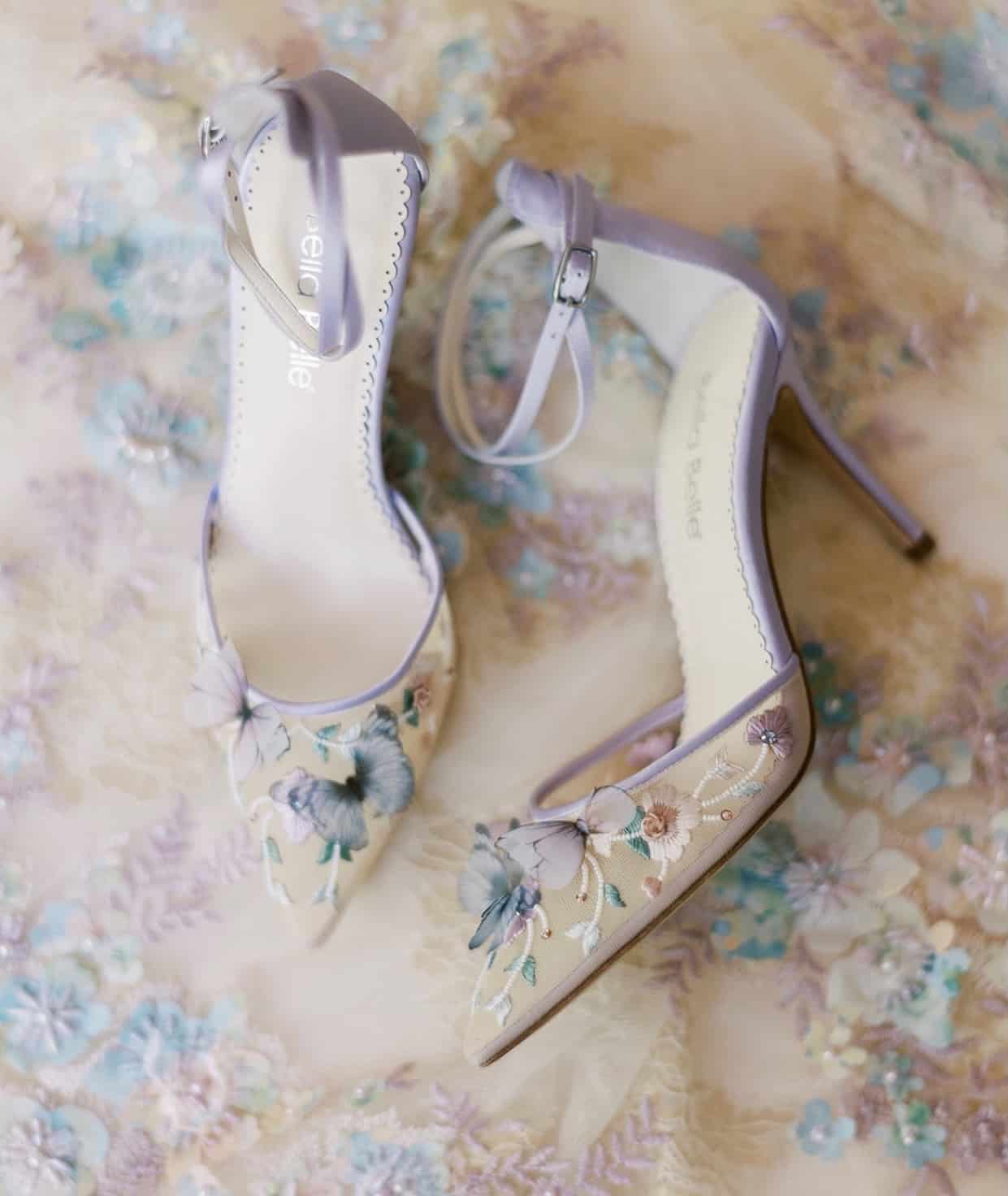 Photo:  @sophiekayephotography | @bridalmusings + Shoes: @bellabelleshoes Eva, Garden Party Shoes
5. Bring an extra pair of flats, just in case (fun slippers, ballet flats, converse, etc.) You never know when you might need to slip on something besides those ceremony shoes. Have fun and dance the night away in whatever makes your heart…and feet content!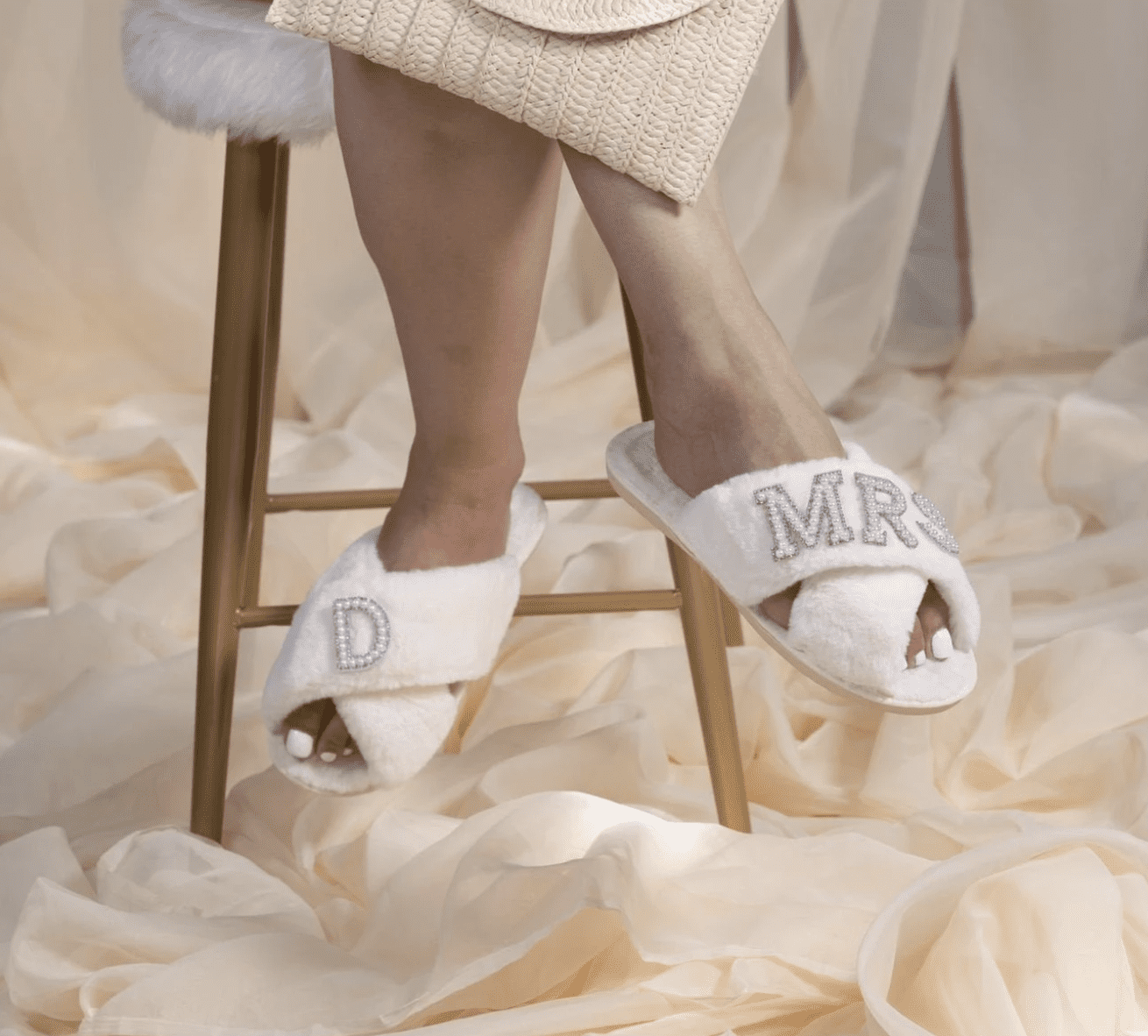 Photo: @totallybrides + Shoes: @totallybrides, "MRS Last Name Crossed Slippers"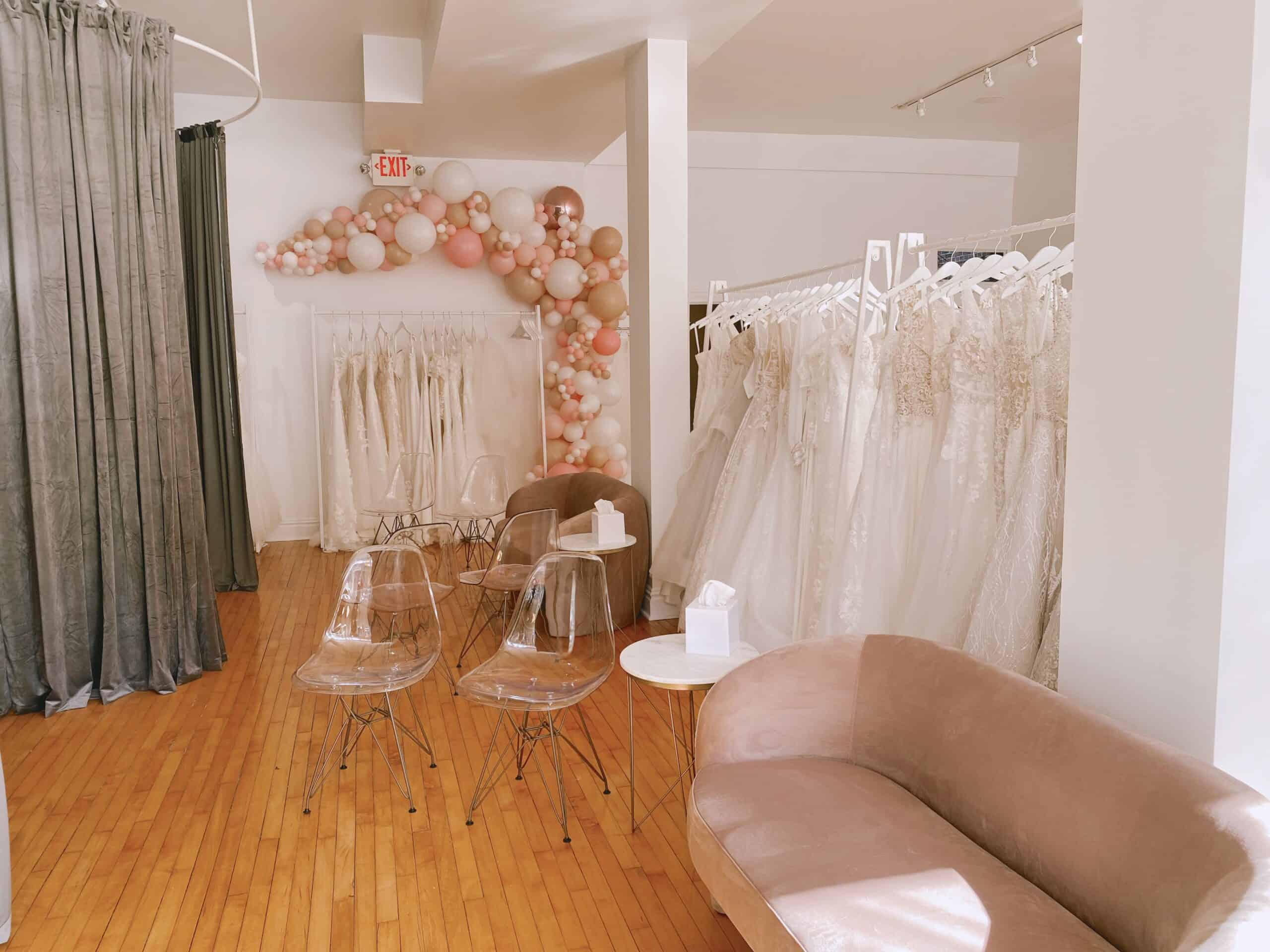 1. Stock Item
Typically, bridal shops carry stock items on the rack that can be ordered to your specific size immediately from the designer. Because these dresses have already entered production, and especially if they aren't on backorder, they can be ordered, altered, and ready for you in time for your wedding day.
You'll want to visit a bridal shop that carries a diverse inventory with many different designs, sizes, styles, and colors. The dress you always dreamed of having may not end up being the one you say yes to. You may find that a different style is more flattering or more in-line with your vision of your wedding day.
Some bridal shops will also carry wedding dresses from the newest designer collections. If you decide you love a designer dress, but it's not in production yet, it can take up to eight months—or more, depending on the alterations needed—for your dress to be complete.
This is why it's important to schedule your bridal appointment many months before your wedding date to allow for plenty of time to receive your dress.
Our St. Louis, MO, Savvy Bridal location carries a full collection of bridal gowns ranging from $1500 to $4500 that can be customized. Our location in St. Louis does not carry off-the-rack gowns, so it can take six or eight months for your dress to arrive after it's ordered in your size.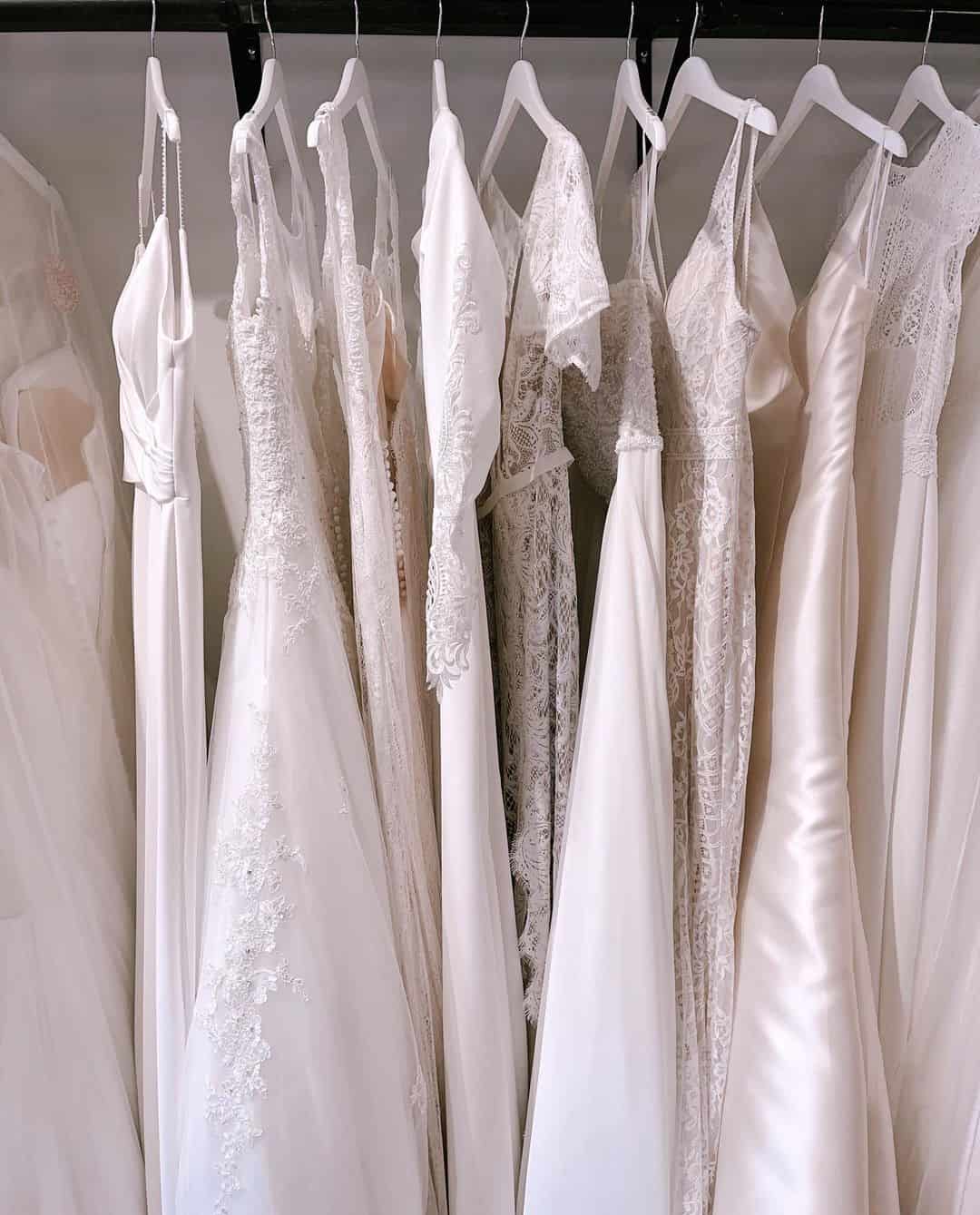 2. Off the Rack
Another way to buy is by purchasing off-the-rack wedding dresses. Some brides prefer falling in love with their gown and taking it home the same day. Off-the-rack wedding dresses are aisle-ready, so if you find the perfect fit for you, you won't have to wait months to receive your gown.
It's important to note the distinction between off-the-rack wedding dresses and sample dresses. Sample dresses are the ones used in fittings for brides that come into the store. These gowns usually aren't perfect since they've had some minor wear and tear from being lightly used for a year or so.
Because you're buying something technically used, the prices of sample dresses are normally discounted, so they can be perfect for brides on a tight budget. If it's a sample dress that's been discontinued altogether, the discount can be pretty significant.
Off-the-rack dresses, on the other hand, are pre-made and ordered by the bridal shop in anticipation of what brides-to-be may be looking to buy that season. While off-the-rack dresses can be sample gowns, they can also be great options for brides who don't have a lot of time before their wedding day or don't want to go through the stress of waiting for their dress to arrive.
The benefit to buying a dress off-the-rack is that you can take it straight from the store to a seamstress for alterations. Wedding dresses are usually ordered online based on your measurements, so if you're worried about the sizing not being correct, buying off-the-rack can eliminate the stress of that.
If you want to buy an off-the-rack wedding dress, here are some tips you should consider:
Send photos of dress styles you like to multiple bridal shops before you book an appointment. Then you can visit the bridal boutiques that have the options you want to try on.
If you love the design and style of a certain gown, but it's a couple of sizes too big, you may be able to tailor down the size. Keep in mind that this only works for dresses only one or two sizes bigger than yours. Otherwise, tailoring can mess with the design's integrity. It is never a good idea to buy a dress that is too small.
Always check an off-the-rack dress from head to toe, especially if it's a used sample dress. You don't want to end up with a gown that's damaged or ripped.
Because off-the-rack dress options may still need to be altered, you won't want to wait until the last minute to buy your gown. Even with short engagements, try to shop as early as possible.
Finally, it's always good to work with a bridal consultant, even when shopping off-the-rack. They can help you find a style you want and recommend any alterations if needed. Our Simply Savvy store in Lawrence, KS, carries affordable off-the-rack wedding dresses that you can take home the same day. Prices range from $500 to $2000, and all dresses are in brand new condition.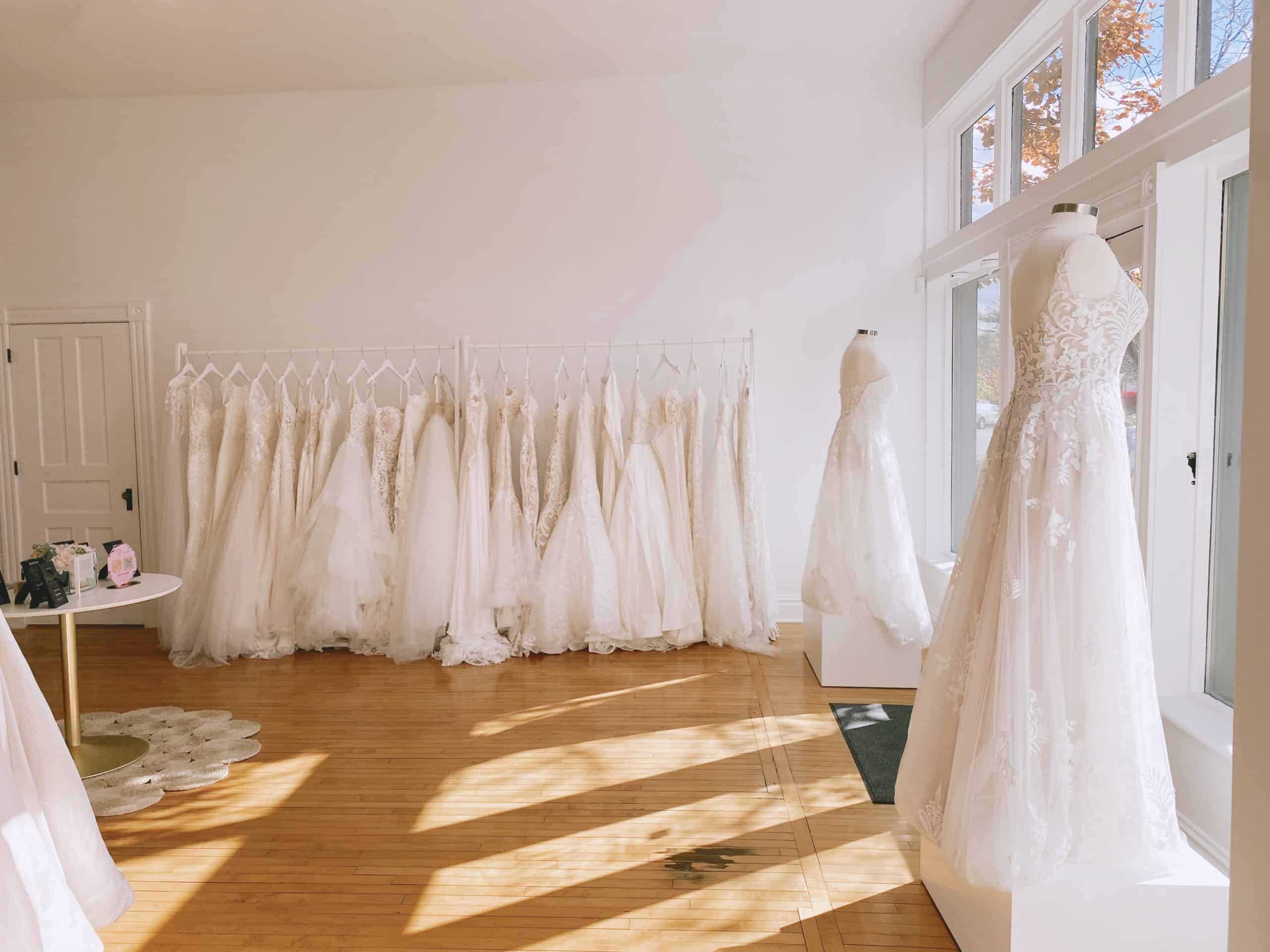 3. Express
If you're short on time before your big day, there are ways to get the dress you want in a short amount of time. As discussed, buying off-the-rack is always an option if it fits correctly and you don't need any alterations. With minimal alterations, off-the-rack dresses can even be aisle-ready in just a few weeks.
Some bridal shops will offer quick delivery depending on the designer. Certain designers will carry pre-made popular dresses that can be shipped and delivered a lot more quickly than made-to-order gowns. With a short amount of time between your bridal appointment and your wedding day, there may not be enough time to complete alterations. That's why it's important to shop for your wedding gown as early as possible.
Our location of Savvy Bridal in Kansas City has gowns ranging from $800 to $3500 that can be specially ordered just for you. Made-to-order dresses typically take six to eight months to arrive. However, we do carry some dresses that have a quick turnaround. If you need your dress in a rush, we may be able to arrange something for you.
For more information about what each of our bridal shops offers, or to schedule an appointment, contact us today at 816-859-5699 in Kansas City, 785-424-7120 in Lawrence, or 314-312-6396 in St. Louis.