Your wedding day is a dream come true, and at the heart of that dream is the perfect wedding dress. For brides-to-be in Kansas City, Savvy Bridal stands as a shining gem in the world of bridal boutiques. Let's explore what makes Savvy Bridal the best bridal shop in Kansas City.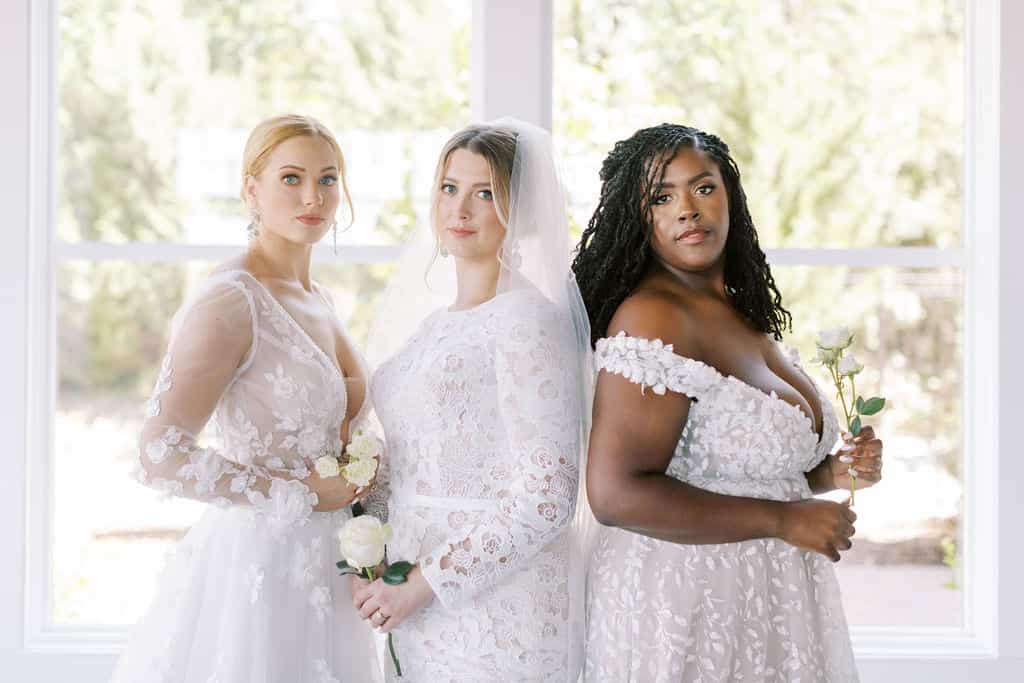 A Personalized Experience
At Savvy Bridal, we understand that every bride is unique, and their wedding dress should reflect their individuality. Our experienced and passionate team is committed to providing a personalized shopping experience that caters to your needs and preferences. From the moment you step through our doors, you'll feel like the center of attention.
A Wide Range of Styles
Whether you're envisioning a classic ball gown, a trendy mermaid silhouette, or something completely unconventional, Savvy Bridal has you covered. Our carefully curated collection features a diverse range of wedding dress styles, ensuring that every bride can find the gown of her dreams.
Size Inclusivity
We firmly believe that every bride deserves to feel beautiful and confident on her wedding day. That's why we offer an inclusive range of sizes to accommodate all body types. You'll find that our collection is a true celebration of diversity, and our team is skilled in assisting you in finding the dress that flatters your figure perfectly.
Quality Designers
Savvy Bridal collaborates with some of the most renowned bridal designers in the industry. Our collection showcases dresses created by talented designers who excel in craftsmanship and creativity. From delicate lace detailing to modern and sleek designs, our dresses exemplify the highest quality and fashion-forward aesthetics.
An Emphasis on Value
Wedding planning can be a daunting task, but we believe that finding your dream dress should be a stress-free experience. At Savvy Bridal, we offer a range of dresses at various price points, ensuring that you can find the perfect gown without breaking the bank. We understand the value of your investment and work tirelessly to provide options that cater to your budget.
Alterations and Beyond
Our services don't end with the purchase of your wedding dress. Savvy Bridal offers professional alteration services to ensure your gown fits like a glove. We're here to make the entire process as convenient and seamless as possible.
Rave Reviews
But don't just take our word for it! Our brides have shared their extraordinary experiences in their own words with 5-star Google reviews. These testimonials are a testament to the excellence of service, stunning dresses, and memorable moments that brides have experienced at Savvy Bridal.
★★★★★ "Savvy Bridal exceeded my expectations. The team was incredibly helpful in finding the perfect dress, and the alterations were flawless." – Sarah M.
★★★★★ "I can't thank Savvy Bridal enough for making my dress shopping experience so special. They truly care about their brides and go above and beyond to make you feel like the most beautiful bride." – Emily D.
★★★★★ "The dress selection at Savvy Bridal is incredible. They have a wide variety of styles and sizes, and the team is patient, knowledgeable, and caring." – Jessica S.
★★★★★ "Savvy Bridal made the wedding dress shopping process a breeze. They have stunning gowns, friendly staff, and the alterations were perfect. I felt like a princess on my big day!" – Megan R.
★★★★★ "I had the best experience at Savvy Bridal. The team is attentive, and the selection of dresses is outstanding. They truly made me feel special and helped me find my dream dress." – Laura H.
When you choose Savvy Bridal, you're not just buying a dress; you're joining a community of brides who've experienced the magic of finding their dream gown with us. Our dedication to your happiness and satisfaction is unwavering, and we consider it an honor to be part of your wedding journey.
Savvy Bridal in Kansas City is more than a bridal shop; it's a destination for brides seeking a memorable and fulfilling wedding dress shopping experience. Visit us today, and let us help you find the wedding dress you've always imagined, because your dream is our passion.