Colored Wedding Dresses for the Non-Traditional Bride
We are seeing more and more wedding dresses in different colors at Savvy Bridal. Many brides are opting for a less traditional appearance for their wedding, and a non-white gown is one way to make a big statement. If you are thinking about wearing a non-traditional dress for your big day, read on to learn more about your options.
Why Are Wedding Dresses Typically White?
White wedding dresses weren't always the norm. Wealthy brides used to wear heavily adorned gowns, often made with red fabric and furs. At the time, white dresses were typically only worn by women who were being presented at court.
Queen Victoria popularized the white wedding gown in her 1840 wedding to Prince Albert. While other women had worn white dresses before her—Phillipa of England is said to be the first when she wed in 1406—Victoria donned a white gown on her wedding day. The dress was made from Spitalfields cream silk-satin and included Honiton lace on the neck and sleeves and a full crinoline petticoat. Though seemingly underwhelming with its simple orange blossom and myrtle flower crown, Victoria shocked guests since they felt the dress wasn't up to royal affluence standards.
There were many reasons why Queen Victoria chose the white wedding gown. Though the style was unpopular, Victoria wanted to boost the declining lace trade industry by showing off the artistry of lacemakers. She also wanted to show Prince Albert that she was more than just a monarch. Keeping the gown simple—and steering clear of heavy fabrics, rich colors, and fancy jewels—was a great way to show she loved Albert and the wedding was more than just a sense of duty for her.
Queen Victoria's wedding dress eventually sparked a trend. Soon, white fabric became a sign of luxury and wealth for European royals because it was hard to maintain its pristine condition. At this point in history, wedding dresses were still worn more than once, so even Queen Victoria wore her dress to numerous other events. As the popularity of the white wedding dress spread, the color began to symbolize more than just wealth—it also came to represent innocence and purity.
A few decades later, middle-class brides in Europe and the United States also stopped wearing their nicest dresses on their wedding day and opted for white dresses instead. After World War II, wedding gowns became cheaper to produce, and the white, single-use wedding dress became the norm for brides in all social classes.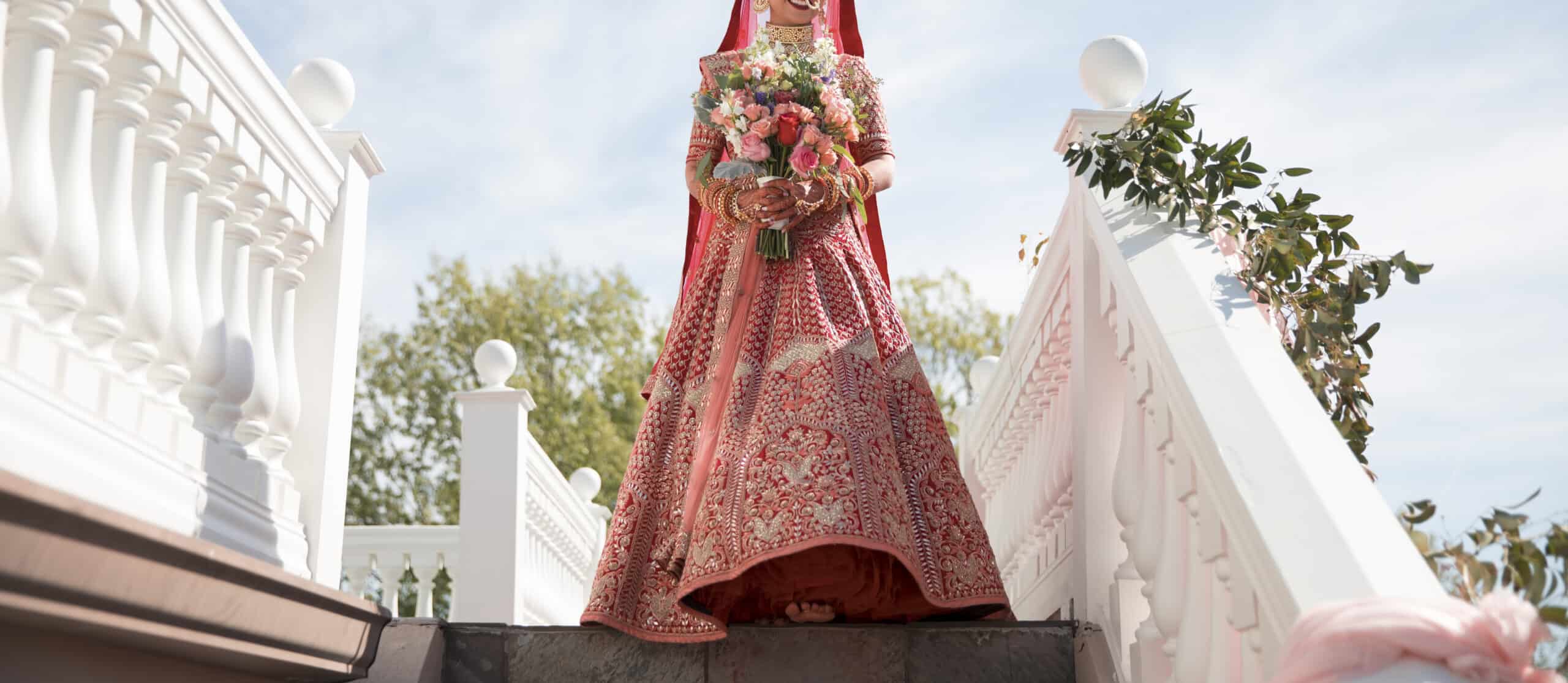 Wedding Dresses from Other Cultures
While white is the popular choice in most Western cultures, many Eastern countries have different traditions. For example, in China and India, brides commonly wear red dresses for good luck and auspiciousness.
In India, brides typically wear red silk saris. Red is the traditional color for weddings, but some brides break the mold and opt for other vibrant colors on their big day instead. Others are also using untraditional fabrics. However, many still choose to wear the traditional silk red sari for the main wedding ceremony, even if they may change into something more non-traditional afterward.
Some Chinese brides have opted for a Western style by wearing white wedding dresses. But many will still wear a red gown at the official tea ceremony to honor cultural traditions.
With numerous rituals and beliefs worldwide, wedding dress styles and traditions range from culture to culture. However, most brides lean toward extravagance for their special day with distinct colors and dramatic details.
Colored Dresses for the Bride Who Doesn't Want to Wear White
Not all brides want to wear a traditional white gown on their wedding day. In fact, we have seen a growing popularity for colored wedding dresses in recent years.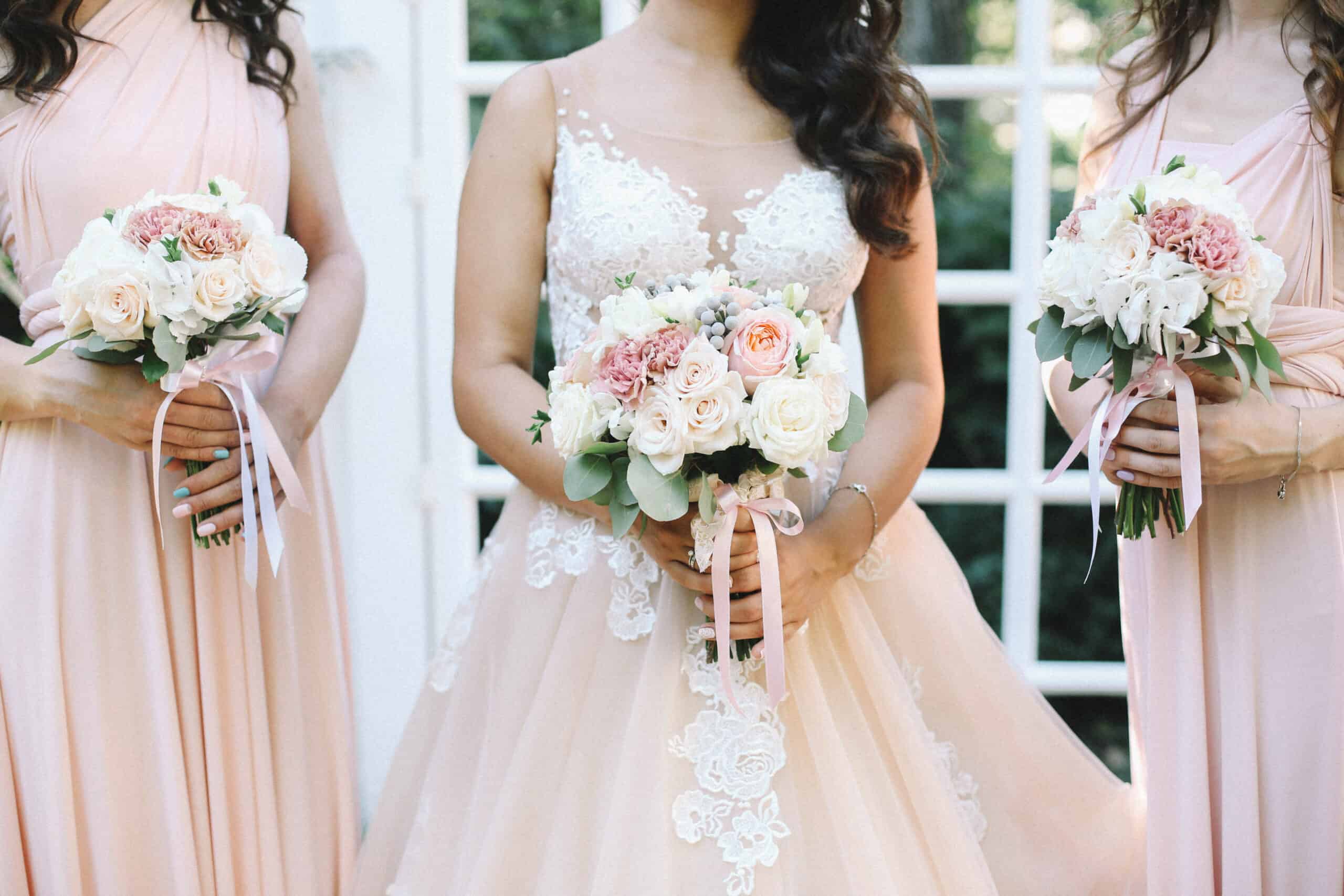 Neutral Colored Wedding Dresses
Neutral colored wedding dresses offer a touch of color without going too far away from the traditional white gown. Ivory has always been a popular white alternative, as it is more flattering for certain skin tones. Now designers offer a wider variety of neutral, non-white wedding gowns for brides to consider.
Blush is the second-most popular color for a wedding dress after white. Brides tend to love that blush feels romantic and provides a subtle contrast to white lace. Blush is also flattering for brides of many skin tones, ages, and eye and hair colors.
Nude wedding gowns have also increased in popularity. As nude is a different shade for each woman, it can be challenging to find a nude that matches the skin tone enough to blend in. Finding a nude dress is easier for women with certain complexions, but there are options out there for everyone.
Gold, silver, and champagne wedding dresses are all options for those looking for a bit of glam or sparkle on their big day. These metallic tones offer a subtle sheen or glitzy shine. Silver gowns are a bit rarer, but they pair well with weddings that feature a lot of silver accents. Silver and pure white are also a great combination for those with the right complexion.
Champagne lace wedding dresses are a great option for brides with a classic style. White or ivory lace is the perfect complement to a champagne wedding gown. Champagne is another color that looks good on nearly everyone, making it a popular choice among brides looking for a hint of color in their wedding dress.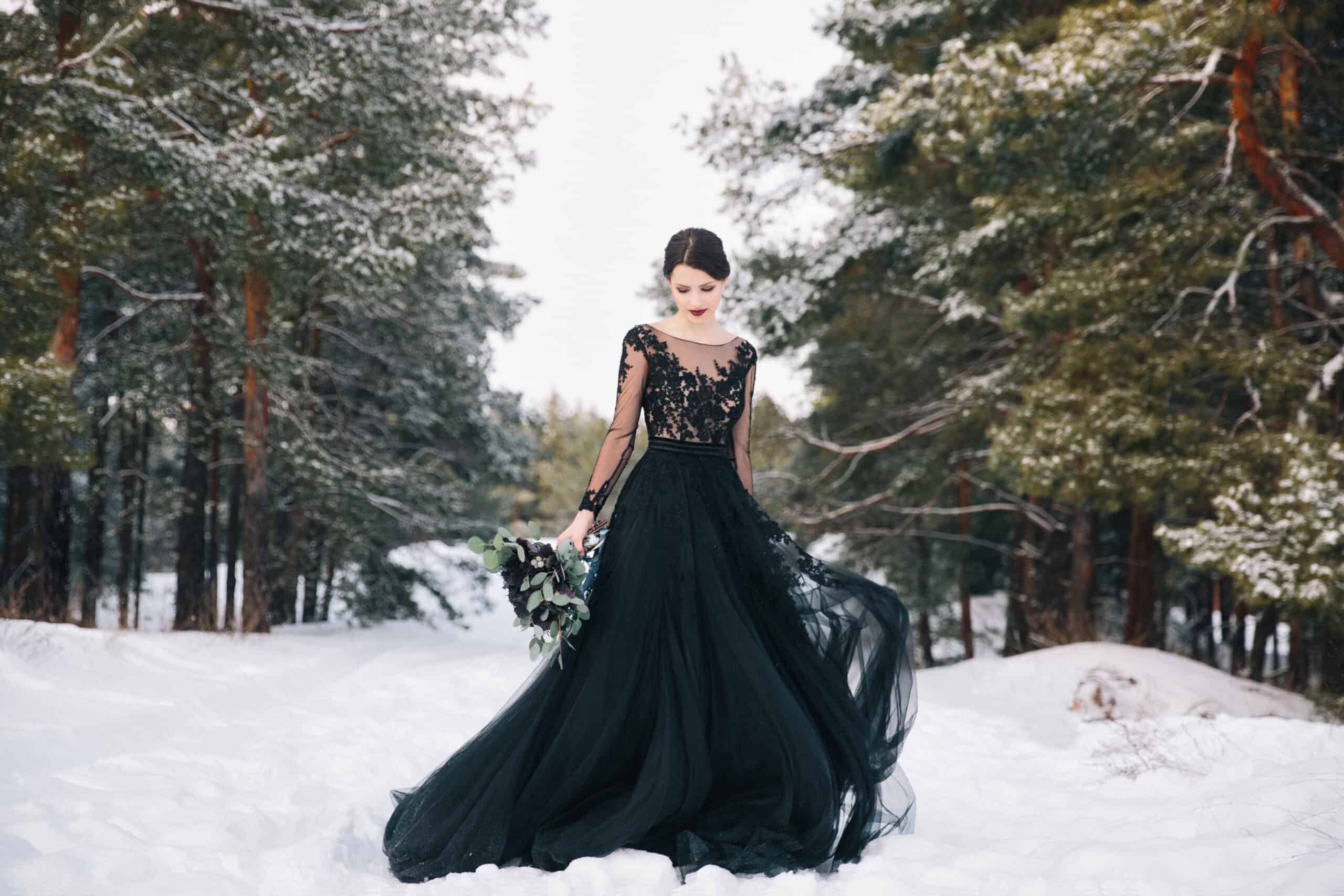 Dark Colored Wedding Dresses
Dark wedding dresses are here to stay. Black has become a popular option for brides looking for a dark-colored gown. These wedding dresses can symbolize power, sophistication, mystery, and more. For some brides, black wedding gowns feel more elegant or bold.
Other choices are gray, navy, and other bold shades of blue, but black is definitely the showstopper of the group. Gray is an excellent choice for brides who want a sophisticated look that doesn't stray too far from the traditional white gown.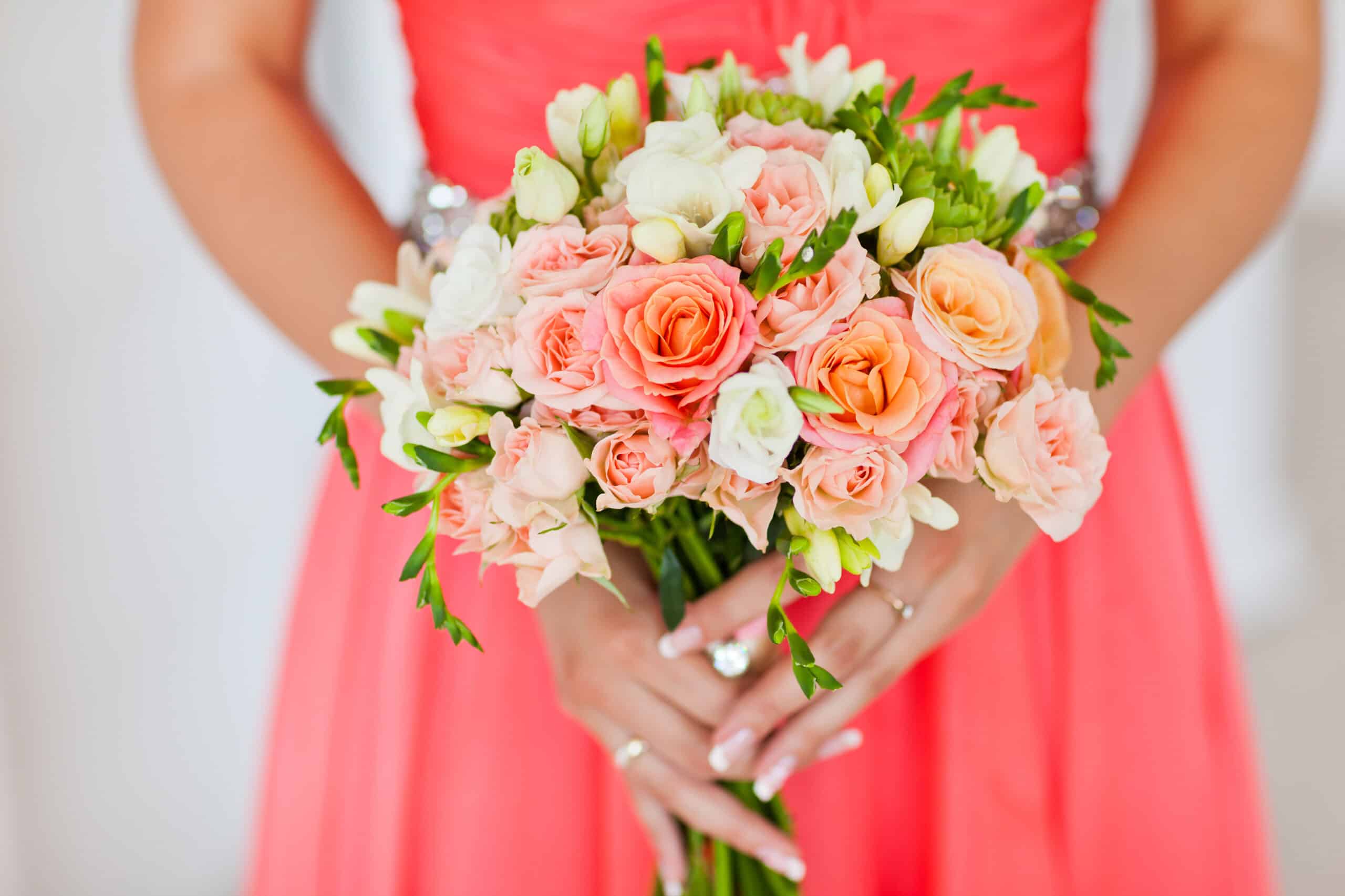 Bright Colored Wedding Dresses
As we mentioned before, many other cultures showcase brides in bright, bold wedding gowns. Red and purple are some of the most popular dresses in other cultures as they represent good luck and royalty. While not traditional in the United States, you are likely to see more and more brides choosing brightly colored gowns in the future.
Red dresses are considered passionate and romantic, while lighter tones like pink are more likely to represent innocence and femininity.
Purple dresses are considered graceful and feminine with more sophistication than pink. Since purple represents royalty, gowns in these hues can make a wedding feel very classy.
Lighter blue gowns are considered calm and peaceful, much like water. Greens are a great choice for brides who love nature. Green is the symbol of peace and growth, and brides in some cultures wear green on their wedding day to symbolize luck and progress.
Orange and yellow gowns aren't as common, but brides who are looking to make a statement might choose one of these bold colors. Orange is associated with happiness and energy. Yellow wedding gowns, although rare, symbolize joy, intelligence, and laughter. Most brides who wear yellow or orange gowns have outgoing personalities to match their bold choice.
Styling Colored Wedding Dresses
Styling colored wedding gowns can be a little trickier than the traditional white or ivory shades. The first step is to make sure you choose a color scheme for your wedding that complements the color of your wedding dress or vice versa. When you have a theme or color in place, it is important to choose a gown that doesn't conflict.
Keep jewelry simple. A bold gown doesn't require much in the way of accessories. Large, blingy jewelry will not only take away from the wedding dress, but it will also become incredibly distracting for guests, as well as in photos and videos.
If you are wearing a veil, you can also have it dyed to match your gown. Leaving the veil white, however, can also look very nice. It is all about your personal preference.
If you're looking to make a bold statement on your wedding day, there are many different options for colored wedding gowns that go beyond the traditional white.
Savvy Bridal Boutique is one of Kansas City's premiere bridal shops. We also have a second location, called Simply Savvy, in Lawrence, Kansas. To schedule an appointment, give us a call at 816-859-5699 (Kansas City) or 785-424-7120 (Lawrence).