Micro Weddings: What Are They and Should You Consider One?
The average wedding these days tends to cost tens of thousands of dollars and include nearly 150 guests. These big parties can be a lot of fun, but not all brides and grooms are comfortable dropping that kind of money or inviting their mom's cousin's best friend. Jokes of elopement are common with these couples, but when you want to stick to tradition, it is hard to give up a celebration with your family and friends. COVID-19 has also changed the landscape of weddings. Brides who would be hosting large weddings have had to rethink their plans and pivot just to make their big day possible. In fact, according to Trends.co,
Google searches for "micro wedding"
hit an all-time high in August.
What Is a Micro Wedding?
A micro wedding is a small, intimate gathering, generally with no more than 50 guests, to celebrate a couple's marriage. Often, micro weddings still feature many of the traditions that couples and guests know and love, just on a much smaller scale. During the midst of the COVID-19 pandemic, micro weddings are a shining light. Many couples don't want a courthouse wedding, and pushing off a wedding a few additional months may or may not be possible—and it might have to be pushed again! Micro weddings provide an alternative to couples who are ready to tie the knot.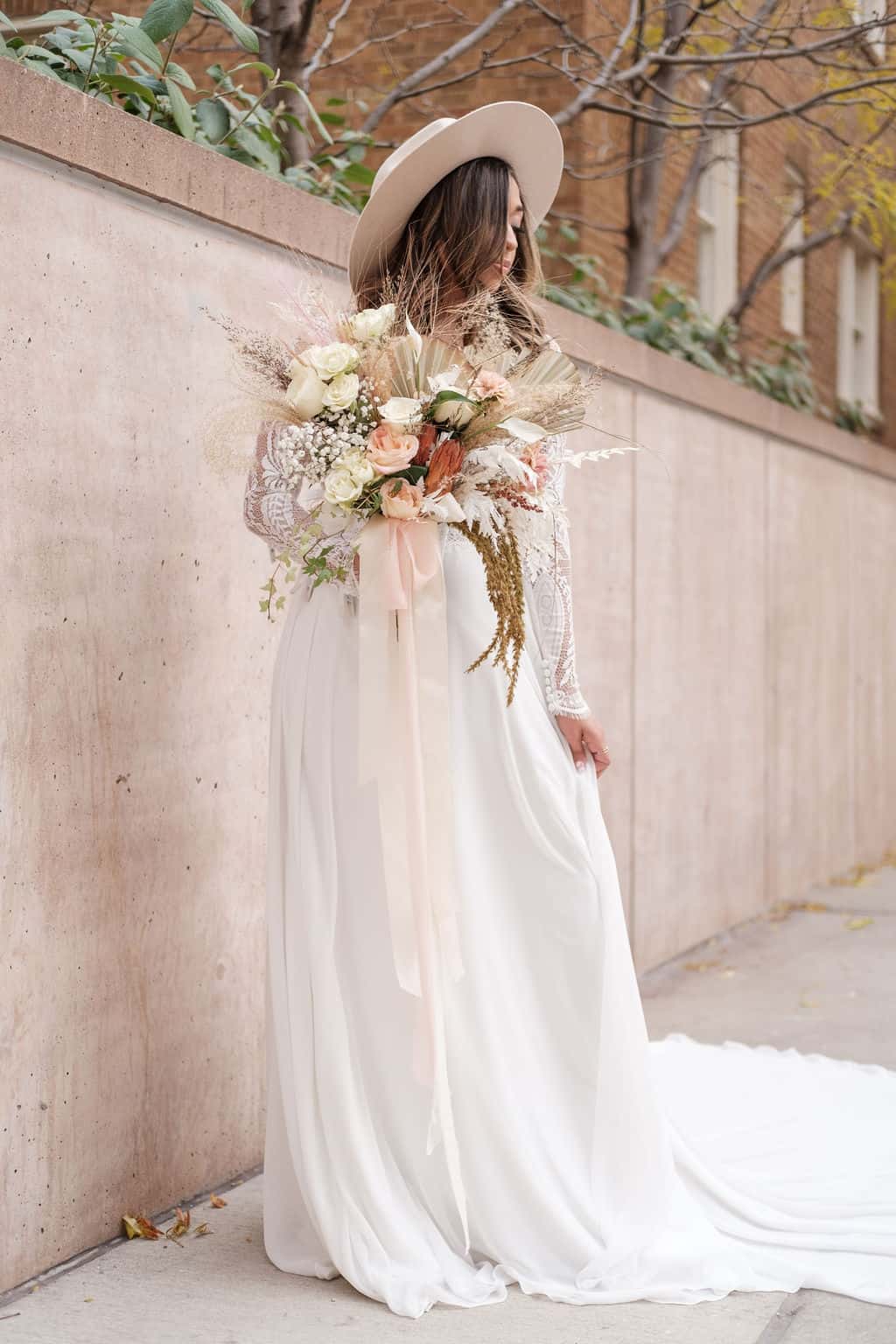 What's the Difference Between a Micro Wedding and a Minimony?
A minimony, or mini wedding ceremony, is an incredibly intimate commitment ceremony between you and your partner and up to ten people. Minimonies are more about the commitment itself than the celebration that typically follows a wedding ceremony. Most minimonies won't have a full-blown reception. Instead, there will be select traditions that the couple chooses to uphold. Many couples choose to have an officiant and photographer present and then celebrate the "reception" with a couple of desserts, a first dance, and lots of photos. Typically, there is no meal, raucous dancing into the night, or other grand events found at large wedding bashes. Meanwhile, a micro wedding is much more like a traditional, larger wedding, just smaller. As an additional alternative, many brides choose to have either a micro wedding or minimony followed by a larger wedding reception later. With this method, the first event is often small and simple, but the second event is a bigger bash.
What Do Small Weddings Mean for Wedding Dresses?
At Savvy Bridal Boutique, we have seen many brides planning micro weddings come in looking for two different dresses. The first dress is for their micro wedding. It is typically a lower budget gown that will be worn just for the small celebration with a limited guest list. The second dress is the dress with the wow-factor! This is the showstopping dress that brides want everyone to see them in on their big day, which is the larger wedding typically held a year or so after the smaller, legal ceremony. While COVID-19 has popularized this type of celebrations, couples have done the same thing for a while now, but the larger celebration isn't always so far behind the initial wedding gathering. Don't let a micro wedding stop you from getting the dress of your dreams. If you are only having a micro wedding, you should definitely get the dress you love for the day, regardless of how many guests will be in attendance. Plus, you will want to look back at pictures of a dress that you truly love in the future.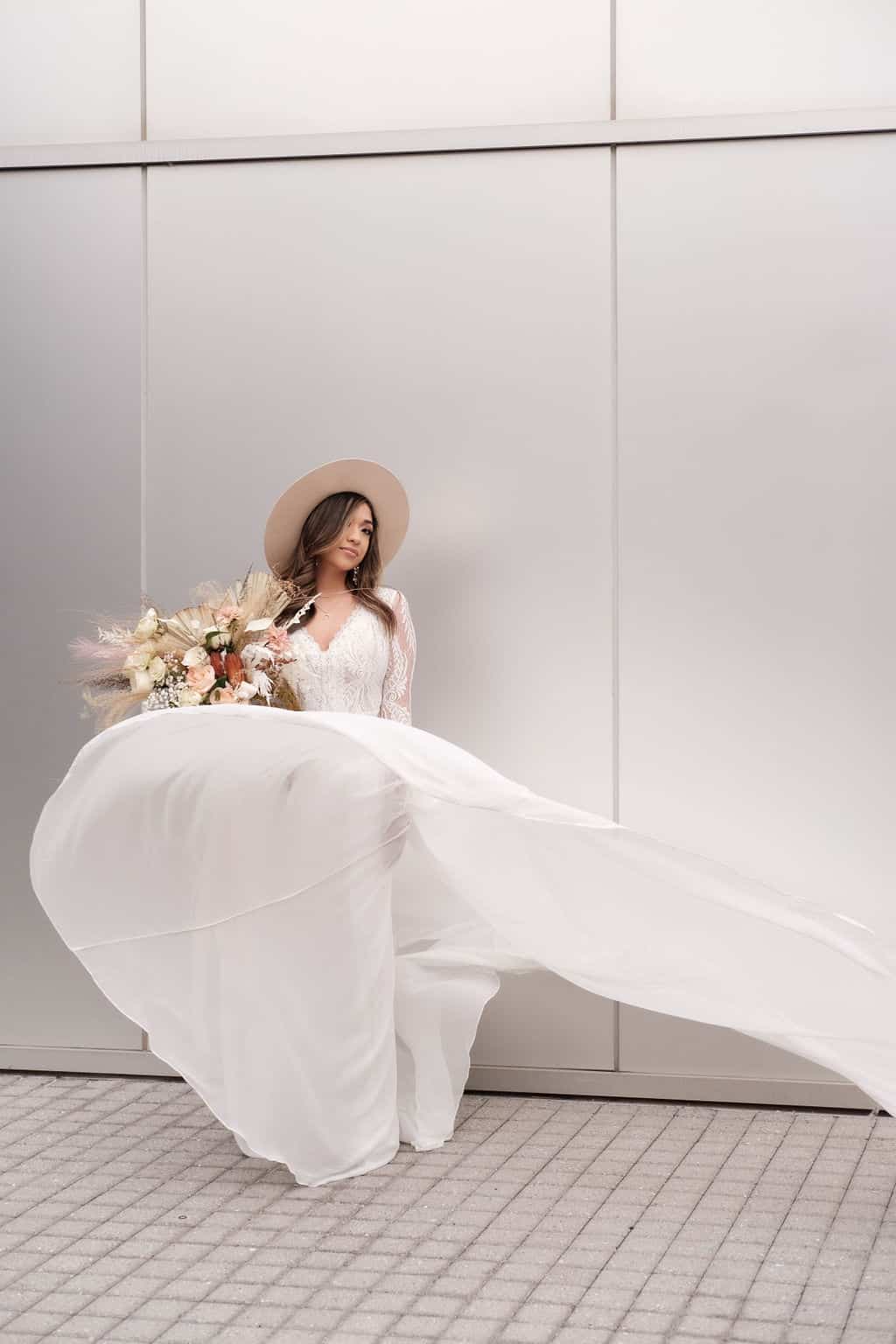 Should You Consider a Micro Wedding?
There are so many different things that factor into whether or not you should have a micro wedding. With this trend on the rise, many couples are trying to decide if a micro wedding is the right choice for their wedding day. Here are a few different things to consider before planning a micro wedding.
Preference
Do you and your future spouse want a smaller wedding? If so, then this is the best reason to go forward with a micro wedding. Not everyone wants to have a large, lavish wedding like we see in movies. If you already wanted a simple, small affair, there is no reason not to have one. For the couples who don't want to continue to push their weddings or just don't want to wait until things calm down from the COVID-19 pandemic, a micro wedding might allow you to have your wedding on its original date still.
Money
With the average cost of a wedding steadily increasing over the years, many couples are opting for a smaller wedding just to save money. In fact, the average cost of a wedding is now over $30,000, which is a substantial financial burden to take on. Even eloping can quickly break the budget, so a smaller celebration might be the most cost-effective solution for couples. During the COVID-19 pandemic, many couples are also battling unemployment in addition to their wedding planning. This might make it impossible to have a huge bash.
Time with Guests
If spending time with your guests is high on your priority list on the day of your wedding, a micro wedding is perfect for you. With a more extensive guest list, it can be nearly impossible to connect with every guest on the wedding day. In fact, many brides report that at least a handful of guests will leave before they get around to talking to them. A more intimate gathering will allow you more time to give each guest proper one-on-one attention. You won't have to worry about a three-minute conversation with one guest preventing you from speaking to another guest later in the night. More intimate weddings allow the newlyweds to interact with every guest for a longer period of time.
Less Wedding Planning Stress
With more and more wedding-industry companies offering micro wedding packages, brides and grooms who are over the entire wedding planning process can opt to use a micro wedding package. In these packages, you will go over your preferred selections from a list, and your wedding will be taken care of by a team of vendors. These options can really help brides and grooms who feel overwhelmed by the whole planning process. If you are a bride who has a unique vision for your wedding day, these packages likely won't work for you. However, planning a small wedding can still be less stressful than planning a party with more than 100 guests.
Nerves
For some couples, a large wedding can feel overwhelming. Getting up in front of so many people can really wear on the nerves. Instead of subjecting yourself to that kind of anxiety, you can host a mini or micro wedding that only puts you in front of a few of your closest family members and friends. You can feel relieved that you won't have 100 pairs of eyes staring you down while saying your vows and sharing your first dance.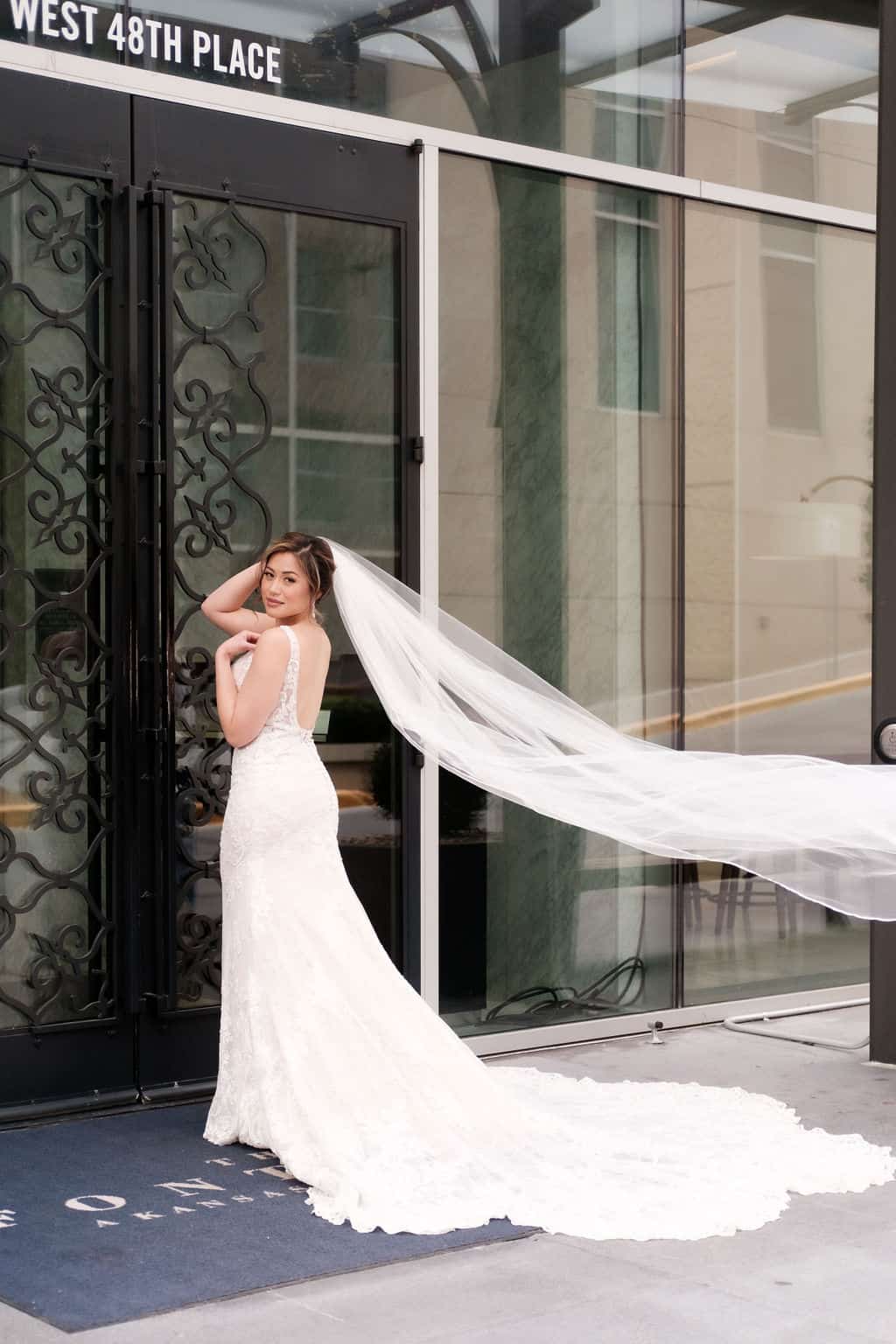 Tips for Planning a Micro Wedding
So, you've decided to move forward with a micro wedding. Let us give you a little warning: you are likely to get a lot of pushback. Unfortunately, there could be people hurt because they are no longer going to get an invite. Other family members might want to invite a long list of their friends or extended family members, so they might try to persuade you to rethink your decision. If a micro wedding is truly what you want, hold your ground. A micro wedding will look similar to a large wedding, which means you will still have some planning to do. Here's a little advice for planning your micro wedding.
Cut Your Guest List
It is never easy to pare down a wedding guest list. You are going to have to be very selective when choosing guests. Before you even start on the list, you and your fiancée should agree on the number of people you want to invite to the wedding. Once you have determined the number of guests you want to attend, you can narrow down the invitees. Start your list with immediate family. If you have a large immediate family, this might end your list quickly. If you still have room, you can move on to close friends. Give those who you would have had in your wedding party first priority on your friends list. To make this step easier, think about who you really want to be at your nuptials. Who knows you best? Who would you be sad not to have there? Don't focus on who will be upset about not getting an invite. If you do, you will end up missing out on inviting the people you truly wanted at your wedding.
Treat Your Guests
Since you have cut down on the number of guests, it becomes even more important to make the event special for each person who comes to your wedding. You can provide extra favors or special gifts for each guest. You can also offer more personalized favors for each guest.
Get Help
A smaller wedding doesn't exactly mean less effort. While there is a lot less to worry about, there are still many things that you will have to plan. Working with a company that offers a more full-service micro wedding approach can help you avoid the stress that typically comes with planning a large wedding, however. At the very least, hire a coordinator to help you ensure that there will be someone to help get things done.
Rethink Your Budget
With a micro wedding, there may be services or decorations that you no longer need to spend money on. For example, do you need a party bus to take people from the ceremony to the reception after cutting your guest list down to just the VIPs? You also won't need centerpieces for 20 tables. This money can either be saved or spent elsewhere.
Create a Registry
While there will be fewer guests, these guests still need ideas for wedding gifts. We've noticed that many couples consider foregoing a registry due to the smaller size of the guest list. However, the people you invite to your wedding want ideas for things you actually want or need.
Local Kansas City Vendors Offering Micro Wedding Services
The micro wedding trend has struck Kansas City. Here is a brief list of a few other KC businesses that have started to offer micro wedding services to brides and grooms in the area.
Venues:
Married in KC: This event space holds up to 65 guests and offers a full-service experience for brides. Married in KC offers a three-hour event that includes a day-of coordinator, officiant, live musician, different floral options, drinks, dinner, cake, dessert, linens, additional décor, and more. 21C Museum Hotel: Bring up to 15 guests to 21C Museum Hotel for a rooftop wedding ceremony and in-suite reception complete with a custom cake and champagne toast.
Florists:
All A' Bloom: Offering much more than just flowers, All A' Bloom is working with other vendors to help brides have the wedding of their dreams on a small scale. All A' Bloom will help you pick a venue, officiant, photographer, music, and more.
Photographers:
Claire Ryser: Claire Ryser Photography has teamed up with Married in KC to provide photos for brides seeking micro weddings.
Wedding Planners:
Dana Ashley Events: Let Dana Ashley Events plan a micro wedding for you. Working with Dana Ashley Events gets you a six-hour venue rental in the Kansas City area along with dinner, drinks, and cake for up to 30. Flowers, makeup, music, and more will be provided for couples.
If you are looking for wedding dress ideas for your micro wedding or minimony, Savvy Bridal Boutique can help you find the perfect gown for your style. To schedule an appointment, visit our website or call us today at 816-859-5699.