What Do I Do If My Wedding Dress Doesn't Fit the Day of My Wedding?
It's your wedding day. You've gotten your hair and makeup done, you've had fun with your bride tribe, and it is finally time to slip into your dream wedding dress. Panic ensues as you realize that your dress doesn't fit perfectly as it did at your final wedding alterations fitting. What can you do to make your dress fit better on the day of your wedding?
Savvy Bridal Boutique is here to advise you when your dress doesn't quite fit on your wedding day.
What Do I Do If the Dress Is Too Big?
Putting on your dress only to find out it is too big can be stressful. Fortunately, there are a couple of quick fixes that you can try. First, if your dress laces up in the back, get it as tight as possible and add in some bra cups to help fill out the bust area.
What if your dress is too large in the midsection and it doesn't lace up? You can try to find a sash or belt that you can throw on your waist.
What Do I Do If the Dress Is Too Small?
The first thing to remember if you feel like your dress is too small on your wedding day is that it always requires help to get into a wedding dress. Very few gowns are possible to get into on your own. Even if it seems like your dress is too small, stay calm. It is always easier to get into a wedding gown when you are calm.
If it is possible to have two people help you into your dress, have one be at the front and the other at the back. They can help you position the dress appropriately, which is on your natural waist. Often, brides need to pull the gown up a little bit to get it positioned correctly on the body. Adjust your bust to sit in the cups to help everything feel better in the dress.
In the event that the dress is actually too tight, zip it up a little bit, wear it for five minutes, and zip it up a little more. Repeat until you can zip it all the way up. Your body will adjust to the garment, and the dress will start to shape to your body.
If that doesn't work and you aren't wearing shapewear, see if you can put some on. Not only will this leave a smooth finish when the dress is on your body, but it will also help the dress slide on smoother. Additionally, you can remove the bra padding if you think the bust is too tight.
It is imperative to remember that the gown should feel a little tight. Wedding dresses are usually altered to hug the body, so don't panic if it feels snug.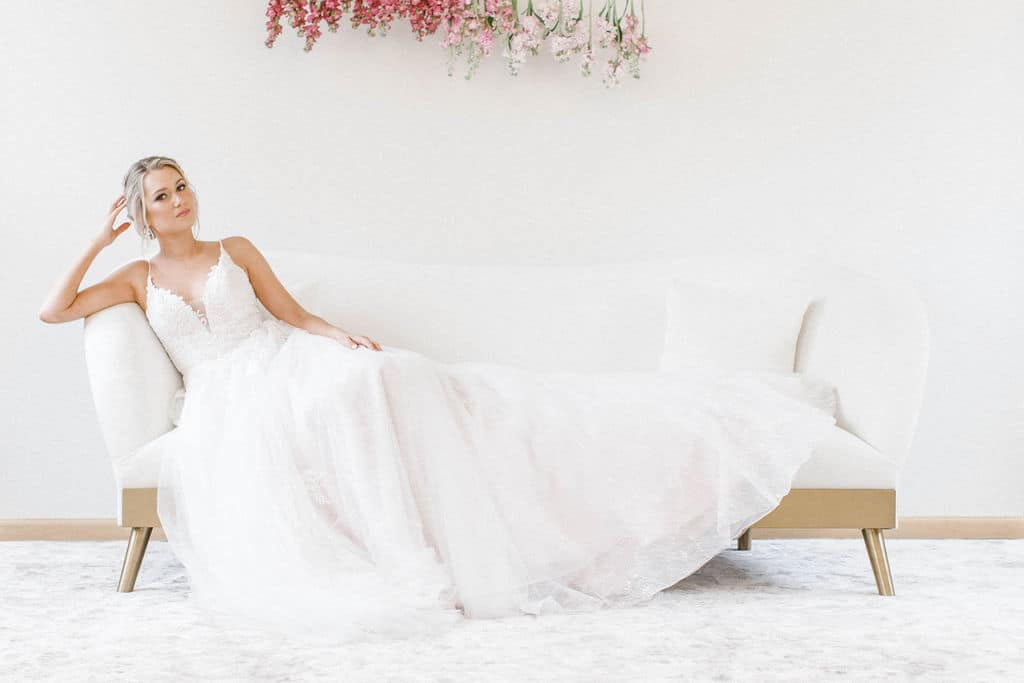 What Do I Do If the Dress Is Too Long?
Uh oh! Your wedding dress is too long on the day of your wedding. What should you do? The easiest fix is to throw on your favorite pair of heels or a pair higher than you originally planned on wearing. If the problem isn't too bad, you could probably get away with doing nothing other than walking carefully down the aisle and bustling the gown immediately following the ceremony.
What Do I Do If the Dress Is Too Short?
It's the big day, and your dress is too short. You don't have a lot of options, but there are a few things you can do. First, if the dress is only too short because you are wearing heels, you can try to grab a pair of flats to see if you can get your desired look.
On some dresses, you can add a little lace to the bottom to create a decorative hem. For brides who don't sew or have time to have someone else sew on a hem, you could add a tulle overskirt to the dress. While this will change the look of your gown, you can make your dress longer pretty quickly.
How to Avoid These Problems
Most last-minute sizing problems can be avoided. We recommend that you try your dress on a couple of days prior to your wedding with the undergarments and accessories (such as shoes) that you plan to wear on the wedding day. If something seems off, you still have time for last-minute alterations to take place.
One of the best ways to avoid last-minute problems with your wedding dress is to avoid any lifestyle changes after you have your final dress fitting. This means that you shouldn't engage in a new exercise routine or diet.
While there are many wedding dress shops in Kansas City, Savvy Bridal offers top-notch service for each of our brides. To find your dream gown, schedule an appointment with us today. We now have locations in both Kansas City and Lawrence.