Baby, It's Cold Outside: 10 Ways to Stay Warm During Your Winter Wedding
For winter brides, staying warm during an outdoor wedding or photos can be a serious challenge. While you don't want to brave the cold in just a lacy gown, you likely don't want to cover up the gorgeous gown you paid for the entire time you are celebrating your wedding festivities. Some of the best ways to keep warm will involve a jacket or coat, but there are other tactics you can employ as well.
We have compiled a list of our best ideas for how to stay warm during your winter wedding below!
1. Jackets or Coats
Coats and jackets have become a popular addition to fall and winter weddings, especially for brides who don't choose dresses with sleeves. Cold weather wedding attire can vary dramatically, but we've seen an uptick in personalized leather jackets over the past few years. And a sleek coat can be very chic!
When taking photos, you can switch up your bridal look very easily by throwing on your coat or jacket, giving you even more great photos to look at later. Plus, the classic jacket over the back of the shoulder photo looks even better in a wedding gown.
We've also seen denim jackets, feather jackets, and fur coats at winter weddings!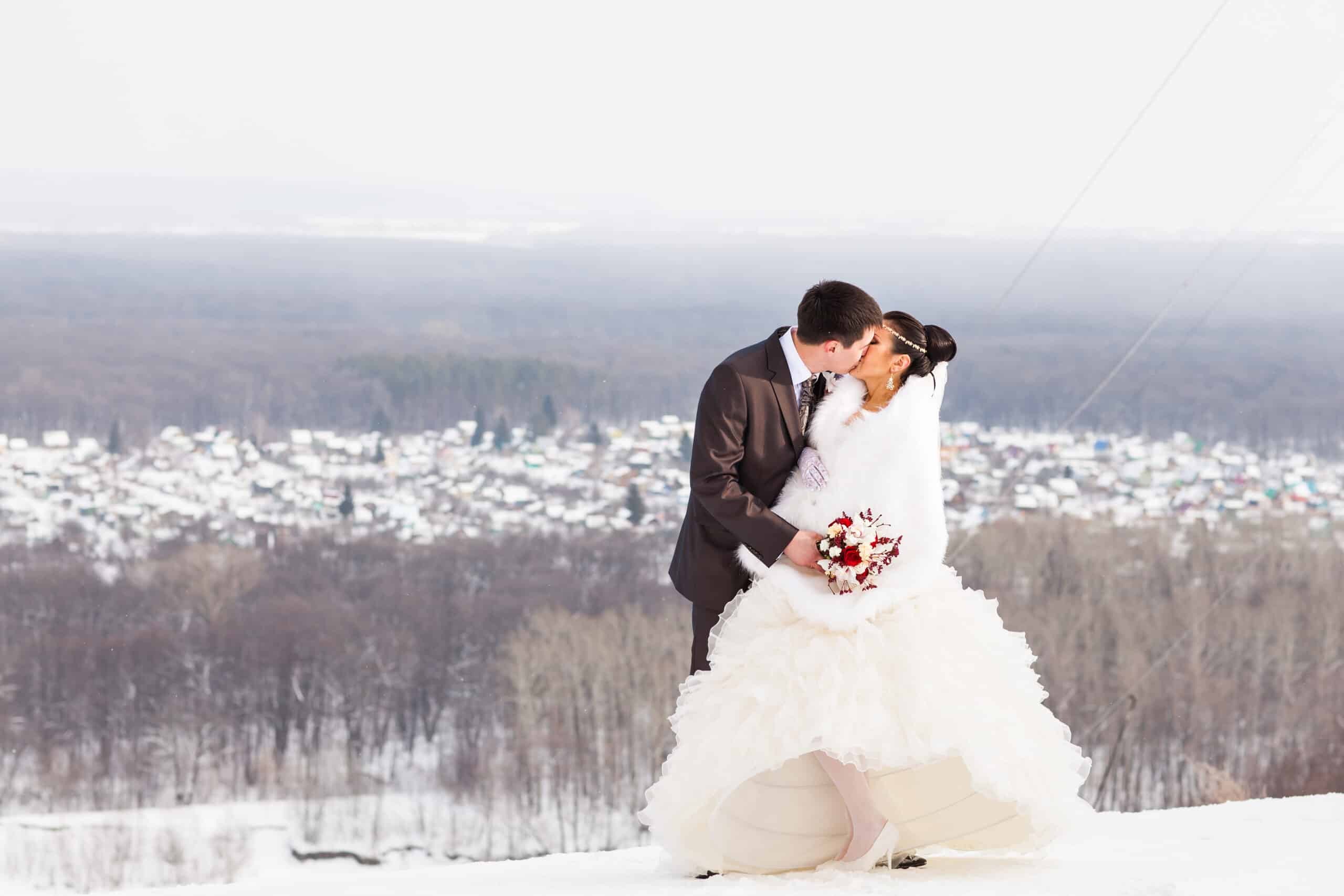 2. Shawls
A shawl or wrap can help keep your arms warm during outdoor wedding festivities in the winter. Some brides may opt for a fur shawl, but crochet and knit shawls have gained popularity in boho festivities, as well.
Fur shawls tend to come in just a few color options, like white, brown, or caramel. Crochet shawls can be made in any color, giving you the perfect opportunity to incorporate your wedding colors into your attire. You could even wear a crochet shawl that acts as your "something blue."
3. Hand and Foot Warmers
Keep those fingers and toes warm with hand and foot warmers when possible. Wrap hand warmers around your bridal bouquet to discreetly keep your hands warm, and your groom can keep a set of hand warmers in his pockets.
Not only can the bride and groom benefit from hand warmers, but the rest of the wedding party and the guests can as well.
4. Winter Boots
Most brides choose long dresses for winter weddings. This allows them to easily hide a pair of warm, winter boots. Boots are a much more practical option for winter brides than dressy heels. They will help keep your feet dry and warm in the snow or ice, should that pop up on your big day.
5. Fleece Leggings
Going back to the last point, if you are wearing a long bridal gown, nobody will notice if you are wearing fleece leggings under the dress. Leggings are a great way to keep a large portion of your body warm without visibly changing your wedding day look. For many winter brides, this is the perfect solution for all of the outdoor moments. Plus, you can stop by the bridal suite when you come inside and slip the leggings off quickly before enjoying the reception and dancing the night away.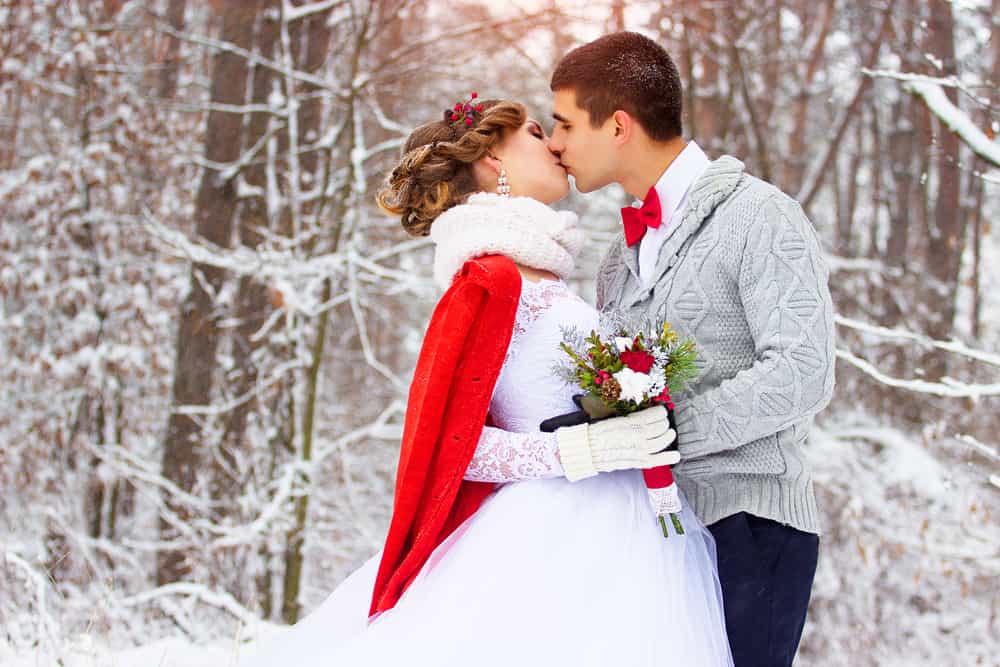 6. Cape
If you are looking for a winter fairytale vibe on your wedding day, a bridal cape can be a perfect option. You can throw on the hood for some photos and still show off your gorgeous bridal 'do in other pictures. A bright white cape also looks very bridal, especially when you are surrounded by snow-covered trees.
7. Thick Socks
Warm socks are your best friend. When paired with a great pair of boots, your feet won't cause you any trouble on your big day. Prioritize comfort by finding the perfect pair of thick or fuzzy socks for those moments you are spending outdoors on your big day.
Remember, you can always throw on a cute pair of shoes for any indoor photos or the indoor reception, but you will want to be comfortable when you are out in the cold.
8. Earmuffs and Hats
While earmuffs and hats may not seem like a glamorous choice, when done right, they can make for cute wintery wedding photos. Your photos will truly show off just how cold it was on your big day, but you are probably also worried about your hair. Work with your hairstylist to come up with ways to keep your hair looking nice even if you toss on a pair of earmuffs or a warm hat on your wedding day.
9. Gloves
A beautiful pair of white leather gloves can keep your hands warm while also not distracting from your wedding look. We love the classic feel of gloves, but silk won't be enough to keep you warm, so we recommend leather instead. You can also get gloves with fur cuffs, which are a fun option that some brides seek out.
10. Blankets
Cozy blankets, especially flannel or plaid varieties, make for adorable winter wedding photos. Cuddle up with your groom under a blanket for photos, and you will be warm and get a bunch of amazing pictures out of it.
You can also offer cute blankets to each of your guests as party favors if your ceremony is being held outdoors.
If you are planning a winter wedding, Savvy Bridal would love to help you find the perfect dress for your big day. Schedule an appointment at either our Kansas City or St. Louis location today.