9 Tips for Choosing Shoes for Your Wedding Day
Although most brides-to-be would say the wedding dress is one of the most important elements of their special day, others would argue that the wedding shoes are just as important. There are many factors you should consider—style, comfort, and whether they match your dress or not—to find the perfect shoes for your perfect day.
While finding the perfect fit may feel like searching for Cinderella, there are bridal shoes out there for every bride's happily ever after. As you sort through your options, take these tips from Savvy Bridal into consideration to find the shoes you'll feel confident in when you walk down the aisle.
1. Find Your Dress First
You may think you've found your dream bridal shoes, but you'll want to wait until you find your wedding dress first. Your wedding shoes should match or complement every aspect of your gown, including color, style, and embellishments. You'll want to wear something that complements the formality of the gown, which is something you can't guarantee if you purchase your wedding shoes first.
The length of your wedding dress also matters. If you're opting to wear a shorter gown on your special day, your shoes will be more visible and get a lot more attention. You may decide to wear statement piece shoes that add glitz, glam, color, or modern elegance.
On the other hand, full-length wedding dresses will cover most shoe styles, so this may sway your decision about which pair you wear and what heel height, if any, you choose.
2. Stick to Your Bridal Style
Wedding shoes for brides should also match their bridal style. Now that you've already chosen your wedding gown, you can pick shoes based on the bridal look you are going for. Whether your wedding style will be vintage, traditional, contemporary, or retro, you'll want your shoes to match the vibe.
You may also decide on designer bridal shoes that complement the anatomy of your wedding dress, like classic lacework, detailed embroidery, or other materials like tulle and satin. These wedding gowns require a shoe that fits in more personally with the style of the dress, creating a more uniform bridal look.
3. Consider Your Location
With all the movement, walking, and dancing that goes into your wedding day, you'll definitely want to consider your location when picking bridal shoes. Weddings can take place in a myriad of places, including churches, ballrooms, barns, or even outdoors. Outdoor weddings may feature a grass lawn, a garden, the beach, or other terrains that call for a special type of shoe.
Ultimately, your wedding location will influence how much heel you should wear. Heels are great for walking down the aisle in a church, but you may not feel as graceful walking through the sand on a beach. Similarly, other wedding environments may feature gravel pathways, stairs, or even a slippery dance floor.
As you consider what shoes you'll pick, you'll want to ensure that they work well with the location. Venues or outdoor spaces with uneven terrains and surfaces are more suited for flat wedding shoes or an extremely low heel, rather than wedding shoes with wedges or tall heels. You may even consider a wedding bootie, which is a mix between a heel and a flat, since it offers more flexibility with location.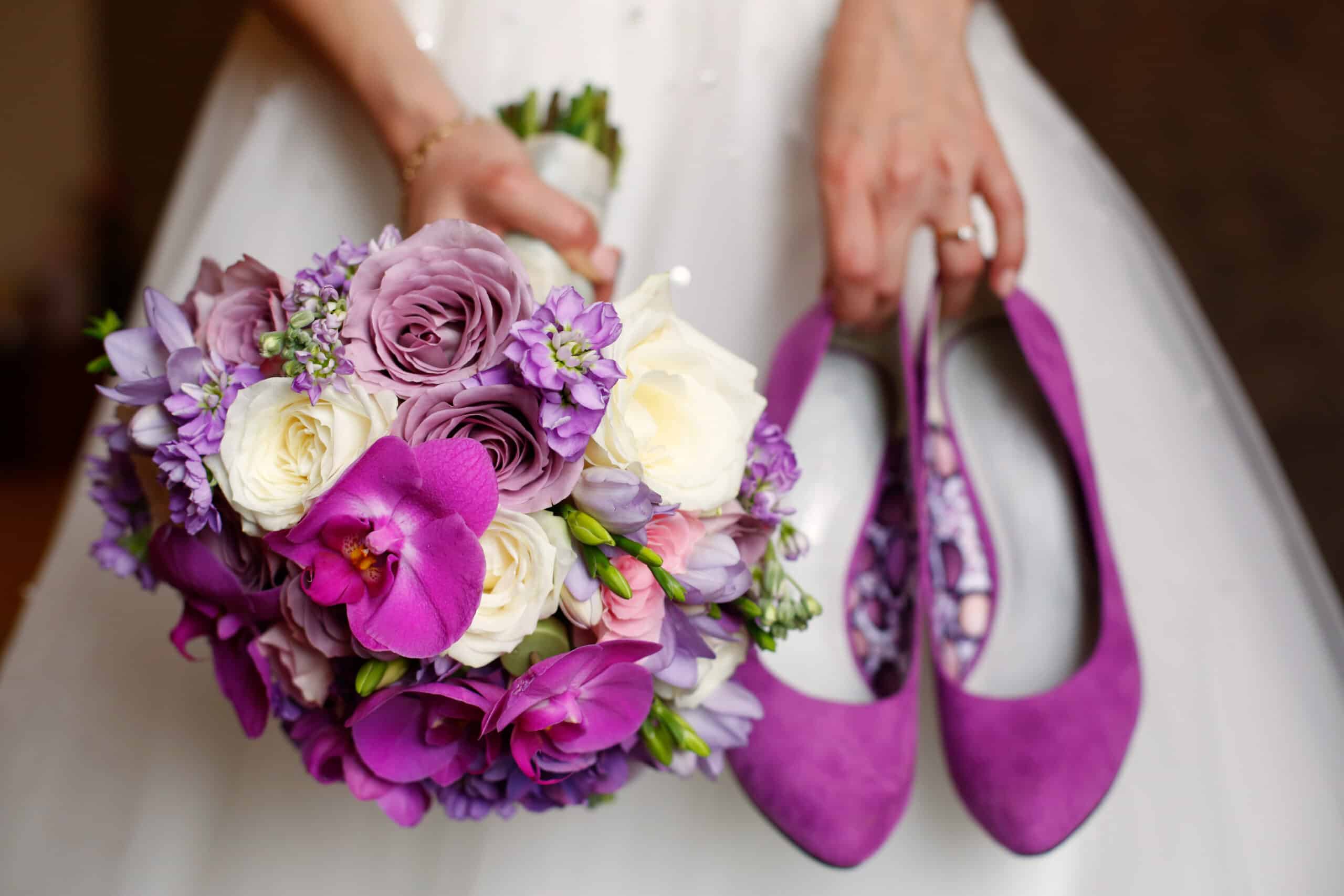 4. Set a Budget
Before you begin your bridal shoe search, you'll want to consider your budget. Wedding shoes can be expensive, especially if you're not exactly sure what you're looking for. Prior to browsing, determine how much you want to and can spend. Having a set budget from the beginning will help to narrow your search and find the perfect shoe for you.
5. Have a Plan B
Brides-to-be should consider choosing two pairs of bridal shoes instead of just one. This is because things may not always go as planned on your big day. There's always the chance of inclement weather or a shoe disaster, which means it's good to have a plan B.
You may choose to wear heels during your ceremony but flats during the reception so you can dance the night away as comfortably as possible.
Soggy weather conditions can create mud, wet grass, and puddle-filled sidewalks. Extremely dainty flats or sky-high stilettos may not be the best options for these sorts of conditions, at least for the outdoor portions of your wedding day. A fun pair of rubber rain boots can be hidden underneath your long gown during pictures and other outdoor events to prevent damage to those expensive designer bridal shoes.
Additionally, there's always a chance of snow if you're having a winter wedding. Appropriate footwear should be considered for this scenario, such as big, furry winter boots. These types of boots can make for fun photos, and in this case, having the appropriate footwear for the conditions is more important than anything else.
In general, it's best to have a backup pair of shoes. Even if your main bridal shoes are extremely comfy, your backup pair is there just in case you snap a heel, strap, or encounter bad weather.
6. Shop Around
It may be tempting to buy the first pair of shoes you fall in love with. However, similar to shopping for your wedding gown, you'll also want to shop around for your bridal shoes. Not only could you find a better deal somewhere else, but you also want to consider all of your options before picking the style that's perfect for you.
Many large-scale retailers sell bridal shoes at their in-store locations and have extensive stock online. This is a great place to start your search since you can browse a wider range of options to determine what you like and dislike. You can then narrow down your search and start shopping for the styles you love.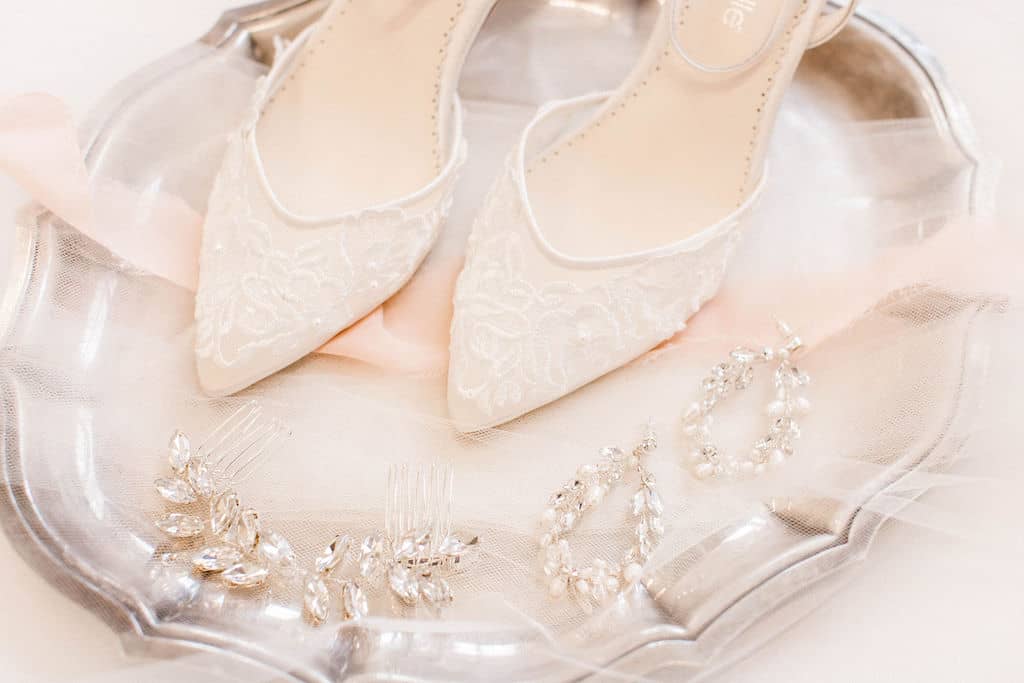 7. Plan Ahead
One of the most important elements of wedding day shoe shopping is to plan ahead. You never want to wait until the last minute to buy your bridal shoes. The longer you wait to shop and buy, the less time you have to find shoes that match your wedding dress. Some retailers may even run out of stock of the shoes you like, and lead times for handmade shoes could take a long time.
Try to find your wedding shoes right after you find your dress. You'll want to bring your shoes to your dress fittings so any wedding dress alterations can be made correctly. This way, the height of your shoe matches more closely with the length of your dress.
8. Consider Comfort
You could potentially be standing in your bridal shoes for hours, so comfortable bridal shoes are a must. Just as cold feet shouldn't be part your wedding day, neither should sore feet. When you look back on this special moment, you won't want to remember being in pain.
Instead, always try on bridal shoes before purchasing them. You may be wearing these shoes all day and night, so you'll want something comfortable enough to last through the festivities. When trying on bridal shoe options, feel how comfortable they are to stand and walk around in. For heels, be sure there is extra padding so the pad of your foot doesn't get too sore.
Certain elements of bridal shoes can influence how comfortable they are. Some materials, like genuine leather, are ideal because of their breathability, and they allow for stretching. Shoes with buckles, laces, or straps add adjustability options for those with wider feet.
Additionally, you should break in your shoes before your wedding day to make them more comfortable. Try walking around in the shoes for a few hours so they can conform more comfortably to your feet. This is especially important if you decide to wear heels, and it gives you time to practice walking gracefully in them.
If you end up opting for style over comfort, you should consider bringing a second pair of more comfortable bridal shoes that you can change into if necessary. Flats or chic sneakers are great options if your feet start to become sore or you want to feel more confident you won't slip on the dance floor. In addition, you can try other preventative measures to avoid any shoe pain, like applying band-aids or tape to sensitive areas on your foot or toes.
9. Decide Your Heel Height
There are varying heel options to choose from, including wedding shoes with a low heel, high heel, or even wedding shoes with wedges. The higher the heel, the more pressure there will be on the ball of your feet for extended amounts of time. If you want a heel but are unsure how comfortable it will be, try to find shoes that don't have ambitious height.
Think about your everyday style; if you've never been comfortable wearing stilettos, then we don't recommend trying them out for the first time on your wedding day. All eyes will be on you, so opt for flat sandals, sneakers, or an elegant low heel.
As a local bridal boutique with locations in Kansas City and St. Louis, Savvy Bridal is here for all brides-to-be. We support any bridal shoe decision you make, and can even offer recommendations based on the dress you choose. Contact us today at 816-859-5699 in Kansas City and 314-312-6396 in St. Louis to schedule your bridal appointment!