Top 10 Wedding Dress Trends for 2022
Top 10 Wedding Dress Trends for 2022
The new year is a great time for new beginnings, and 2022 will truly bring fresh wedding trends that soon-to-be brides everywhere will be pulling off the racks and into dressing rooms. Weddings have always been steeped in tradition, and while this trend isn't disappearing, it is being reinvented to be more fitting for recent uncertain times.
Wedding dresses in 2022 are more focused on personal style than in previous years, and many designers have merged old, timeless trends with newer, more modern fashion. Gown styles in 2022 project a hopeful future while also reflecting on historical periods, like the Regency Era, the modern '60s, and even elements from the grunge culture of the '90s.
With so much versatility, gown shopping this year is sure to have something for everybody. Here at Savvy Bridal, we've put together a list of all the new wedding dress styles for 2022 and what you might see at your upcoming bridal appointment. Take a look at what to expect in the upcoming year before you say, "I do!"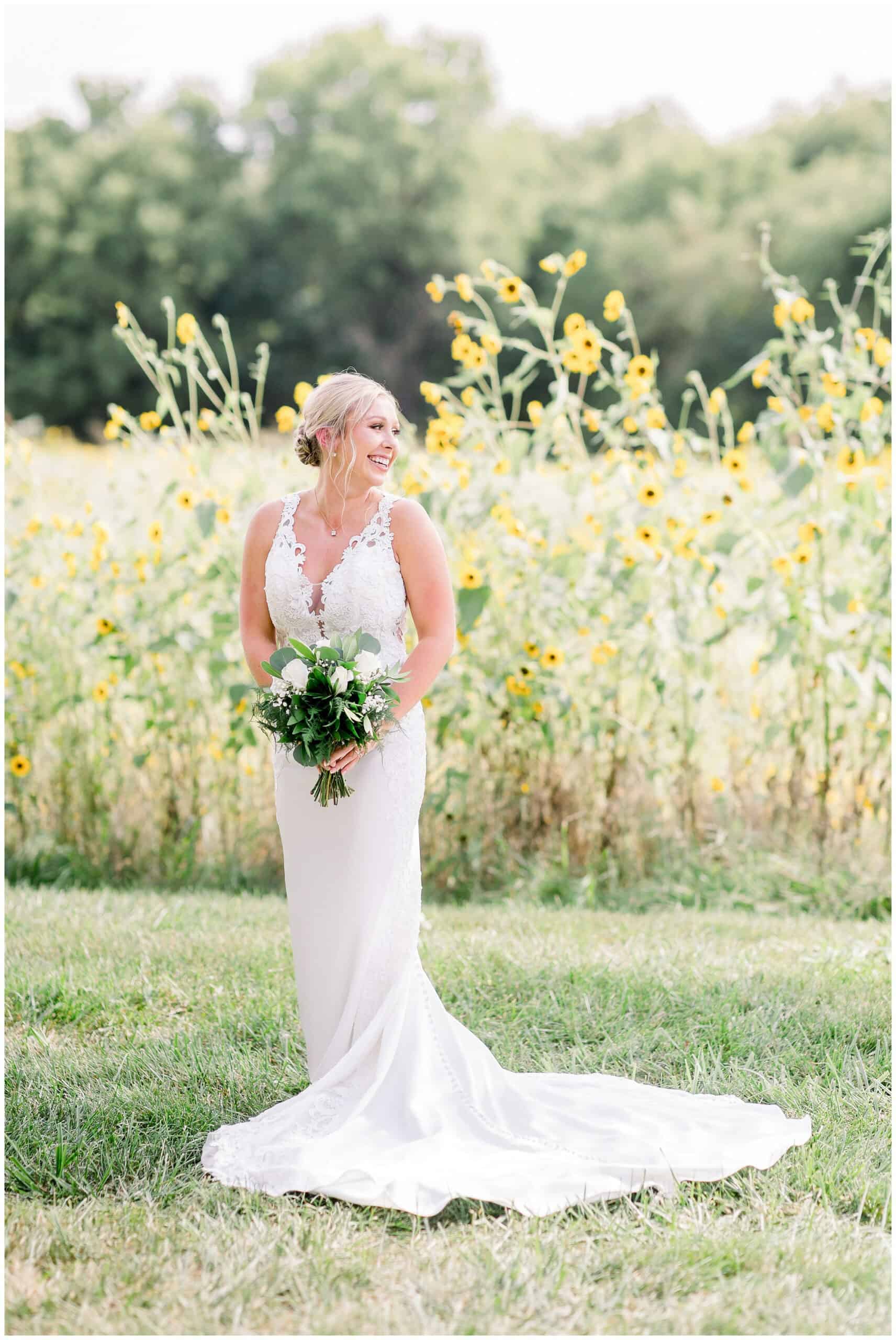 1. Deep V-Necklines
Deep V-necklines are nothing new, but this traditional style is constantly being reinvented to fit new trends. During the Bridal Fashion Week of Spring 2022, this neckline cut appeared in almost every designer collection, meaning it continues to be a popular choice for brides everywhere.
A deep V-neckline begins at the shoulders and creates a long V shape over the bust area. The bottom of the V meets with the top of the waistline to form a revealing yet elegant look. The advantage of a deep V-neckline is that it can be incorporated into many different dress styles, so whether the gown has long sleeves or is strapless, the V-neckline offers a stylish and sophisticated look.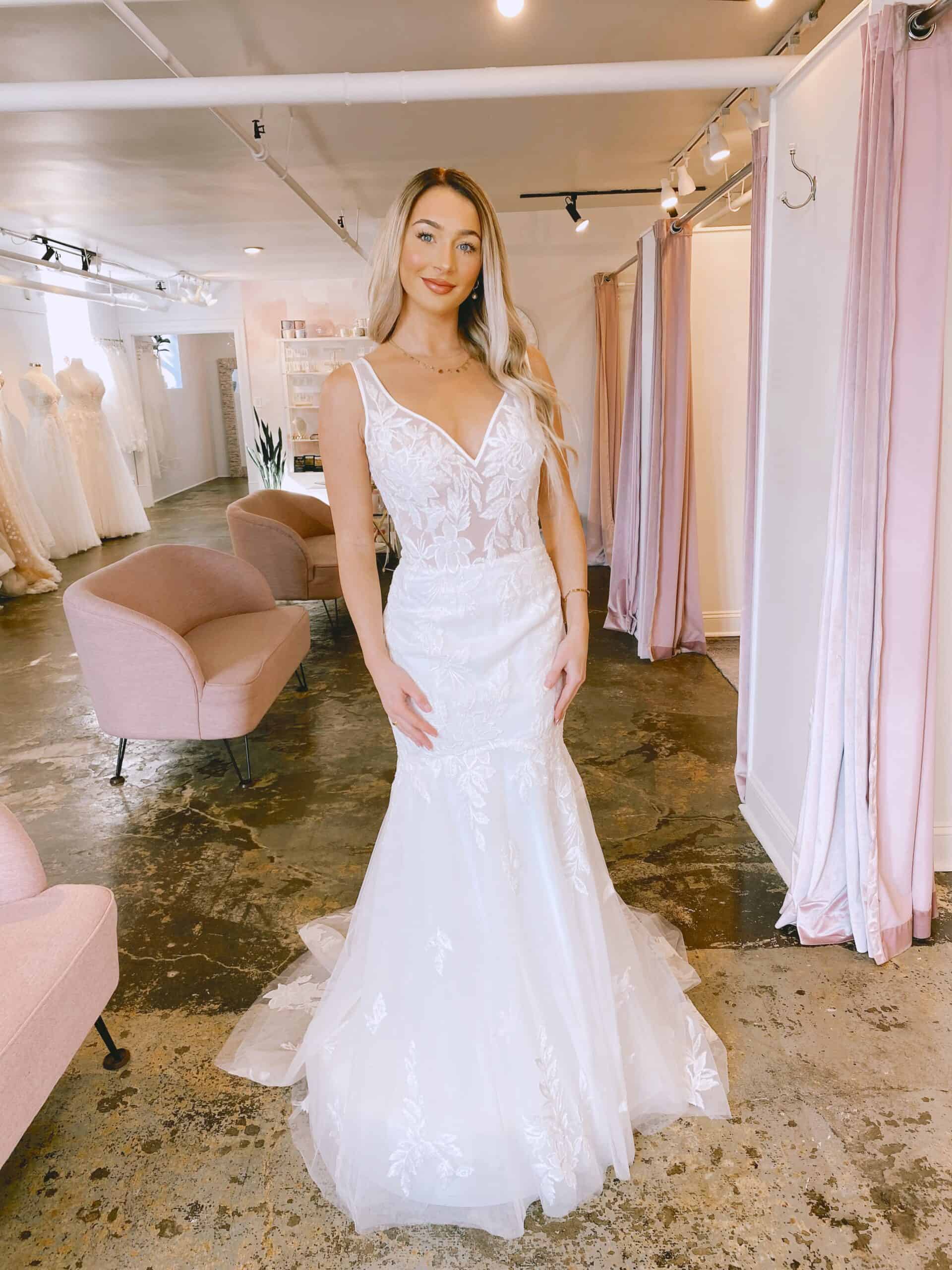 2. Sexy Silhouettes
Silhouette wedding gowns are a style that continues to be popular in the new year, and this type of dress definitely made its appearance during the Spring 2022 Bridal Fashion Week. A silhouette gown is tight around the waistline and hips but falls more loosely around the feet into the train of the material. There are a few different types of silhouette-shaped wedding gowns, including:
Mermaid: This shape is form-fitting through the hips, waist, and to the top of the knees. The end of the dress then dramatically flares out, like a mermaid tale.
Fit-and-Flare: This type of gown is fitted through the bust, waist, and hips, then begins to flare out around the middle of the thigh area. These dresses are different that mermaid gowns because they flare out higher on the leg.
Trumpet: These wedding gowns are very similar to fit-and-flare and mermaid fits, except the material that flares out at the end of the dress is much less dramatic.
In 2022, silhouette dresses are maintaining their detailed and sexy appearance by incorporating many different elements, including ruffles, lace, open backs, and skin-baring and sheer materials.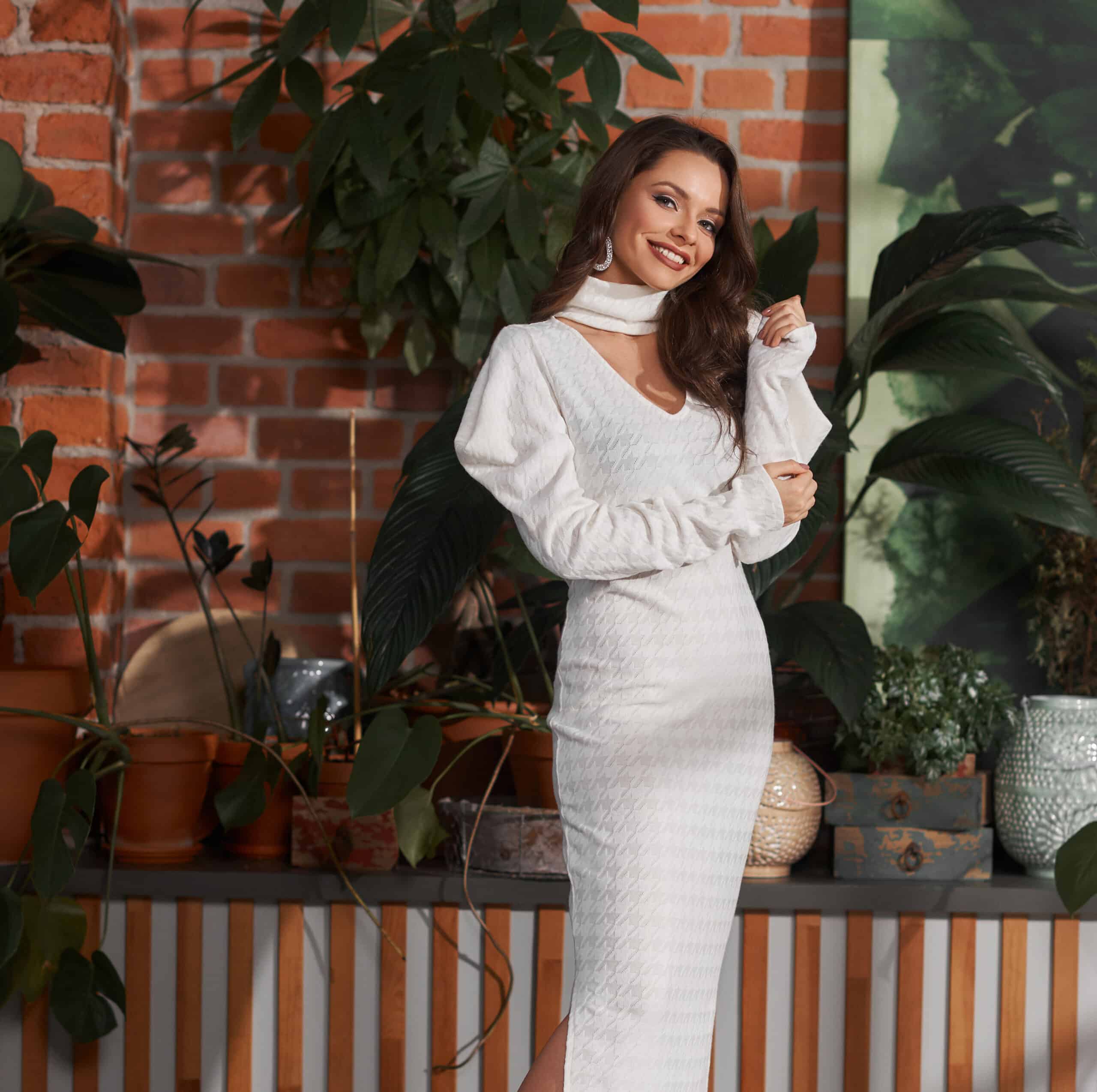 3. Balloon Sleeves
Inspiration taken from the Regency Era is a huge factor in wedding dress trends for 2022. Balloon sleeves have been brought back into many bridal lines as designers embrace puffier sleeve styles to complement the other anatomical elements of the gown.
Sleeves on these wedding dresses feature a large, balloon-like shape surrounding the shoulders, with the rest of the sleeve hugging the arm. Below the balloon, the sleeve stretches down the length of the arm to the wrist. This traditional-inspired style will continue to appear in wedding dress collections throughout 2022.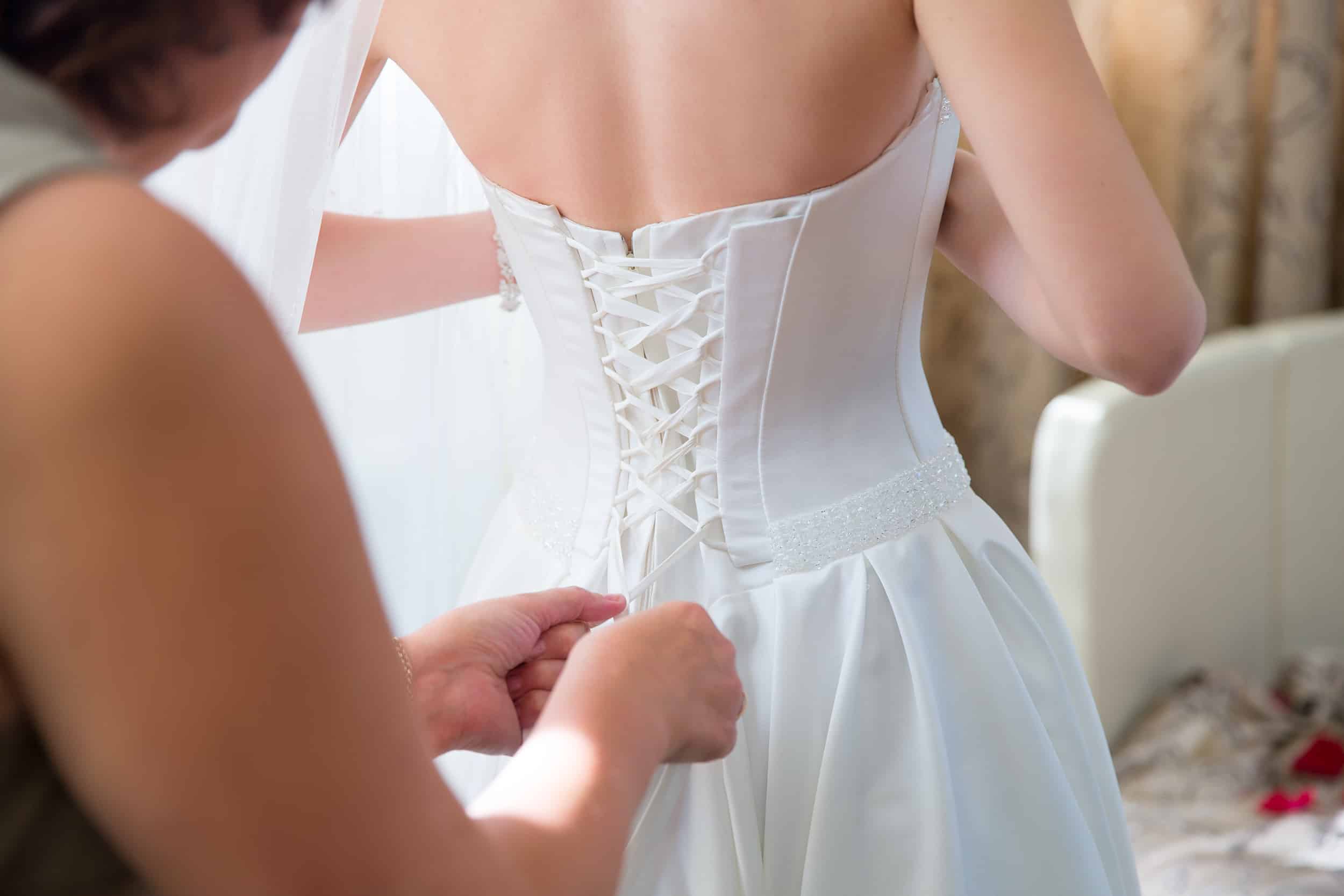 4. Corset Bodices
In the past, corsets have been used to provide bust support and cinch the waist to achieve a certain figure and style. Nowadays, corsets are made to be seen, especially as they are featured on the bodices of many wedding gowns for 2022. They give brides a regal look with a sexy edge on their wedding day.
Corset bodices combine a vintage style with a more modern-day look, and they continue to thrive in the wedding dress industry each season. This structural element helps accentuate the bride's figure while still drawing attention to the gown's silhouette, making this trend both functional and unique in its lingerie-inspired style.
Corset bodices have been paired with gossamer laces, sheer tulle, embroidery, pleating, cutouts, and other voluminous elements. This non-boudoir style will continue to stick around for its homage to traditionality and sensuality.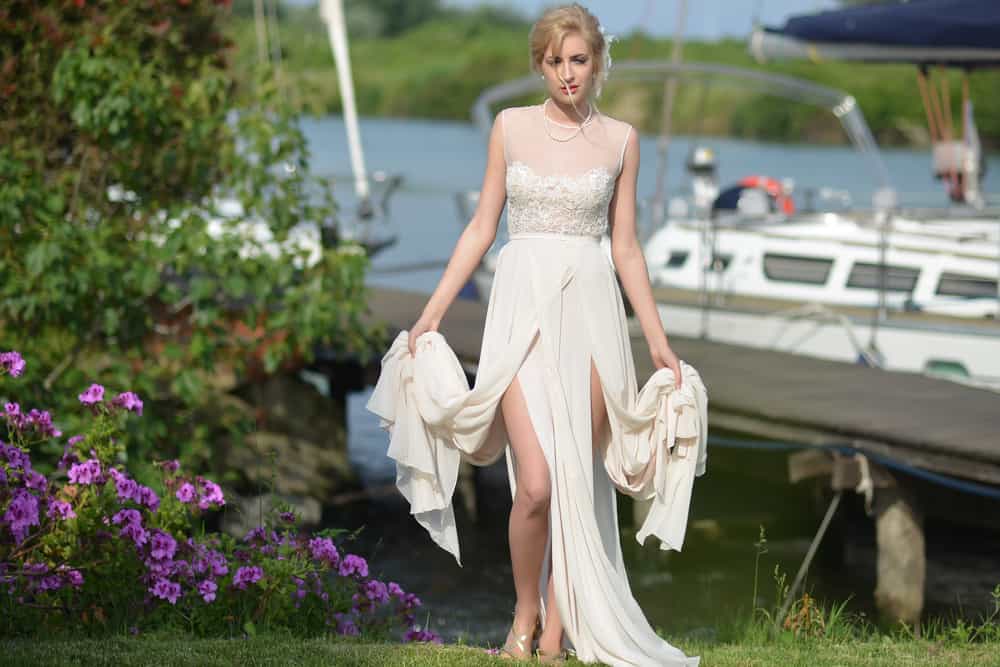 5. Thigh-High Slits
After experiencing a worldwide pandemic, many brides are choosing to step out this upcoming year and show a little more skin when buying a wedding dress. Designers have been bolder with their wedding gowns that feature a high slit, showing off a minimalist and contemporary trend. Thigh-high slits are a great option for brides looking to wear something simple yet sexy on their wedding day.
While many wedding dress styles can feature a thigh-high slit, it's the simple white dresses that stand out the most. These dresses offer few embellishments, but the thigh-high slit adds a dramatic look and appeal, making this simple gown a statement piece for many brides.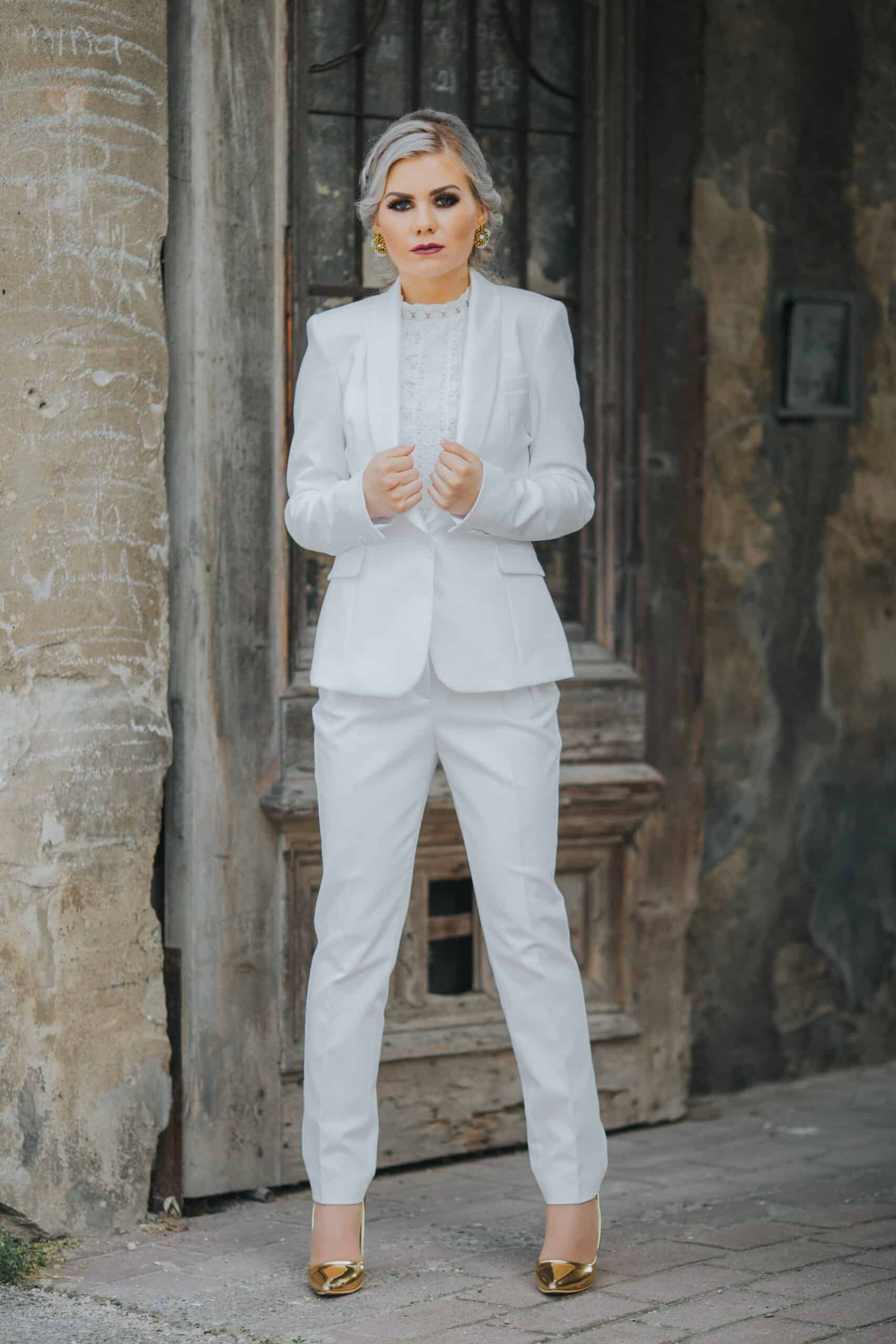 6. Bridal Suits and Separates
Since 2020, there's been an increase in non-traditional bridalwear. The pandemic caused many wedding plans to be changed or canceled, leading to new and unconventional approaches to wedding ceremonies and what they may look like. Bridalwear has mirrored this trend, and designers have embraced it by incorporating signature motifs into modern yet timeless wedding fashion.
Some brides may now prefer white bridal suits, pantsuits, or separates such as pants and a cropped top. These bridalwear options offer more versatility and are perfect wedding dress alternatives for the modern brides of 2022.
In a time of uncertainty, weather-appropriate layering has also been incorporated into wedding day styles of 2022 in case the unexpected happens. Brides may choose to layer jackets, blazers, furry coats, or capes to match their gown, providing them with a more elegant look while also allowing them to accommodate for any sudden weather changes that may occur on their special day.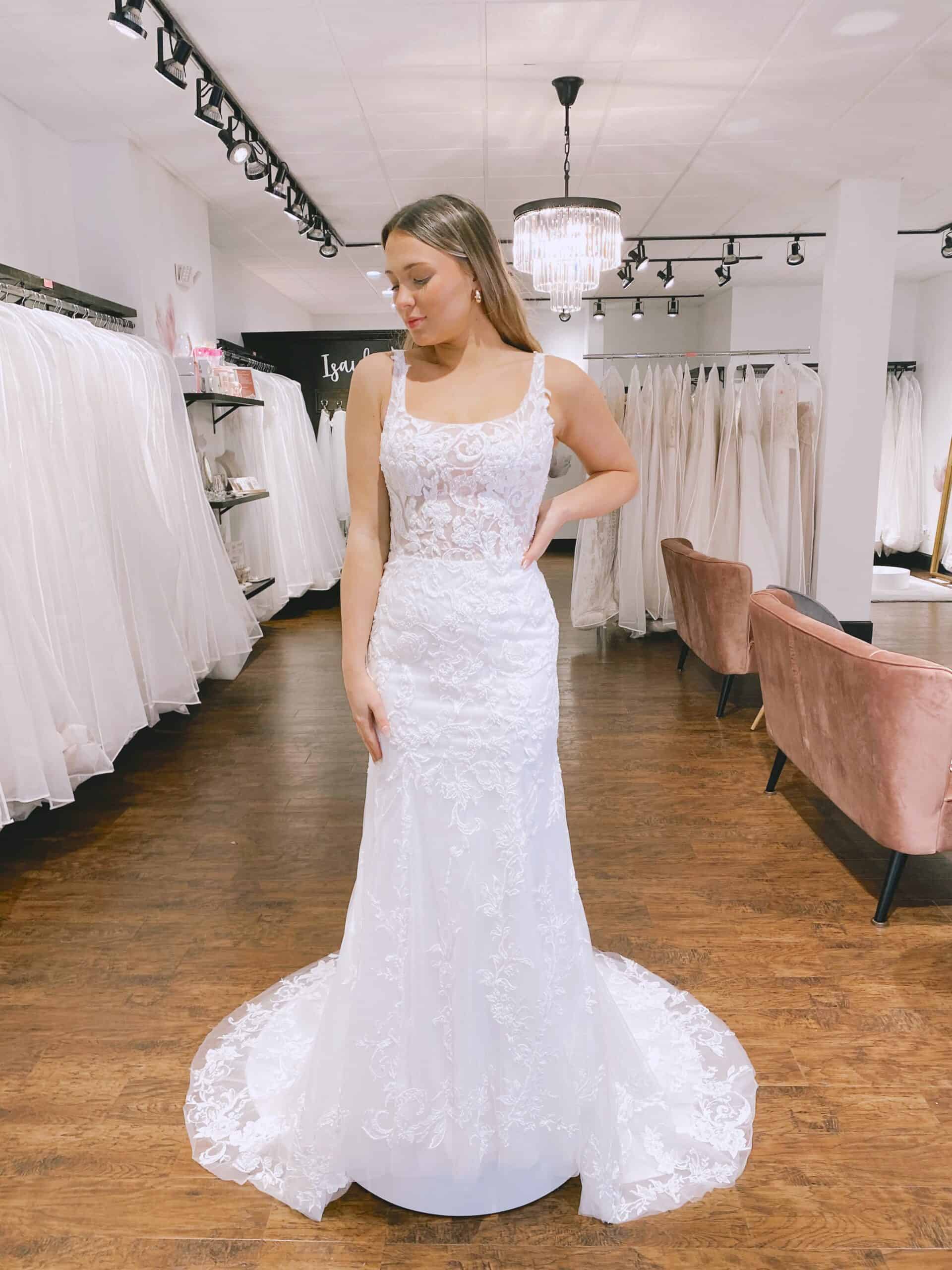 7. Square Necklines
Square necklines have gained more popularity in recent years, making them a top trend for 2022. This contemporary style gives the reminiscence of past historical periods, such as the Renaissance and Regency eras, where this neckline was highly popular. Varying interpretations of the square neckline were also popular in the '90s, making this style a perfect mix of the past and the present.
The square neckline is highly versatile because it is flattering for both small and large busts, making it a popular choice for brides with varying body types. The square begins at the top of the shoulders and is sharply angled down, with the bottom of the neckline sitting just above the bust. It gives the illusion of some cleavage while remaining tasteful by exposing more of the decolletage than other necklines do.
Additionally, a square neckline can match with many different wedding dress materials and styles, including romantic floral lace, heavy satin, or even boho gown trends. Even on minimalist gowns, a square neckline can bring a more chic element.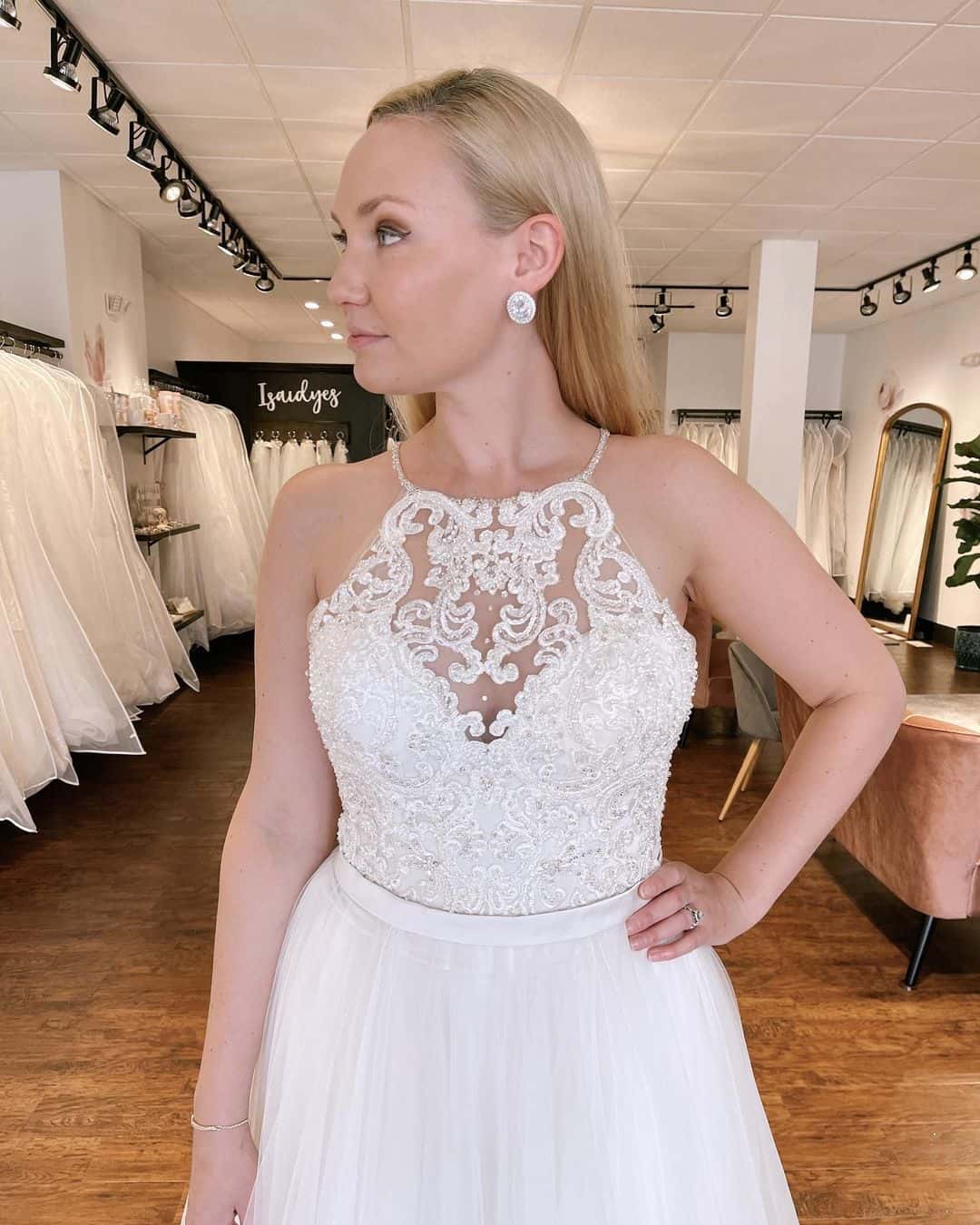 8. High Necklines
High necklines, or halter necklines, are also an upcoming trend expected to be popular in 2022. This type of neckline covers the entire bust and decolletage area, adding a classic look to any gown. For brides wanting a more modest look on their wedding day, high necklines can provide extra coverage while maintaining a very elegant and attractive look.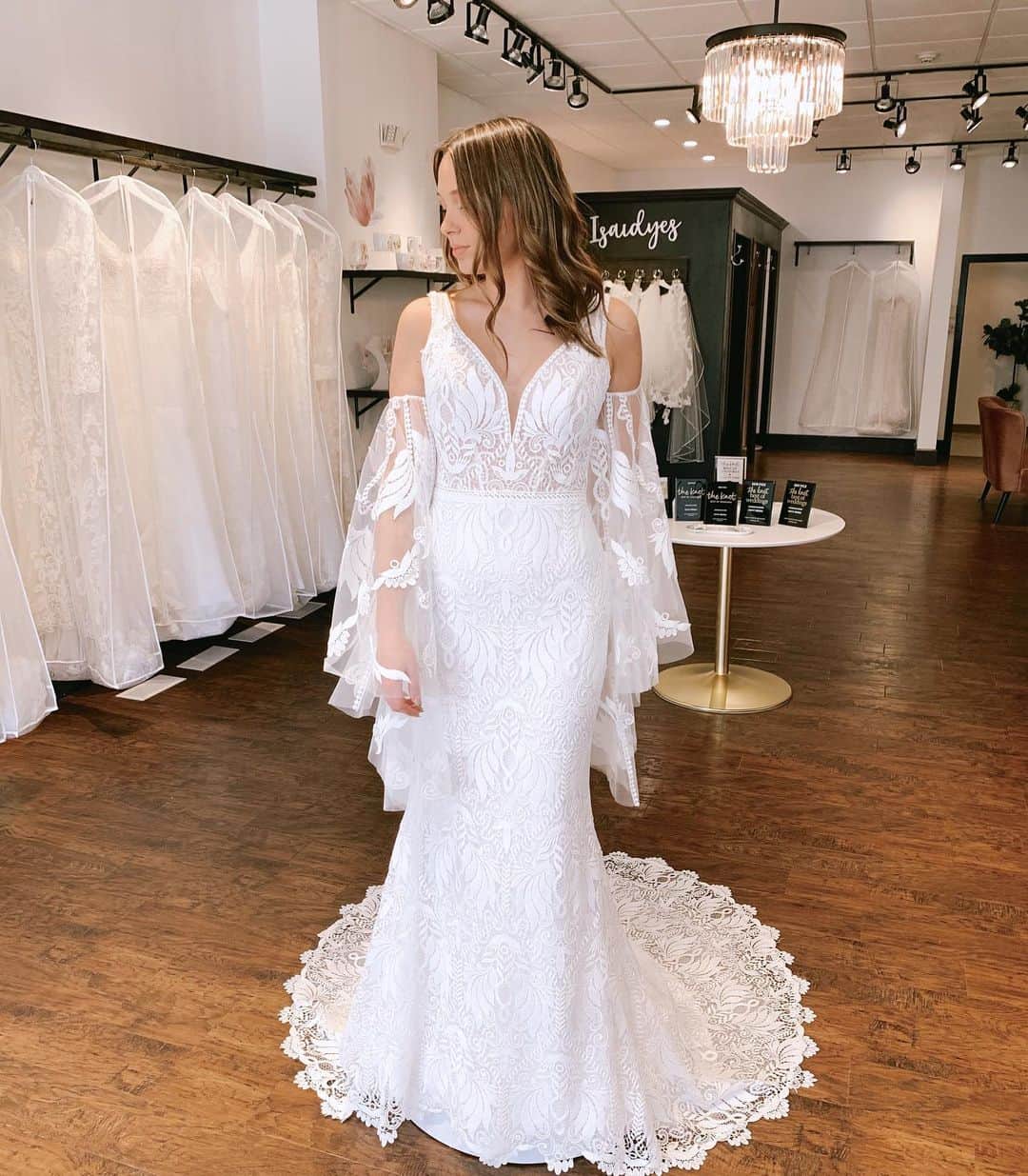 9. Bell Sleeves
The bell sleeve trend first emerged during the Medieval Era and has since become popular during certain decades, such as the '70s and '80s. Today, bell sleeves are back and better than ever. Brides everywhere are looking to embrace this timeless trend once again in 2022.
Bell sleeves are long sleeves that hug the bride's upper arm but flare out along the forearm and near the wrist. Many wedding dresses have bell sleeves embellished with lace, giving the gown a very classy look.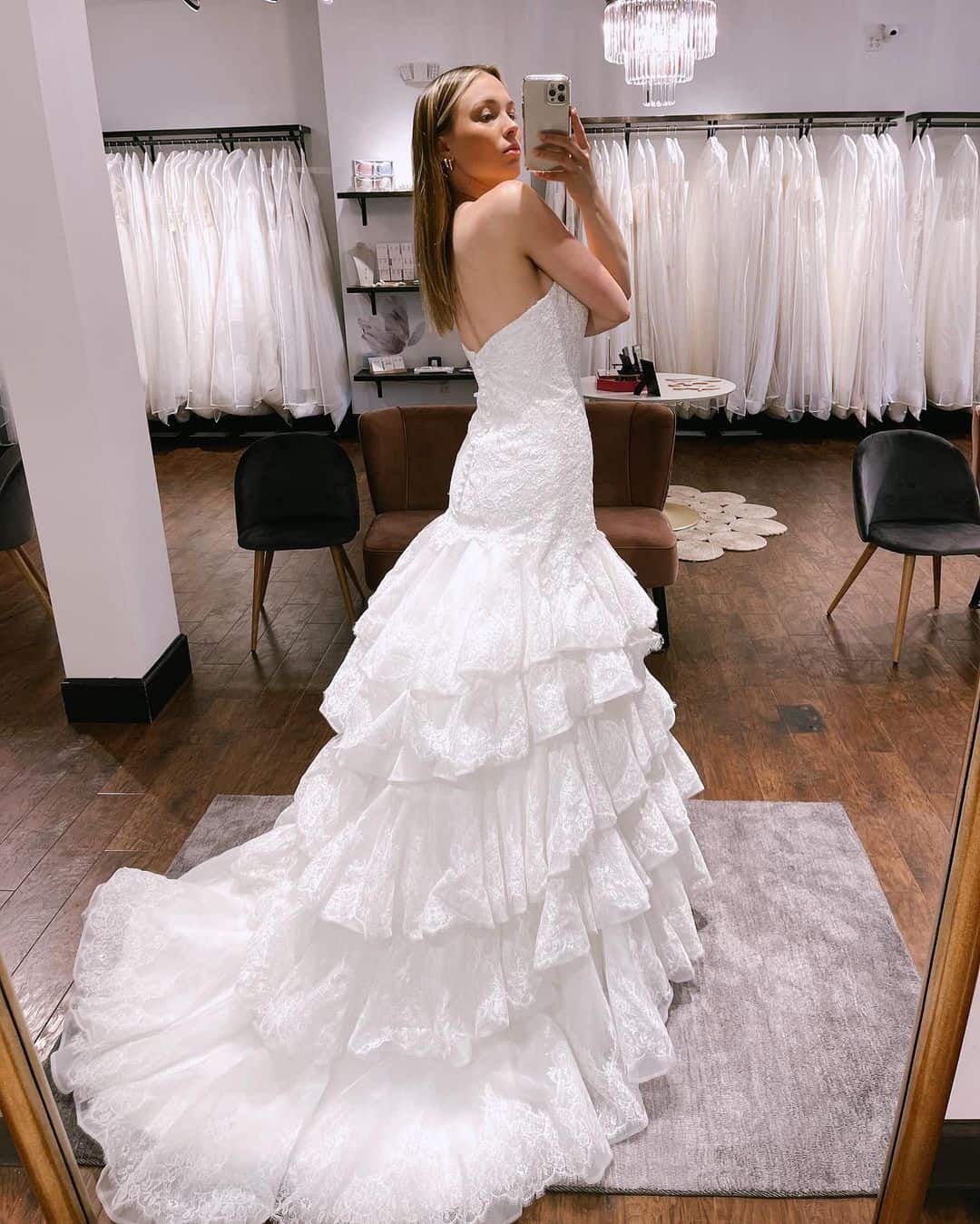 10. Ruffles
Ruffles are another top trend that's once again making an appearance in 2022. With the return of larger weddings after the pandemic, it's the perfect time to indulge on a frilly and maximalist gown. For brides looking to fulfill their fairytale wedding fantasy, gowns with voluminous and romantic ruffles are an extra touch to make you feel just like a princess on your special day.
Ruffles offer an unapologetic detail on wedding dresses, giving the skirt an airy dimension that is truly a dramatic fashion statement. Ruffles may appear anywhere on a wedding gown, including the skirt, bodice, sleeves, and hemlines. In 2022, designers are adding tiered tulle, fluffy layers, ribbon-like swirls, and gossamer-sheer puff-sleeves to wedding gowns to keep up with the ruffle trend.
At Savvy Bridal, we offer all the latest trends and styles for you to choose from during your bridal fitting. To make an appointment, give us a call at 816-859-5699 in Kansas City and 314-312-6396 in St. Louis.