Anatomy of a Wedding Dress
Shopping for a wedding dress can be complicated for various reasons, but understanding the terminology used by bridal stylists is vital for a good shopping experience. If you already know what to expect before dress shopping, it may be easier to communicate exactly what you're looking for to your stylist while shopping.
Savvy Bridal is here to help you make the most informed decision about your wedding dress. Whether you're looking for a gown with a lot of flair or you want something a little more conservative, we offer a variety of options for our brides-to-be. We want you to have the knowledge of these gown terms to make your dress shopping experience more enjoyable.
Silhouette
The silhouette refers to the overall shape of the gown. You have likely heard terms like "ballgown" or "mermaid." These terms refer to the silhouette of the dress. Many brides start by looking at the silhouette, such as ball gown vs. mermaid, A-line vs. sheath, or ball gown vs. princess.
It can be hard to figure out which dress silhouettes work best for you, but it's a perfect place to start. Once you've narrowed it down to a silhouette or two, you can start to try on dresses that are more in line with what you are looking for in a gown.
The most popular wedding dress silhouettes include:
A-Line: Also called princess silhouettes, A-line gowns are fitted through the natural waistline and then softly flare out, creating an "A" shape. A-line gowns are glamourous and romantic, and the silhouette is versatile enough for nearly any wedding style.
Ball Gown: This silhouette features a fitted bodice and waistline with a full skirt—typically made with layers of tulle. These dresses look like the gowns Cinderella wears. Ball gowns will give brides their fairytale moment.
Mermaid: Mermaid wedding dresses are form-fitting from the top to the knees, where they will then dramatically flare out, mimicking the appearance of a mermaid tail.
Trumpet: Trumpet dresses look similar to mermaid gowns; however, a trumpet silhouette will have a little less volume at the bottom. They tend to stay fitted through the hips and then flare out mid-thigh with less drama than a mermaid dress.
Fit-and-Flare: As the name suggests, a fit-and-flare gown is fitted through the bust, waist, and hips with a flare around the mid-thigh area. The main difference between a fit-and-flare and mermaid gown is the location of the flare. Fit-and-flare gowns will flare out higher on the leg than mermaids. Fit-and-flare dresses are great at highlighting hourglass figures.
Empire: Empire waist gowns have a lifted waistline that falls right under the bust and into a slimmer—but not form-fitting—skirt. The skirt will flow away from the body down to the floor, giving a light, airy appearance. Emphasis will be on the face and bust in an empire gown.
Sheath: These dresses flow with the body, creating a simple, fitted look. Sheath gowns hug the body and fall straight to the floor. For an elegant, sophisticated look, a sheath gown is the way to go.
Column: This silhouette is streamlined and simple. Often, column and sheath wedding dress silhouettes are confused with each other, but a sheath tends to be lighter and more effortless. Column dresses tend to have a more natural waistline and are made with fabrics that hold more structure, like taffeta or organza.
Slip: Slip dresses are simple gowns made of unstructured fabrics. These minimalist gowns are made to loosely fall over your body.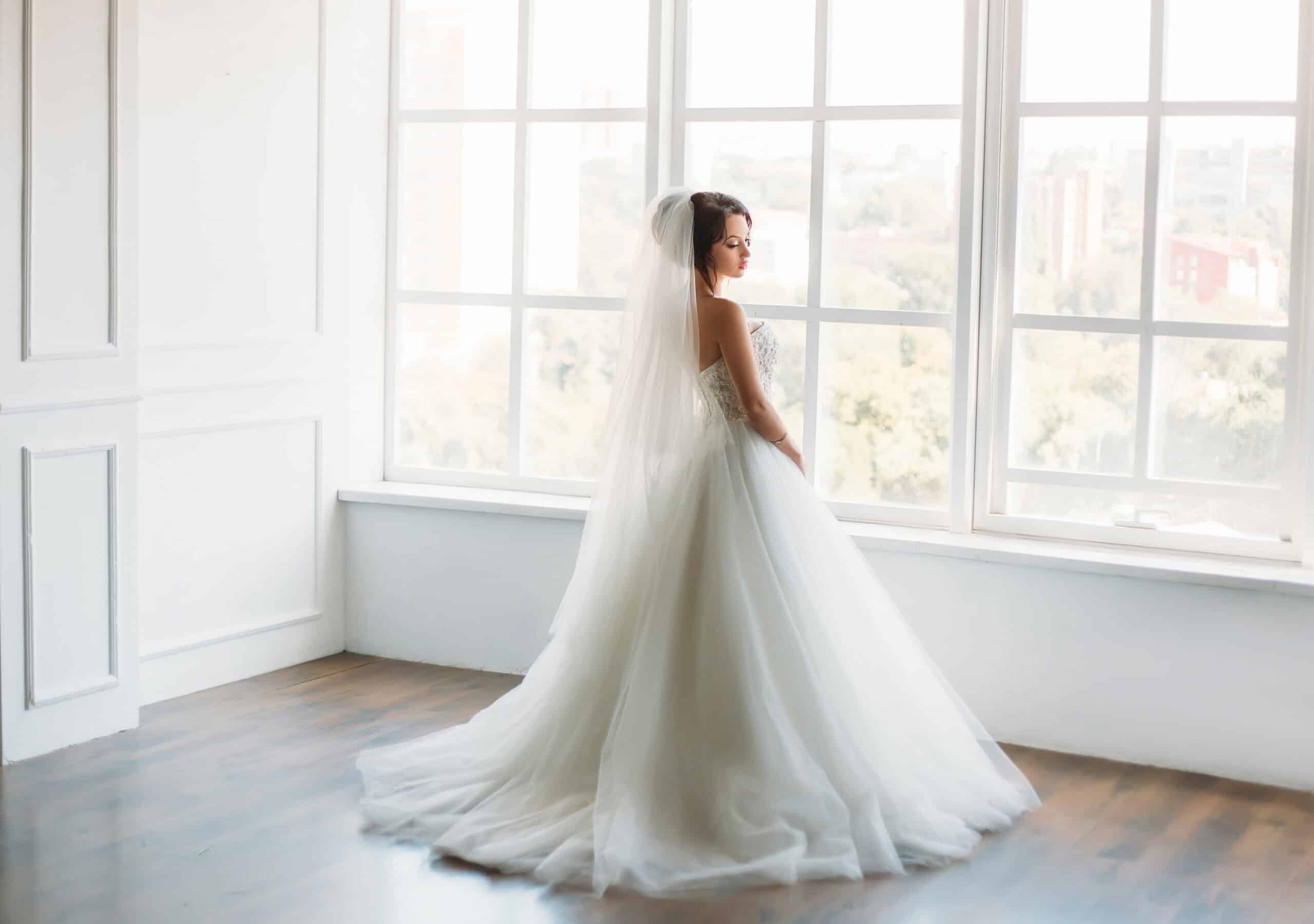 Fabric and Finish
There are a wide variety of fabrics for wedding dresses, and many brides' main focus is the fabric used to construct the gown. Depending on the fabric you choose, your dress can appear more or less formal. Different gown styles can also fit differently depending on the fabric, so you'll want to consider the best fabric for your dress's cut, style, and texture.
You should also consider the season when you're getting married as some fabrics will feel heavy and crisp, while others are lighter or cling more to your body. While silk and satin tend to be the most sought-after wedding dress fabrics, there are other options if you're looking for something more unique.
Silk: This highly pursued fabric is resilient, strong, and offers elasticity depending on the dress style. Silk also speaks finery and luxury.
Satin: Satin bridal gowns are more lustrous and glossier because they are made from densely woven silk. A wedding gown that's satin tends to be clingier to your skin, causing some dress styles to fit differently. These gowns also offer a more formal look because of satin's elegant and expensive characteristics.
Duchesse Satin: This fabric is a blend of rayon and silk, making it more affordable than pure silk. It's also a lighter material and great for summer wedding gowns.
Charmeuse: Charmeuse is a lightweight blend of silk and satin. These dresses have a more mature look because they offer less luster and gloss.
Shantung: This material is textured, weaved silk with a low sheen. Gowns with shantung fabric tend to have a rougher, nubby quality to them.
Chiffon, Tulle, and Organza: These fabrics are gauzy, textured silks that can be used to create a multi-layered skirt. Because they are translucent and lightweight, they give a fun, whimsical, and fairytale-like quality to any wedding dress.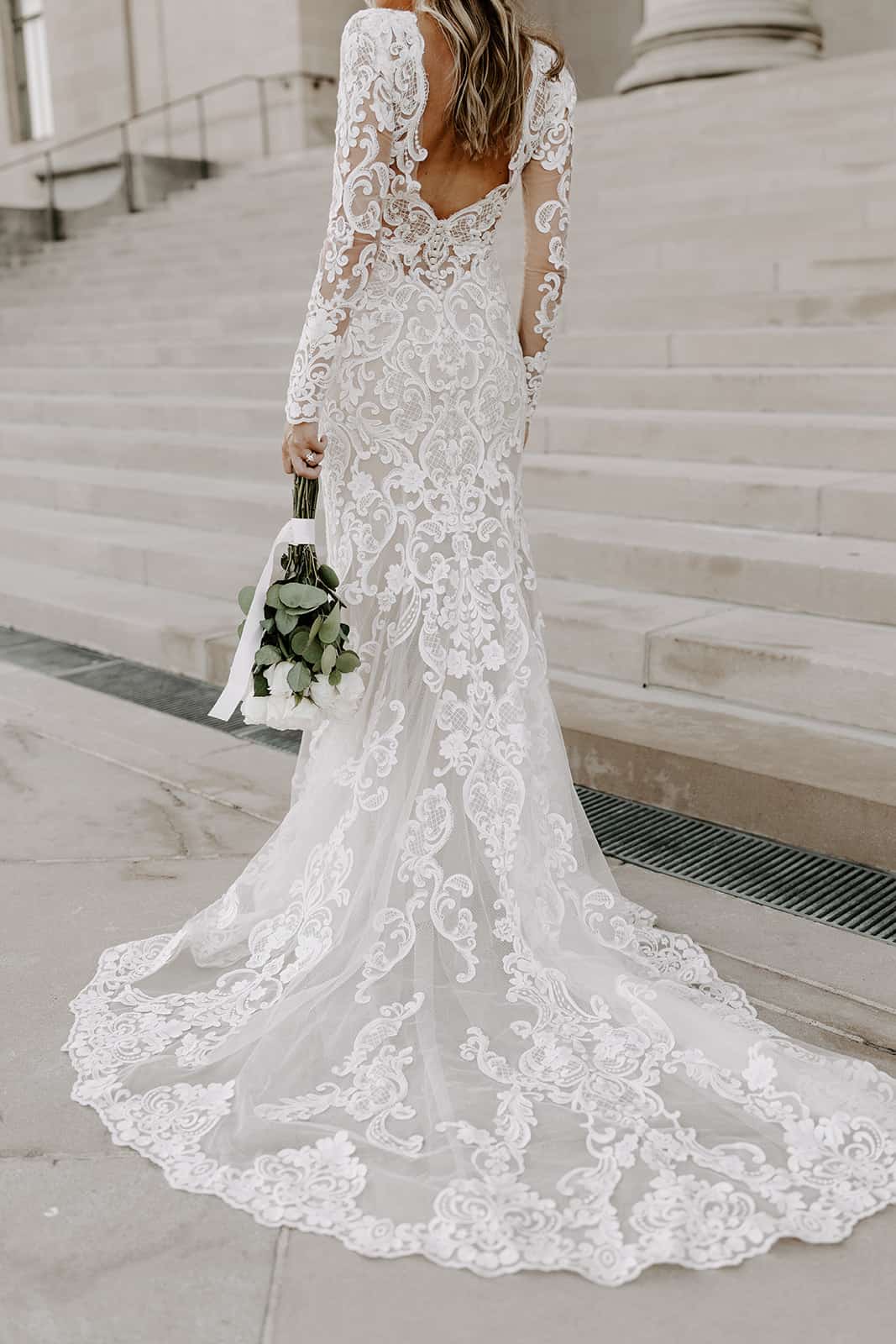 Lace and Embellishments
The addition of lace and embellishments to any gown add a certain level of intricacy and boldness. They are also great for matching accessories to your wedding outfit.
Lace is a feminine, romantic fabric that has remained popular for centuries. It's made by interlacing different types of thread, including nylon, cotton, and silk. With its timeless quality and highly elegant style, adding lace to a gown creates a design with visually appealing graphic detail. There are many different weaves and shades to choose from, allowing for bold decoration on your wedding dress.
Similarly, embellishments add glamour, uniqueness, and individuality to any gown. Beads, gems, and sequins create a bold look and give the wedding dress an extra sparkle. Other embellishments may include elaborate embroideries that add texture, richness, and sharp detail to plainer fabrics.
Neckline
The neckline of a dress is often the first thing people notice when they look at the gown. It is also the part of the dress that highlights the face. Some necklines are high up on the neck to offer coverage, while others are lower and show off the décolletage.
There are many different wedding dress necklines that brides should consider. Popular necklines for wedding dresses include:
Sweetheart or Semi-Sweetheart: This beautiful neckline was designed to mimic the shape of the top of a heart. The sweetheart neckline accentuates the bust, giving a leaner appearance. A semi-sweetheart neckline is the perfect choice for women looking for a bit more modesty or have a large bust, as it falls higher on the chest. Sweetheart wedding gowns have been some of the most popular for the last couple of decades.
Illusion: Illusion necklines include a panel of sheer fabric, usually tulle or lace, that covers the chest to the base of the neckline or over the shoulders to give the illusion of a deep plunge, strapless, or softly strapped wedding dress. Illusion necklines may include sewn-on appliques.
V-Neck: A V-neckline is the perfect way to make your torso appear longer, as the "V" shape of the hemline leads eyes down the chest. Dresses with V-necks usually have straps or sleeves, and the length of the "V" can be slight or dramatic.
Plunging: The plunging neckline is a dramatic look that dips low on the torso to accentuate the dé This sexy look often includes an illusion panel to prevent wardrobe malfunctions—but not always.
Straight: A straight neckline is a modern option for strapless gowns. This neckline offers a bit more modesty and coverage, while still highlighting the collarbones and chest.
High: A high neckline will hit at the base or above the neck. This neckline gives brides the most coverage, but it can also be used with an illusion to prevent an overly modest look. A high neckline evokes memories of style icons like Audrey Hepburn and Grace Kelly.
Bateau: Bateau necklines, also referred to as boatneck or Sabrina necklines, have made a comeback due to their modest, vintage look. The neckline is high and wide. It reveals the collarbones but nothing more.
One-Shoulder: With the one-shoulder neckline, brides get an asymmetrical look that will evoke images of Greek goddesses.
Off-the-Shoulder: An off-the-shoulder gown showcases the chest with draping sleeves. Brides with broad shoulders might want to avoid dresses with this neckline.
Scoop: Scoop-necked wedding dresses feature a U-shaped neckline that lengthens the neck and highlights the collarbone. It is one of the most universally flattering necklines.
Halter: Halter necklines feature fabric that wraps around the neck, leaving no room for sleeves. Halter wedding gowns are a great way to show off your shoulders, and they come in many different styles ranging from modest to risqué.
Jewel: A jewel neckline rests above the collarbone at the base of the neck like a T-shirt. Dresses featuring jewel necklines tend to have beading, making it look like the bride is wearing a necklace. This neckline makes the neck look longer and draws attention to the bust; it also makes the upper torse look larger and wider, making it a great option for those with narrow shoulders and smaller busts.
Portrait: While similar to off-the-shoulder, portrait necklines use more fabric and are characterized by their scoop from the tip of one shoulder to the tip of the other.
Square: The square neckline, also referred to as an empire neckline, mimics the shape of a square. This angular design is a great choice for brides who want to slim the appearance of their shoulders while still showcasing their necks and busts.
Queen Anne: The Queen Anne neckline features a high collar on the back but includes a low neckline in the front that is typically a V-neck, sweetheart, or scoop cut.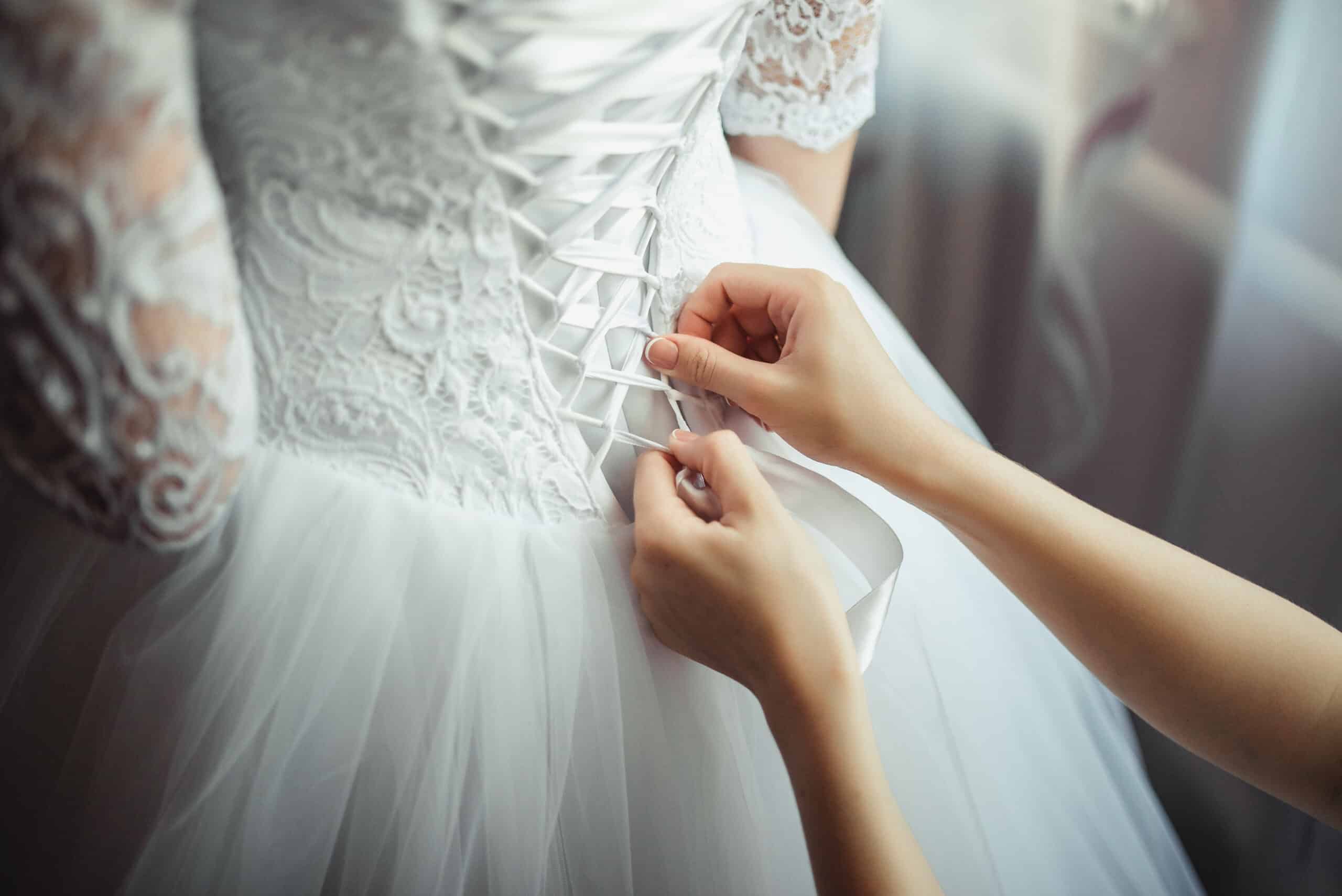 Bodice
The bodice is the top portion of a wedding dress. It is often the focal point of a wedding gown because it highlights the face and waistline.
Bodices come in many styles and shapes, and each type of bodice works best for different body types and styles. Some bodices are more traditional, while others are bold and daring. Bodices may feature corsets, beading, lace, and crystals. Corsets and boning may be visible from the outside of the dress or hidden as part of the inner construction of the gown.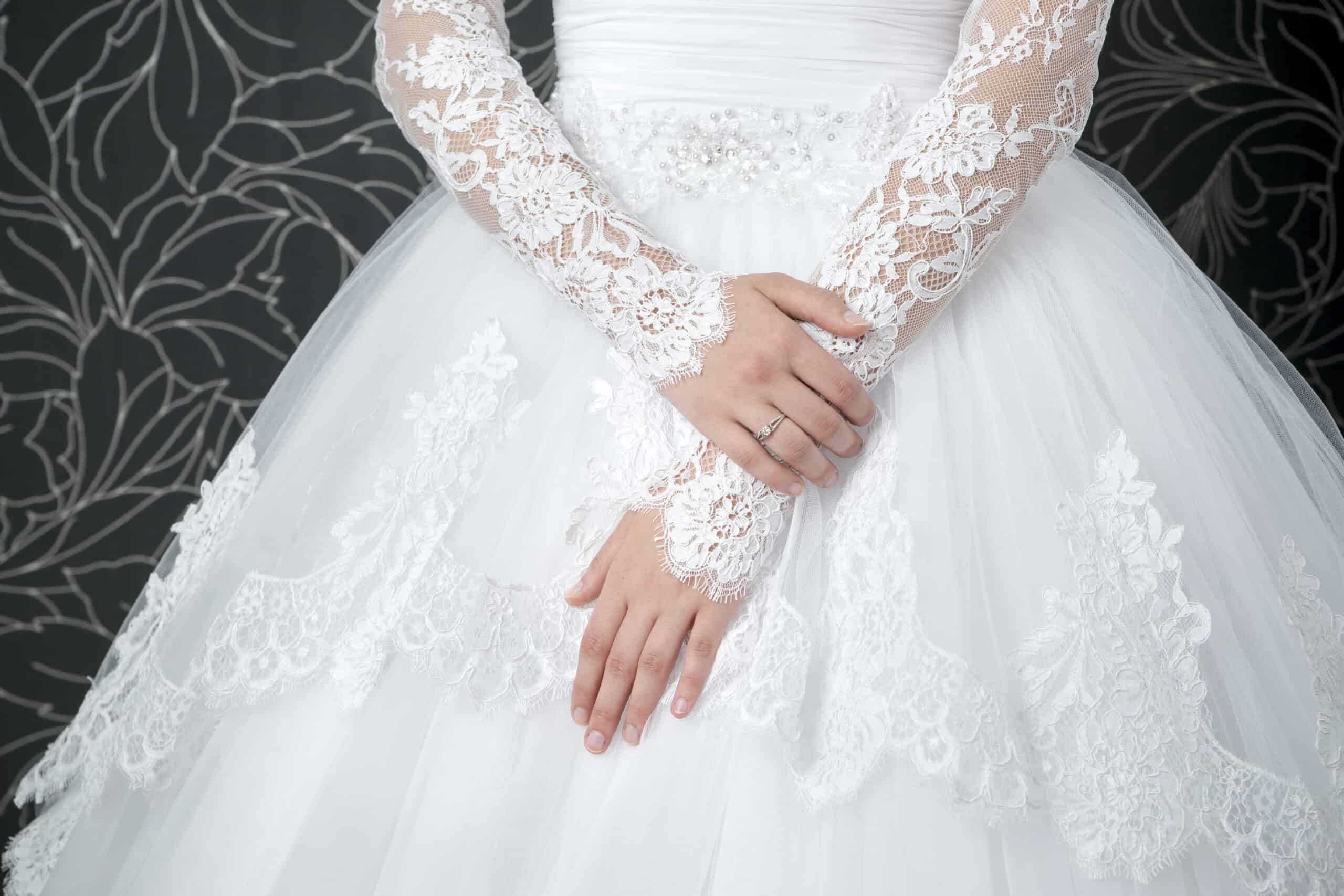 Sleeves
Sleeves are a great way to add some personality to your wedding dress. Many brides choose sleeves based on when their wedding is being held, as long sleeves don't make much sense for an outdoor wedding in July. Depending on the style or theme of your big day, sleeves might work well or not.
There are different types and lengths of sleeves for wedding dresses. Some of the most popular sleeves include:
Long sleeves: These sleeves cover your entire arm and usually end near your wrist. You can also find a wedding dress with removable long sleeves that allow you to create a more casual look after the ceremony.
Short sleeves: Short sleeves offer a more casual and flirtier fit and are great for brides getting married in the summertime but still want to cover their shoulders.
Cap sleeves: Cap sleeve dresses fall somewhere between sleeveless and short sleeve styles. They typically have wide straps that can fall onto the sides of your arms or stay up on top of your shoulders. Cap sleeves are typically also decorated with beads, lace, or other embellishments.
3/4-length sleeves: These sleeves do just what their name says—they go about three-fourths of the way down your arm, stopping either around your elbow or the top of your forearm.
Sleeveless: Sleeveless dresses are great for summer weddings or ceremonies where you'll be out in the sun all day. You also won't have to worry about rolling anything up when you eat during the reception.
Bell sleeves: Gowns with a bell sleeve have a long, fitted sleeve with a small puff at the shoulder.
Waistline
A dress's waistline is where the skirt meets the bodice. The waistline of a wedding gown adds style and accentuates a specific gown silhouette. It can bring balance and shape to any dress. The waistline also dictates how the dress will work on your figure. Dropped waistlines give the appearance of a longer torso. On the other hand, a high empire waist can create the illusion of a slimmer waist and figure. If you're a mother-to-be, empire waists are great for those expecting.
Skirt Details
Bridal skirts typically start at the natural waistline or on the hips. The details of these skirts bring personality and individuality to your wedding gown by adding volume, length, depth, boldness, and elegance.
Some wedding skirts have a bustle-back characteristic to them, where yards of fabric are gathered up, looped, and secured on the back of the skirt. This effect adds more fullness to the skirt and makes it feel spunky and fun.
Skirts on wedding gowns with slits or pleats can make the dress appear more romantic and sexier. Flounces and draped skirts feel more whimsical, modest, and poetic. Skirts can also be layered up with fabrics like chiffon and tulle to create a ball gown that feels magical.
Hemline
The hemline of a wedding dress refers to the gown's length. The length of the skirt can indicate many things, including the formality of the wedding and the age of the bride. Popular gown lengths have changed over time, and nowadays, wedding dresses come with many different types of hemlines.
When deciding what hemline you like, it really comes down to personal preference. Longer dresses—especially floor-length gowns—are considered the most formal type of hemline. Mid-calf to ankle lengths are semi-formal, and knee-length or shorter are considered informal and more casual.
If you want something a little more unique and contemporary, you can also try a high-low dress. These gowns feature a shorter skirt in the front with longer material at the back.
For second-time brides, you may prefer a more casual wedding and a shorter hemline. Minidresses are great for brides looking to try something unconventional, and they can still be considered elegant and chic.
Your hemline will see the most wear and tear on your wedding day, especially if you have a longer gown. Be sure to take extra care of your dress's hemline, and consider having your gown professionally cleaned after the big day.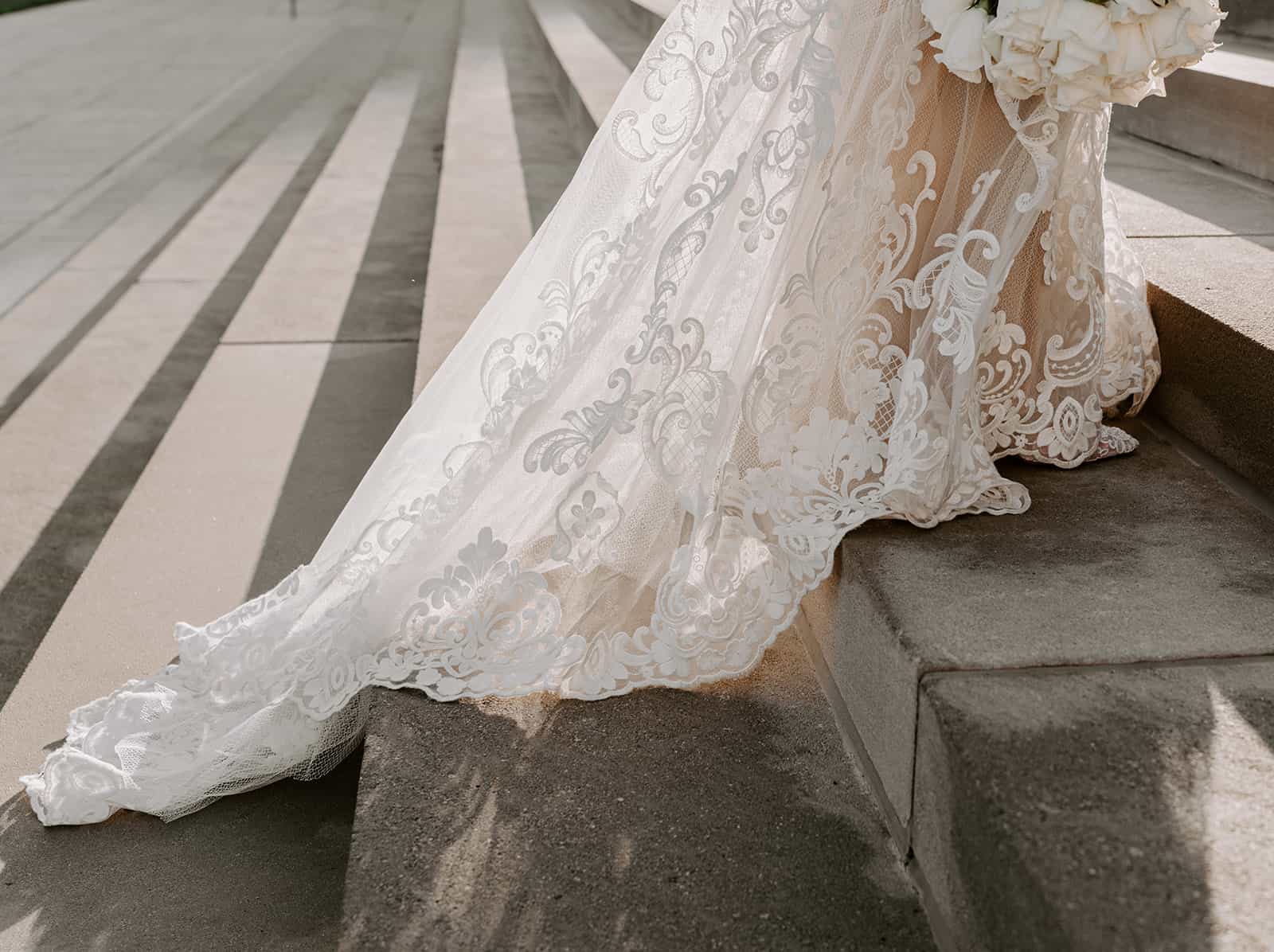 Train
A train is one of the most iconic parts of a wedding dress. Trains flow behind the dress as the bride walks down the aisle, creating a grand appearance. Longer trains make bigger statements because they are more formal. Court trains are shorter and less formal because they spill from your shoulder and fall to the floor.
Detachable trains can be any length and are attached to the wedding dress with hooks or buttons. After the wedding ceremony, these trains can be detached to create a more casual look.
While shorter and detachable trains can allow for easier movement during and after your ceremony, you can always bustle your longer train onto the back of your skirt during your reception. This will prevent it from getting caught underneath shoes and heels and make hitting the dance floor a lot easier.
If you are looking for bridal dresses in Kansas City, look no further than Savvy Bridal Boutique. Don't forget our Lawrence, Kansas, location called Simply Savvy Bridal. If you're ready to start wedding dress shopping, contact us today at 816-859-5699 in Kansas City and 785-424-7120 in Lawrence to make an appointment.