9 Bridal Shoe Mistakes to Avoid
Finding the right bridal shoes for your special day is just as important as the other aspects of planning the perfect wedding. Not only do you want shoes that are appealing in appearance and match your wedding day look, but you also want to find a pair that's comfortable enough to avoid blisters or pain as you dance and celebrate. As you search for the right wedding footwear for you, avoid the following bridal shoe mistakes to salvage your feet and enjoy every moment of your wedding's festivities.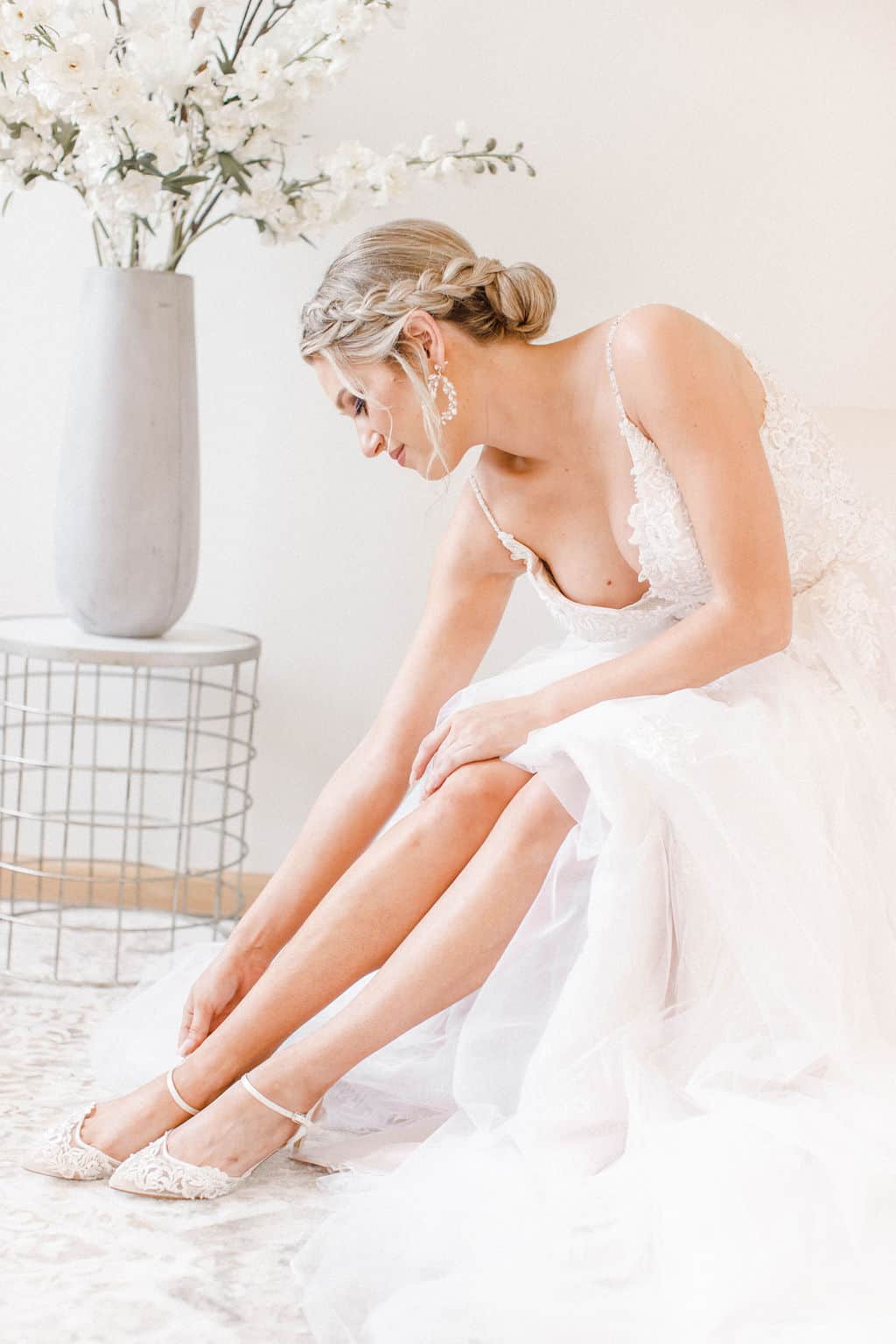 1. Not Breaking Your Shoes In
One of the biggest bridal shoe mistakes many brides make is not breaking in their wedding shoes before their big day arrives. Before any new pair of shoes is properly broken in, blisters are very common and can be uncomfortable and painful. The same is true for your bridal shoes. For this reason, it's best to break them in beforehand to ensure your walk down the aisle is as effortless as possible.
You don't have to over-wear your shoes before the day of the wedding. Even wearing your bridal shoes for short spurts of time will help them feel more comfortable. Most brides are excited when they receive their wedding shoes anyway, so why not use this as an excuse to try them on?
If you are planning on wearing a pair of high heels, you will want to break these in and practice walking in them before your wedding ceremony, especially if you aren't used to wearing them. This will help you avoid any mishaps, such as slipping or falling.
And, if you're worried about damaging your shoes before the day—which may be why you might hesitate to wear them before the wedding—try slipping them on from time to time while you're at home, and wear them on carpeted floors to prevent damage.
2. Buying Shoes You Wouldn't Normally Wear
While weddings are made for a truly special occasion, that doesn't mean you have to wear a type of shoe that you wouldn't normally wear. There are many reasons this can be problematic; for one, it may not match your style or personality, and two, you may not be used to wearing the type of shoe you pick out, making it more difficult to move around during the ceremony and reception.
Additionally, wearing a shoe outside your norm may make you feel uncomfortable and less confident. Instead, reach for a shoe that is truly unique to you. And, you don't have to buy white shoes if you don't want to—there are plenty of other options, including bright-colored wedges and heels, flats, open- and closed-toed, and even sneakers.
3. Waiting Until the Last Minute to Buy Shoes
Like your wedding dress, you never want to wait until the last minute to buy your bridal shoes. When you return to the bridal salon for alterations, you'll want to bring your shoes and ensure your dress is properly altered, taking them into consideration.
Furthermore, if you are ordering your wedding shoes online, you'll want to give time for them to ship and arrive before the wedding. If you receive your shoes and don't like them, you may need to return them and pivot to something else, so you'll also have to consider how long it'll take for returns and re-shipping. The last thing you want is for your wedding day to arrive and your shoes haven't come yet.
4. Choosing Uncomfortable Shoes
Your wedding day is a special day catered to you and your future spouse. Most couples can become very stressed over the details of the day, and many brides hope that everything works out perfectly without any problems. For this reason, you should avoid uncomfortable shoes.
You don't want to deal with extra pain on your special day, which can come from wearing uncomfortable shoes. You'll want to be comfortable and not have to think about foot pain or blisters but rather the magic of the moment. To avoid any distractions from pain or injury, opt for a type of shoe that is comfortable for you.
Shop for shoes that will allow you to endure a long day full of standing, walking, dancing, greeting relatives, and more.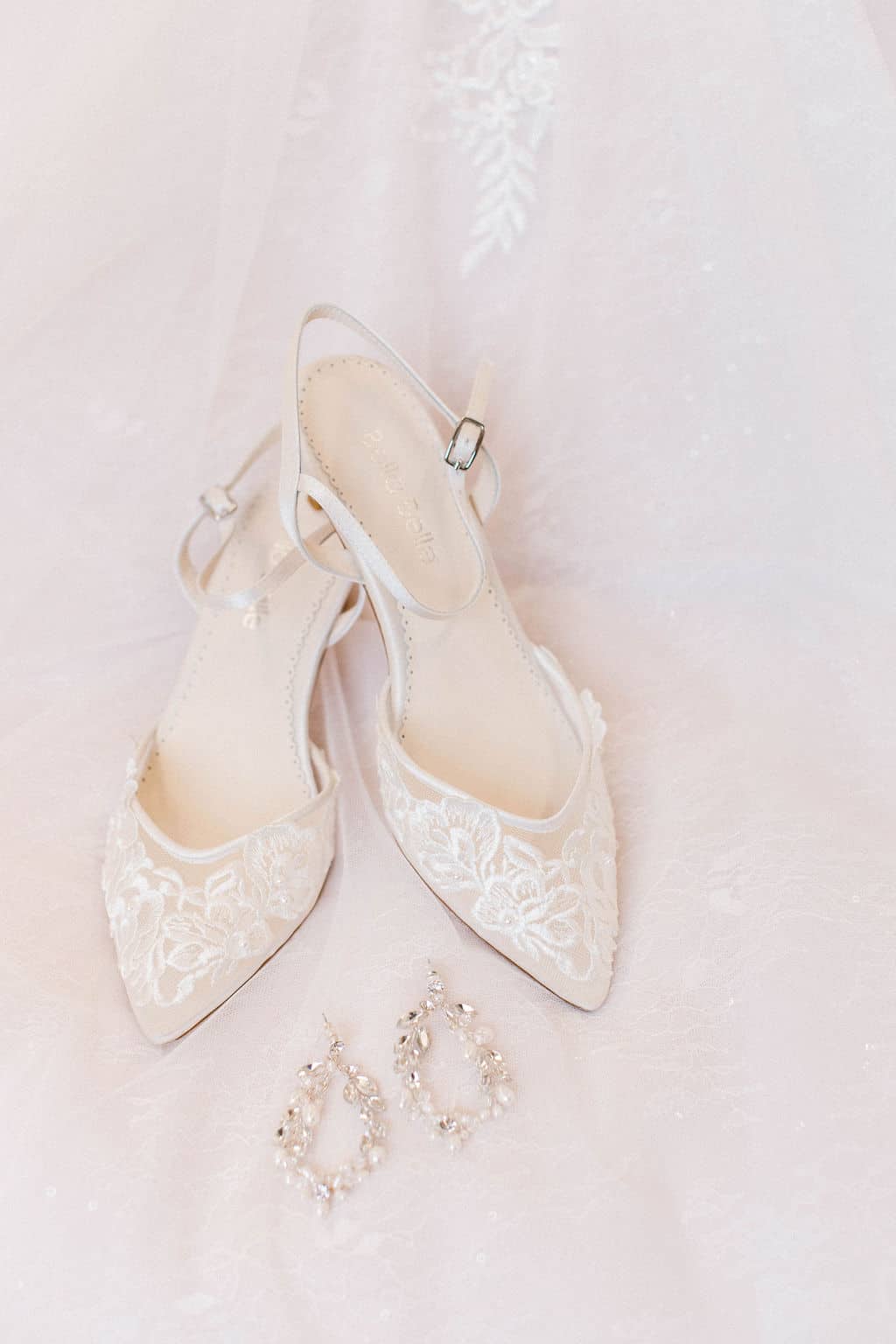 5. Not Bringing a Second Pair of Shoes
Many brides may not know that it's wise to bring a second pair of shoes on your wedding day. Wedding mishaps can happen—although we hope they don't—and you may end up with a bridal shoe mistake or mishap that could ruin the rest of the day if you don't have a spare pair.
Many brides bring two pairs of shoes because they may opt for a fancy heel for the ceremony but want something a bit more comfortable during the reception. This is where the second pair of shoes come in handy.
However, we cannot stress this enough: if you are bringing a second pair of shoes, don't bring another pair that will be uncomfortable! Bring something comfortable that won't distract you from the rest of the day.
6. Not Matching Your Shoes to Your Dress
When you walk down the aisle, all eyes will be on you! You'll want to make sure your wedding day look is on point, including your shoes. If your shoes don't match your dress, they may distract or take away from the gown's beauty.
Now, we always want to encourage brides to pick shoes that match their style, comfort level, and what they want for their wedding. If you want to wear a pair of flashy sneakers, but the sneakers don't necessarily match the gown, do it anyway! Matching shoes are ideal, but not a dealbreaker if you decide the traditional wedding shoe look isn't for you.
Plus, flashy shoes can be covered by your dress if you want to avoid having them in your wedding photos. Consider lengthening your wedding dress before the big day if you want your shoes to be covered.
7. Buying a Pair of Shoes You'll Never Wear Again
Your bridal shoes are meant to be worn on your wedding day, but that doesn't mean you can't ever wear them again after your special day is over! It's better to find a pair of shoes you will wear again, such as for a friend's wedding, date night, or another special occasion.
While you may hesitate to wear your shoes after your wedding for fear of ruining them, you also likely spent a large amount of money on them. Because of this, consider how you can style the shoes in the future to get the most bang for your buck
8. Forgetting to Budget for Shoes
Weddings can be expensive, so it's extremely important to budget everything down to a tee, including the money you'll spend on your wedding shoes. If you forget to budget for these, you may not have any space to spend more on them, meaning you may not be able to afford the shoes you want.
Wedding shoes can be expensive, and you'll want to consider how the cost of the shoes will affect other parts of your wedding budget.
9. Not Taking Care of Your Feet
This is your big day—don't skip out on the chance to give your feet a little pampering! Schedule a pedicure before the big day so your feet can look their best, especially if you choose to wear open-toed wedding shoes like heels and sandals.
Your wedding photographer will likely follow you around all day, and the last thing you want is a photo of your un-pampered feet. If your feet will show on the day of the ceremony, give them the TLC they need!
Classy and comfortable wedding shoes are important for every bride. Our bridal stylists at Savvy Bridal have an abundance of advice for finding the perfect wedding shoe for you and avoiding these common bridal shoe mistakes. Contact us or make an appointment today at our Kansas City or St. Louis locations!