Help! I Fell in Love with a Dress Way Over My Budget!
It is no secret that weddings are expensive. As couples are preparing for the big day, they often start with a budget, which should encompass everything from the venue to the food to the photography to the dress. Many brides quickly realize that wedding dresses can come with a hefty price tag.
At Savvy Bridal, we are no strangers to brides who set a budget and then fall in love with a dress that is outside of the predetermined budgetary parameters. For these panicked brides, we have advice on how to mitigate this tough situation and say "yes" to the perfect dress.
I Fell in Love with a Dress That I Can't Afford. Now What?
Are you a bride whose dream dress is way outside what you can afford? You aren't alone! At Savvy Bridal, we frequently have brides come into the boutique who have fallen in love with a dress that is outside of their budget. And now, these brides are at a complete loss for what to do.
When brides get to this stage, no other dress will ever be perfect enough or special enough to outdo the gown that they have already decided is "the one." This situation poses a unique challenge for our team of bridal stylists.
There are a couple of different ways to approach this situation. The first is to try to find the perfect dress on sale. However, brides can also try to find a similar dress at a cheaper price point or take budget from other parts of the wedding and apply it to their dream wedding gown.
How Can a Bridal Stylist Help Me?
While we recommend that all brides come in with images of things that they like (styles, silhouettes, fabrics, colors, etc.), this becomes increasingly important when a bride has an unattainable dream dress. It is the job of a bridal consultant to show you dresses that fit your vision.
Some lucky brides might be able to snag the dress of their dreams on sale. Talk to the stylist at your appointment to see if there are any upcoming sales, trunk shows, or available samples of the dress to see if there is a way to get your dream dress at a lower price point. Often, toward the end of a specific wedding season, bridal shops discount and sell their sample dresses to make room for new sample inventory, so have a conversation with your bridal consultant to see if you have an opportunity to snag the dress with a discount.
Another way that our bridal stylists can help is to show you similar dresses at a lower price point.
How Do I Find a Wedding Gown That I Love in My Budget?
Many factors determine the price of a dress. In most cases, the designer, fabric, or beading can cause the price of a dress to increase. Fortunately, there are ways to approach finding a less expensive dress without sacrificing what you loved about your dream dress. Let's talk about it!
Bridal Stylist Tips for Brides Who Haven't Been Dress Shopping
When brides come in without having already fallen in love with a dress, our stylists only bring them dresses within their price point, to avoid disappointment later on. So, if you haven't tried on dresses yet, we have a few basic tips for you.
1.   NEVER try on a dress that is over your budget!
2.   Research bridal shops before making appointments to avoid showing up to a shop that doesn't have dresses within your budget. This could cause you to try on dresses you can't afford, which only leads to disappointment.
3.   Create a list of your must-haves and wants for a wedding dress. You might have to sacrifice a few things in the "want" category to get a dress within your price point.
4.   Be sure of your budget before you start looking at dresses and remember to include the price of potential alterations in your budget, as well.
5.   Arrive at your appointment with photos of things that you like but stay open-minded and try other styles to see if you like them on better than you thought you would.
Designers
It is no secret that designer gowns can come with heftier price tags, and couture wedding gowns can range from a couple thousand to tens of thousands of dollars. While these gowns get a lot of attention, there are still wedding gowns produced by lesser-known companies that are well-made and beautiful. And the best part is that you can get them for less money.
If you have fallen in love with an expensive designer gown, our bridal consultants can pull dresses with a similar look for you to try on from a variety of other designers or manufacturers.
Fabric
Fabric can be a problematic factor to mitigate unless you are having a dress custom-made. However, there are a few tricks that your bridal consultant can help you implement. Have you fallen in love with a dress with expensive lace? Maybe there is a different dress that you could have a lace overlay sewed on to the skirt. Maybe there is a similar dress made with a less expensive type of lace that you will love just as much.
Silk is known to be one of the most expensive wedding gown materials, and there are several different types of silk. To avoid the expense of pure silk, many brides end up with dresses that are silk blends or stain or charmeuse, which both have the signature glossy appearance of silk at less expensive price points.
Beading
A large amount of intricate beading can quickly skyrocket the price of a dress due to increased labor costs for the designer. Brides who can sew could purchase a dress without beading and add their own to save some serious cash. If a bride is willing to forego all-over beading, there are often dresses many dresses that look very similar with slightly different beading styles, and many limit the beading to just the bodice of the dress to reduce the cost of the dress.
Some brides make their wedding day look feel flashier by purchasing a dress without beading and adding in a belt. A beaded veil also helps add in more sparkle at a cheaper price point.
Additional Wedding Dress Costs
When creating a wedding dress budget, many brides only consider the cost of the dress itself. However, accessories and alterations could quickly increase the price of your wedding day look.
Alterations
Many brides opt to have at least minor alterations made to their wedding dresses. For example, shorter brides often have the hem shortened so that they aren't tripping over the edge of their dress as they walk down the aisle. When there are numerous layers involved, this seemingly simple alteration can add up to big bucks.
A dress is generally ordered to fit the curviest part of the bride's body, whether that is her hips, waist, or chest. Because of this, many women need to have other parts of the dress taken in. Straps might also need to be shortened for some brides. Bustles and built-in bras are other alterations that many brides choose.
Brides tend to pay more than $400 just for alterations, so you need to consider that in your budget. To save money, we recommend that brides on a strict budget opt for only the necessary alterations that help their dress fit perfectly.
Accessories
Every bride will have some sort of wedding day accessories. While some brides keep it simple with only a necklace and a pair of earrings, other brides might want to choose a veil or some sort of headpiece, special undergarment, statement shoes, a belt, a handbag, jewelry, and more! Remember to include all accessories that you plan on buying in your final budget.
Cleaning and Preservation
Your beautiful bridal gown can cost you big bucks even after your wedding. We always recommend getting your dress cleaned and preserved after the big day. This service can cost upwards of $200, but it will keep your wedding dress in the best possible shape.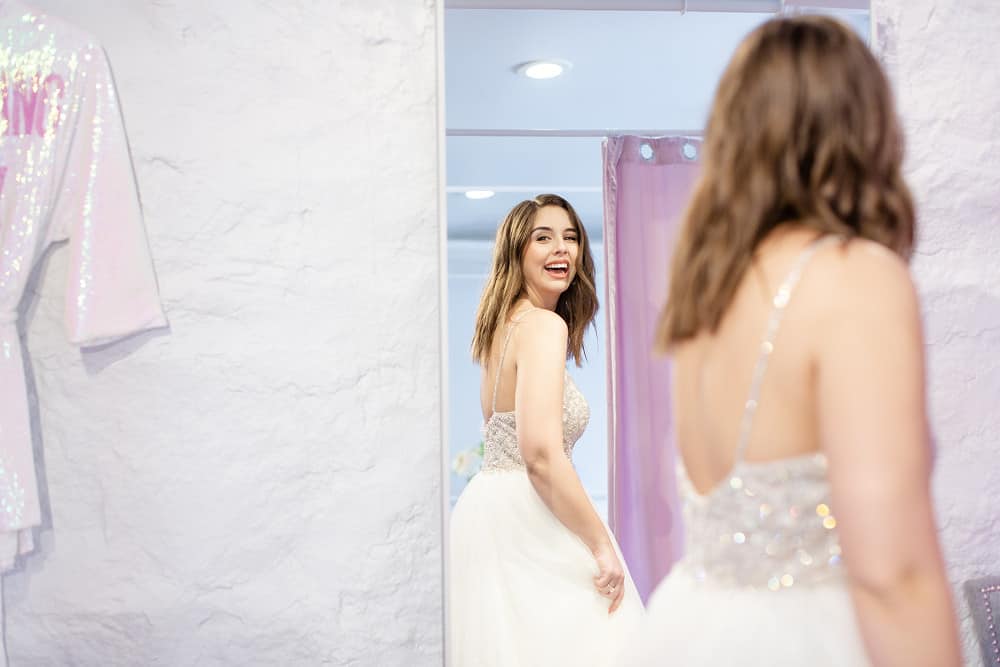 Buying a Wedding Dress at Savvy Bridal
When you work with a Savvy bridal stylist, you can rest assured that you are working with a professional who can help you find the perfect dress within your budget. We sell bridal gowns that range in price from $800 to $2,500.
Our expert bridal stylists will take your only bring you dresses within your price range. If you aren't sure what style suits you, one of our stylists can also help you by showing you dresses in numerous different cuts, fabrics, and colors. Prior to your appointment, please feel free to learn some style basics from our handy Wedding Dress Style Guide.
Custom measurements are also crucial for bridal gowns, so before you order a wedding gown, a stylist will take all necessary measurements and recommend the appropriate size for you to order. Custom measurements don't mean that the dress will come as a perfect fit for all brides. These measurements are used to choose the generic size of the dress, and then the dress can be altered for a perfect fit.
Click here to see some of our current favorite bridal gowns in the shop.
How Can I Find a Way to Afford My Dream Wedding Dress?
If you decided that you can't live without your dream dress, there are ways that you can save on other aspects of your wedding that could allow you to splurge on your dream dress. Here are a few tips to help you save up for the wedding dress of your dreams.
Create a Budget Based on Personal Importance
Every bride and every couple will have different priorities. While the perfect wedding dress might be high on your priority list, another bride might just want a white sundress that they can pick up at a local boutique. This is why it is so important for couples to sit down and prioritize the most important aspects of their wedding and budget accordingly. Remember that if one piece of the puzzle doesn't matter much to you, there are always ways that you can reduce costs in that area to find more budget for the things that matter the most to you.
Consider Wedding Location
Where you get married can have a tremendous impact on the cost of the wedding—especially on the venue. For example, if you look at venues throughout the state of Missouri, you are likely to notice venues available at a wide variety of price points. Fortunately, Missouri venues come in all types of styles ranging from barn to ballroom to garden and beyond. There is truly a venue for everyone that will fit within every budget. If you need a few affordable options, talk to your bridal consultant. She can provide you with a list of our vendor partners.
Find the Right Vendors
Flowers, venues, music, food, photos, and everything else you can think of for your wedding day will cost you money. While you are searching for vendors, you might start to notice that some vendors tend to cost a little less than others. Choosing vendors that fit within your budget is the easiest way to prevent overspending. And if you can find vendors that allow you to stay under budget, you can put those extra dollars toward your dream wedding dress.
Choose a Different Day of the Week
Saturdays are the most expensive day of the week to get married. Venues and caterers tend to charge more for goods and services on Saturdays, and most brides don't realize how much money they could save by shifting their big day to a Friday or Sunday.
A Friday wedding usually requires a weekday rehearsal dinner, which will also be cheaper, and Sundays are the least expensive weekend wedding day. Weekday weddings are also an option, but they tend to limit the number of out-of-town guests in attendance, so they don't always work for couples with lots of family and friends located in different parts of the state or country.
There are so many ways that a couple can save money on their wedding to help the bride pay for her dream dress. For more ideas, check out this article by Brides.
Every bride deserves to feel like she has found "the dress." Your friends at Savvy Bridal are here to make your dreams a reality. To find the wedding gown of your dreams in Kansas City, schedule an appointment or give us a call at 816-859-5699.