What to Consider When Purchasing a Maternity Wedding Dress
As we all know, COVID-19 has stopped many events—including major life events—dead in their tracks. Many brides have postponed their weddings at least once, but a delayed wedding shouldn't mean that you put your entire life on hold. For many brides, putting children on hold wasn't an option.
We are seeing more and more COVID brides coming into the bridal salon to find the perfect dress to cover their baby bumps. However, finding bump-friendly wedding dresses isn't always easy for brides. Savvy Bridal is here with a few tips to help you find the perfect maternity wedding gown for your lovely baby bump.
How to Buy a Maternity Wedding Dress
The female body changes drastically during pregnancy. Your bump grows as your baby grows, but that's not all. Rib cages and hips also expand to accommodate your baby. A growing belly is a major consideration for expecting brides as they shop for their wedding dresses.
As you start looking at dresses, it is always a good idea to size up to make extra space for your growing bump. Since it can take four to six months for your dress to come in, you should size up. We recommend adding an extra inch to each measurement on your gown for each remaining month of your pregnancy up until your wedding date. Then, you can go up to the next size to ensure that the dress will be big enough to fit over your bump. The dress can then be altered close to your wedding date to ensure that it is the perfect fit.
When you start the alterations process, it is essential to consider some options that will allow for room to grow. Extra panels or corset tops will give you the ability to expand your gown at its closure. The extra panel is often added near the zipper or where the dress ties up. If your dress doesn't have a corset tie-up back, you can consider having one added by your seamstress.
Our expert stylists also recommend multiple fittings for alterations to ensure that your day-of look is just what you envisioned. An alteration appointment the week of the wedding should allow for the best possible fit.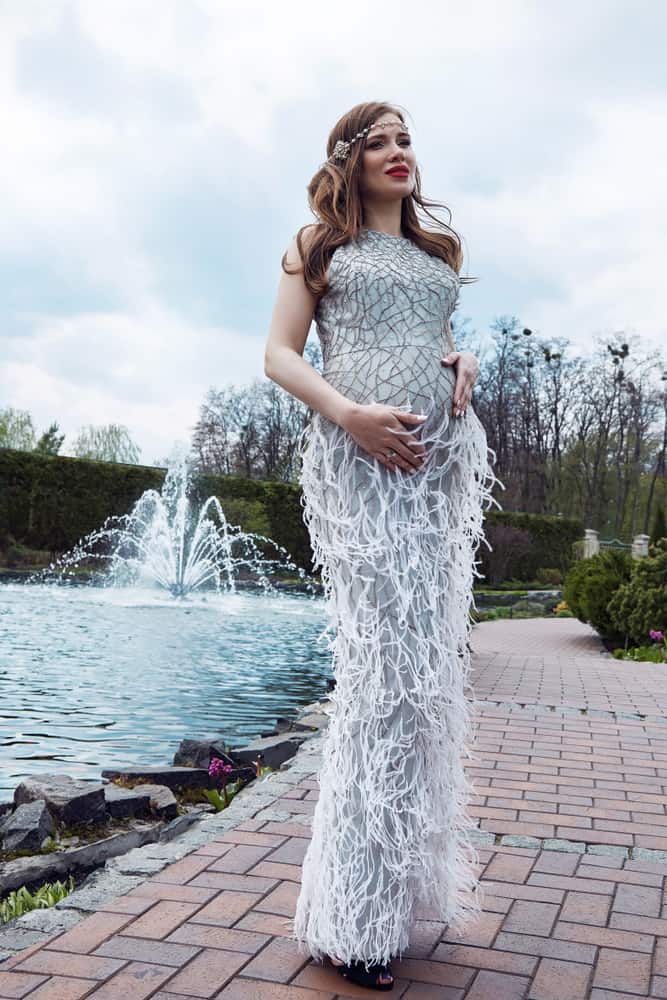 The Best Wedding Dress Styles for Pregnant Brides
When choosing a dress, many expecting brides will look at specific styles and cuts that reduce the attention that their bumps bring about on their special day. A-line dresses and ballgowns are great options for brides who want traditional dresses and are getting married toward the end of their pregnancy. These styles leave more room in the stomach area, meaning fewer alterations.
Empire waist dresses provide plenty of space for your growing body and make for a very feminine style. Gathered or ruched waistlines also allow for a bit of room to grow, making you feel more comfortable the day of your wedding.
Many expecting brides are surprised to learn that corset tops are a bump-friendly option. Since you can loosen a corset top to give yourself more room, you are less likely to be left with a dress that doesn't fit on your wedding day.
If you want to show off that bump, form-fitting dresses, such as mermaid or sheath dresses, will highlight that beautiful bump in the best possible ways.
Typically, straps or sleeves are better for expecting brides as they provide support for the gown. Strapless dresses usually need to be tighter around the midsection to help keep the gown in place, which can put a lot of pressure on a growing tummy.
While there are many different styles of maternity wedding dresses, you don't have to limit yourself to maternity-only sections. Numerous styles will flatter baby bumps that aren't found in the maternity section. Many pregnant brides find gowns, jumpsuits, and two-piece sets that are chic, flattering, and comfortable.
Fabric is another important factor to consider when shopping for a pregnancy-friendly wedding dress. Tulle and stretch jersey are light enough to keep you cool, and they will still look flattering. Chiffon and crepe both hang beautifully over baby bumps and are lightweight. Lace is always a good option for all brides who want an ultra-feminine look on their wedding days.
Stiff fabrics, like satin or Mikado, can "point," creating a tent-like shape over your stomach, which isn't a flattering look.
Quick Tip: Don't forget to consider shoes! Heels can be a challenge for pregnant women due to the changes in their centers of gravity, leading to potential falls. Additionally, many women experience selling in the feet or ankles, which could cause a lot of discomfort in shoes that are already a bit uncomfortable.
The Best Wedding Dress Styles to Hide Baby Bumps
Not all brides are ready to announce that they are pregnant when their wedding day arrives. If you are looking for a dress that will hide your baby bump, there are a few styles that you should look into. Empire waist and shift dresses are two options that don't draw attention to your belly.
A dress with many embellishments along the neckline or a dramatic statement necklace will help draw the focus away from your stomach. You can also opt for layers in the form of a jacket or cape.
Getting married should be a special moment—and growing new life is also incredibly special—bringing the two events together can be a joyous, momentous occasion. Every expecting bride should feel beautiful and fabulous on their wedding day, even if you are quite ready to make a big pregnancy announcement yet. Working with our experts, you can find a dress that is sure to help conceal your bump.
At Savvy Bridal, we want all of our brides-to-be—and moms-to-be—to look and feel great on their wedding day. If you are looking for a bump-friendly gown, our team of expert bridal stylists will help you find a great dress that will flatter your bump and leave you feeling confident and beautiful on your wedding day. Schedule an appointment today at our Kansas City or Lawrence locations.