How (and Where?!) Can I Sell My Wedding Dress?
For something that's only being worn once, wedding dresses are expensive garments. Buying a wedding dress carries a heavy expense for any bride. Unless you're planning on holding onto it for sentimental reasons, you may be thinking of recovering some of these funds by selling your dress instead.
If you're looking to sell your wedding dress, you may be wondering where and how to do it. You could sell your dress on popular websites like eBay, Facebook Marketplace, and Craigslist, but you may not get nearly as much money as you would like for it.
At Savvy Bridal, we want our clients to be aware of their options when looking to sell their wedding dresses. Here are some essential tips to follow and some places you should consider for selling your dress.
Why Do Brides Typically Sell Their Wedding Dresses?
There are many reasons why someone may decide to sell their wedding dress. Some brides feel sentimental about their dress and want to save it for themselves or their future daughter. But if you don't want it to sit in a box in your closet, then selling your wedding dress is a great option. Ultimately, every bride is different, so it comes down to what personal decision is best for you.
Selling your dress is a great way to recoup some of the money that you spent on your wedding day. Many brides find that they'd love to use the extra money for a honeymoon trip, new home, wedding day debts, or even future children.
Some women look to sell their wedding dress because of a broken engagement or a divorce. They may also have a change of heart about their dress before their special day and decide they want to wear something else. Selling the gown can help ease the financial burden of a never-worn wedding dress.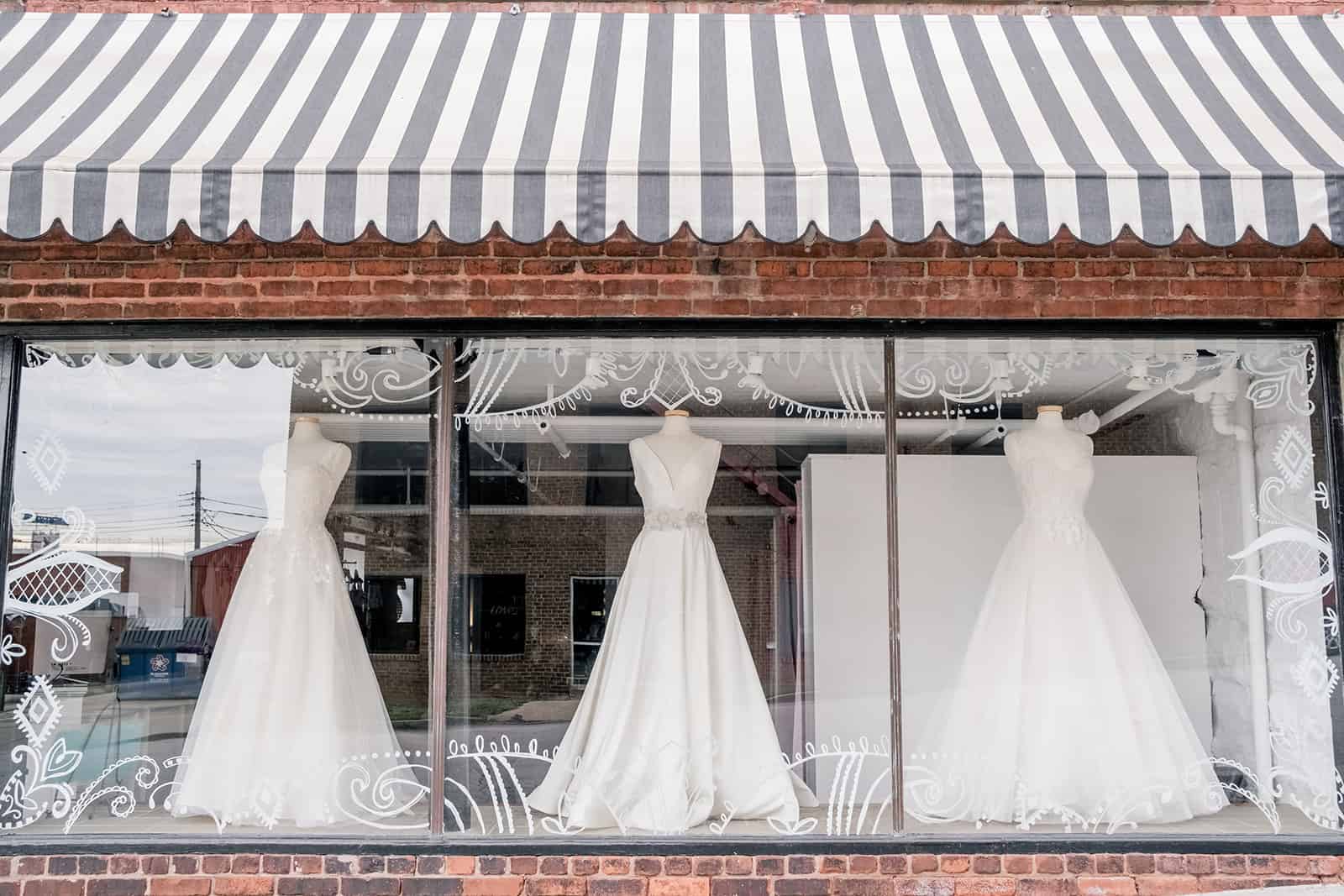 How Much Can You Sell Your Wedding Dress For?
The price you sell your wedding dress for can vary depending on many factors. When deciding how much to sell your dress for, there are many aspects that you should consider.
Condition
Dress condition is probably the most crucial factor to consider. Because you only wore the dress once (or maybe not at all), it's likely to be in excellent condition. However, wedding day mishaps do happen, so you should be transparent about any tears or stains on the dress as the seller.
Brides looking to buy used dresses still want something in great condition, so any damage must be considered when setting the price.
Age
You'll want to list your wedding dress as soon as possible. Used wedding dresses sell for more money if they are less than two and a half years old.
As a general rule of thumb, used gowns in great condition and only a few years old can sell for fifty percent of their retail price. As the dress gets older, the amount it can sell for decreases, especially if the dress style is no longer popular or in demand.
Brand
Designer dresses will sell for more money than non-designer dresses. If the dress has a recognizable label, it could sell for sixty to seventy percent of its retail price.
Competition
To calculate a fair price for your gown, you can look at similar dresses for sale on resale websites. This gives you an idea of how much the competition is selling for.
Keep in mind that just because some dresses are listed at specific prices, they may not end up selling for that much. Fortunately, many brides look for used gowns, so you'll likely be able to quickly sell your dress for or around the price you want, as long as it's reasonable.
Tips for Selling Your Wedding Dress
Now that you have a general idea about how much to sell your wedding dress for, here are some other tips to consider when selling your gown.
Be Honest About the Condition
Take clear pictures of your dress so buyers know exactly what it looks like. You need to be completely upfront about any damage, including tears or stains. Pictures sell products, so be sure to include different angles, close-ups of unique design patterns, and even pictures of you in the gown. Good lighting is critical to getting good photos, so try to find a place with great natural light when taking photos of the dress.
Have the Dress Professionally Cleaned
Even if they're only worn once, wedding dresses are still susceptible to dirt and staining. It may be a good idea to take your wedding dress to a professional cleaner before selling it. This could mean more money going into your pocket from the sale.
Provide a Detailed Description
Make sure to include a description about sizing, style, fabric, or any special beadwork or lace designs. The more detail you include in your description, the better chance you have of selling the dress to someone who likes it for the price you want.
Be Patient
It takes time to sell a wedding dress. Buying a wedding dress is a once-in-a-lifetime moment that brides want to get right the first time. Therefore, selling your gown may take longer than you initially anticipated.
According to PreOwned Wedding Dress, it takes an average of 70 days to sell a used wedding gown. If you're in a rush and looking to accelerate the process, set the price a little lower than your competition and advertise the dress on multiple platforms.
Designer brands that are priced well may sell faster than non-designer brands, and popular styles and common sizes sell faster as well.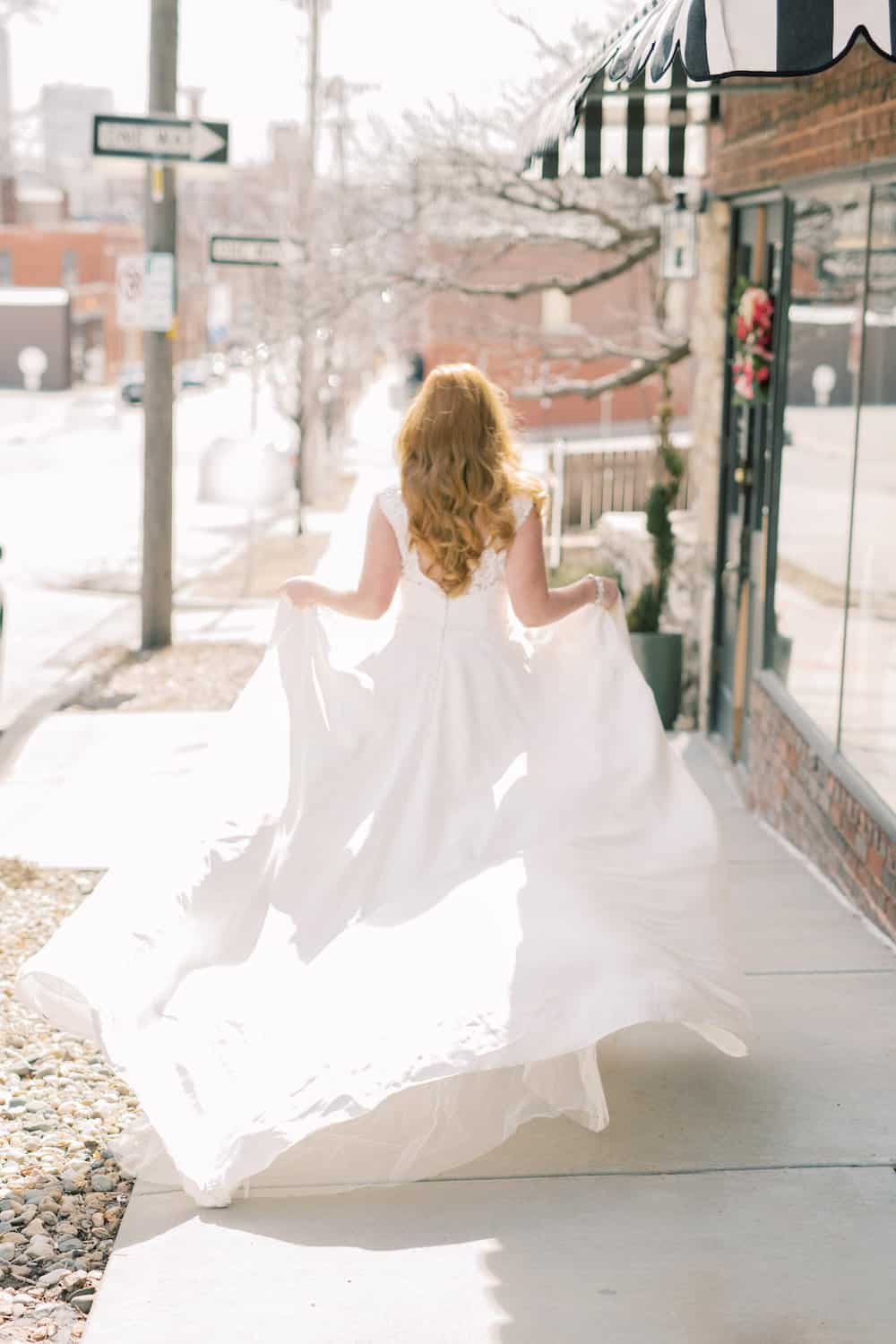 Best Places to Sell Your Wedding Dress
There are a few different options you can consider when looking for a place to sell your gown. Many people sell their wedding dresses online on marketplaces that sell used wedding items, while others focus on selling locally. Wherever you decide to sell your gown, there are many tactics you can try to get the price you want.
Online Marketplaces
These websites may require a small fee to list your dress, but they are great at making the selling process hassle-free for you. They may also take a small commission from you, but they offer help with the payment process, shipping, and seller protection.
These sites are also reputable, so you can sell your dress for a higher price than if you sold it on your own. You can also avoid any potential scams that can happen from free websites like Craigslist. Here are some popular websites to look into:
Tips for Selling Online
Selling online offers many benefits and can be a lot easier than selling in person. You have access to a nationwide audience, which increases the chance of someone liking your dress and buying it for the price you want.
Online sites also offer selling and shipping assistance and seller protection. Some sites even handle any refunds that may happen if the dress is returned and let you keep the money you earned from the sale.
The disadvantage of selling online is that competition is stronger. Because there are more dresses for people to choose from, it may take longer to sell your dress. You also usually won't meet your buyer in person, so they are more likely to return your dress and request a refund if it doesn't fit or look right.
Tips for Selling Locally
If you're looking to sell your wedding dress locally, you can post it on sites like Facebook Marketplace or Craigslist. These sites are free to use, and you get to keep all the profits you make off your dress. You are also more likely to meet with your buyer in person, so they can try on the dress before they buy it and are less likely to request a refund down the road.
You can also sell your wedding dress at local wedding consignment shops. These shops specifically focus on used wedding items and are targeted to local buyers. However, they may also charge fees and a commission rate to help you sell your gown.
Selling your wedding dress may seem like a daunting task, but with the right tools and tips, you can recover some of the money you spent on the gown and use it for whatever you want. If you're thinking about selling your dress, there are many platforms to make the process less stressful for you.
Savvy Bridal offers top-notch service for each of our brides with locations in Kansas City and Lawrence, Kansas. If you're looking for advice on selling your wedding dress, or if you're in the market for buying that gown for your special day, we are here for you. Schedule an appointment with us today, or contact us at 816-859-5699 (Downtown Kansas City) or 785-424-7120 (Lawrence).