A new year always brings in new changes in style trends, and the bridal world is no different. In bridal salons across the country, a new wave of bridal fashion is being ushered in! Some of the year's biggest trends involve transitional pieces, unique focal points, and special fabrics. Let's break down some of the top bridal style trends of 2021.
Wedding Dress Trends of 2021
Each year, there are new wedding dress trends, and we see brides flocking to certain styles, fabrics, and silhouettes. Let's take a look at some of the most popular 2021 wedding dress trends.
Square Necklines
Plunging necklines are slowly fading out of style, and square necklines are gaining popularity with brides in the United States. Brides love that square necklines flatter their collarbones and shoulders and compliment brides with busts of all sizes. Square necklines were originally popular back in the Renaissance era, and they were prominent in the 1990s. Now, they are coming back in fashion because they work with nearly every wedding style. This neckline also works with nearly every fabric option.
For a romantic bridal style, square necklines can be paired with floral lace. A heavy satin fabric can lend to a more classic look, while crepe will make square necklines more modern and sleek.
Crepe Fabric
Speaking of crepe… Crepe wedding dresses are very much in style this year! Crepe provides a clean, modern look, and this fabric was all over Bridal Fashion Week runways. Crepe is minimalistic and provides a crisp look for brides on their wedding day and allows the bride to truly stand out while the gown accents her beauty. This fabric is light but structured; however, it is very unforgiving. You will want to consider shapewear should you opt for a crepe dress.
Glittery Fabrics
While beading and bling have been popular in recent years, 2021 is making way for a subtle sparkle trend. An understated sparkle is common on dresses this year. In fact, glitter tulle and lace can be found on many new dresses for the spring 2021 season. Tonal sequins and beading can also give brides the shimmer effect that they desire.
"See-through sequins and glitter tulle are all the rage right now, because it gives brides the best of both worlds: lace on the top and some subtle sparkle underneath it!" said Lauren Dean, bridal stylist and manager.
Sleeves
Sleeves are making a comeback, and brides really love them. "It used to be that everyone said they wanted them but never actually did it. Now, they are actually wanting sleeves and buying them," said Imene McCoy, owner of Savvy Bridal Boutique.
Puff, cap, blouson, bishop, and balloon sleeves are all the rage, and they add a great deal of interest to wedding gowns. You will find sleeves of all lengths, and both on- and off-the-shoulder sleeves are styles to watch for in 2021.
Short Dresses
COVID-19 has changed the way many couples are celebrating their unions. Many brides are taking a "less is more" approach to their weddings, and shorter dresses are the perfect choice for smaller wedding ceremonies. Short dresses can also be worn at wedding-related festivities like bridal showers, bachelorette parties, and rehearsal dinners, making them more versatile than longer gowns.
Short gowns also allow brides to show off their wedding shoes, which are often hidden throughout the entire wedding when brides wear long dresses.
Lace Fabric
Lace is one of the trends that never seems to go out of style, but this year lace is here to make a statement. Big, bold lace patterns, graphic embroidery, appliqué, and three-dimensional lace are the perfect way for brides to really stand out while still rocking a lace dress on their wedding day.
"We are seeing a lot of brides going for art-deco lace right now! They want to have some pattern on their gown but not the older tablecloth-looking lace; this lace is fresh, modern, and captivating!" said Hayley Derby, lead bridal stylist and consultant.
Wedding Accessory Trends of 2021
Versatility is everything in 2021. Many brides have already had to make significant changes to their wedding days, so accessories that allow them to have multiple looks on their wedding day are highly desirable. Here are two of the top wedding accessory trends of 2021.
Overskirts
Get two looks in one with a detachable overskirt! Transformative pieces like overskirts allow brides to have a simpler look for a micro wedding or their reception while still having a dramatic look for their second wedding next year or the ceremony.
For brides that will have a big wedding this upcoming year, overskirts can provide a grand entrance during the ceremony, while allowing the bride to take it off for the reception so that she can move around easier while dancing. It also gives the bride a completely different look, said Dean.
Capes
Capes are one of the biggest bridal accessory trends of the year. This versatile accessory can add visual interest to your gown, or you can take a more minimalist approach with a sheer cape. Brides getting married during cooler months can choose a fur cape for added warmth. Jackets and other top-half coverings are also becoming popular among brides—especially those who are getting married in cooler months.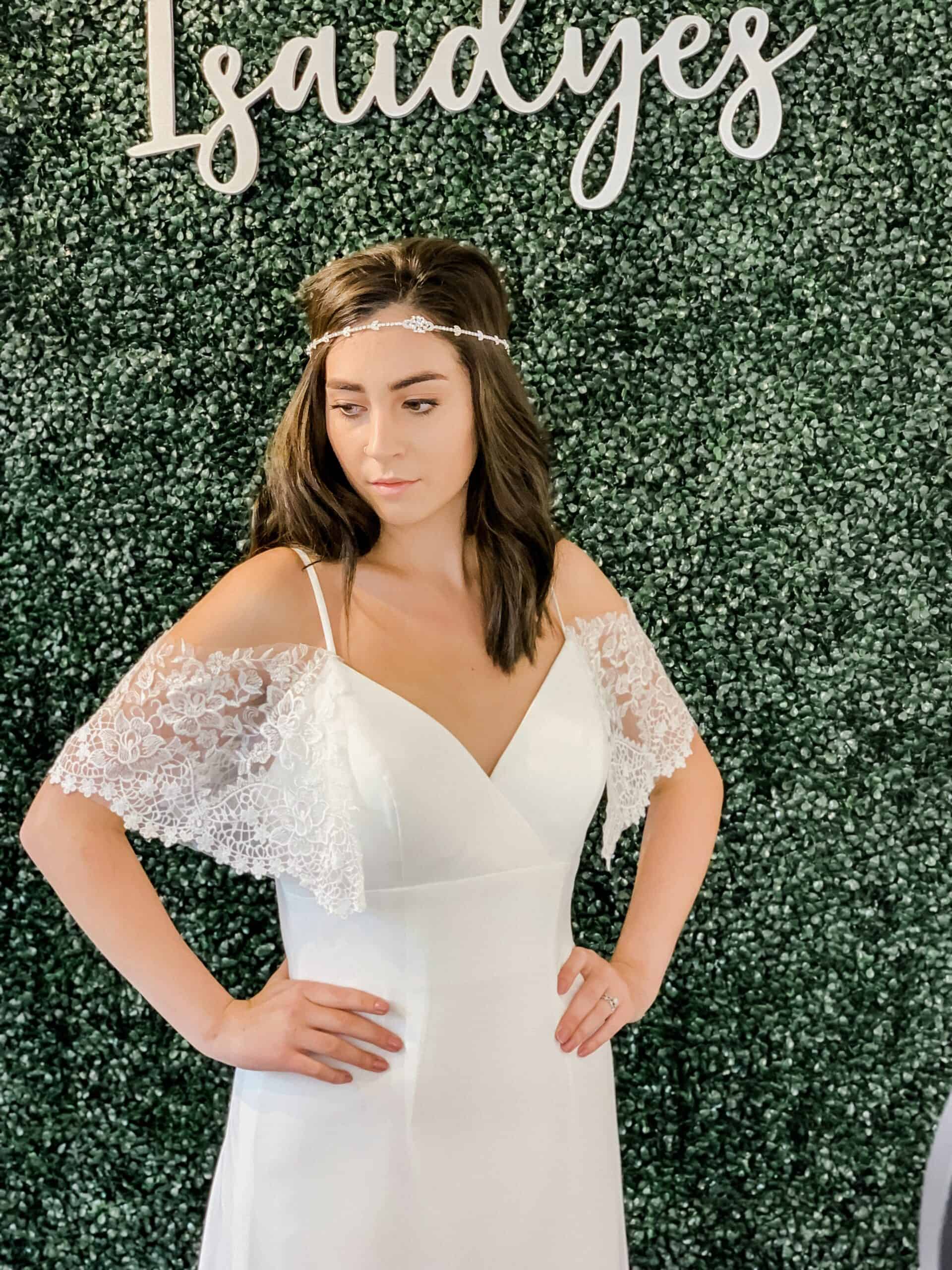 Engagement Ring Trends of 2021
Engagement ring trends change each year, too. In Kansas City, it seems that white gold is still the most popular metal choice for brides, but yellow and rose gold are both increasing in popularity. Halo and vintage-inspired rings are fashionable choices for brides in 2021. Local brides also tend to enjoy round center stones between half and one carat in weight.
Looking to find the perfect on-trend wedding dress this year? Visit one of the top bridal boutiques in Kansas City, Savvy Bridal Boutique, to see all of your favorite 2021 bridal trends!         Schedule an appointment with our bridal experts today at our Kansas City and Lawrence locations.