Meet #SavvyBride, Julianne! This Savvy Bride married her husband Thomas at The Barn at Schwinn Produce Farm in Leavenworth, KS on December 18, 2020!
The venue's barn is located amidst the idyllic and green countryside of the Salt Creek Valley just outside Leavenworth, Kansas. The grounds feature a beautiful outdoor ceremony location tucked among a grove of shade trees, and a rustic limestone terrace with a picturesque natural backdrop that's perfect at sunset.
Let's take a look at this #SavvyBride's love story, in her own words!
The Proposal
"A majority of our dating has been long distance due to his baseball career and my finishing up school. He proposed in Omaha on the pedestrian bridge that connects Iowa and Nebraska."
"He was standing across the state line in Iowa and I was in Nebraska and said "You know how we started dating in two different states? What if I told you we could stop doing that?" and he got down on one knee and proposed with his grandmother's ring. I was so surprised! Afterward we took engagement photos in the rain, he planned the surprise engagement photos too!" – #SavvyBride Julianne
You've got the ring. Next stop, Savvy.
 
The Dress
Here at Savvy Bridal, we believe that each wedding dress shopping experience should be personalized and uniquely tailored to the needs of each and every bride. Our boutique is rated the top bridal boutique in Kansas City by brides! Many brides-to-be are unsure of what types of dress styles are available before they go dress shopping, which can make it difficult to tell your bridal consultant what style you like when it's time to try on!
Thankfully, we have a great variety of gorgeous dress styles to view BEFORE you step foot in our boutique! Browse our wedding dress styles on our online Gown Gallery here.
At Savvy Bridal we pride ourselves on curating the perfect selection of designers and styles to match the desires and preferences of our brides.
Size 0-24 can be ordered by our Special-Order designers, based on your custom measurements taken right here in-store by our professional bridal consultants. Gowns can be ordered in any color desired depending on the gown and designer!
Here's what #SavvyBride Julianne had to say about her wedding dress shopping experience,
"I wanted to look elegant, classic and timeless. When I used these words to help find a dress at Savvy, Lauren did an amazing job at delivering my dream of a dress. I felt so special in my dress and it was better than I could have imagined!" – #SavvyBride Julianne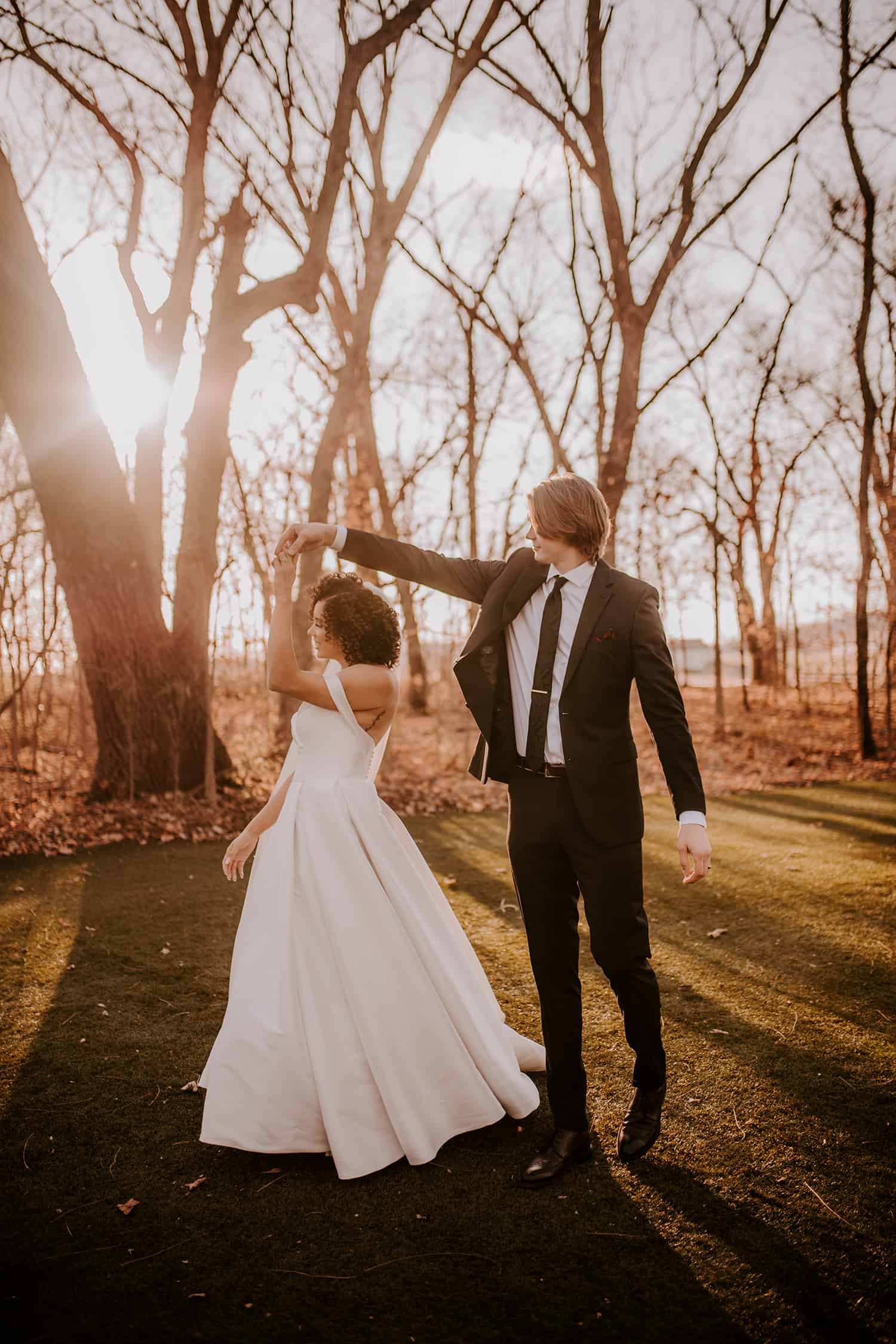 The Special Day
"We had an elegant barn wedding. Thomas grew up on a farm and the venue played well into that and the decor was greenery, candles and simplicity with an elegant feel that played into the city girl that I am!"
"Due to having a wedding during COVID we had a different wedding than we imagined but it was perfect. As a couple, the two of us were able to spend more time together all day and we were able to laugh and enjoy every moment of that day." – #SavvyBride Julianne
Julianne + Thomas // December 18, 2020 // Leavenworth, KS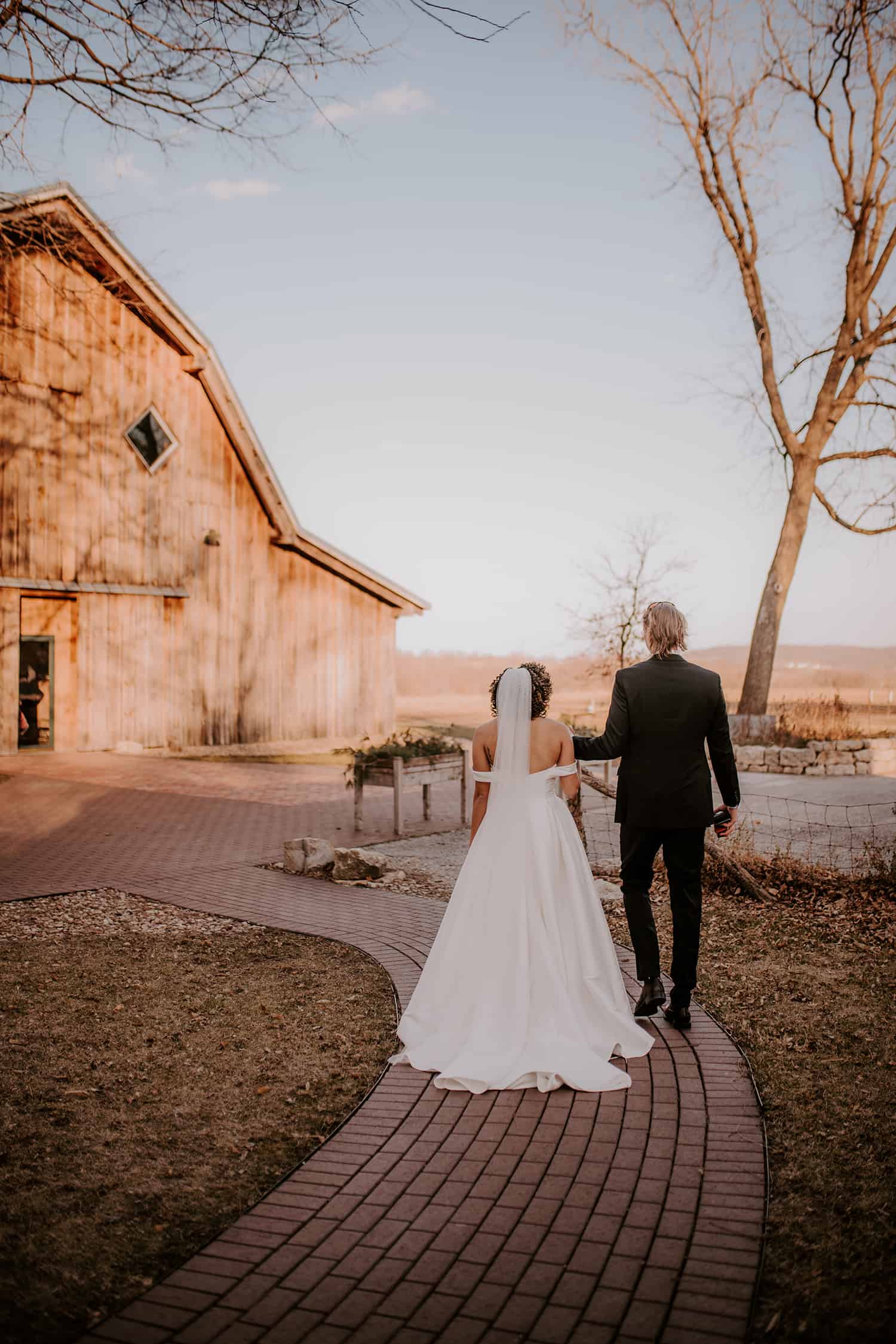 Photography by Bailey Sturgeon Photography
The Vendors
Bridal Gown – Savvy Bridal Boutique
Photography – Bailey Sturgeon Photography
Venue – The Barn at Schwinn Produce Farm
MUA – Julianne Thomas
Hair Stylist – Prestige Hair Studio
We are seeking real #SavvyBrides to feature on our Instagram and blog! If you recently purchased your gown at Savvy and have your wedding photos, we'd love to feature you! Send your love story and 8-10 of your favorite wedding photos for a chance to be featured. We can't wait to hear from you!
Share your Love Story here.
Start your wedding dress shopping experience with Savvy Bridal today by scheduling an appointment online.
Learn more about our Curated Dress Collection here.