Say "Hello" to #SavvyBride, Taylor! This Savvy Bride married her husband Jacob at Dream Point Ranch in Bixby, OK on October 29, 2020! This destination venue is a luxurious escape to almost 200 private acres in Tulsa County! At this venue, you can have an indoor or outdoor ceremony inclusive of breathtaking mountain views!
"I had always dreamed of a fall wedding, and our venue had the most beautiful outdoor ceremony space. However, Oklahoma weather can be unpredictable. The beautiful 60 degree days from the week prior to our wedding dropped to the 40s, and there was rain in the forecast. We chose to move our ceremony indoors but prayed for the storms to hold off so we could take some pictures outside. " – Taylor R. 
Keep reading to see the stunning pics!
Let's take a look at this #SavvyBride's love story, in her own words!
The Proposal
"Years ago, the pastor at our church did a series on hope. Everyone was given a piece of paper that said, "I have hope for…" with a blank. Jacob wrote, "I have hope for a wife." When I first visited his apartment, I saw this stuck on his bathroom mirror…
After he proposed, he gave it to me and told me he didn't need it anymore…
On our wedding day, I put it in the flower girl basket and had her deliver it to him at the altar before I came to him. After so many years of waiting, I wanted us both to remember how faithful our God had been to bring us together at the perfect time. " – #SavvyBride Taylor R. 
You've got the ring. Next stop, Savvy.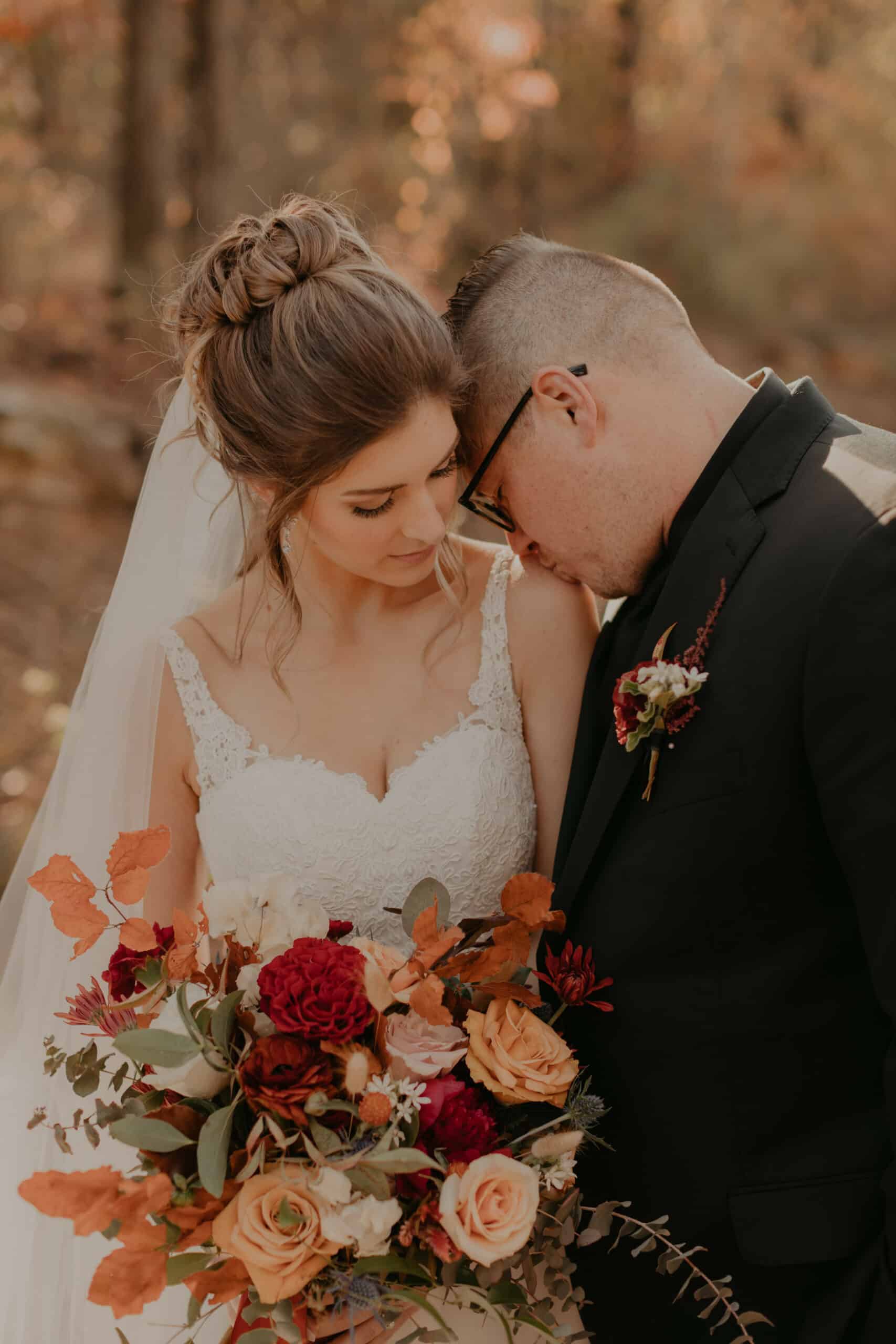 The Dress
Our boutique is rated the top bridal boutique in Kansas City by brides! Did you know that we recently opened our newest location in Lawrence, Kansas?!
At Savvy Bridal you will discover patient and knowledgeable consultants with a curated and affordable selection of designer gowns. We are by appointment only so that our focus is exclusively on you. Our gowns are priced between $1000 – $2,500. Schedule an appointment at Savvy Bridal in Lawrence today!
Many brides-to-be are unsure of what types of dress styles are available before they go dress shopping, which can make it difficult to tell your bridal consultant what style you like when it's time to try on!
Thankfully, we have a great variety of gorgeous dress styles to view BEFORE you step foot in our boutique! Browse our wedding dress styles on our online Gown Gallery here.
At Savvy Bridal we pride ourselves on curating the perfect selection of designers and styles to match the desires and preferences of our brides.
Size 0-24 can be ordered by our Special-Order designers, based on your custom measurements taken right here in-store by our professional bridal consultants. Gowns can be ordered in any color desired depending on the gown and designer!
Here's what #SavvyBride Taylor had to say about her wedding dress shopping experience, "I wanted a bridal look that was timeless with a faint touch of modern and whimsical. I grew up loving dresses that twirled, and I knew that is exactly what I would want for my wedding dress…
We got engaged at the beginning of the pandemic, and bridal shops were all closed. When they re-opened, all appointments were limited to a small number of guests. I had always wanted to bring my mom and all five of my sisters dress shopping with me and was disappointed this could not be a reality. Because of my disappointment, my mom had the idea to take a road trip all together and schedule appointments with a few bridal shops so each of my sisters could be with me for a different appointment. From Tulsa, we took an overnight trip to Kansas City and rotated who was with me as I tried on dresses.
I tried on various styles but still could not find the dress I was envisioning. Savvy Bridal was our last stop. When we arrived, we were told we were the last appointment of the day. Since no one else was there, they allowed all of us to come inside since that still kept the number of people in the shop under 10. My mom and sisters sat around cheering and giggling as I tried on numerous dresses. The atmosphere was relaxed and fun, and having them there was absolutely perfect."
"When I tried on THE dress, there were gasps and knowing grins. When the stylist added my veil, my mom and sisters were in tears. It was such a special moment that was made so much more precious by having all of them there!" – #SavvyBride Taylor R.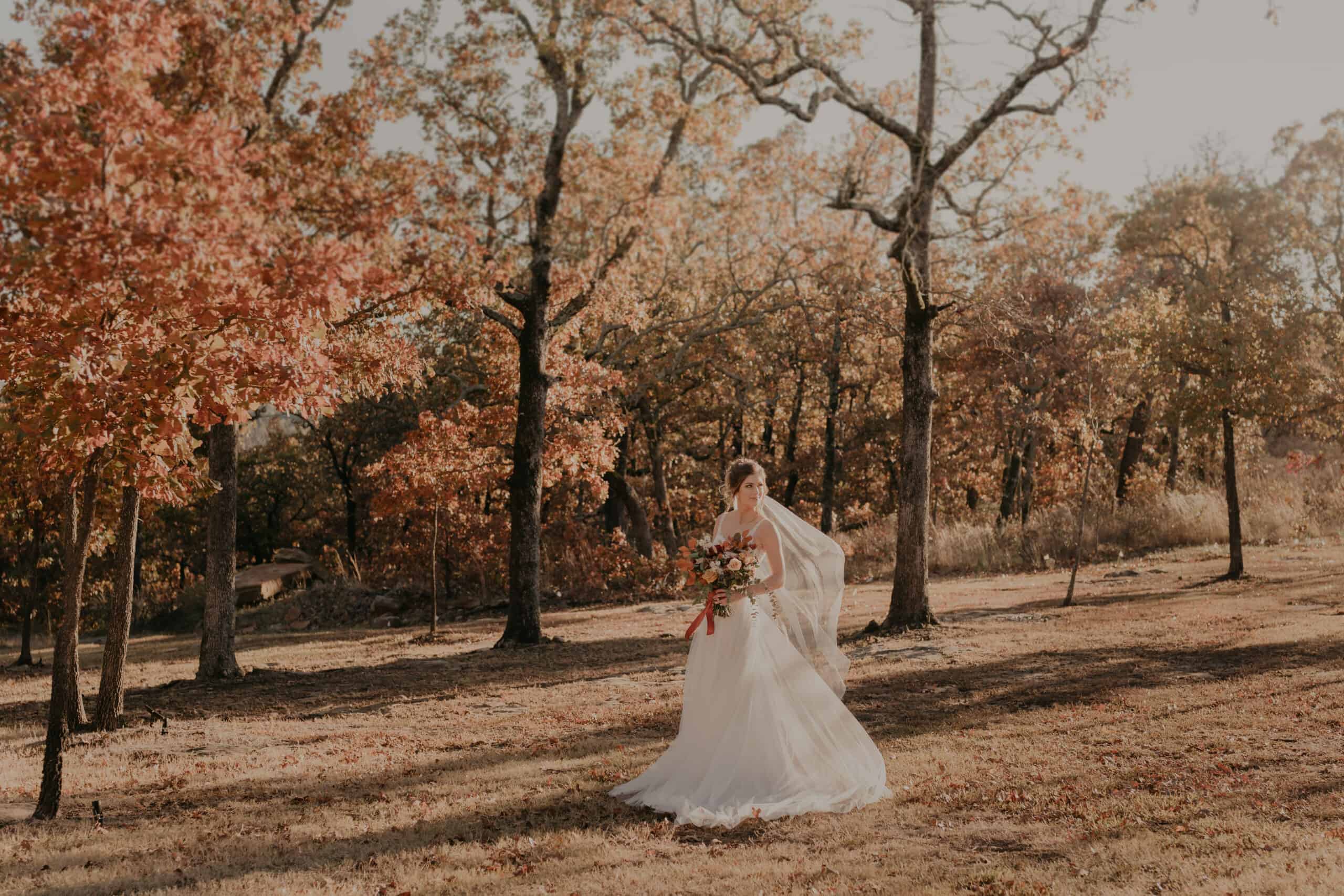 The Special Day
"We wanted our wedding to be timeless and simple with a touch of class. We chose black as our main color for the bridesmaids, and Jacob wore all black as well (his favorite color and main request when planning our wedding). Our accent colors came in the form of deep fall bouquets with black flowing ribbons. I love when things are a little whimsical, and we always want people to feel comfortable and free to be themselves. We had the bridesmaids choose their own dresses that were the most them, and we loved the mismatched outcome…
We both love simple decor and wanted the focus of the day to be on relationships more than anything else. We decorated with simple fall florals and some of our favorite engagement photos. We chose to have a massive grazing table for dinner to promote people moving around and talking to each other instead of sitting in one place…
Jacob's dad was one of his groomsmen, my dad walked me down the aisle, and my step dad officiated the wedding for us. We wrote our own vows that were anything but traditional, and we both unknowingly included comments about being each other's forever coffee date…
Jacob's most precious moment of the day came with a little help from my sweet flower girl niece. Jacob is 34 years old and has waited faithfully for many years to be married."
"Right before our first look, the sun came out and gave us a beautiful (though a bit chilly) moment together surrounded by fall colors in the woods. Our photographer played our favorite playlist during our first moments together on our wedding day with the fall leaves crunching under our feet. It felt like we were in a fairytale as we talked, laughed, prayed, danced, and tried to wrap our minds around our dreams all coming true." – #SavvyBride Taylor R.
Taylor + Jacob // October 29, 2020 // Bixby, OK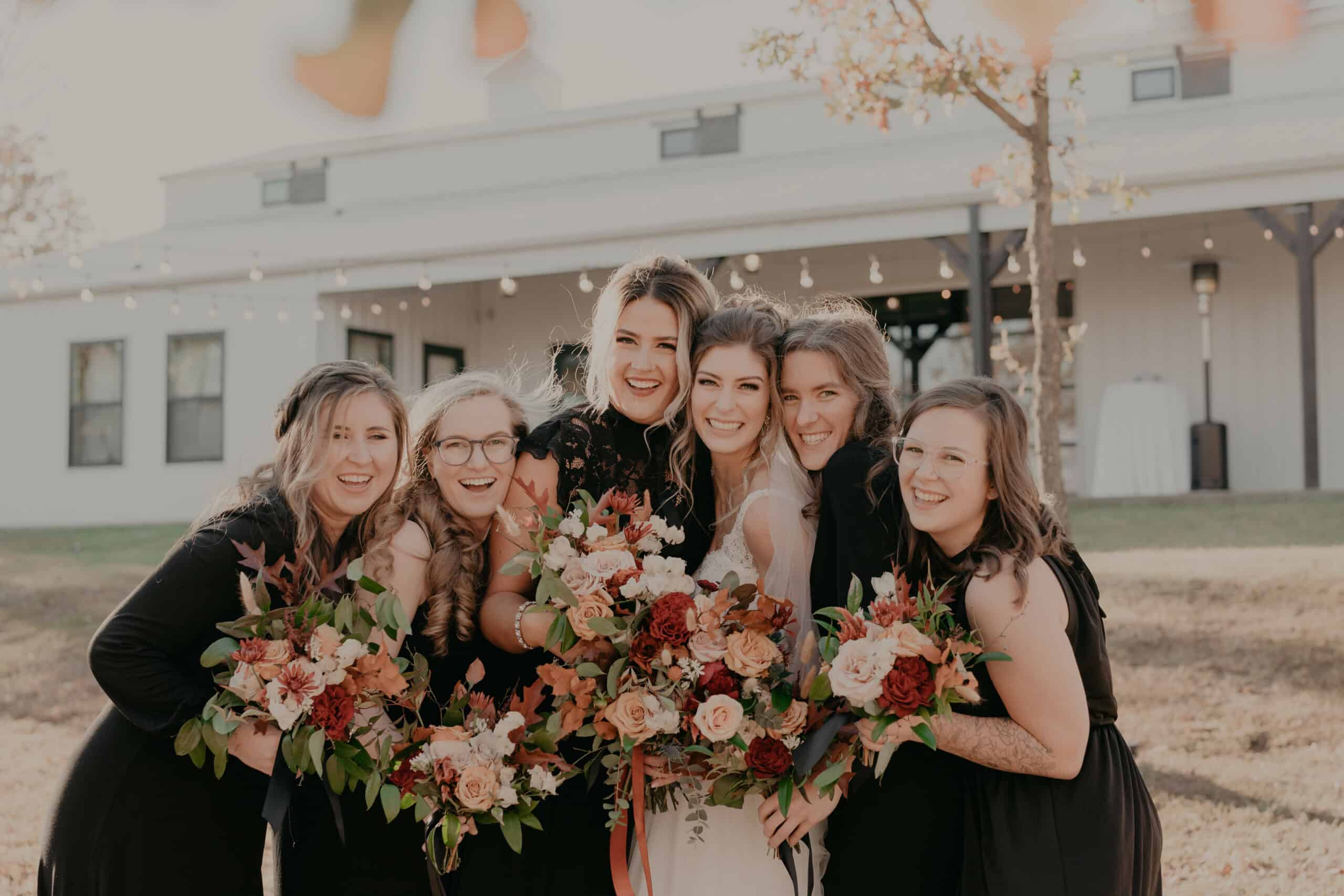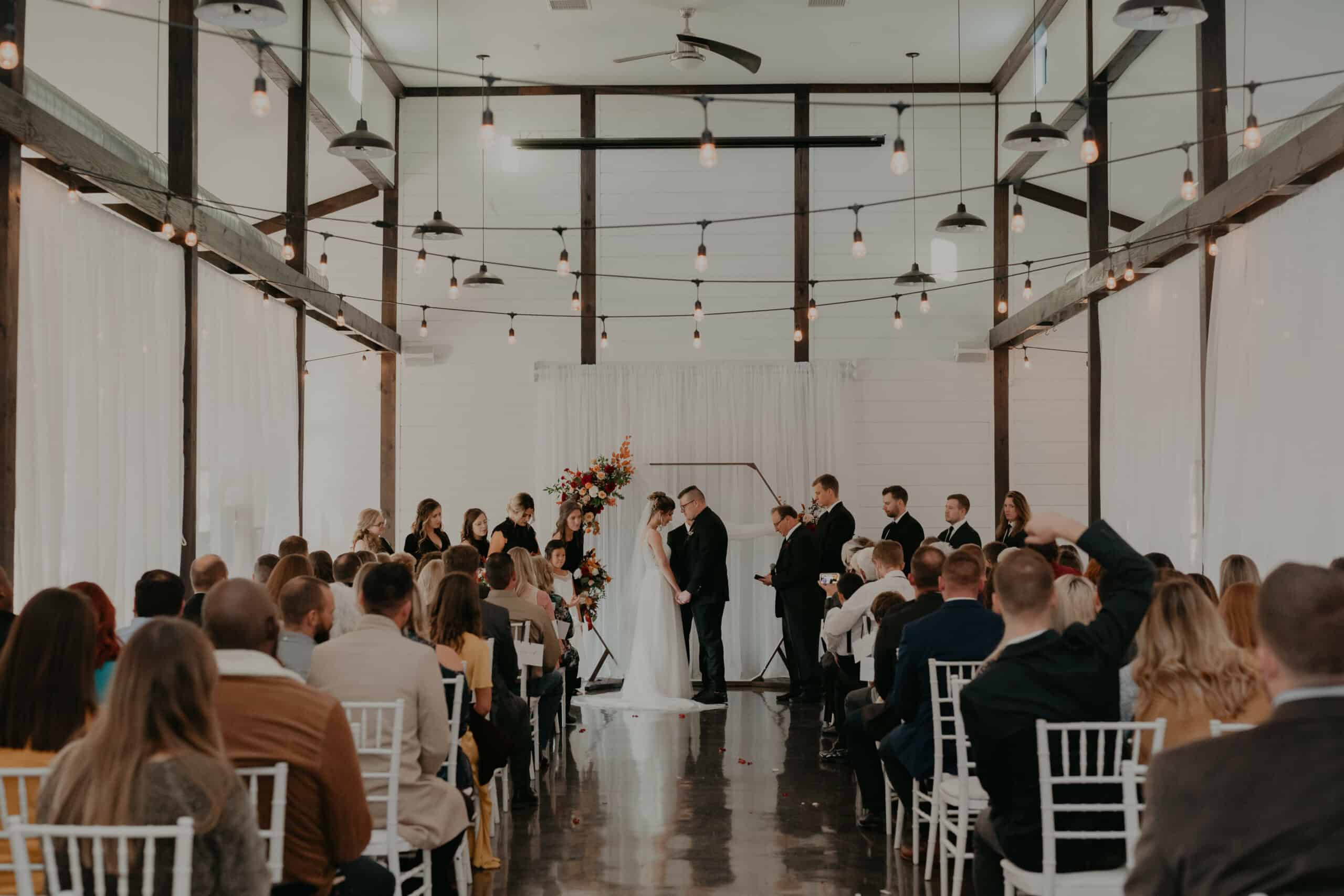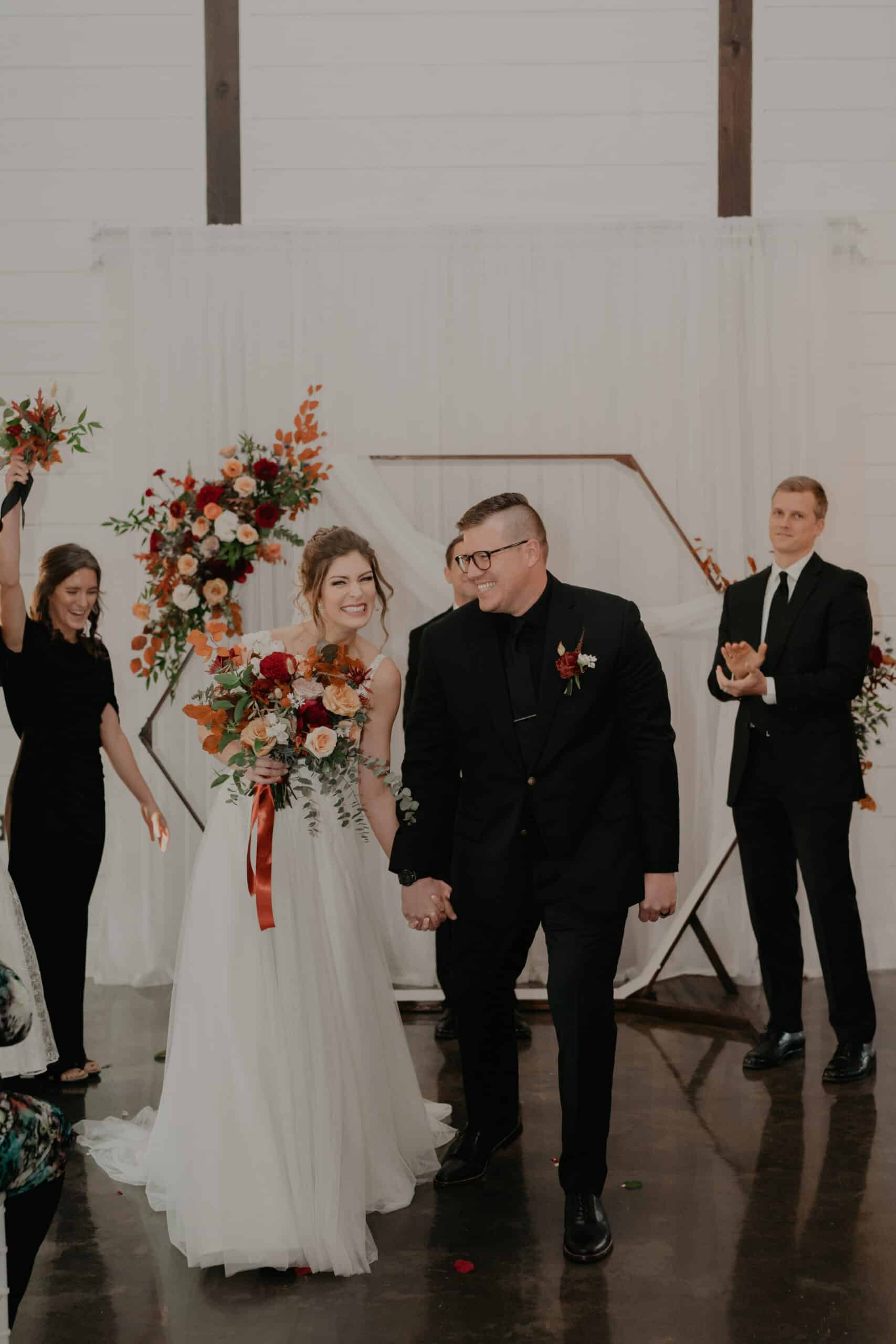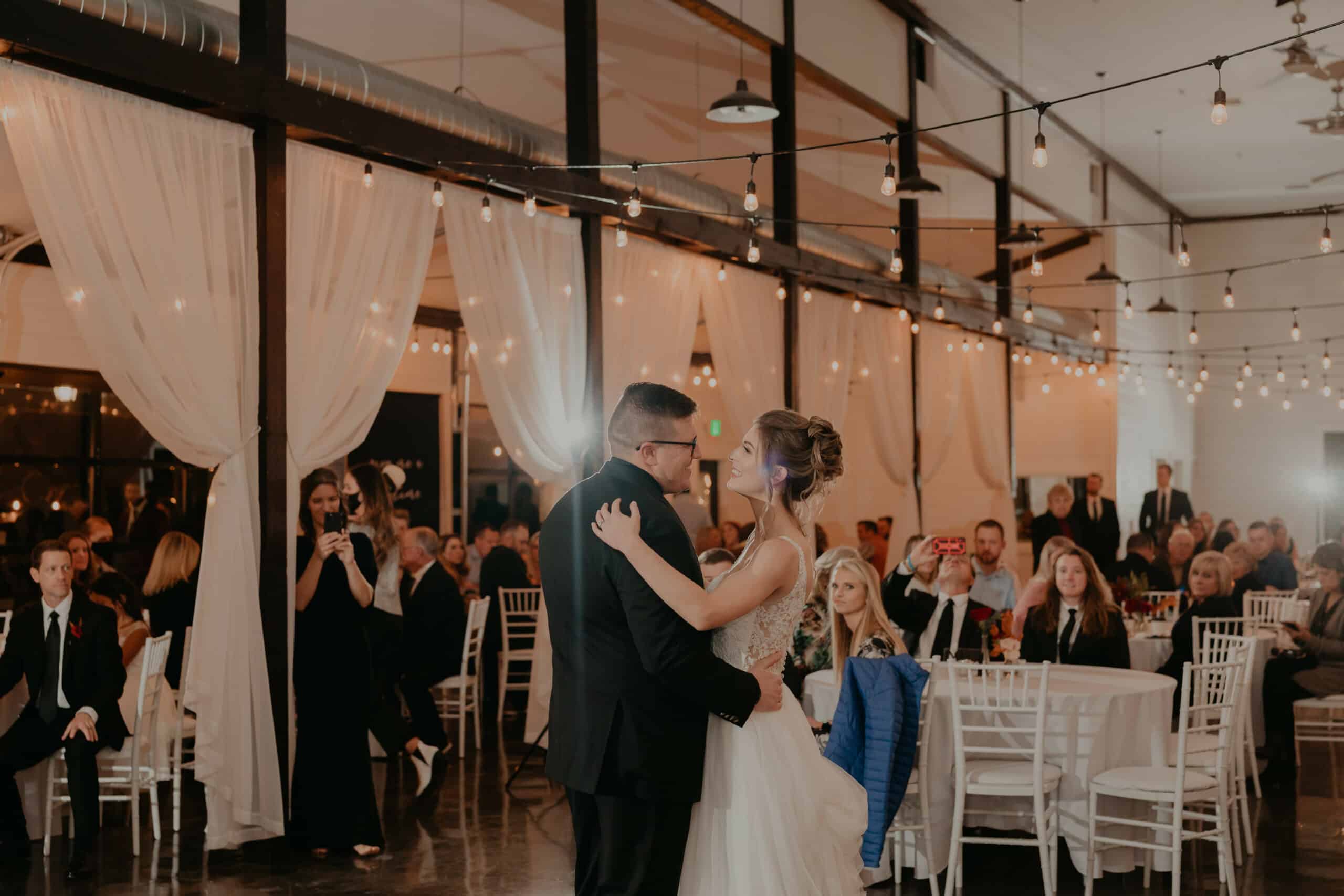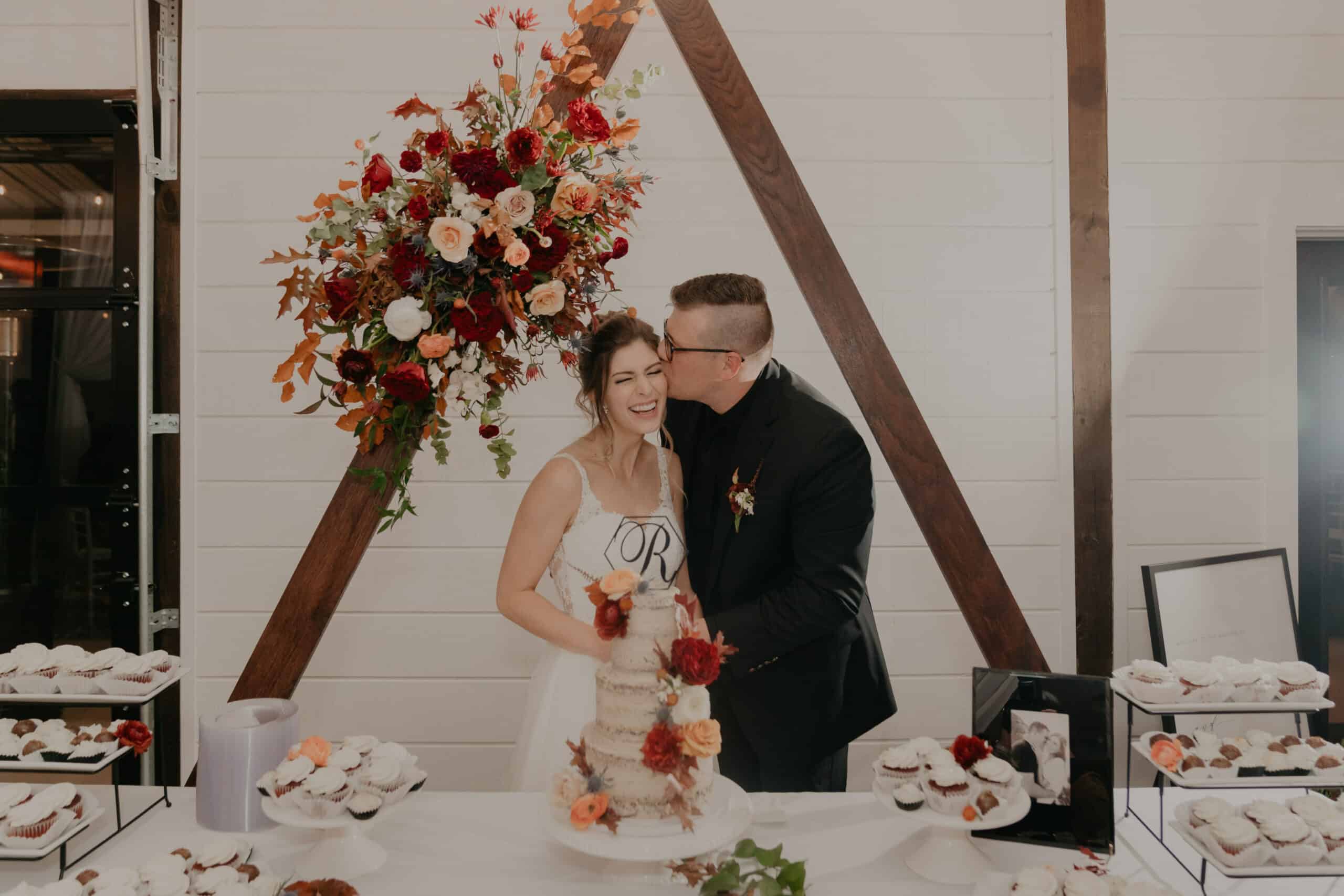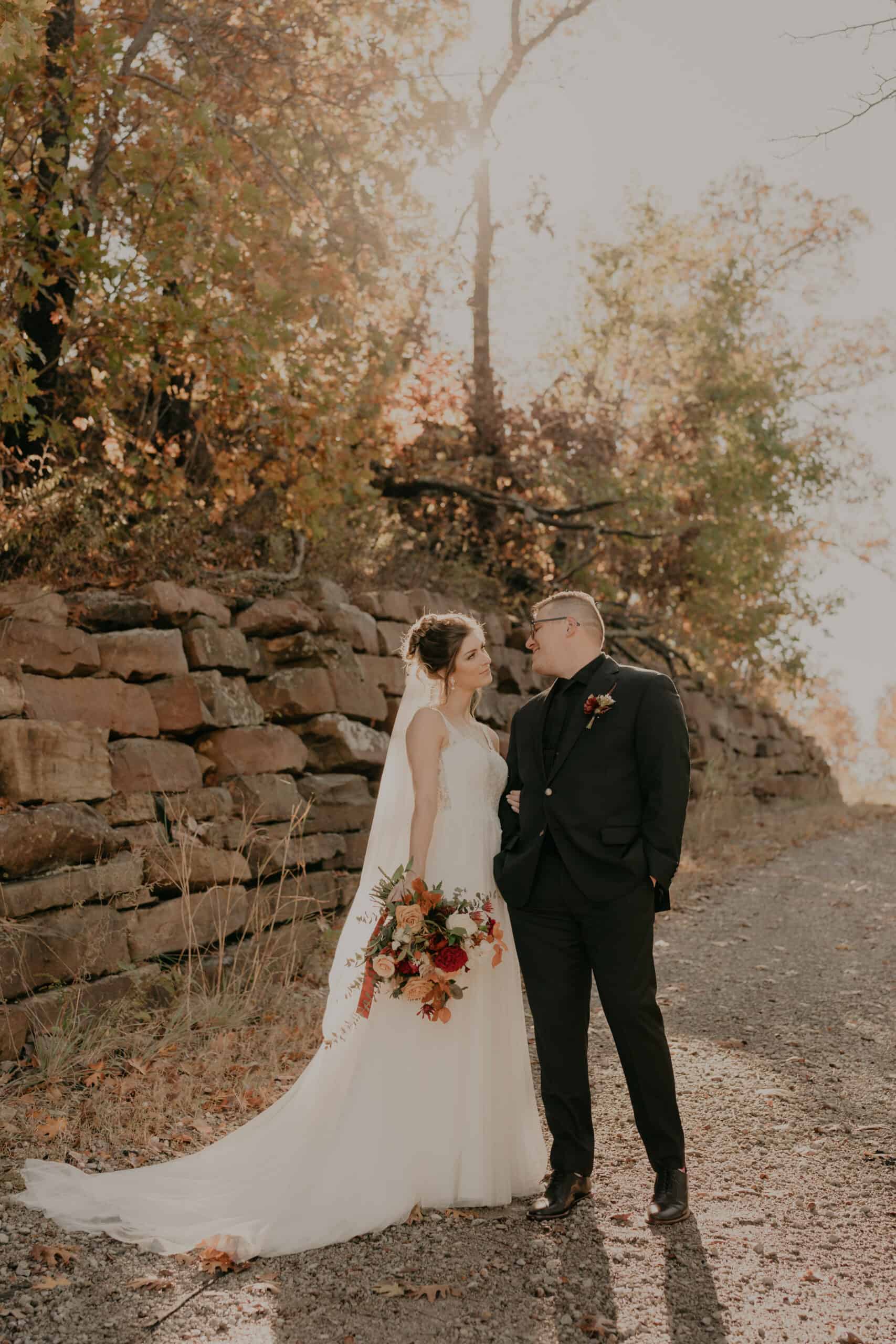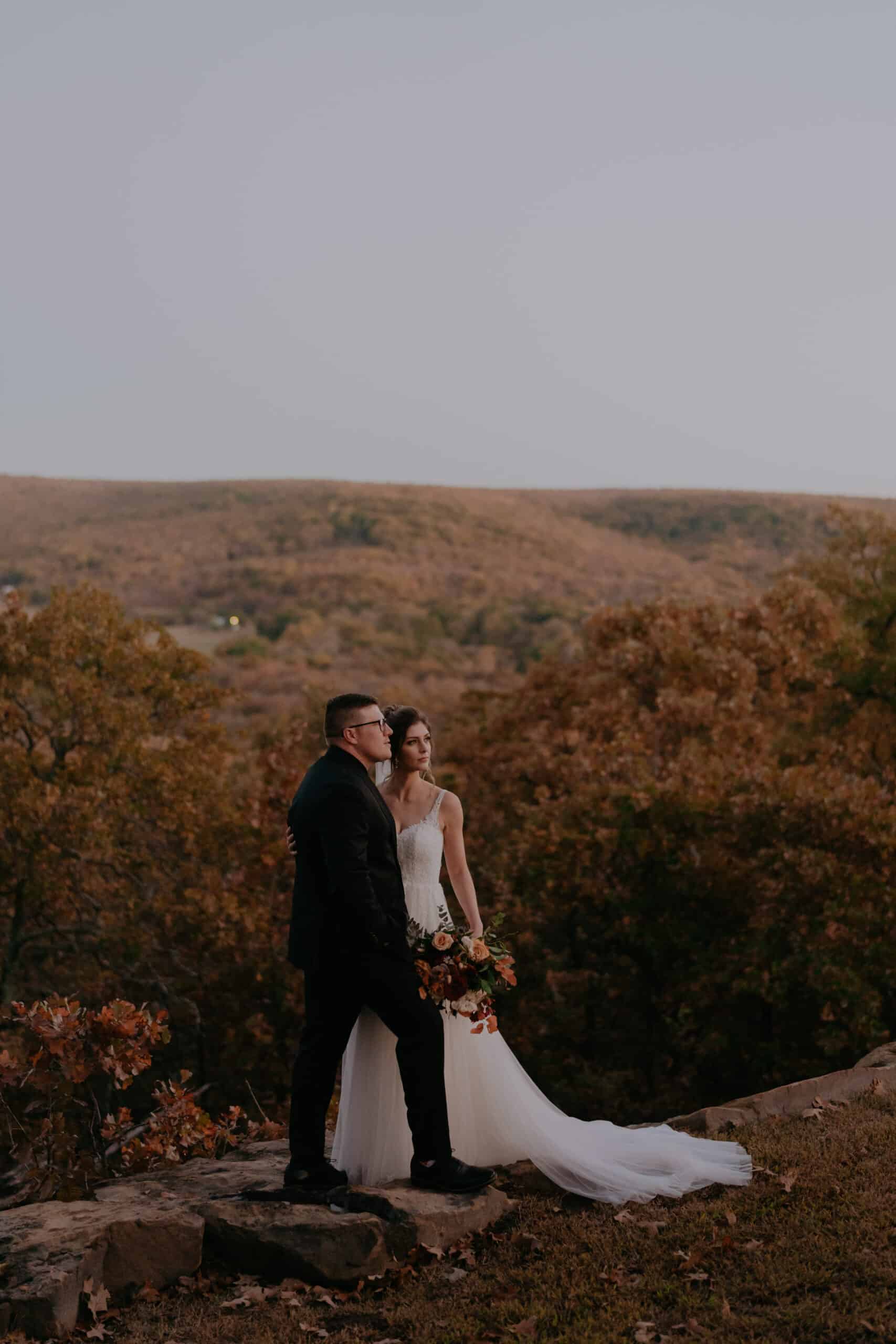 Photography by Jordan Taylor Photography
The Vendors
Bridal Gown – Savvy Bridal Boutique
Photography – Jordan Taylor Photography
Hair Stylist – Sam Palmer Hair
MUA – Megan Berven Makeup
Cake- Sweet Devotion Cakery
Planning – Ever & Ivy Events
Venue – Dream Point Ranch
Entertainment – Oncore Productions
Catering – Sage + Berry
Accessories – The Master Jeweler
Floral – Malyn Made Weddings
Coffee Bar – Merriment Coffee
Rentals – Katie's Custom Decor
We are seeking real #SavvyBrides to feature on our Instagram and blog! If you recently purchased your gown at Savvy and have your wedding photos, we'd love to feature you! Send your love story and 8-10 of your favorite wedding photos for a chance to be featured. We can't wait to hear from you!
Share your Love Story here.
Start your wedding dress shopping experience with Savvy Bridal today by scheduling an appointment online.
Learn more about our Curated Dress Collection here.