What Undergarments Do I Need for My Wedding Day?
As a bridal salon, our goal is to make sure every bride feels beautiful in her dress on her wedding day. One of the most asked questions at Savvy Bridal Boutique is what brides should don under their wedding gowns. Since so many brides struggle to determine what they should wear in the way of undergarments on their wedding day, we've created an undergarment guide for Kansas City brides.
Problems with Undergarments
First, let's talk about the problems that brides tend to have with undergarments. Many brides don't realize that they should bring the undergarments they intend to wear to their fittings. In fact, you might want to bring a few different options to make sure that you have an idea of something that will work with your body and your dress. This leads to panic on the day of the wedding when their dress isn't so flattering with the undergarments they selected.
Bulky undergarments can lead to a myriad of issues for brides. Bras can leave bulges on the back, and straps can slip off of shoulders. Strapless bras can slide down the body and leave breasts looking a little droopy. Shapewear can leave unwanted bumps and lumps throughout the midsection or leave strange marks along the thighs.
It is important to remember that not all fabrics will be forgiving if you have bulky undergarments. For example, crepe fabric is notoriously challenging because you can see every bump from other fabric lying underneath the stretchy, unforgiving fabric. However, heavier fabrics might hide some of the issues that we have mentioned.
Fortunately, we have many tips for our brides to help them choose undergarments based on dress style and fabric.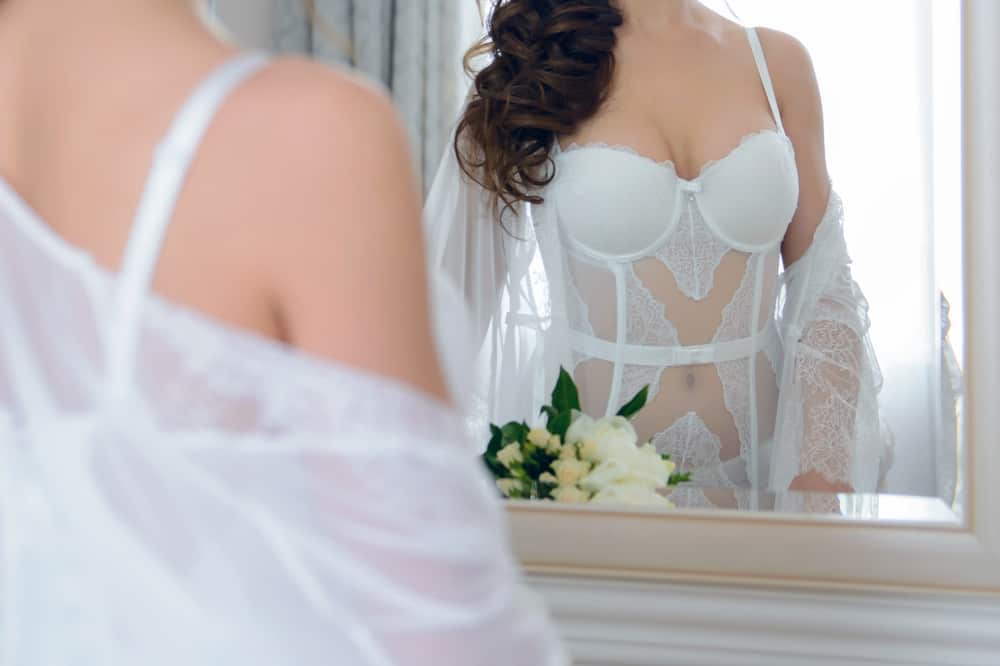 Undergarments Based on Dress Style
The style of your dress will heavily influence the undergarments that you will need for your big day. Let's see what you should wear under your wedding dress based on its style.
Plunging Neckline Dresses
Dresses that are low-cut in the front aren't well-suited for a regular bra. However, unless it is a super low-cut neckline, a bustier will likely work without being visible. Additionally, you will have a lot of support, which can provide you with the extra lift you want in this dress style. A plunging bra is another great option for dresses with deep necklines.
Low-Back Dresses
Low-back dresses can create a big challenge, especially for busty brides looking for support. It is impossible to throw on a regular bra without it being visible and ruining the look of the dress. For these dresses, you can opt for silicone cups. Better yet, get bra cups sewn into the dress.
When bra cups are sewn into the wedding gown, they are invisible and won't slip or slide around on the body. Additionally, you will be more comfortable not having to worry about fussing with your bra.
Some low-back dresses are cut low enough that underwear becomes problematic, as well. Extremely low-backed dresses might require some creativity. You might need a barely-there G-string or low-cut undies.
Backless, Plunging Neckline Dresses
Dresses that are low-cut on both the front and back are particularly tricky for brides. In these instances, you can rely on nipple concealers or a sewn-in bra from your seamstress. Again, you might have to reconsider your underwear of choice, as well.
Strapless Dresses
A nude strapless bra or sewn-in bra cups are going to be your best bet if you have a strapless wedding gown. You could also use strapless shapewear and really any underwear you would like as long as the fabric allows for a nice, even texture.
Bandeau Dresses
A bandeau wedding dress calls for a bandeau bra. Again, go with a nude-colored bandeau bra to ensure that the bra isn't visible under your gown.
Column and Sheath Dresses
Clingy column dresses are notoriously unforgiving when it comes to underwear lines or other bumps underneath the gown. A one-piece bra and shapewear piece will help smooth your body out while still giving you the support that you need for your top half.
You might also want to consider shapewear that smooths the lower stomach, hips, and booty.
Form-Fitting Dresses
Mermaid, trumpet, and fit-and-flare dresses are all great dresses to show off that hourglass figure, but you want to make sure that your figure looks its best on your big day. Shapewear can help tuck in any parts that want to stick out and create bulges in your gown—think muffin top. For some dresses, you might need shapewear that goes all the way down the leg to prevent an awkward bump on your thighs.
There are also slips made specifically for dresses with this shape. They help add volume to the skirt to ensure that you have the look you desire as you walk down the aisle.
Ball Gown Dresses
These dresses often have large skirts that might need extra support, so you might want to purchase a hoop for the skirt. Otherwise, these dresses tend to be the easiest to find undergarments for, except for possibly needing a strapless bra. You can also wear shapewear if you think you need it.
A-Line Dresses
Undergarments for A-line dresses tend to look a lot like what you might wear under most other styles of dresses. You will want something that smooths out your top-half and something that helps puff up the bottom half of the dress, such as a slip or hoop.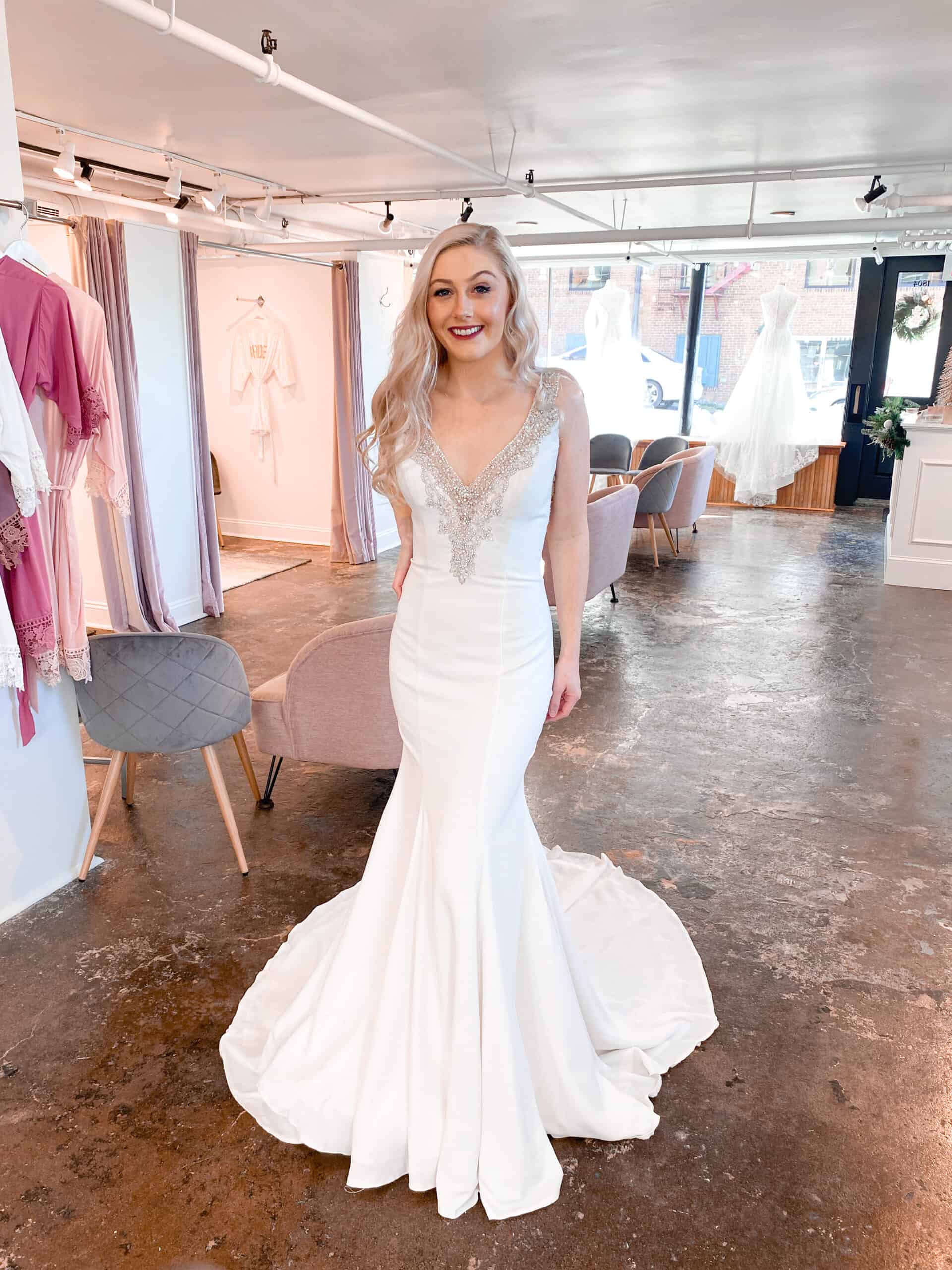 Undergarments Based on Dress Fabric
Thicker fabrics or those covered in appliques are fairly forgiving, giving brides more options for wedding undergarments. However, some of the less forgiving fabrics can leave brides with unwanted panty lines, unflattering lumps and bumps, and frustrating ripples in the fabric of their dresses.
Crepe Dresses
A catsuit, or full-body shapewear, is going to be your best option when it comes to smoothing your body under a crepe dress. Crepe is stretchy and comfortable, but it is incredibly difficult to find appropriate undergarments for this fabric.
Silk and Satin Dresses
Silk and satin both pose the same problems that crepe does, but they tend to be less stretchy. It is hard to hide seams under these delicate fabrics, so you will need to find shapewear or seamless underwear that disappear under the dress.
For Savvy Bridal brides, we can help you determine what you need in the way of undergarments during any of your appointments. Our bridal stylists are experts at knowing how to help every bride look her best on her wedding day. Schedule an appointment today or call us at 816-859-5699 (Kansas City) or 785-424-7120 (Lawrence).
Don't forget that our new Lawrence, Kansas, location is now open!