Should I Get a Wedding Dress with a Train?
A wedding dress train is among the many garments and accessories you may choose to wear on your wedding day. While some brides-to-be may adore this extravagant gown feature, others may opt for a wedding dress without a train. If you're unsure whether you should wear one or not, there are several things to keep in mind.
What Is a Wedding Dress Train?
A train on a wedding dress is a long piece of fabric that extends and hangs down from the back of the gown. It can be a detachable piece or sewn on, and it extends behind the bride-to-be as she walks down the aisle. The main purpose of a wedding dress train is to add drama and create a more luxurious look, as well as allow for an elegant entrance from the bride.
Wedding dress trains can vary in length and be positioned in different ways, such as over the arm, pinned up, or allowed to flow freely. They can be made of various materials, including tulle, lace, or satin, and may even be decorated with sequins, beading, or embroidery. Many times, they will match the material of the gown to create a uniform wedding look.
Ultimately, the way the train looks and is worn will depend on the type of dress and the bride's personal preference. If you are considering a wedding dress with a train, there are a few things to consider. First, the train can add extra weight to the gown, so you'll want to try on your dress with the train attached before deciding whether it's right for you. The train will also add length to the gown, which is something to consider when choosing your wedding shoes.
Finally, you'll want to practice walking in your dress with the train attached before the big day. This can help to prevent any mishaps, such as tripping on the train and falling during the wedding ceremony.
A lot of factors can play a role in which wedding dress train you decide on, including your gown's silhouette, the venue setting, and how formal you want the wedding to be. It's best to weigh the pros and cons so you make the decision that's right for you for your big day.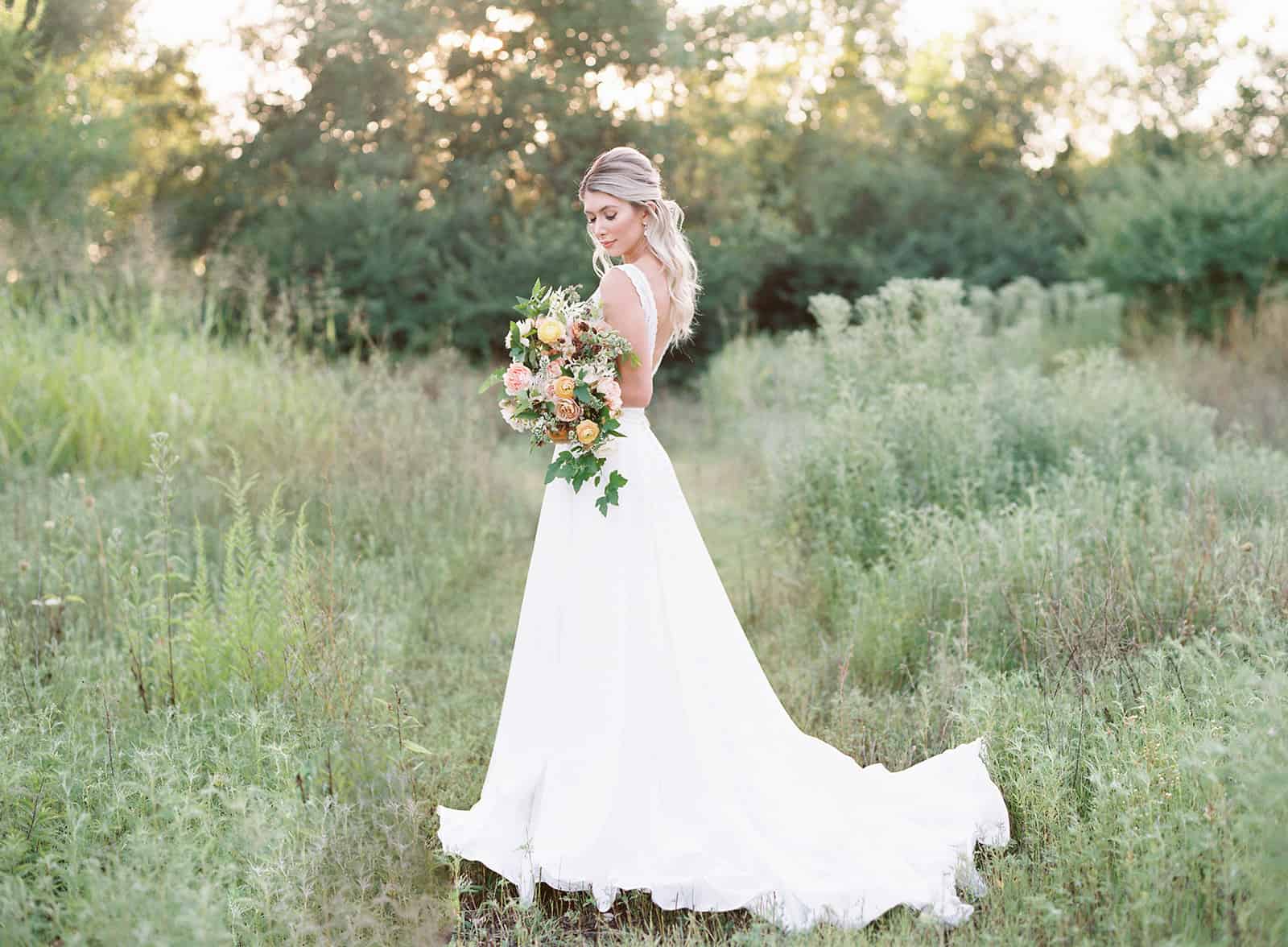 4 Pros of a Wedding Dress Train
Although the wedding dress train may be an overlooked detail, it can really make or break the look and feel of the gown. Some advantages of having a train on your wedding dress include:
Adding a Dramatic Effect: A wedding dress train can add a touch of elegance and drama to the dress, making the dress more memorable.
Giving the Dress Grandeur: Wedding dress trains are extremely photogenic because they create shape and definition for the gown. They can even elongate the look of the dress to make the bride appear taller.
Allowing for Extra Warmth: If you're a winter bride, or the temperatures drop going into your evening ceremony, a wedding dress train can actually provide you with extra warmth if needed.
Providing Plenty of Options to Choose From: Wedding dress trains can come in all shapes and sizes, giving you plenty of options to consider. Keep in mind, too, that your ability to wear a train isn't necessarily inhibited by a certain wedding dress style, since trains can be shortened or lengthened during the alteration process.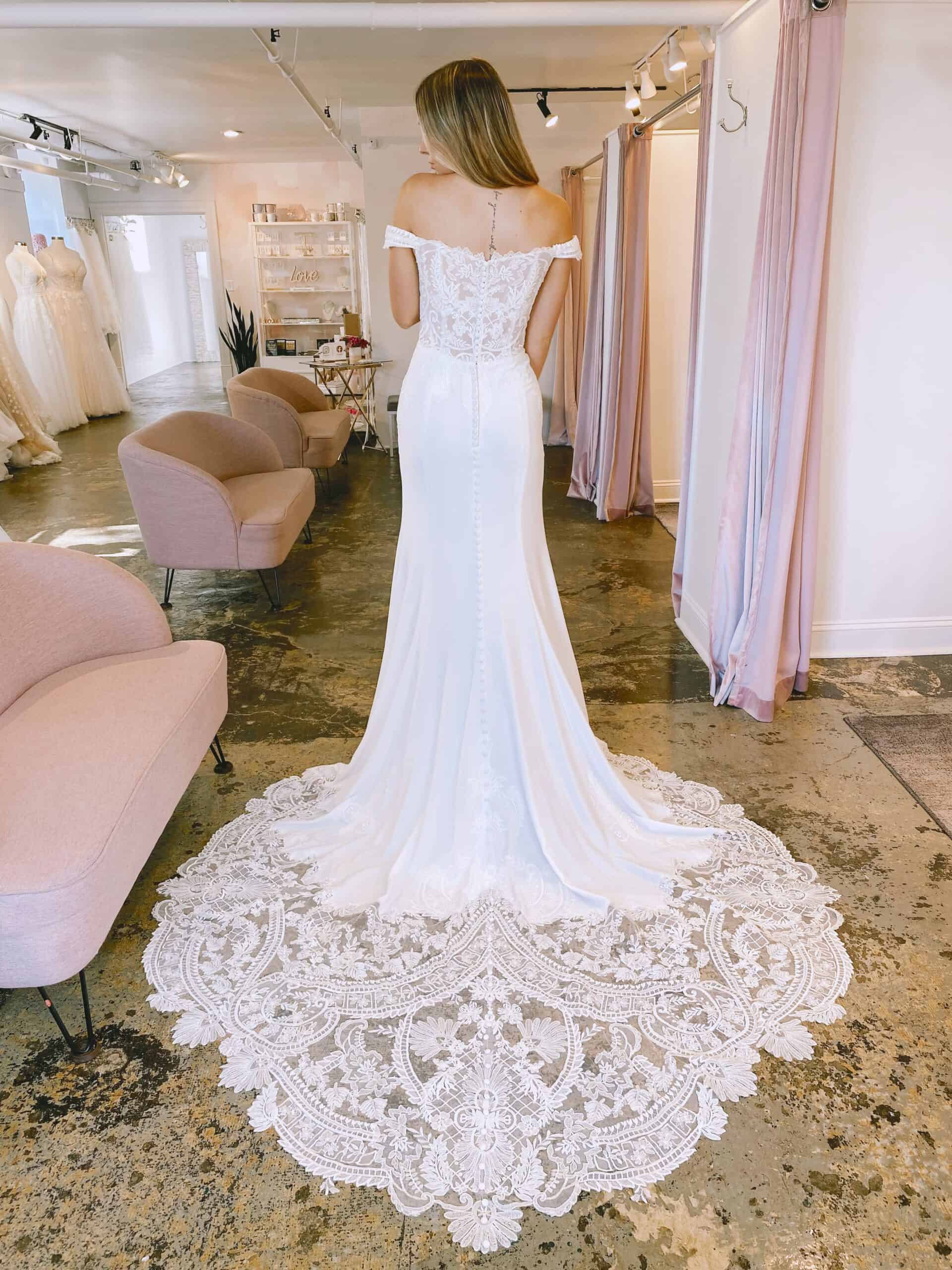 4 Cons of a Wedding Dress Train
While wedding dress trains can exude feelings of glamor and elegance, they can also be impractical. Here are some disadvantages to wedding dress trains that you may want to consider:
They're Easy to Damage: If your wedding dress train is too long, it may become caught on things and become damaged. This is especially true for outdoor weddings or photo settings where a large train can be difficult to manage and keep clean. If you wish to wear a long train to your outdoor wedding, try recruiting someone—like a bridesmaid—to keep the train off the ground while you walk.
They Add Extra Weight: Depending on the train's length and material, it may add extra weight to your wedding dress, making it harder to move around and uncomfortable to wear for long periods of time. If you're planning on dancing at the reception, a heavy train can be problematic.
They Increase the Potential of Tripping: A long train can easily get caught on things or stepped on, potentially leading you to trip and fall—a nightmare for any bride.
They Can Add an Extra Bustle Expense: Extra fabric from a train can be a lot to handle, which is why many brides opt for a wedding dress bustle. With a bustle, the extra fabric from the train can be folded up and tucked so it matches the length of the dress. Shorter trains may only require a few buttons or ties, while longer ones may have something more intricate so that each layer can be folded and fluffed properly. The cost of the bustle also depends on the type of bustle you choose to have added to the gown.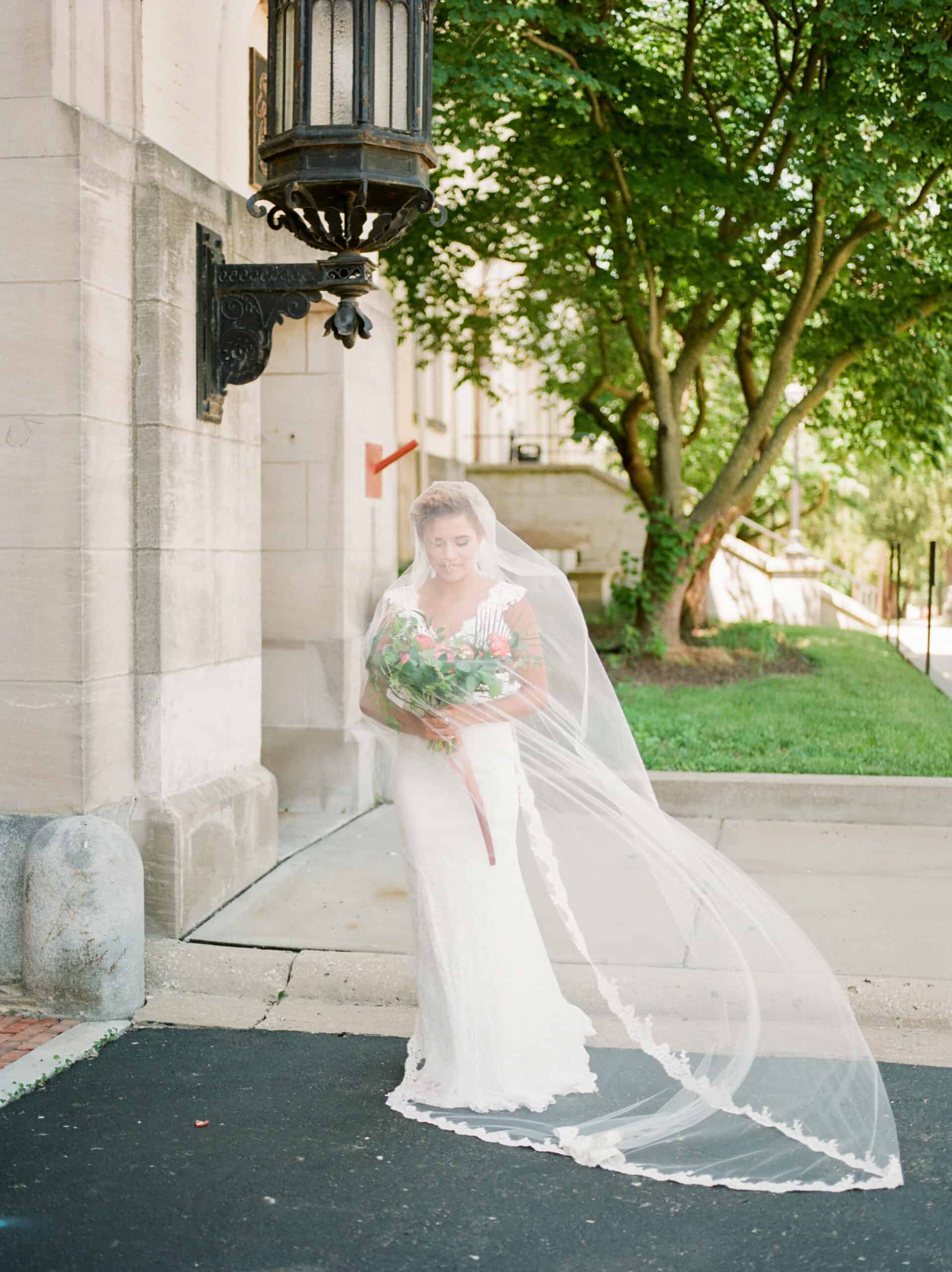 Alternatives to Trains
There are many reasons why a bride may not want to have a train. Perhaps she wants to be able to move more freely on the dance floor, or she simply doesn't like the look of a train. Whatever the reason, brides-to-be can choose from several alternative options if they feel like a train isn't for them.
Get a Detachable Train
If you still want the look of a train for certain moments on your wedding day but want it to be less cumbersome, you can always buy a detachable train for your wedding dress. This gives you the look of the train while also allowing you to remove it later on when it starts to become a hassle. You also won't have to worry about having a bustle on your gown, since the train would be removed rather than folded up.
Change Into a Second Dress
Another alternative is to buy a wedding dress without a train, such as a second gown you can change into. Some brides may want to wear their extravagant gown for the ceremony, but opt for something more casual, like a shorter dress, for the reception.
Wear a Long Veil
Brides-to-be can also consider forgoing the train altogether and wear a longer veil in its place. This is another great option if you don't want the hassle of dealing with a train and instead want a wedding dress accessory that's a bit easier to manage.
So, should you buy a wedding dress with a train on it? The decision is up to you and what you're comfortable wearing on your special day. If you're still unsure, talk to your bridal consultant to find the best option for you.
Are you a bride-to-be? Consider booking your bridal experience at Savvy Bridal. Contact us today at 816-859-5699 for our Kansas City location and 314-312-6396 for our St. Louis location.