Wedding Dress Alterations 101: The Rundown on Everything You Need to Know
It's the big day! No—not the wedding day. The day your wedding dress arrives!
That perfect wedding dress doesn't arrive looking like it was made just for you, however.
Although your bridal stylist helped you determine the best size to order based on your measurements, you are going to need alterations. Often, parts of the dress fit really well, while other parts are too big. Since nobody wants to experience a wardrobe malfunction on their wedding day, your wedding gown must be tailored to your body.
What Is the Purpose of Dress Fittings and Alterations?
Before you deem your wedding dress ready for your big day, you will go in for a bridal fitting. During this fitting, the consultants will talk to you about any necessary changes that your dress needs to fit you properly. This is also a great time to talk about any changes you want to be made to the gown.
For example, some brides want to add straps or sleeves to a strapless dress, while others might want to remove a couple of layers of tulle to make the dress lay flatter; while these changes aren't going to change the fit of the dress, they are aesthetic decisions that are important to the bride.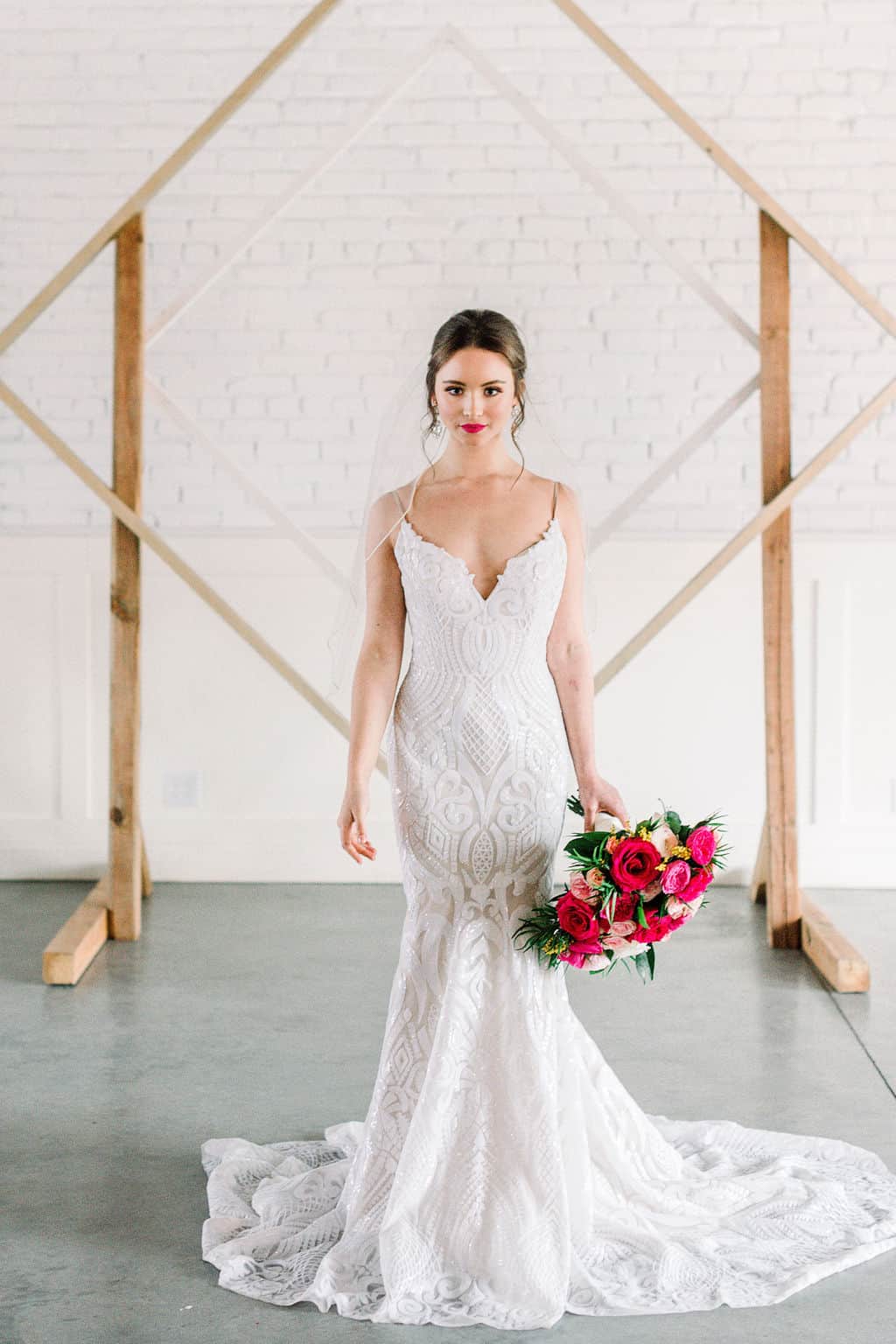 Popular Types of Wedding Dress Alterations
At Savvy Bridal, we want you to know about the most common wedding dress alterations you might need before your dress is ready for wearing.
1.      Hemming
Hemming is the first step in the alterations process. If your wedding gown is too long or wide in some areas, a tailor can take it up and in to leave you with a better fit that shapes the bust, waist, and hips. Saggy fabric doesn't achieve the desired look for a bride, so hemming is a great way to perfect a wedding dress.
Designers intentionally make wedding dresses long. This makes it easier for designers to produce gowns that fit tall brides or those who wish to wear high heels on their wedding days. For this reason, many brides need to have the length of the gown adjusted. You want the dress to be long enough to cover your shoes, but not too long that you are tripping over it.
2.      Adding Pizzazz
Some brides want to make changes to their gown to transform it into the dress of their dreams. These changes can range from minor to extensive, and a major overhaul of an existing gown may include adding sleeves, beading, buttons, lace appliqués, trains, and more.
Keep in mind that significant changes to the appearance of the dress could dramatically increase your alteration bill. You might want to discuss these additions with a bridal consultant or tailor prior to ordering your dress to get an estimate of the cost to ensure that you are budgeting correctly.
3.      Adding a Bustle
Many brides don't realize that bustles aren't sewn into the dress during the manufacturing process. So, if you want to bustle your gown for your reception, you will have to have one added in during the alterations process. A bustle will prevent the train of the gown from dragging on the ground at the wedding reception, saving it from being stepped on and tripped over. Take it from us; if you have a train, you need a bustle.
There are multiple styles of bustle: American, Austrian, French, Ballroom, and Train-Flip.
Learn more about bustles by reading this blog post.
4.      Adding a Bra
Sewing a bra into a wedding gown eliminates the need to find the perfect brassiere for the wedding day. A sewn-in bra won't poke out or slide down as you move, which makes it a great option for all brides—especially those with a large bust. Save yourself the time, and have a bra sewn directly into your wedding dress.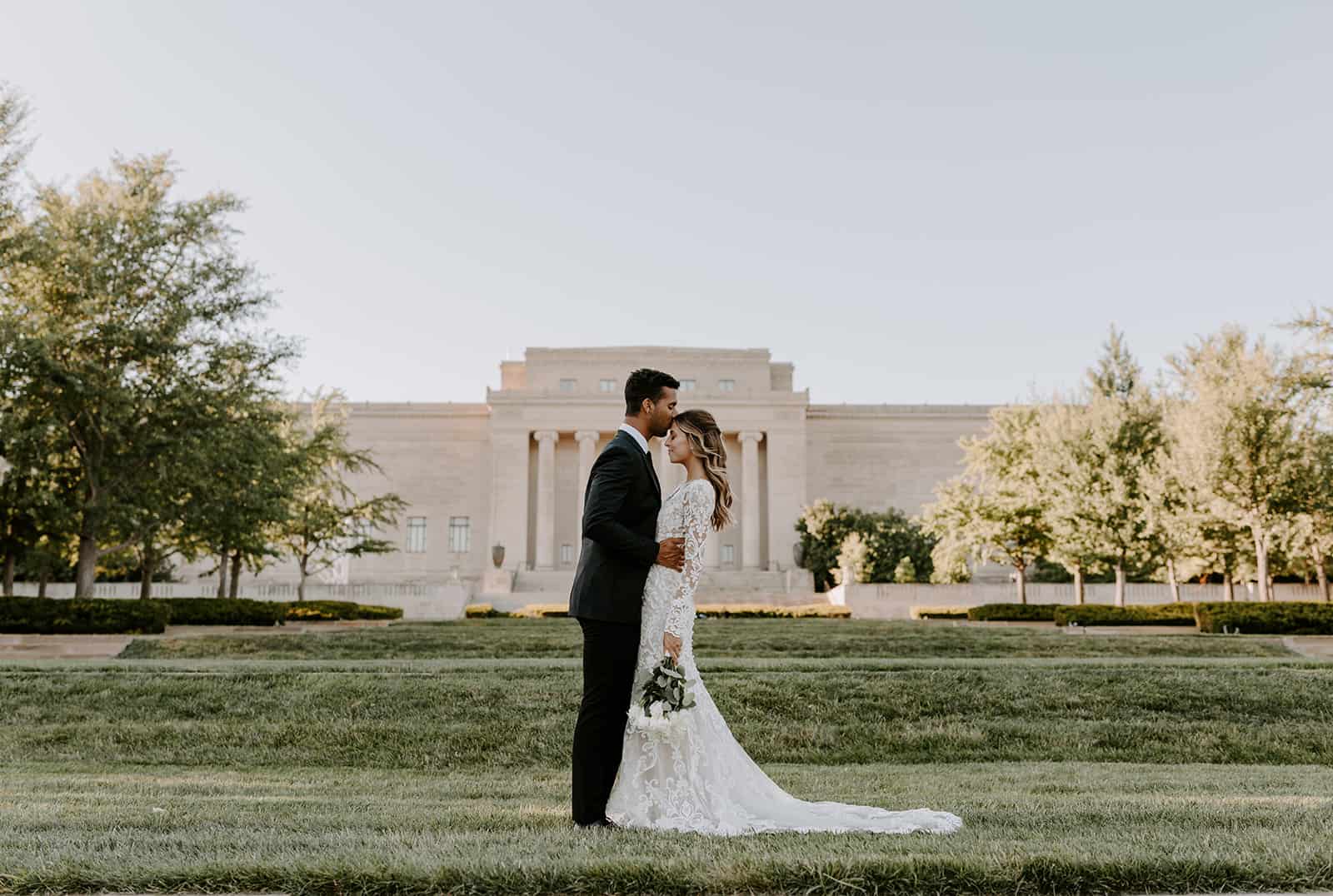 What Does the Wedding Dress Alterations Process Look Like?
The bridal boutique you purchased your dress from will alert you when your wedding dress arrives. At this point, if they offer in-house alterations, they will try to schedule a time for you to come in for a "fitting." During the initial fitting, you can discuss potential alterations with the boutique's seamstress.
Bridal salons that don't offer in-house wedding dress alterations will schedule a time for you to pick up your dress. At that point, you can make arrangements with the seamstress of your choice.
What Happens at the Initial Wedding Dress Fitting?
During the initial fitting, which usually takes place two to three months before the wedding date, you will put on YOUR wedding dress for the first time.
The initial fitting allows you to try your dress on with the accessories you plan to wear. For example, you will want to bring any shoes, belts, or undergarments you plan to wear on the wedding day. This allows the tailor to make sure that the hem of the gown lays properly and that your dress looks the way that you are expecting on the big day.
While the initial fitting is where you start determining the changes your gown needs, it is likely that you will need to make some tweaks, which is why you need to attend at least three fittings. The second fitting is when you put the dress back on and make sure that things are moving in the right direction. If something doesn't feel right, this is the time to speak up. After this appointment, your seamstress will make the final changes.
What Happens at the Final Wedding Dress Fitting?
At the final fitting, you will make sure your wedding dress is perfect! This fitting usually takes place about two weeks before the wedding, and all the major changes you have requested should be done by this point. The goal at the final dress fitting is that you put on the dress, it is perfect, and you waltz out the shop door with it in your hands.
However, if there are problems, it is still early enough that a few additional changes can be made.
Budgeting for Wedding Dress Alterations
Wedding dress alternations need to be included as part of your overall wedding budget. Unfortunately, it is impossible to determine the cost of alterations until you know precisely what you want and how your dress fits initially. To get a better idea of how much your alterations will cost, you should discuss it with your seamstress.
First, you want to figure out how they charge for services. Some seamstresses will charge per service while others charge a flat fee. If you have more than the necessary alterations done, you will likely have to pay above the flat fee, which should be part of your discussion. Alterations can range from $500 to over $1,000. You can discuss everything you want to have done to your dress before you order it to get a better idea of your total dress cost.
Who Should You Bring to Your Wedding Dress Alteration Appointments?
Picking a dress is exciting! Brides often bring a large entourage to their original appointments, and some brides think this should extend to the alteration appointments. But it isn't necessary to bring a bunch of people to your wedding dress fittings. In fact, large groups often get in the way during gown fittings.
You should, however, bring someone you trust with you to your fittings. First, you want someone who will help you make any decisions that still need to be made. Additionally, you need someone who can learn how to bustle your dress for the reception.
Check out our Alteration FAQs for answers to some of our brides' burning questions!
Are you still searching for your dream wedding gown? Make an appointment at Savvy Bridal today!