What Wedding Dresses Suit Big Busts?
If you have a larger bust, shopping for everyday clothing can be both a blessing and a curse. While some women may envy your endowment, finding clothes that fit properly can be a frustrating experience. However, when it comes to your wedding day–potentially one of the most important days of your life–finding the perfect dress is a must. Finding your
bridal style
and choosing the best wedding dress for a large bust can be overwhelming. That's why our expert stylists at Savvy Bridal are here to help!
What to Look for in a Wedding Dress as a Busty Bride
No two bodies are exactly the same, and we value and appreciate that. When searching for the best wedding dress for a woman with a larger bust, there are many factors that you should acknowledge so you can feel comfortable, confident, and beautiful on your wedding day. You will need to make important decisions, such as the dress's neckline, the type of fabric to use, whether or not you want sleeves, and more.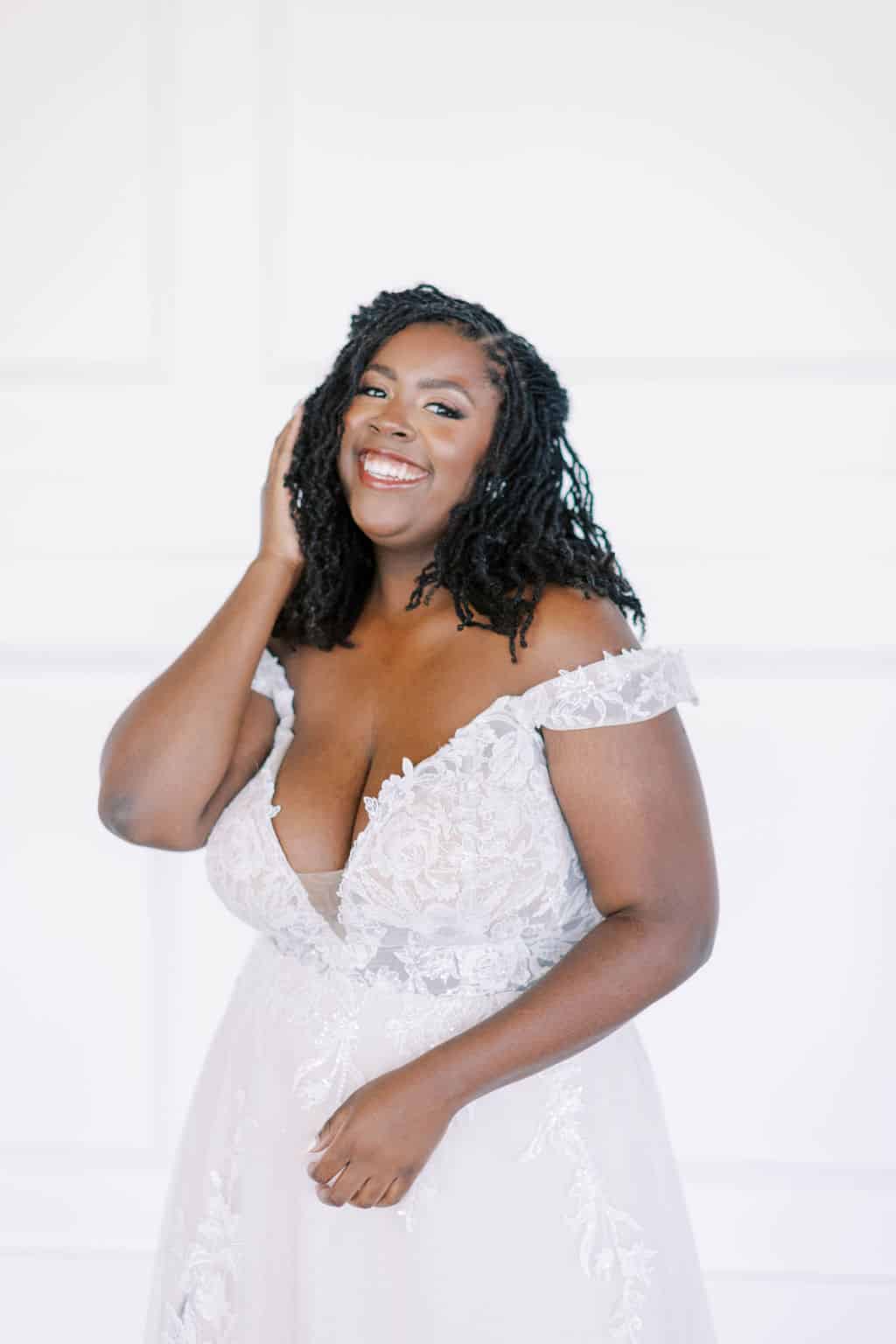 1. Silhouette
When choosing the right silhouette for your wedding dress, you must consider both your bust size and body type. Here is a brief overview of ideal wedding dress silhouettes for different body figure types:
Hourglass:

Mermaid, empire, fit-and-flare, and sheath.

Triangle/Pear:

A-Line, ball gown, and empire.

Inverted Triangle:

A-Line, mermaid, and sheath.

Round/Apple:

A-Line, empire, and ball gown.

Rectangle:

A-Line, sheath, empire, and ball gown.
Note that dresses with corsets will provide you with more support for your breasts. The most important thing, however, is that you should find a wedding dress that you feel beautiful in and can comfortably wear and move around in.
2. Neckline
The neckline is one of the most important anatomical elements of your wedding dress, and it's best to choose one that properly displays your décolletage. You will also want the proper support for your chest and should pick a style that makes you feel comfortable. These options may include:
Scooped Neckline:

This style will highlight your face and décolletage while also drawing attention to your breasts.

V-Neckline:

While a deep V–neck might look a bit provocative, a slight V can be enchanting for a woman with a larger bust. Also, a slight V can create a slimming silhouette.

Square or Straight Neckline:

This cut provides you coverage for modesty, while still being able to expose some cleavage.

Halter Top:

This neckline is similar to the scooped neckline and will not constrict your breasts. Also, the around-the-neck strap gives you much-needed support.

Off-the-Shoulder:

If you are feeling adventurous, an off-the-shoulder cut will wonderfully accentuate your décolletage. A large bust can be beneficial, too, given that you have more support for the dress to stay up.
3. Fabric
Luckily for you, most fabric types look fabulous on busty brides. You have a range of options, including satin, chiffon, silk, and lace options, just to name a few. 
However, it's best to steer clear of embellishments around the chest. Choosing a bodice with too many crystals or beads may make your breasts look bigger. Additionally, if you prefer lace gowns, it is preferable to choose medium-patterned ones, as smaller or bigger patterns can create the wrong focal points.
4. Straps
As we all know, straps can make or break your gown. If you opt for a strapless wedding dress, avoid anything that is too tight, so your chest doesn't look too big for the bodice. Along with that, having a high-quality bra can give you an extra layer of comfort and support.
If you are in love with the idea of straps, you will want to avoid thin spaghetti straps as they may be too weak and uncomfortable to wear. By choosing larger-sized straps, the weight of the dress will be evenly distributed and not as tight on your chest. Adjustable straps are also a good option if you want to customize your look, or simply make it more comfortable.
What Should Busty Brides Avoid?
Now that we've given you tips on the best wedding dress styles and shapes for busty women, we want to advise you on choices you'll want to avoid. Choosing the wrong neckline, embellishments, or even a dress with a low back can accentuate features you may want to appear more subtle.
Deep V-Neck and High-Neck Gowns
As stated earlier, choosing a deep V-neckline may draw more attention to your chest, which can be uncomfortable for many women. If you love the V-neck look, however, a slight V-neck would be the way to go!
Similarly, a high-neck gown has the potential to make your chest feel uncomfortable and bring awkward attention to your breasts. While cleavage may not be visible, the high neck can still emphasize your chest in an undesirable way.
Low Back Dresses
Choosing a wedding gown with a high back is best if you have a larger bust. Backless dresses don't typically provide enough support, especially around the sides of your breasts. Instead, you'll want a gown that provides fuller fabric and coverage around your entire torso to make you feel as comfortable as possible. A slight swoop is your best option to show some skin on the back.
Choosing the perfect wedding dress takes time and careful consideration. At Savvy Bridal, we offer an abundance of styles from various designers all over the world for you to choose from. Are you ready to say "Yes!" to the dress? Book an appointment with us today at our Kansas City or St. Louis locations!