Why Are Wedding Dresses So Heavy and How to Choose One You're Comfortable In?
When your wedding day arrives, the last thing you want to think about is the effort it'll take to walk down the aisle in a heavy gown. Your walk to the alter should be easy and effortless, not feel like a sweaty workout. But if you're supposed to find a comfortable gown to get married in, why are wedding dresses so heavy in the first place?
Many factors can contribute to the overall weight of a wedding dress. Fortunately, many of these things can be customized during your bridal appointment, so it's good to know exactly what you're looking for ahead of time so you can lighten the load a little on your big day. Let's look at why wedding dresses are so heavy, and what you can do to feel more comfortable during your ceremony.
3 Reasons Wedding Dresses Are Heavy
There are many anatomical elements that can add weight to a wedding gown, including materials, embellishments, the train, and more. On average, wedding gowns weigh anywhere between seven and eleven pounds, but the weight will vary depending on design and detailing.
The reasons that wedding dresses become so heavy can include any of the following.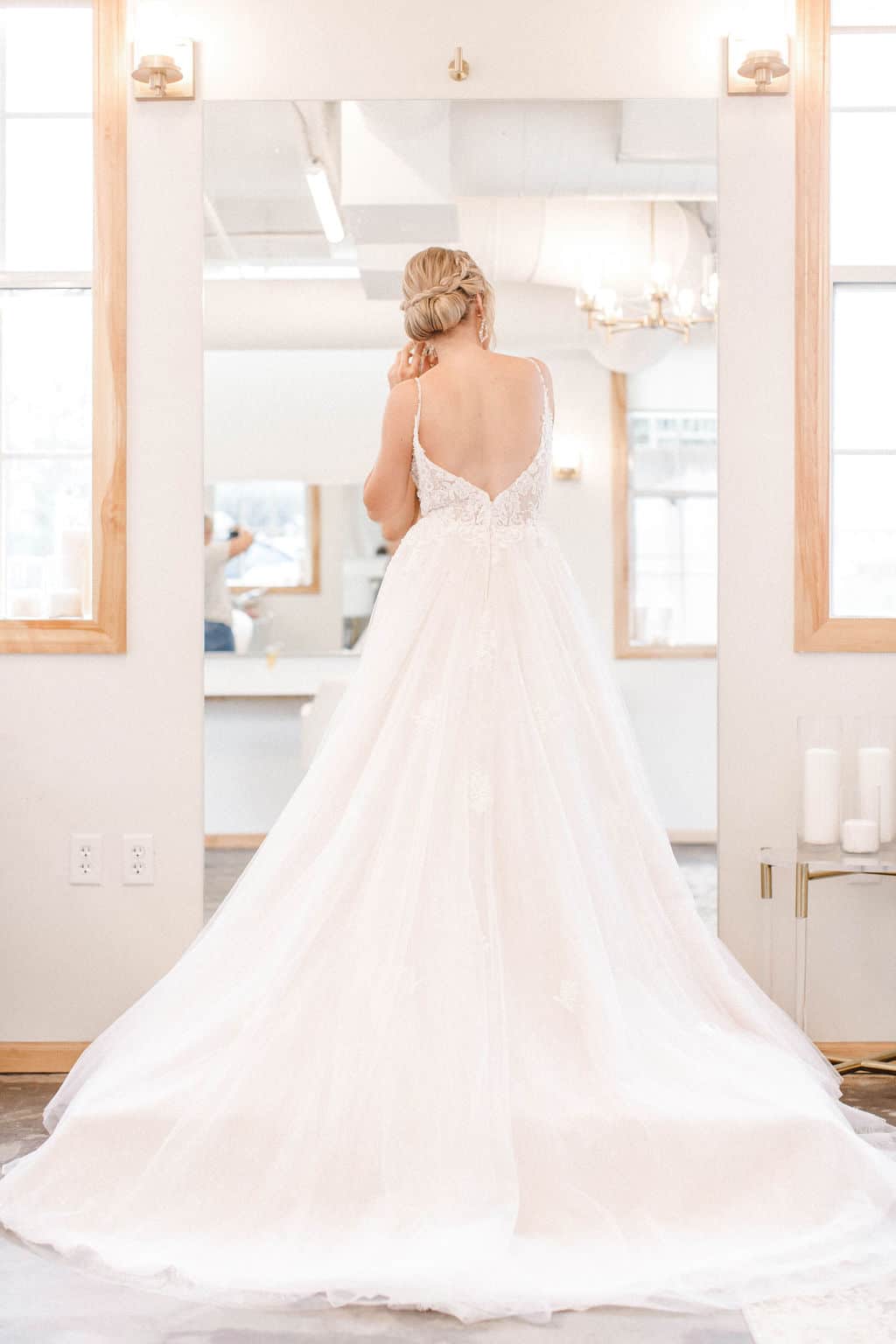 1. Length
As expected, a gown with a longer skirt is bound to be much heavier than one that's shorter. One of the reasons this happens is because of the wedding dress train.  Trains can add quite a bit of length to a gown, and while they are very appealing appearance-wise, they can make it more difficult to move around in your dress.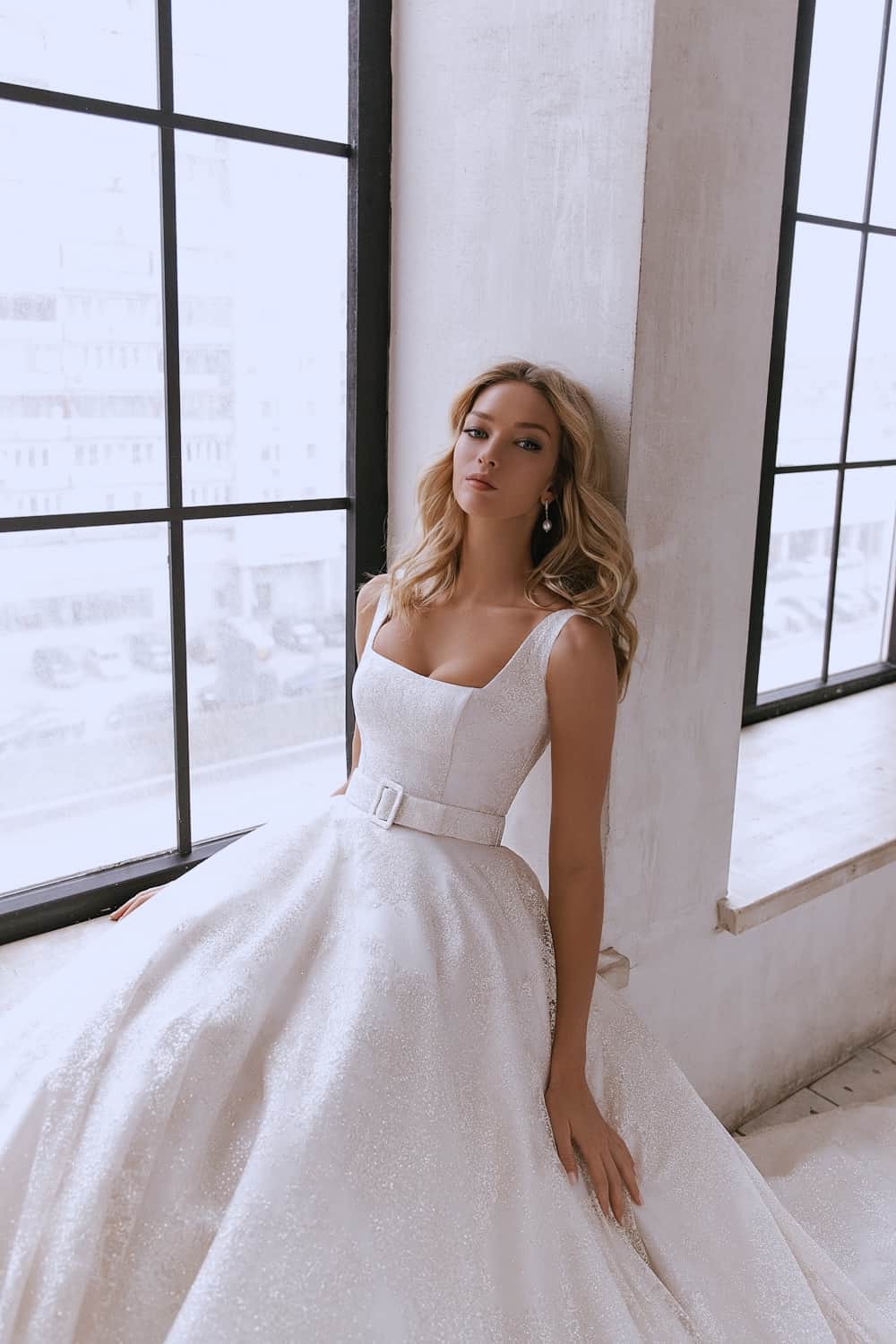 2. Fabric
Some wedding dress fabrics will allow you to move more easily than others. For example, walking around in a huge ballgown all day is no easy feat, and you'll likely feel its heavy weight by the end of the day. This is because it takes a lot more material to build a skirt for this type of dress—thereby increasing its overall weight—compared to other styles requiring less material.
If the material of the gown is your number one concern, here are some fabrics that tend to lean on the heavier side that you may consider avoiding:
Faille: This type of fabric is usually woven from cotton, silk, or rayon. It's incredibly structured, so it tends to hold more weight when used for a wedding dress.
Silk: Heavier types of silk or silk blends, like dupioni, gazar, mikado, and moire, are heavier fabrics you might consider avoiding if you want a lightweight gown.
Polyester: Many materials used in bridal gowns already contain polyester because it can be woven into almost any type of fabric. Polyester satin is especially known for being slightly uncomfortable, especially during summer, because it's not very breathable.
Satin: Thicker types of satin, like duchess, are typically more suited for cooler months since they can feel heavier than other fabrics.
Velvet: While this material may not be considered a traditional wedding gown fabric, it does have some popularity due to its elegant look and felted finish. Velvet is soft but thick, so it's best suited for the fall or winter months when a heavy gown is more manageable.
Lace can also fall on the heavier side, but it depends on the type of lace and the style of the gown. Italian Venise, a well-known fabric in the bridal world, is a woven lace that can feel much heavier than other types of fabrics. If your wedding gown includes any lace design, it's bound to be heavier than other dresses.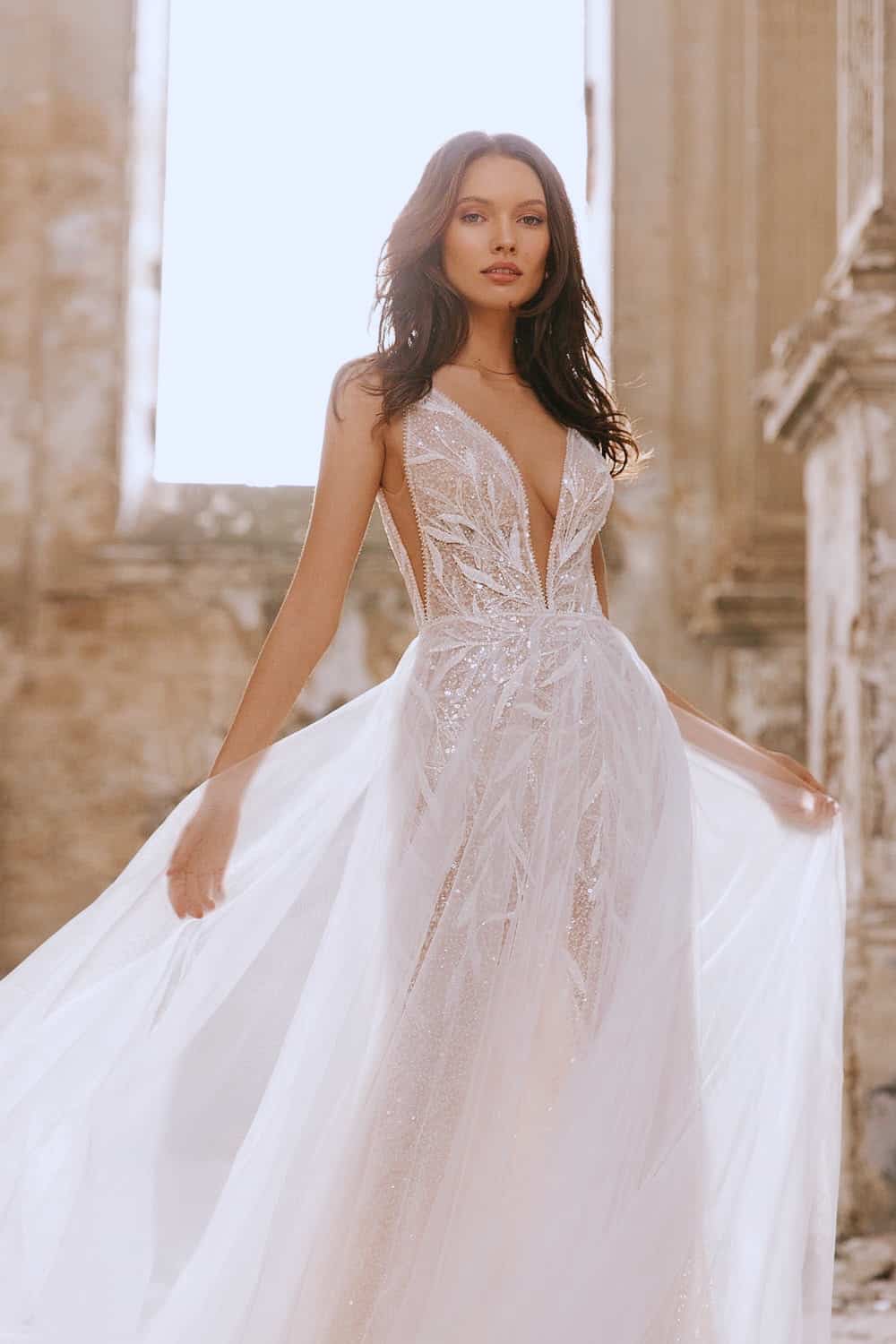 3. Embellishments
Any type of embellishment on your wedding dress will contribute to the overall weight of the gown. These types of intricate detailing may include:
Elaborate embroidery or lace appliques
Heavy beading or pearls
Sequins
Border trims
Fringe or ribbon
If you want to cut some weight off your wedding gown, it may be wise to avoid these extra embellishments. They can bring great beauty to a gown, but it may be at the cost of wearing something a little heavier on your special day.
Tips for Choosing a More Comfortable Wedding Dress
Now that you know some of the reasons why gowns are heavy, let's discuss how to choose a lightweight wedding dress that you are comfortable wearing. First, you'll want to opt for a lightweight fabric that is easy to move around in. These materials may include charmeuse, chiffon, organza, georgette, shantung, taffeta, tulle, and others.
Second, skipping tons of beading and other embellishments might be wise. Certain dresses, like a grand ball gown, are known for having a lot of beads and leaning toward the heavier side. With less intricate detailing, your dress will be a lot lighter. Plus, skipping beading or other embellishments will bring down the cost of the gown, as well.
Finally, consider forgoing a long train, since they can add quite a bit of length to your gown, making it heavier. There are many train options that are shorter or made with lightweight fabrics, ultimately making your dress easier to move around in. If you are thinking about wearing a long train for your wedding ceremony but want to be more comfortable during the reception afterward, you can also add a bustle to help you easily tie up the gown.
Your wedding day is meant to be a big moment, and you'll want to be as comfortable as possible as you walk toward your future spouse. With lighter materials and less intricate detailing, it can be a lot easier to find a gown you love that doesn't weigh you down.
Finding the most comfortable wedding gown for your special day can be challenging, but our expert bridal consultants at Savvy Bridal are here to help. Contact us today at 816-859-5699 in Kansas City and 314-312-6396 in St. Louis to schedule your bridal appointment!