I loved collecting rocks growing up. Every time I went outside, I found another ten or more rocks to add to my collection. My favorite rocks, though, were the smooth and colorful rocks that you can purchase at museums and other places. As I got older I slowly stopped collecting rocks. Lately, though, I have seen a lot of weddings inspired by and featuring rocks, minerals, and geodes.
These geodes add so much beautiful and pure color to a wedding. These colors are natural and gorgeous. The best part of these geodes is that most of them even change color depending on how you look at them. Your wedding will be full of rich, natural colors, should you choose to incorporate rocks, minerals, and geodes. Below are a few ways to add geodes to your big day.
1. Place Settings
Large geodes are perfect for place settings. Your guests will love the unique touch of having their dinner plates on a large, colorful geode. Geodes come in so many different colors, so it will be easy to find one that compliments your wedding colors.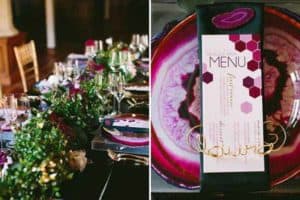 2. Invitation and Program Inspiration
If you want to really round-out your rock and geode themed wedding, incorporate the characteristics of these minerals into your wedding invitations and programs. This picture is a great example of how to do this.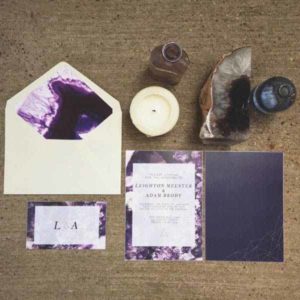 3. Incorporate Rock Candy
Almost everyone grew up eating rock candy. Adding this nostalgic candy to your wedding will add an amount of whim and fun while still reminding your guests of your rock and geode theme. These candies are also pretty to look at. Just be careful not to get this candy stuck to your gown!
Rocks, minerals, crystals, and geodes are some of Mother Earth's most beautiful creations. Adding them to your wedding will make the whole evening sparkle.
Love always,
Macy