How to Keep Your Wedding Dress Wrinkle-Free for Your Big Day
Most brides-to-be have dreamed about their wedding day their whole life. When that day finally arrives, they'll want their wedding look to be absolutely perfect, including their dress. But sometimes mishaps happen, and wedding gowns can become creased or wrinkled from not being stored properly leading up to the big day. To avoid any panic during your big day, you'll want to keep your wedding dress wrinkle-free for as long as possible.
Fortunately, there are ways to prevent and treat wrinkles to keep your dress looking its best. A crease-free gown means that you can walk down the aisle looking like a masterpiece. Consider these tips for keeping your wedding dress wrinkle-free at home while awaiting your special day.
Preventing Wedding Dress Wrinkles Before Your Wedding Day
Wearing wrinkled garments is never ideal, especially for brides-to-be. If your dress does become wrinkled or creased, it's best to resolve the situation before the wedding to avoid extra stress. Here are some common care tips on how to get creases out of your wedding dress to avoid walking down the aisle with a crinkled dress.
Check Your Dress Material
It's always best to be prepared. When you finally decide to say "Yes!" to the dress of your dreams, it's best to ask your bridal shop experts how to maintain your gown's shape. Professional wedding dress stylists are well-versed in the care of wedding dress materials, fabrics, and shapes, and they can typically give you solid recommendations for avoiding wrinkles and creases.
Certain fabrics, like satin, silk, tulle, and polyester, are all safe to steam to remove wrinkles and folds. Other wedding dress materials, however, should not be steamed. For example, embroidery tends to shrink when exposed to heat, and others like shantung, dupioni, and taffeta may become more wrinkled from being steamed.
Therefore, if you decide to steam your dress yourself, always make sure the material and other anatomical elements of the gown won't be ruined in the process. If you're still unsure whether your dress can be steamed, it's best to ask your tailor.
Make Sure Your Dress is Packed Correctly
When you finally pick up your dress for your big day, you'll want to ensure that the bridal salon packages the garment correctly after your final fitting. Bridal salons typically steam the gown, then fill the bodice with cardboard and tissue paper to preserve its form and shape.
If you have to travel with the dress, like in a car or on a plane, you'll want to keep your gown in its garment bag so that the bodice form doesn't shift around or fold. Always put plastic over the dress before it goes into the bag since this will prevent it from rubbing against the veil and garment bag, which could create wrinkling.
As you travel, avoid dragging or folding the garment bag. Instead, lay it flat on a car seat or use the overhead bin or closet in a plane. Once you arrive at your destination, remove your dress from the bag as soon as possible and hang it up in a cool, dry spot with plenty of room, like a closet.
Don't Forget Your Veil
Your veil can become wrinkled just as easily as your wedding dress can. In fact, the veil is often the most easily wrinkled part of your wedding day look. If not attended to, it can detract from the crisp smoothness of your dress on your special day.
Wedding veils are typically very easy to steam, although it may take a little while to achieve that beautiful, airbrushed look. As you're steaming the material, be careful of any decorations, like gemstones or lace, where glue used to attach these pieces could be melted. If your veil is vintage, keep the steamer at a lower setting. Many wedding veils used to be made out of old polyesters that were extremely easy to melt under heat.
When you reach your wedding site, remove your veil from the garment bag and hang it up as soon as possible to prevent any wrinkles that may have already formed. After steaming, let the veil rest on a safe, clean surface, so it's both stain- and wrinkle-free for your wedding day.
If you're still not sure how to steam your veil properly or you're worried about ruining it, check with your bridal shop to see if they have any tips for touching up your veil before the ceremony.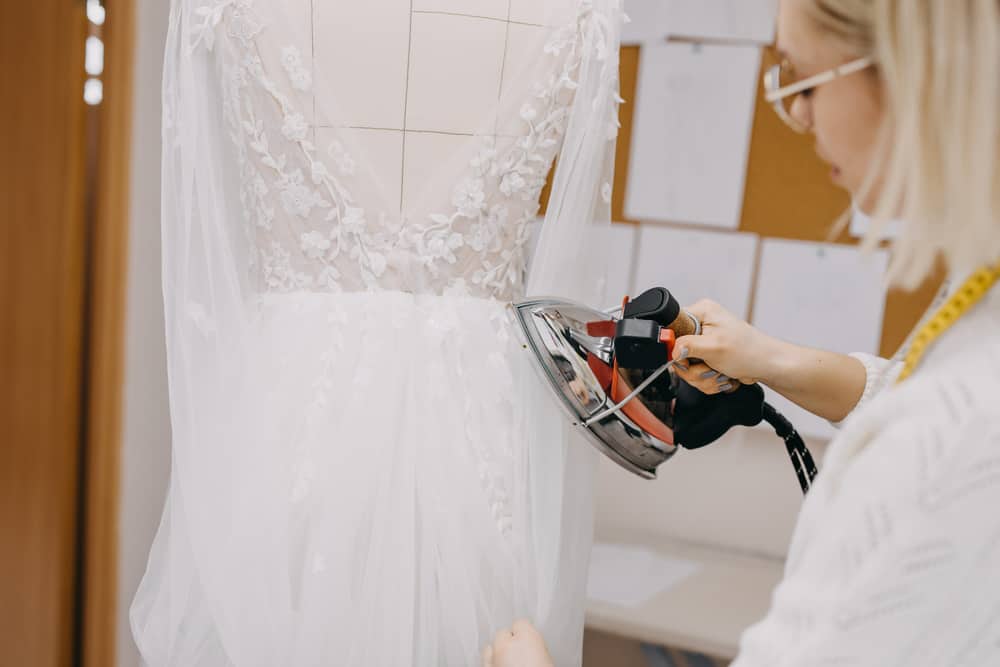 Have the Gown Steamed Before Your Big Day
You may be wondering, "Do dry cleaners steam wedding dresses?" The answer, of course, is yes. If you have room in your wedding budget to hire a professional steamer, it's typically an investment that is worth it to ensure your gown is perfectly cared for.
Dry cleaning specialists know how to get creases out of a wedding dress, and there are many reasons why hiring a professional may be preferred over steaming the dress yourself. Mainly, steaming your own gown could potentially damage the fabric. This may happen by:
Using an Iron: This can leave iron marks and other stains on the gown.
Ironing the Gown Incorrectly: This will only create more creases on the dress that will need to be removed.
Steaming Irons, Hand-Held Steamers, or Using Shower Steam: These methods for removing wrinkles can potentially lead to water staining on your gown.
Having a gown steamed professionally by a dry-cleaning specialist ensures that no water ever touches the wedding dress since it's steamed under high pressure to avoid any possible staining or excessive wrinkling. Typically, each skirt layer is steamed, so the dress has symmetry in the design when you wear it on your wedding day.
Carefully Steam It Right Before You Wear It
If you don't want to pay for a professional steam, you can steam your own dress right before you wear it. Always check to make sure the steamer you're using is in good condition. Some hotels have steamers, but they could be dirty or spit more water than usual. Most people find that buying their own steamer is a great investment for both their wedding day and beyond.
To steam your gown, hang it on a sturdy hanger. While you steam, hold the steamer six to ten inches from the dress. Holding it too close may damage the fabric, and you never want to place the steamer directly on the gown. Run the steamer down the length of the gown slowly to smooth out any creases or wrinkles. Each skirt layer should be steamed separately, and depending on the dress style, you may have to position the material in a certain way, like holding the skirt taut or hanging the sleeves correctly.
Pro tip: To steam your gown, hang it on a sturdy hanger. You should always steam from the inside instead of applying it to the material on the outside of the gown. Cover the steamer head with a piece of fabric, like a thin white towel or an old t-shirt. This will prevent any drops of water from leaving marks on your dress.
Always be cautious as you steam your wedding dress since the steam can be very hot. You could not only potentially burn yourself, but some wedding dress fabrics or embellishments are known to melt under high heat.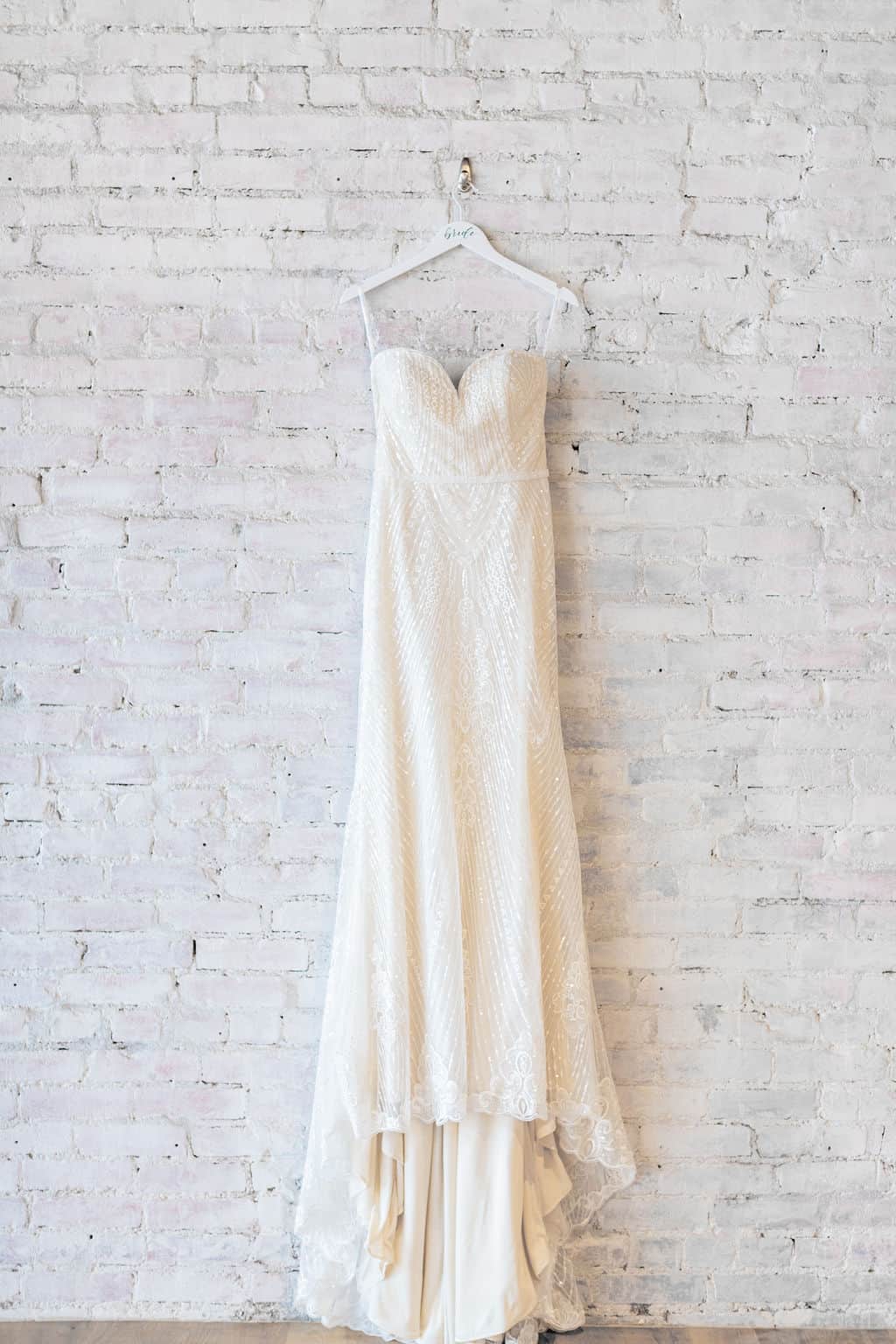 Don't Have a Steamer? Put It in a Bathroom with the Shower on
A common wedding dress hack we recommend for those who find themselves without a steamer on their big day is to place the gown in a bathroom with the shower running. Ideally, the steam from the shower will smooth wrinkles on your dress just like a hand-held steamer would.
You'll want to hang your dress high up from the floor and away from walls, preferably with clean towels underneath in case the dress falls. Run a very hot shower with the door closed, and leave the dress inside the bathroom for 20 minutes or so. This should slowly de-wrinkle your gown.
Afterward, wrap your arm in a clean towel to run down the gown's length, smoothing wrinkles as you go. While it may not be a perfect steam, it is a great option for those in a bind who don't have a steamer on hand.
Caring for Common Wedding Dress Materials
Depending on the material of your wedding dress, you may have to implement different tactics to get rid of wrinkles or prevent them in the first place. It's important to remember that not all materials can be steamed, so to avoid ruining a part of your gown, you'll want to care for these types of garments the right way.
How to Get Creases Out of a Satin Wedding Dress
Satin remains one of the most popular wedding dress materials. This material can be steamed, but it should be done with an iron on a low heat setting with steam. It's best to experiment on a small, discrete area of your gown before steam-ironing the whole thing to ensure you don't damage the material. Once you've confirmed that the material won't be ruined, turn the garment inside out and slowly work out all the wrinkles.
How to Get Wrinkles Out of a Chiffon Wedding Dress
Chiffon is a lightweight, sheer material that adds shimmer and luxury to any wedding gown. It can be woven with multiple other fibers, like silk, pearl, and polyester. Unfortunately, chiffon tends to wrinkle easily because of its sheer texture. Chiffon can be steamed with a hand-held steamer to get creases out, and if it's synthetic chiffon—that is, it doesn't contain silk—an iron can also be used on low heat.
How to Get Wrinkles Out of a Tulle Wedding Dress
Tulle has a net-like texture and is typically made of silk, rayon, and nylon. This material is known for being used in both wedding dresses and veils, so it can potentially become wrinkled or creased on either garment. Steam works great for relaxing tulle, so you can use a hand-held steamer or hang the tulle in the bathroom while running a hot shower to eliminate any wrinkles.
How to Get Wrinkles Out of a Polyester Wedding Dress
Nowadays, polyester is a very common fabric used in most clothing items, including wedding dresses. Polyester can crease, but wrinkles can be easily removed with a steamer, iron, or by hanging in a bathroom with the shower running.
Always remember that sometimes you can't eliminate 100 percent of the wrinkles on your dress. And that's okay! No one will even notice a few small creases, especially when they see how beautiful you look walking down the aisle.
Our expert stylists at Savvy Bridal are here for you and can offer professional advice about preventing wrinkles and creases from ruining your special day. To schedule an appointment for your bridal fitting, contact us at 816-859-5699 at our Kansas City location and 314-312-6396 at our St. Louis location.