How Are Wedding Dresses Made?
The process of making a wedding dress is lengthy and can take several months to complete. Brides typically start to shop for a dress an entire year before their wedding day – and there are plenty of good reasons to do so, including the fact that the wedding dress production process can be rather arduous. Let's take a look at what goes into making a wedding gown, and why brides must plan so far ahead for their special day.
The Wedding Dress Design Process
While this entire experience can seem daunting, understanding the process of making a wedding gown will help ease your worries. Designing a wedding dress involves many moving parts, including sketches, fabric sourcing, and the construction of the gown itself. Each step is necessary in making sure you look stunning on your wedding day.
1. Sketching Initial Design
This is where the magic begins! First, the designer will conceptualize a design and sketch it out. The sketch is crucial to the designer's vision, as it acts as the foundation for a successful dress production process.
The designer may try to envision the emotion they would like the dress to evoke in the bride when she puts it on, or imagine how the audience will feel when they see how spectacular she looks walking down the aisle. Many designers may even take inspiration from mood boards, as well.
Wedding dress designers typically work on sketching out the gown's silhouette by envisioning what the dress would look like with different fabrics, embellishments, and patterns. Every designer has their own creative process when it comes to thinking up the wedding dress of your dreams, and they will likely make a series of changes to their sketch before settling on a final draft.
2. Sourcing the Fabric
The next step is sourcing and ordering fabric, embellishments, and beading that the designer will need to make their initial sketch come to life. Typically, the designer will find a specific type of wedding dress fabric that fits their vision, and then place an order. Some designers may even make their own fabrics to bring a unique element to the garment.
The materials needed for the embellishments, beading, and any other parts of the dress are also sourced and ordered during this time. Because sourcing and receiving all the materials and features needed to construct the wedding dress can take anywhere from one to four months, brides-to-be should take this into consideration if they are ordering a custom gown.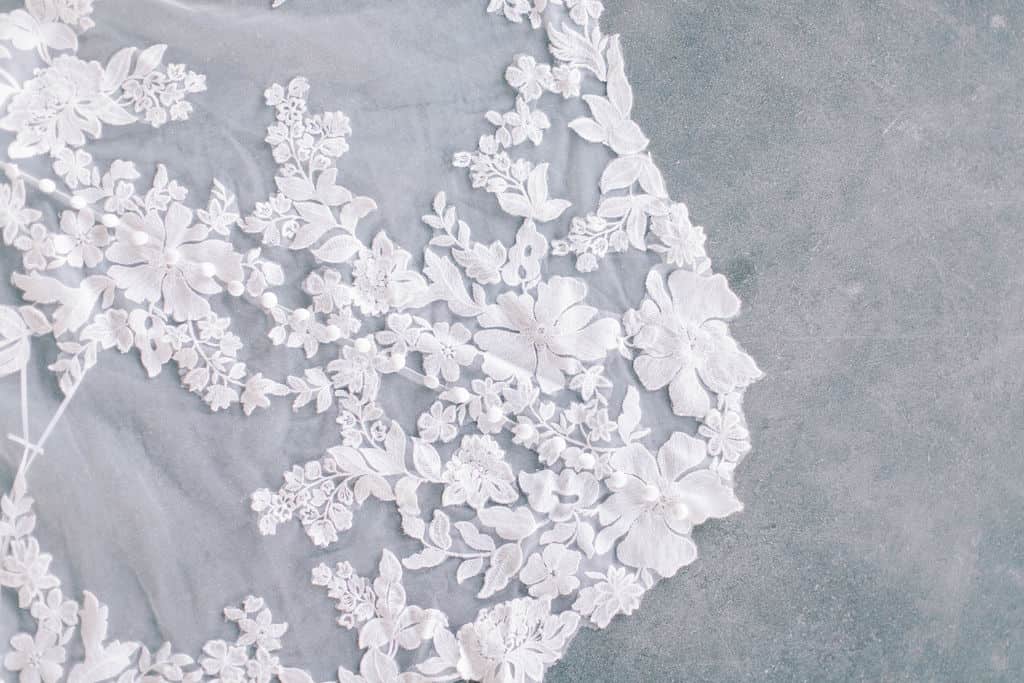 3. Constructing the Gown
Constructing the anatomical elements of a wedding dress is the step that takes the most time; for that reason, most designers will begin by constructing the inner structure of the dress. This usually includes a corset and petticoat that help give the gown its silhouette.
Next, fabrics, embellishments, and other details are added to the dress. A popular fabric used in the skirting of many wedding dresses is crinoline, as it can easily be removed or added from the dress' lining to achieve the perfect level of fullness. With this fabric, you can add layers to live out your princess fantasy, or strip it down for a slimmer, fitting look.
Sleeves, straps, buttons, lace, or any other embellishments are also added to the outside of the dress during this stage. Afterward, the designer will focus on any beading, which can take up to a month to finish depending on how detailed the design is.
4. Releasing Samples to Stores
After the designer is happy with the finished product, samples of the dress are presented, sold, and sent out to buyers looking to stock the design in their bridal shops. Most bridal boutiques will choose each gown carefully to ensure the highest quality and variety for their clients. 
Additionally, most bridal boutiques will work consistently with designers to keep their shop stocked and to bring in new designs all the time. That way, each bride-to-be can have a unique experience during their styling appointment.
5. Altering Dresses for Brides
Because most gowns at bridal shops are samples, brides-to-be will likely need alterations before taking the dress home. Most of the time, any alterations made are related to sizing; however, brides wanting a custom gown may offer creative input on how they envision certain features and embellishments.
Most seamstresses are able to make almost any alterations the bride desires, including changing the neckline, adding or removing sleeves, lowering the backline, or even adding a train.
You may need to have multiple alteration appointments before the dress fits perfectly and matches your vision. Once you and your seamstress have completed the final fitting, your dream wedding dress is complete and ready for your big day.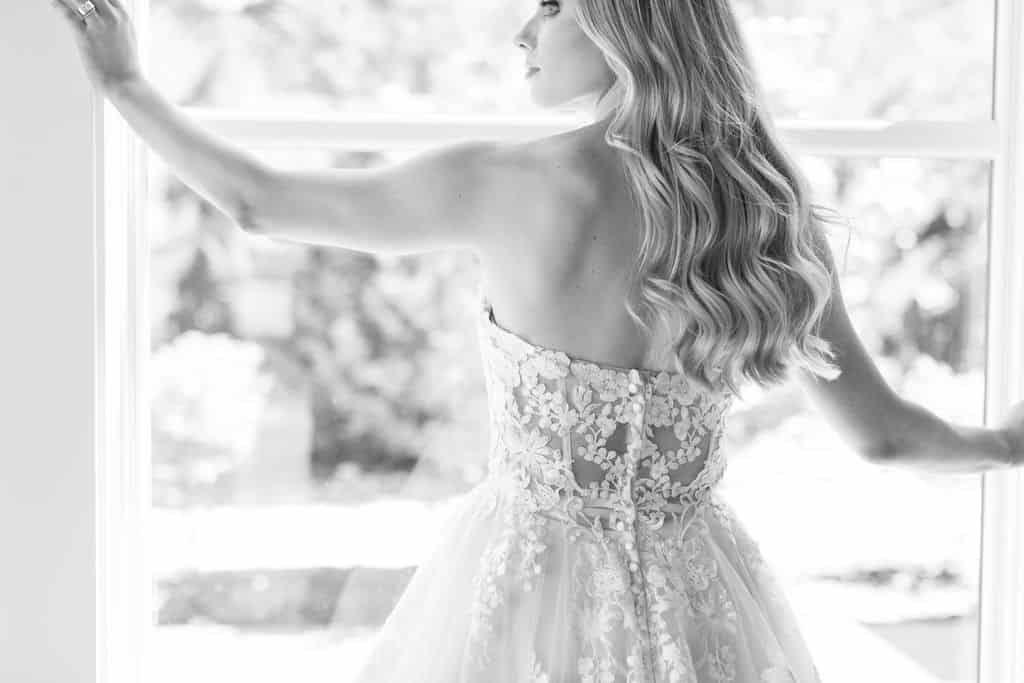 4 Types of Wedding Dress Purchasing Options
In addition, there are various purchasing options that will impact the timeline and cost of your wedding dress. Your decision depends on how much you want to spend, how much input you have on the design, and your desired timeline. Here is a quick breakdown of your options:
1. Bespoke
A bespoke wedding dress is created from scratch by you and a designer based on your own unique preferences and vision. Since you are choosing to create a custom wedding dress design, this is typically the most expensive option. Bespoke gowns can take anywhere from two to eight months to make and will likely be more expensive. 
2. Made-To-Measure
A made-to-measure dress is pre-designed and then custom-made to your measurements to give you the perfect fit. At your initial bridal appointment, you will pick a dress from the shop and the boutique will record your measurements. Then, they will send the dress order and measurements to the designer so the gown is made just for your body. 
Since the gown's design is not being created from scratch, this option is generally more affordable than a bespoke gown. Made-to-measure gowns may cost $2,500 or more, and take anywhere from three to six months to make. 
3. Made-To-Order
A made-to-order gown is a pre-designed dress ordered by the shop in the bride's size–this is what we do at Savvy Bridal! These gowns are the most common and most affordable way to get the best value out of dress shopping. Shops will order a size that best fits the bride's bust, waist, and hip measurements. That will be the size the bride later takes to alterations.
4. Off-The-Rack
Off-the-rack wedding gowns can be tried on at the bridal shop and taken home on the same day. This option is great for brides with tight timelines, small budgets, or those who want to minimize the stress of the dress-shopping experience. 
It's good to keep in mind, however, that style and size variety can be limited when shopping off-the-rack.
Now that you know about the wedding dress design process, as well as different purchasing options to consider, you are all set to begin your journey to achieving the perfect look on your big day! 
Savvy Bridal offers both custom order and wedding-ready options that will make your wedding dress dreams come true. We would be honored to help you make the best out of this once-in-a-lifetime experience, so schedule your appointment today at our Kansas City or St. Louis locations!