How Much Should You Budget for a Wedding Dress in 2023?
Wedding season is right around the corner, and for those who may be shopping for a gown this year, you're likely wondering what the average cost of a wedding dress will be in 2023. In order to pick the right dress and stay within budget, you may need to think more carefully about which gown is right for you.
What Is the Average Cost of a Wedding Dress in 2023?
So, how much does a wedding dress cost? Well, the price of a wedding gown can depend on numerous factors, including the bridal shop you are buying from, whom the dress is made by, and the anatomical features of the gown.
Generally, the average cost of a wedding gown is typically between $1,800 to $2,500. Off-the-rack gowns may be priced lower than $1,800, while more luxurious gowns can sometimes fall in the $3,000 to $8,000 range. Customized dresses can even cost up to $10,000.
To properly accommodate your budget, you'll want to consider ways to spend less while still picking a gown you adore.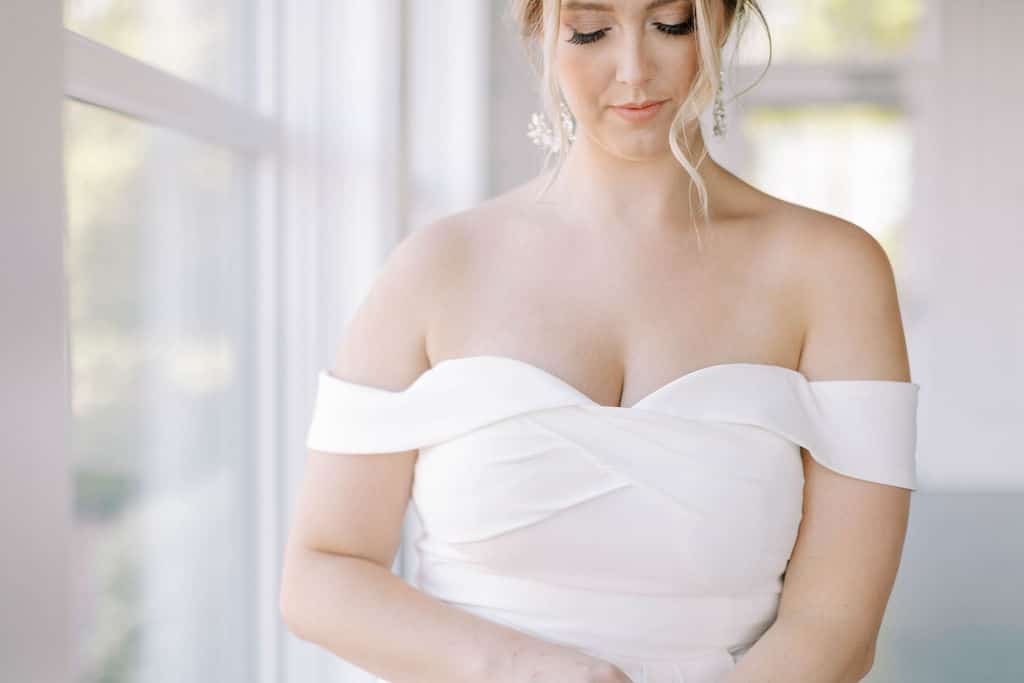 6 Tips for Spending Less on a Wedding Dress
The average cost of a wedding dress in 2023 may look a little scary to some. If you're wondering how to budget for a wedding dress, there are many things you can do to ensure your gown is affordable and still the perfect look for your special day.
1. Stick to a Budget
Like any other large purchase, you'll want to establish a clear budget for your wedding gown before you start shopping. This can help ensure that when you do pick a dress, you are sticking to the budget you originally set for it.
The best way to stick to your budget is to know the price of each wedding gown you try on. Avoid trying dresses that are over-budget; the last thing you want to do is fall in love with a dress that's too expensive for your wallet to handle. Instead, limit the wedding dresses you try on to ones that are affordable for you.
2. Opt for a Simple Gown
While you may have a specific bridal style in mind for your special day, you might need to make a few changes if you want to stay within budget. This may include choosing a more modest gown with fewer embellishments. While embellishments are stunning to look at, they can also result in a hefty price tag.
Intricate lacing, sequins, beading, and other embellishments can all make a wedding dress more expensive due to the extra time and elaborate design work that must be done to include these features. On the other hand, buying a simpler gown that's not overly fancy can be a way to more easily accommodate your budget.
Another way to add pizzazz to your dress without spending a ton of money is by incorporating visual interest with jewelry or other fun elements like an eye-catching sash, belt, or veil.
3. Pick a Synthetic or Blended Fabric
You should expect to pay more for wedding dresses made from luxurious fabrics like silk, satin, charmeuse, organza, or embroidered lace. Synthetic or blended fabrics—like crepe, rayon, chiffon, and polyester—are usually more affordable options. Of course, the thought of a polyester wedding gown may be nerve-wracking for some, but don't worry. Plenty of polyester blends can look and feel just as high-end as some of the more luxurious fabrics out there.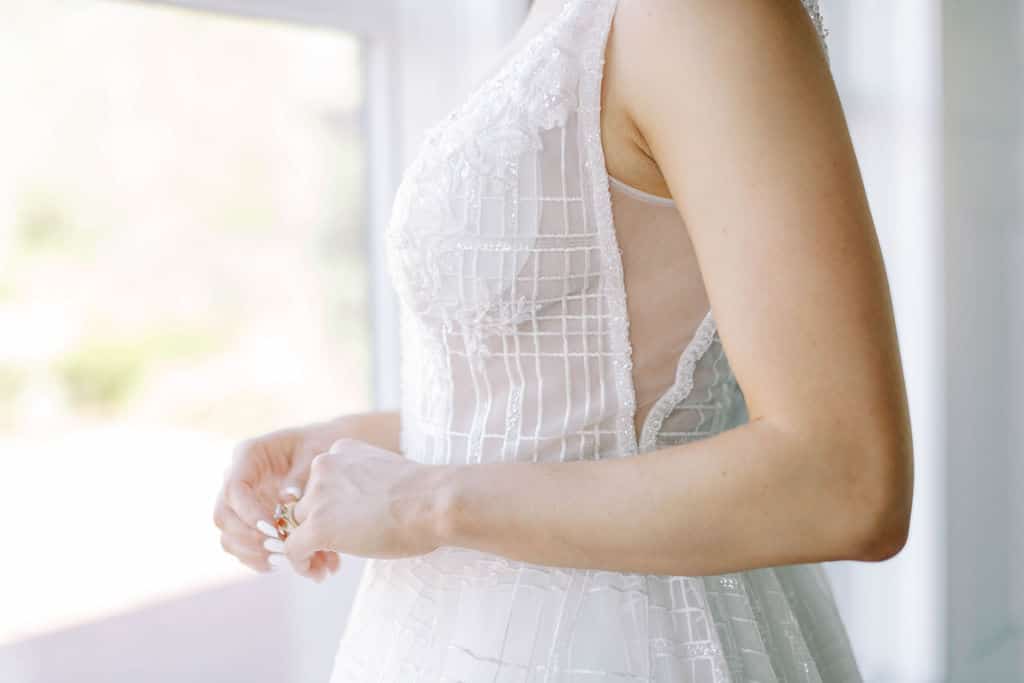 4. Avoid Expensive Designer Gowns
Another huge factor in determining how much a wedding dress costs is the designer who made it. It's no surprise that big fashion designers come with a higher price tag than those that are smaller or less well-known. These dresses are usually made with high-end materials and will carry the power of the designer's name behind them—like Vera Wang, Oscar de la Renta, Dolce & Gabbana, and more.
Designer wedding gowns can range anywhere from $2,000 to $10,000. The higher end of this spectrum typically includes customized wedding dresses, which are gowns made specifically for you. If you have a specific bridal style in mind for your wedding day, you may choose to personalize and customize a dress. However, it's important to remember that personalized gowns are far more expensive than those that aren't, with the price only increasing as you incorporate more custom features.
If your heart is set on wearing a designer gown on your wedding day, consider looking at trunk shows or sample sales that may sell these dresses for far less than the normal retail price.
5. Keep Alterations to a Minimum
Some wedding dress alterations are unavoidable. You should plan to pay for alterations when setting your initial wedding dress budget since you'll likely need at least something adjusted for the dress to fit perfectly.
More labor-intensive alterations, like changing a neckline, adding breast cups, or adding beading, will cost more money. For this reason, try avoiding major alterations by finding a dress you love as-is. Even if minor adjustments are needed, such as a seam alteration, you can still avoid spending as much as $500 to $1,000 on large gown changes.
6. Wear Fewer Accessories
Accessories are a fun way to jazz up your wedding day look, but too many can quickly become a budget issue. The price of your veil, shoes, and jewelry should all be considered in your dress budget to avoid going overboard. If you're looking to splurge a little more on your dress, try reducing the price of your accessories by opting for less expensive shoes or forgoing the veil altogether.
How to Budget for a Wedding Dress
With such a large range in pricing, it may be challenging to predict how much to budget for your wedding dress in 2023. It may even seem silly to spend a lot of money on an item you're only planning on wearing once. However, most people don't get to have a do-over wedding, so you'll want to make the event as spectacular and special as possible.
When you're sitting down to figure out how much you can spend on your dress, consider its pricing as part of your wedding budget as a whole. You may already have a maximum price point you're looking to stay under while you plan for your special day. Adjusting your spending on items like floral arrangements, food, music, venue, or something else can allow you to splurge a little more on your dress.
At Savvy Bridal, we work with brides-to-be every day to find the perfect wedding gown for their special day! With dresses starting at $1,200, we have several options to choose from to fit any budget. Schedule your appointment today at our Kansas City or St. Louis locations!