Life After Savvy: Hillary Unruh of Hillary Michelle Blog
One year later…
Hi everyone! My name is Hillary Unruh, I am 28 years old, and currently living in Overland Park, Kansas with my husband. My husband and I got married about a year ago on August 19, 2017, the hottest day of the entire year. I am not sure if that's factually true, I tend to be a little dramatic, but it sure felt that way! My husband and I are expecting our first child on 
December 22
, and we couldn't be more excited! We weren't messing around, to say the least. 😉
To say this past year has been crazy and eventful is an understatement. Our first year of marriage was exciting, new, different, emotional, and a learning experience. A year of "firsts" that I was fortunate enough to experience with my best friend and love of my life!
Tate and I were only engaged for three months, so we didn't have a ton of time to plan for the wedding, but we got everything done and our wedding really was the wedding of my dreams! My dress, the venue, the food (OH THE FOOD! Tacos, sliders, dip stations, yes please), the flowers, and the dance floor, it was all perfect! Minus the heat, y'all. It was bad, really bad. My hair turned into this sweaty birds nest and I tried to embrace it the best I possibly could, ha!
As busy as I was that summer planning our wedding, I made it a priority to prepare for our marriage as well. It's so easy to get caught up in that one day, that sometimes we forget the actual reason for the wedding! Tate and I were fully invested in our marriage counseling, and we talked about anything and everything. We already knew each other through and through but we made it a point to discuss the nitty-gritty, and all the "not so fun stuff", that we knew marriage would bring about. Even though we were prepared, you're never truly and fully prepared for life or marriage. But that is the beauty of it, you learn together and you grow together along the way!
First comes love, then comes…Belgium
Immediately after our wedding, we moved overseas to Belgium. My husband plays professional basketball overseas, so I knew that living overseas would be in our cards for a few years. So we got married in Branson, MO and 
three days later
 I was married and headed to Belgium. Talk about a massive life change! I quit my job of four years that I loved dearly, said goodbye to all of my friends, all of my family, packed two suitcases for ten months 
(talk about a CHALLENGE)
, married the man of my dreams, and followed him to Belgium. My life really flipped upside down, in the best possible way, but very flipped, to say the least. We were giddy and in love, enjoying every minute of being married, and having a blast exploring a new place together. That part came so easily and effortlessly. I was so happy and thanking God every day for the man I married.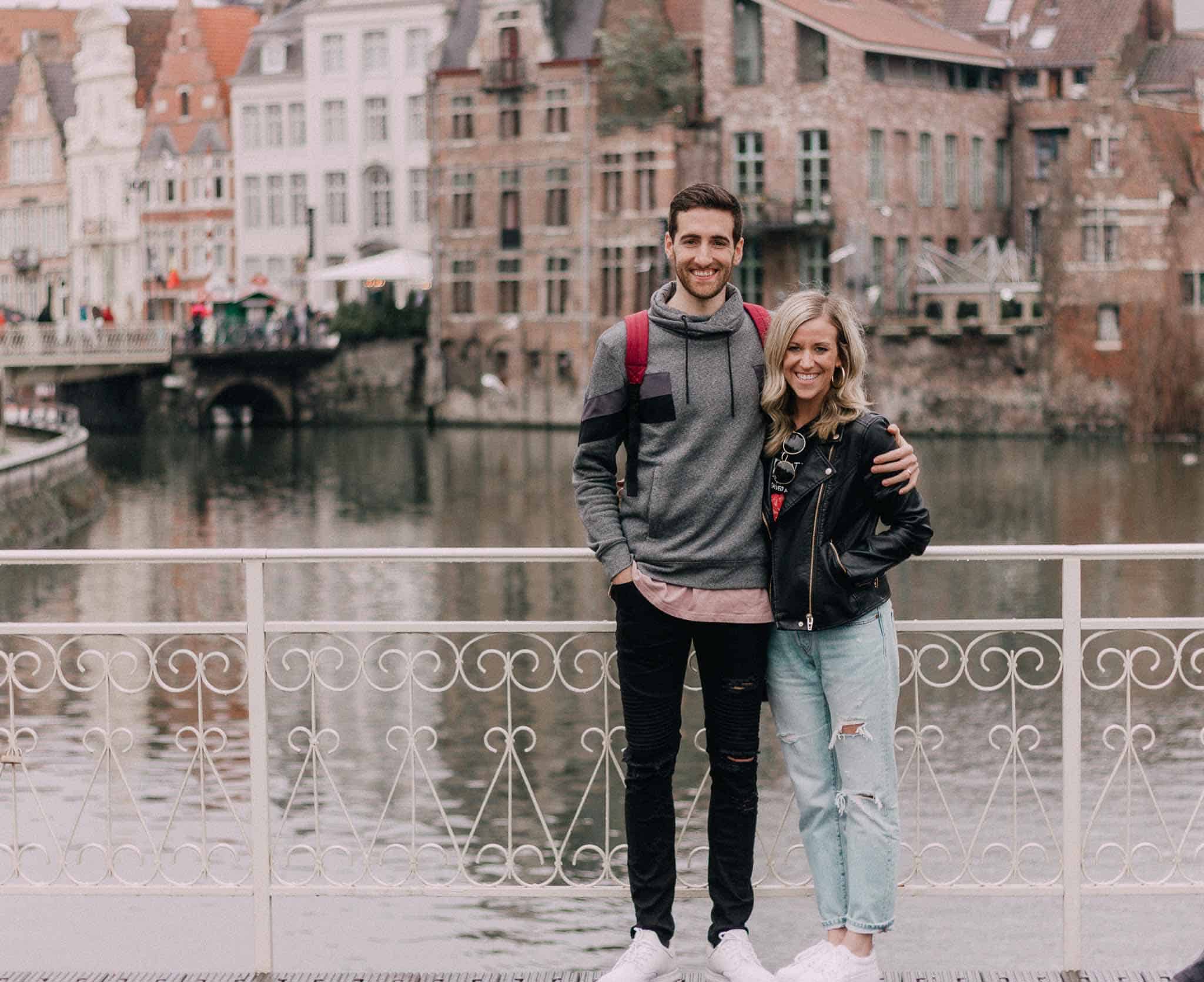 But then there were days where I felt purposeless, without an identity aside from being a wife, and I was lonely. I missed my friends, my family, and all the students I was able to invest in my job. I felt antsy sitting in the apartment alone while Tate was at practice. I had such conflicting emotions! Marrying Tate and being his wife was the greatest decision I ever made. Yet living overseas, and everything that comes with that was one of the hardest things I have had to walk through. Tate and I had to navigate through that together! As hard as those months were, they were also the sweetest and most strengthening moments for our marriage. Conflict is hard, changes are hard, and being uncomfortable is hard! But they always bring forth growth and they always make you stronger, individually and as a couple. So when hard times come, when you start to get uncomfortable, and when conflict arises, work through it together. Face the challenges head-on, hand in hand, and full of humility. You will get through it!
Her number one fan
This past year was also filled with lots of fun, adventures, and big life decisions! With the encouragement of my husband, I started a blog I had been wanting to start for years. He is the man behind the camera on
Hillary Michelle Blog
and my number one fan. I really don't think I would've followed that dream without him. We explored lots of fun places in Europe. Belgium is a beautiful country and the waffles are all they're cracked up to be! So addicting. We met amazing people. We tried new things. We even signed to stay on for two more years in Belgium! Living overseas has gotten easier, and I am learning every single day to release my need to control and to let God control. We decided to make Kansas City our home in the summer, which has been so fun. Yet the best decision of all was deciding to start our little family. This past April we found out we were expecting our first child! We could hardly contain our excitement. I am currently 20 weeks pregnant and our little babe is due 
December 22
! Coming in HOT for Christmas 😉 We can't wait to see what is in store for our second year of marriage.
For those of you getting married soon or just recently married, first off, congrats! It is such an exciting time in your life, so be sure to soak up every single minute. Secondly, I want to encourage you with a few things. Marriage is one of the greatest gifts to ever be given. And as hard as it is at times, it's an absolute blast doing life with your best friend! Love unconditionally, and give grace freely. Be quick to say I'm sorry, forgive before being asked, and strive for a humble and teachable heart. Serve each other relentlessly. Laugh and HAVE FUN together!