6 Reasons to Clean & Preserve Your Wedding Gown
The day has come; it's time to slip into the gown that you've spent hundreds, if not thousands, of dollars on, countless hours searching for, years of picturing in your mind, and now it's your reality. But what happens to your wedding dress after the big day?
When it comes time to remove the dress, this question is burning in most brides' minds. It seems too elegant to hang in the closet or fold. After all the preparation for finding your dream dress, we're left with the biggest question: "What happens now?"
Some brides may want to save their unique dress for years, hoping to pass it on to their daughter or repurposing it into something useful, like a blanket or curtain. Maybe they're saving the dress to use the fabric for a veil. Or some brides may want to keep it in a particular place so it will be there for a sentimental reminder of the big day.
Regardless of the various reasons for keeping your wedding dress, it's worth cleaning and preserving. Wedding dress preservation protects your dress for more long-term storage. So, why should you preserve your wedding dress? Here are six reasons why we recommend it.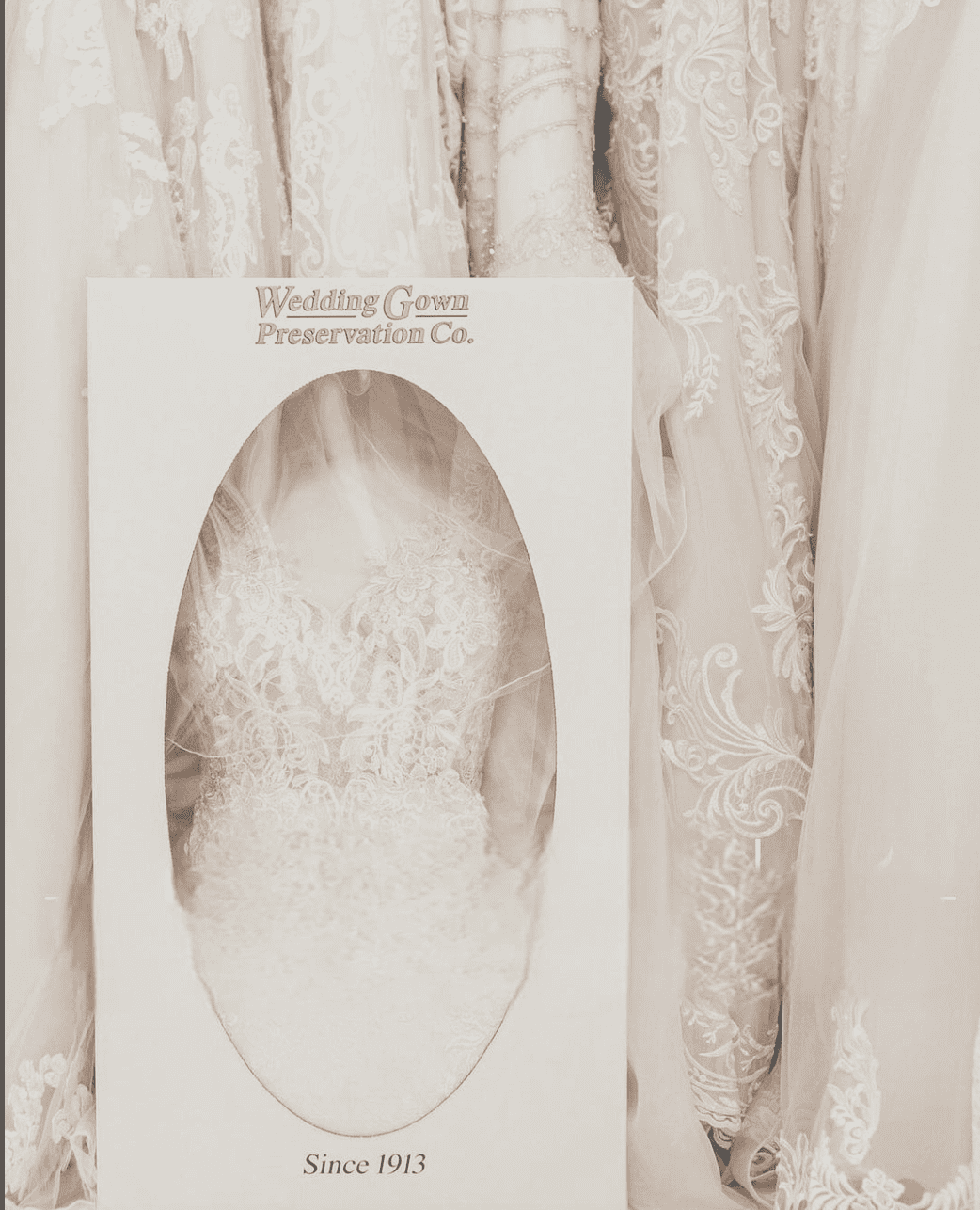 1. Protects Stitching and Prevents Fraying
Since wedding dresses are uniquely tailored to fit each bride, the altering process requires many tiny and tedious stitches, especially if the dress is heavy in embellishments like sequins, lace, or crystals. These tiny stitches, specifically, are prone to deteriorating over time.
The wedding dress preservation process will ensure the stitches won't fray, preventing seams from coming out and decorative elements from falling off.
2. Prevents Yellowing and Fading
Even the most expensive fabrics are capable of changing colors over time. With exposure to sunlight, moisture, and dust, your wedding dress is in danger of fading or yellowing.
Luckily, preservation involves treating the fabric with a particular solution to prevent fading. After the process, your dress is delivered in an embossed preservation chest, where it is kept safe from the elements. Some wedding dress preservation places will even ship gloves with the dress to ensure you aren't getting any oils on the freshly preserved dress while you're admiring its beauty.
3. Protects Delicate Fabrics
Much like stitching, delicate fabrics such as lace and netting are also prone to deterioration. Choosing to hang these dresses or fold them yourself could result in irreversible damage to the dress.
The only way to keep these intricate wedding dresses safe from damage and declining quality is to get them cleaned, preserved, and kept away from any elements in their embossed preservation chest.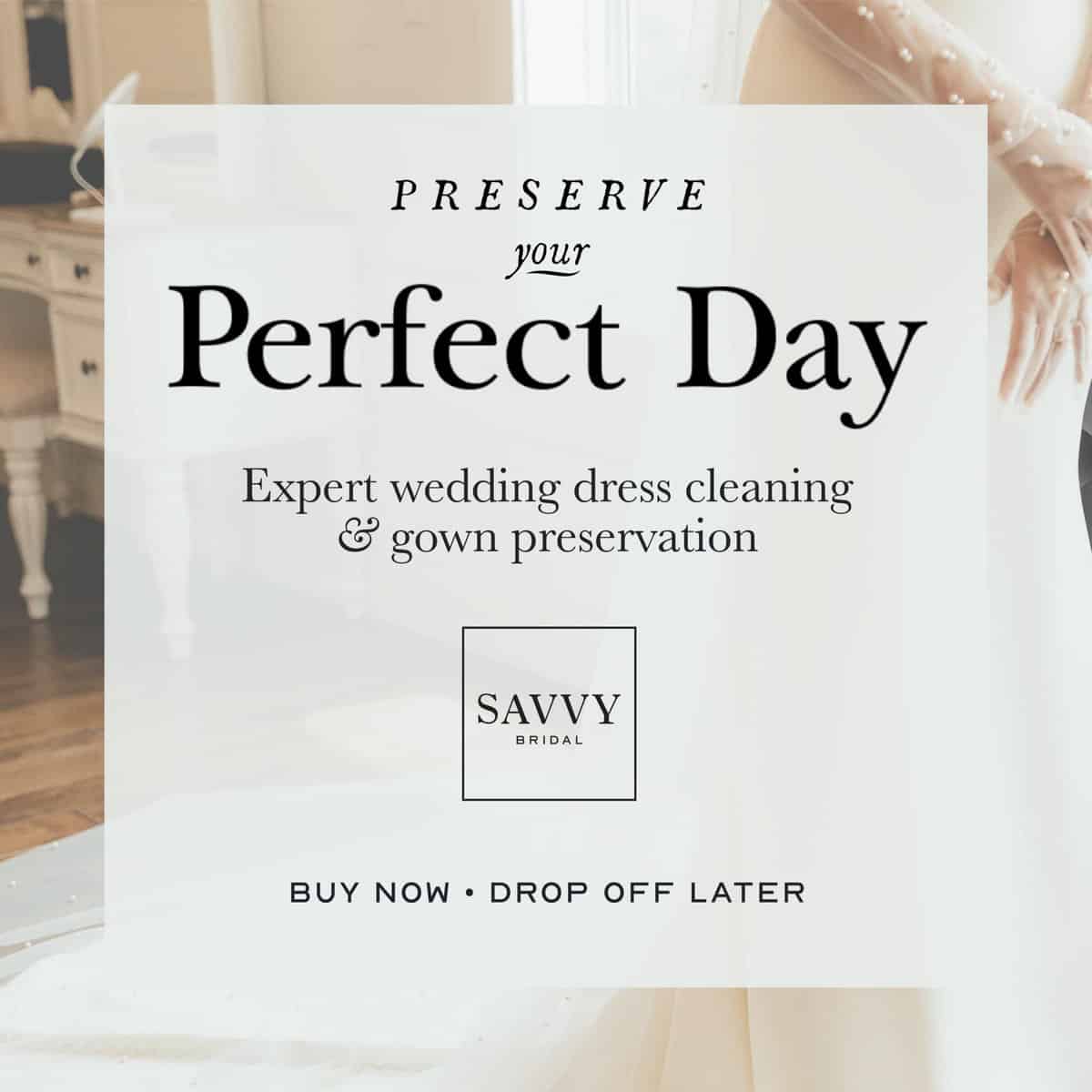 4. Prevents Creases and Folds
Most people believe that hanging their wedding dress prevents creases and folds. Storing your wedding dress on a hanger long-term will only cause the dress to sag and stretch because the gown's weight is not meant to be supported by this.
With a preservation kit, you won't have to worry about storage because after it is cleaned, it is shipped in an embossed preservation chest and folded perfectly with the front facing up, so you can still praise its elegance.
5. Maintains the Value of the Gown
A wedding gown can be considered one of the most significant purchases of a woman's life. A lot of time, money, and effort was put into that decision. Why would you let it sit in a closet to deteriorate?
Even if you don't see yourself wearing it again for any purpose, maybe you'll have a daughter, cousin, or niece who adores it and wants to wear it for their wedding. Or, maybe you've decided you got all the use you could out of your dress and want to sell it to someone for their big day.
Whatever the reason, allow yourself to change your mind later on by preserving your dress now. This will prevent any heartbreak associated with pulling it out of the back of the closet and finding it faded and yellow because you thought you were done with it.
6. Ensures There Are No Invisible Stains
One perk of sending your gown to be cleaned and preserved right after your wedding day is to ensure there are no invisible stains. Deodorant, liquid condensation, perfume, or even bodily fluids, like sweat, can cause damage to your wedding dress over time. These stains can be dangerous because of their invisibility. Because the fabric of your gown was not made to withstand chemicals or additives, it will cause the dress to deteriorate slowly. Don't let invisible stains ruin the countless hours spent choosing the perfect dress. 
If you're interested in cleaning and preserving your wedding dress, contact the experts at Savvy Bridal today. Whether you're a Savvy Bride or not, we'll answer any additional questions and get the preservation process started for you. We're here to assist either in Kansas City or St. Louis.