11 Different Types of Lace Explained
Wedding dresses can be made from a number of fabrics and materials. What many may not know is these gowns can also be constructed using many different types of lace, with each type offering its own unique look and texture.
Before trying on dresses at your bridal appointment, it's good to know and understand each type of lace, especially if you're searching for a specific style of gown. This allows your bridal stylist to find a dress that fits your needs and makes you feel the most beautiful on your wedding day.  
11 Different Types of Wedding Dress Lace
Choosing the right lace for your bridal style can become confusing, especially if you don't know how to differentiate between each one. If you've always dreamed of walking down the aisle in a dress detailed with lace and embroidery, consider the following options for your special day.
1. Cotton Lace
Cotton lace is both classy and traditional. For the modern bride, this type of lace offers delicate patterns of loops that interlace one another, creating a web-like pattern on the wedding gown. The lace itself is made from cotton, making this a breathable option for brides looking to wear something lighter and stay cool. If you're thinking about having a destination wedding, such as on a beach, cotton lace can perfectly complement the oceanside breeze.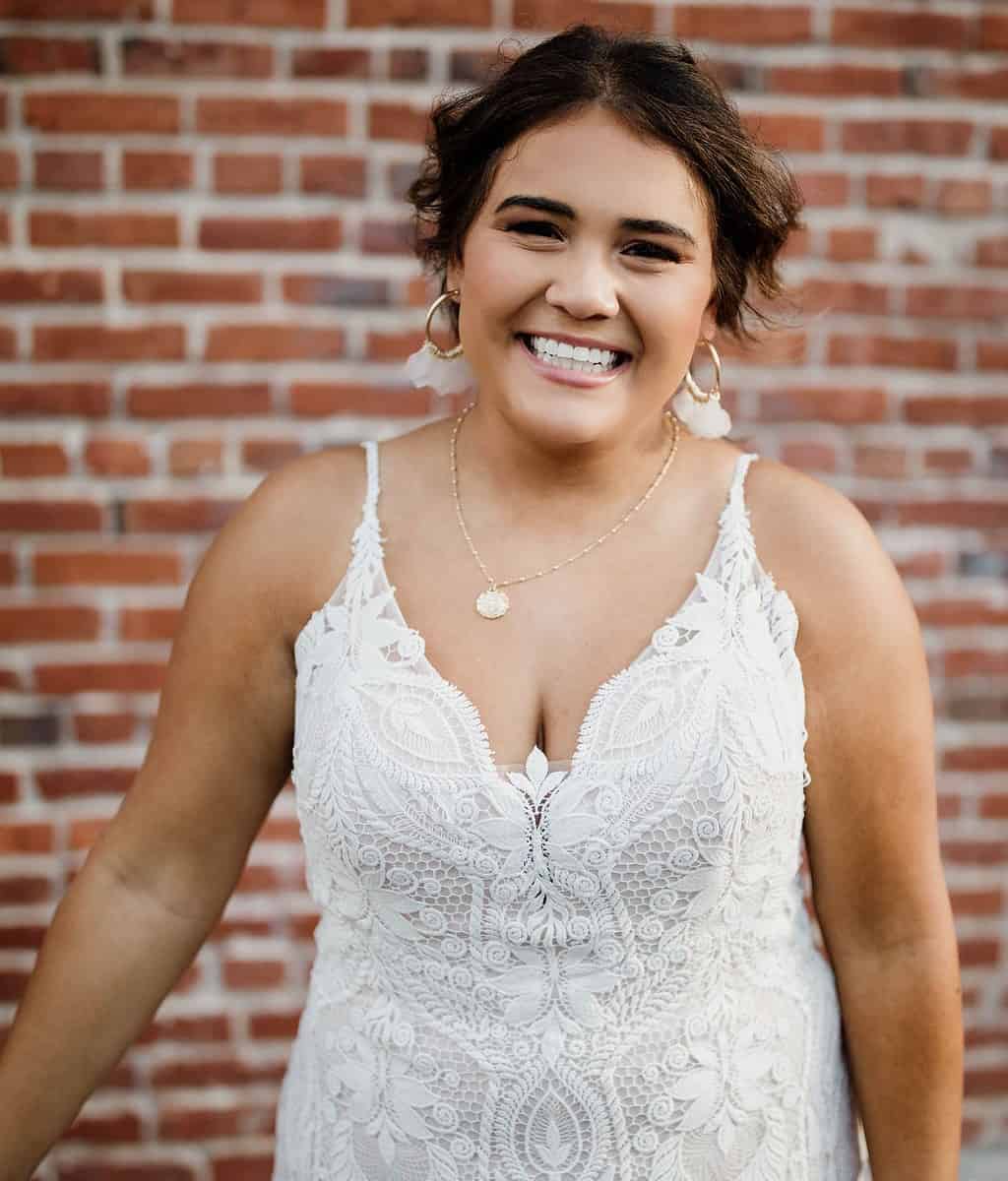 2. 3D Floral Lace
Rather than lying flat on the gown's surface like other lace types, 3D floral lace creates a dimensional illusion. The unique floral patterns pop out, giving this type of material an eye-catching characteristic that's sure to make a statement.
If 3D floral lace is the one for you, it's important to consider all aspects of your wedding and how they may impact the gown's material. Because the lace is three-dimensional, it may easily catch on objects outside, or even on other's clothing items while you dance the night away at your reception.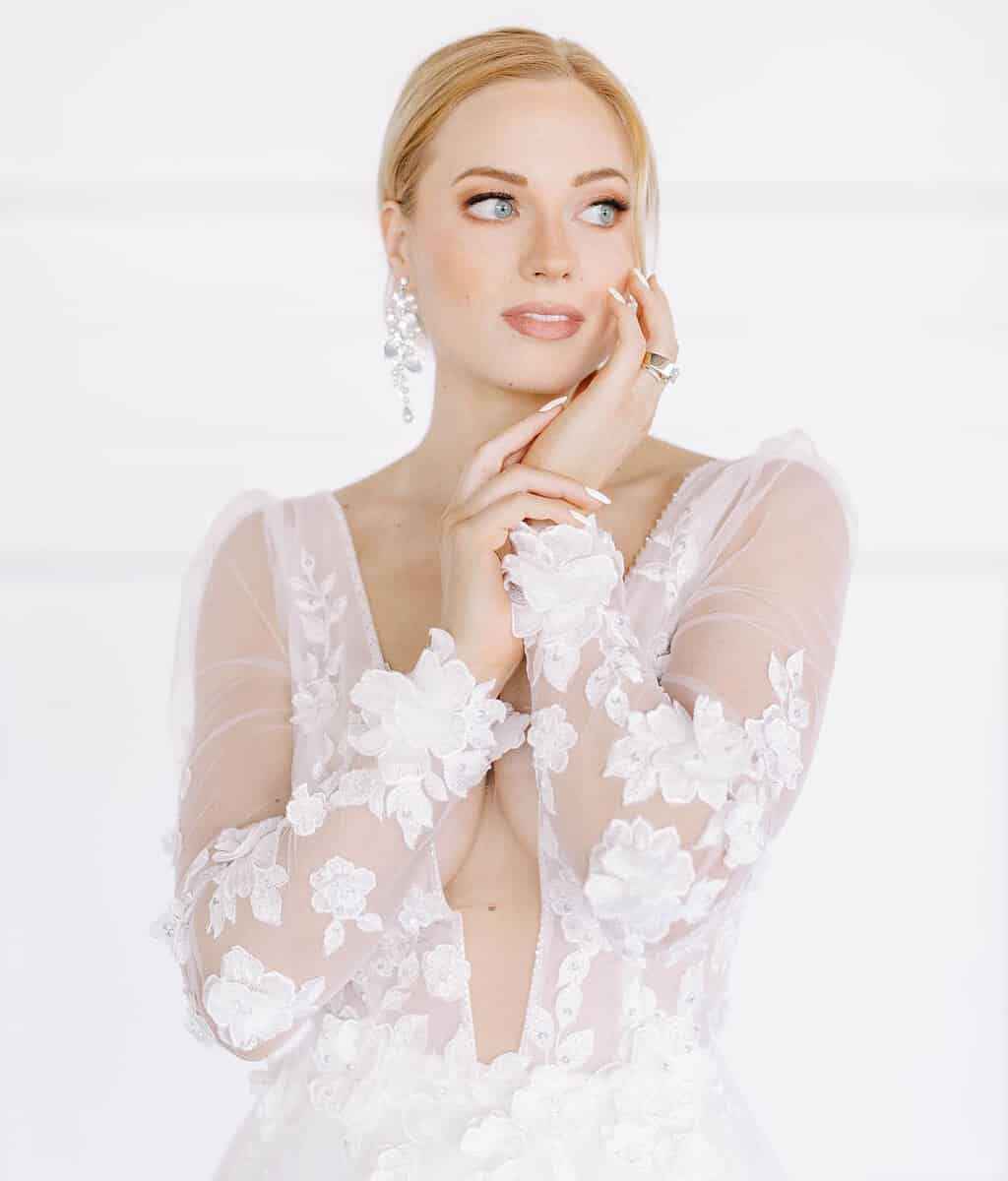 3. Chantilly Lace
One of the most common lace types used on wedding dresses is chantilly, as it is often used for overlays and sleeves. This lace is made using twisted and braided lengths of thread, bringing a charming and romantic look to any wedding gown. Typically, chantilly comes in a traditional floral pattern which, on closer examination, is threaded to look incredibly detailed yet feel lightweight.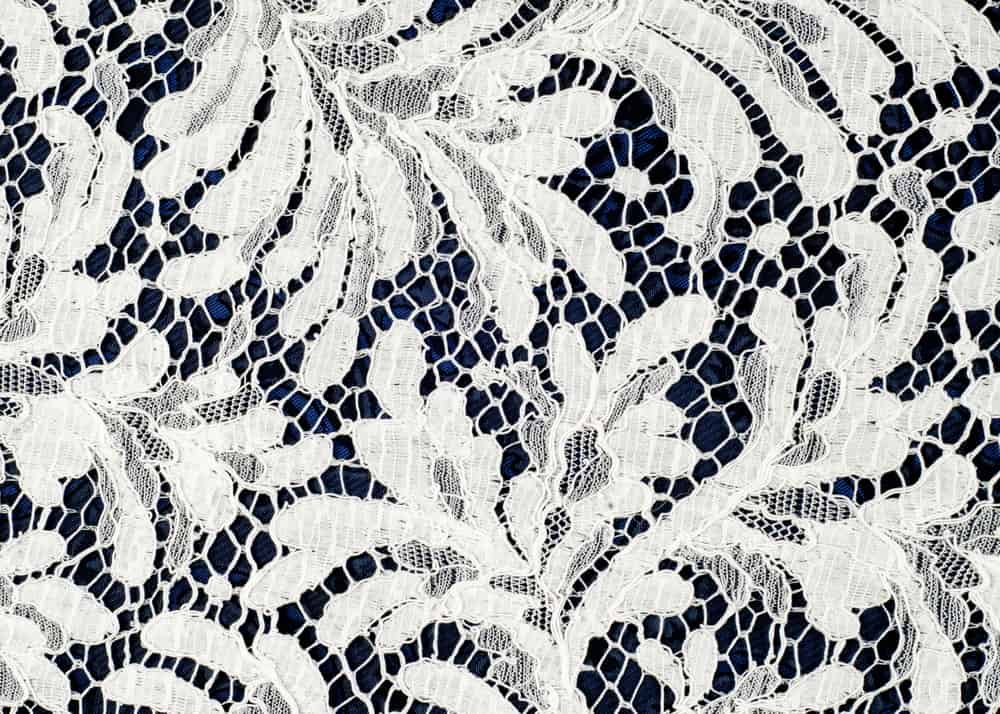 4. Alencon Lace
For the more conventional bride, Alencon lace is the perfect option. This type of lace is very traditional, giving a touch of royalty to any gown. The lace itself originated in France and remains a timeless material.
Alencon lace is flowy and floral. The floral touches are typically outlined with heavier threading, while the designs themselves remain soft and dainty. Because of this, Alencon lace is very durable and can withstand beading embellishments, or extra threading involved during alterations.
Because Alencon is a needle lace, it remains unique and continues to survive against its competition: machine-made lace. Instead, the technique for creating Alencon lace has been preserved and is still used on many wedding dresses today.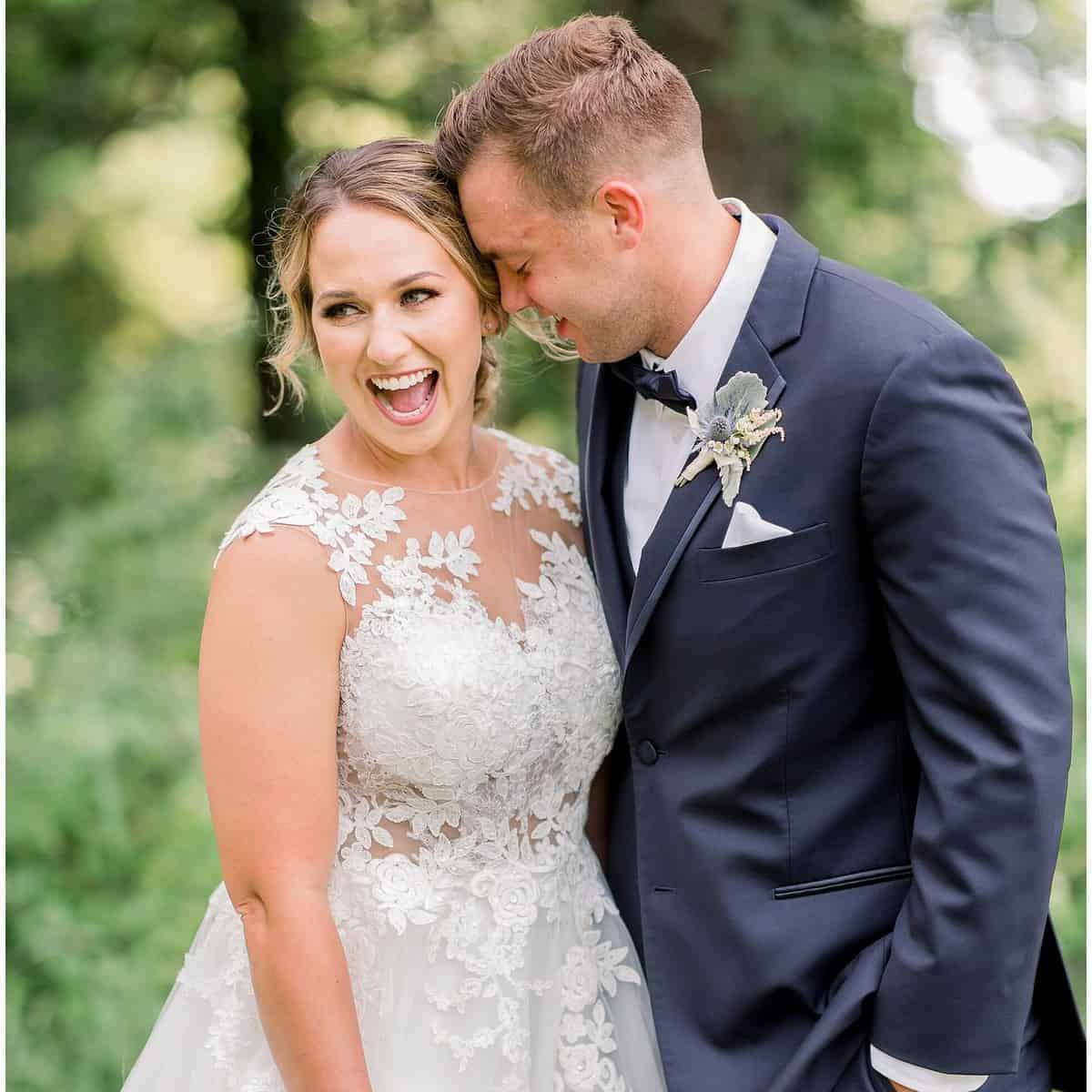 5. Basketweave Lace
Unlike other types of lace, basketweave offers a more contemporary look for any bride-to-be. Basketweave lace has a criss-cross threading pattern, giving a modern look to any bridal style. Since the pattern itself is less flowy, it can be great for brides who want something that's more geometric.
6. Embroidered Lace
Embroidered lace dates back many centuries, offering a traditional and intimate touch that many brides-to-be look for on their dream wedding gown. The embroidery itself is woven intricately with a needle and thread, with each stitch packed as tightly as possible.
Brides looking for more texture and dimension will find an embroidered lace wedding dress to be the perfect choice. Beading and sequins can also be easily added to complement this lace and may even be embroidered on a second layer of tulle in the gown's skirting.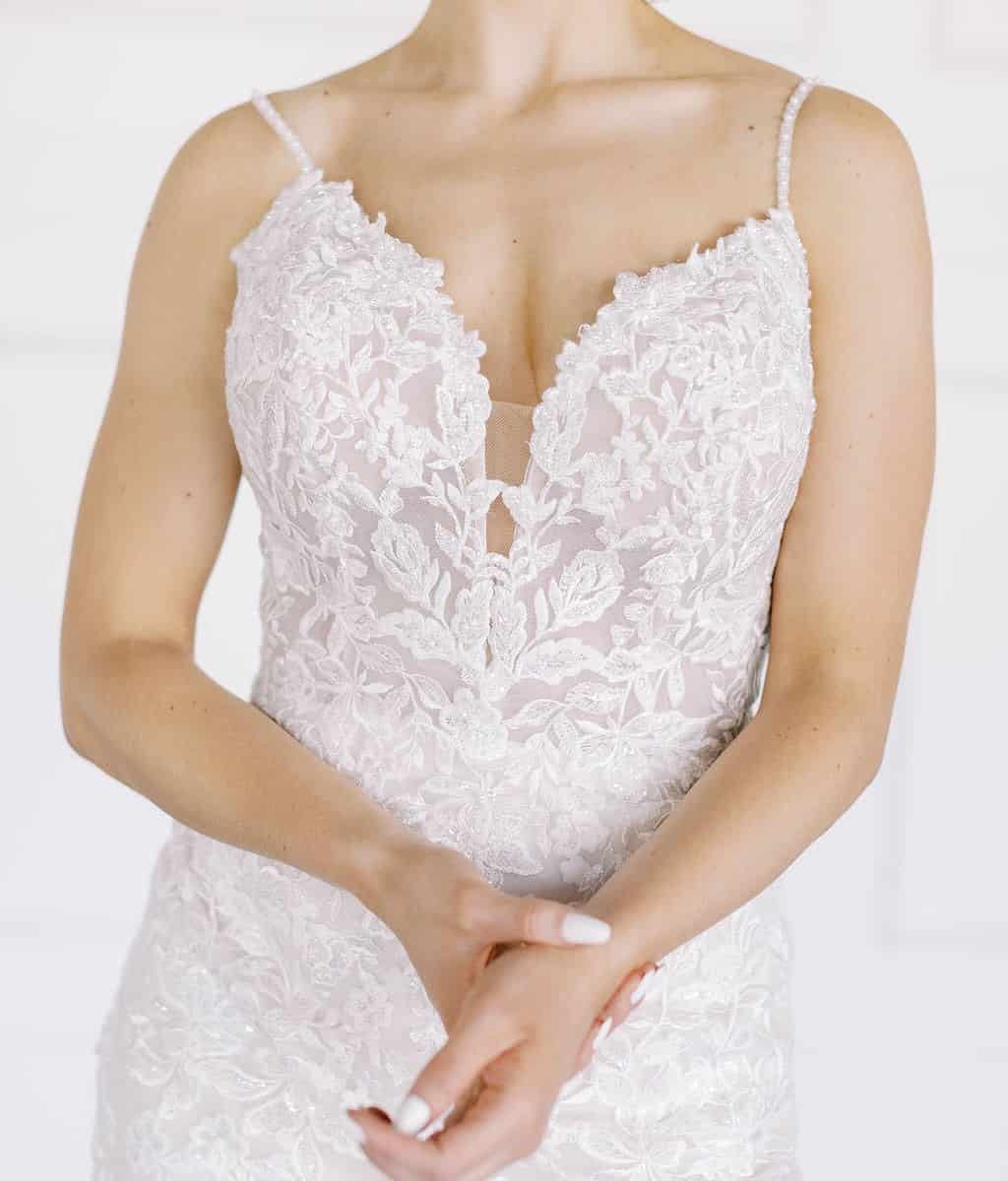 7. Guipure/Venetian Lace
Guipure, also known as Venetian lace, has a large distinction from other types of laces—its lack of netting. Instead, guipure has a more open design. The structure of the lace comes from connected plaits or bars that are sewn between heavy-threaded design elements.
Because of how guipure is structured, it's heavier and more firm than other laces. If you are thinking about having a winter wedding, guipure lace can be a great option for staying warm.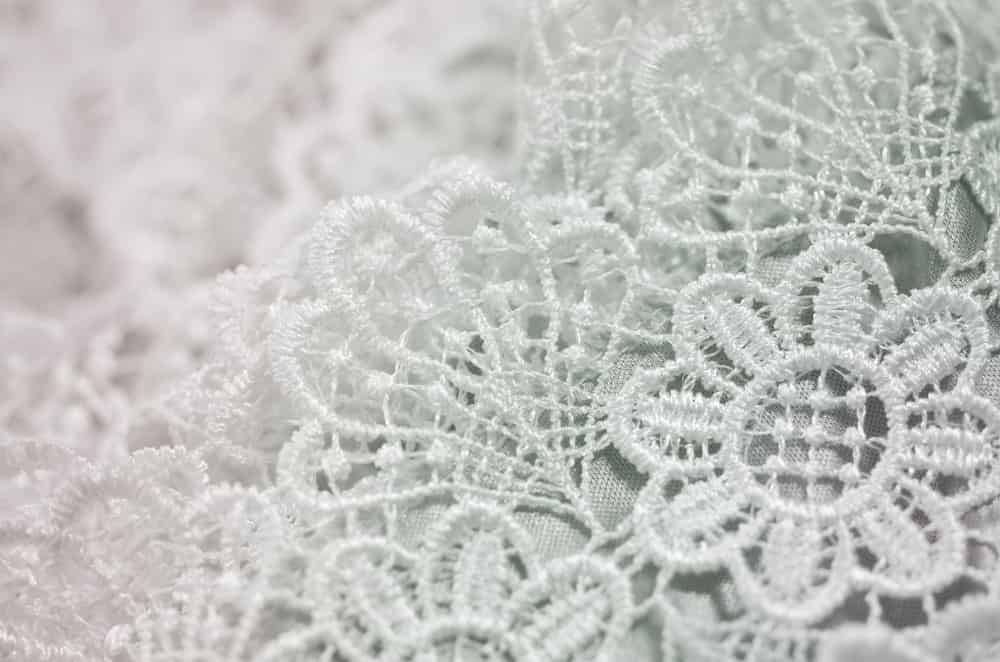 8. Eyelet Lace
Eyelet lace is less dainty and more bohemian, while still retaining a classy, romantic look. In some cases, eyelet lace can appear both vintage and modern. It typically includes small holes and circles as part of its features, along with geometric patterns.
For the bride who wants a boho and romantic aesthetic at their wedding, eyelet lace is a great choice.
9. Point D'Esprit Lace
Point d'esprit lace is another lightweight option, typically dotted with small ovals that give the illusion of volume. Both chic and flirty, this type of lace works great when incorporated with other layers of fabric, like tulle, in the gown's skirting.
10. Sequined or Beaded Lace
While sequins and beading can be incorporated into many different lace types, wedding gowns can also come with beaded- or sequin-specific lace. Sequined lace offers a more subtle spark of glam for brides who want a more modest amount of sparkle.
On the other hand, beaded lace is perfect for brides who are all about the glam. This lace features high-quality crystals and beads that are firmly sewn into the fabric. Both modern and vintage, the beading can capture the light at any angle, bringing a certain level of elegance.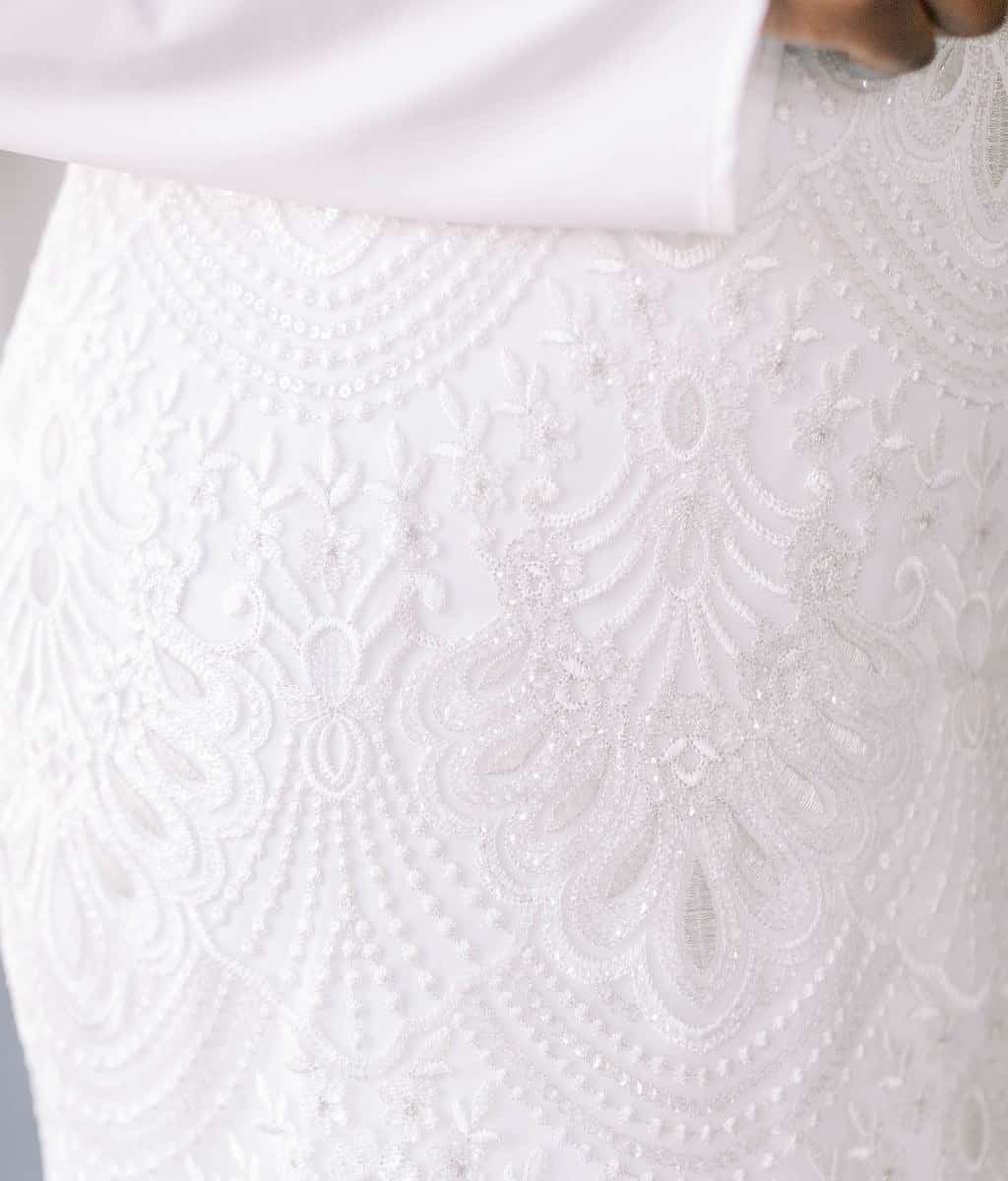 11. Brussels Lace
Brussels lace is a rarer lace option, originating from its namesake city in Belgium. The city of Brussels boasts a history of lace creation, with its needlework often set apart from other places because of various unique and unusual designs.
Brussels lace is made in individual pieces, which are eventually assembled and woven together into one. This allows smaller pieces of incredible detailing to come together and form a single unit, with patterns bordered by open stitches.
Because Brussels lace is not as common as other varieties, it can be a great way to bring uniqueness to any wedding dress.
Choosing the Right Lace for You
With so many options, it can be difficult to know how to choose lace for a wedding dress. You'll want to consider all aspects of your wedding, including its location and the general theme you want. Some laces will suit a more romantic and traditional wedding look, while others are more chic and contemporary.
If there's a particular type of lace you have in mind, it's best to speak directly with a bridal shop to know whether they carry any dress lines made with the material you're looking for. Some dresses may combine different types of lace as well, giving you the best of both worlds.
Our stylists at Savvy Bridal are ready to help you find the perfect dress for your special day! Contact us today, or schedule an appointment at our Kansas City or St. Louis locations.