Meet #SavvyBride, Elizabeth! This Savvy Bride married her husband Jonathan at the Rotunda at Town Pavillion, in Downtown Kansas City, back in November of 2019! The Town Pavillion offers a classic and timeless look with natural light, marble floors, and dramatic architectural details. The venue also has a two-story grand staircase (talk about a grand entrance)!
Elizabeth and Jonathan wanted their wedding to be elegant and absolutely classic. So, they chose black and white colors to achieve that timeless look and feel! Be sure to check out our #Trendy Tuesday stories on Instagram (@SavvyBridal) where we share the newest wedding inspo and trends!
Let's take a look at this #SavvyBride's love story, in her own words!
The Proposal
"Jonathan had a photographer reach out to me and ask if we could model for some pictures with our dogs, but in reality, Jonathan planned it so we would have professional pictures when he proposed." – #SavvyBride Elizabeth W.
You've got the ring. Next stop, Savvy.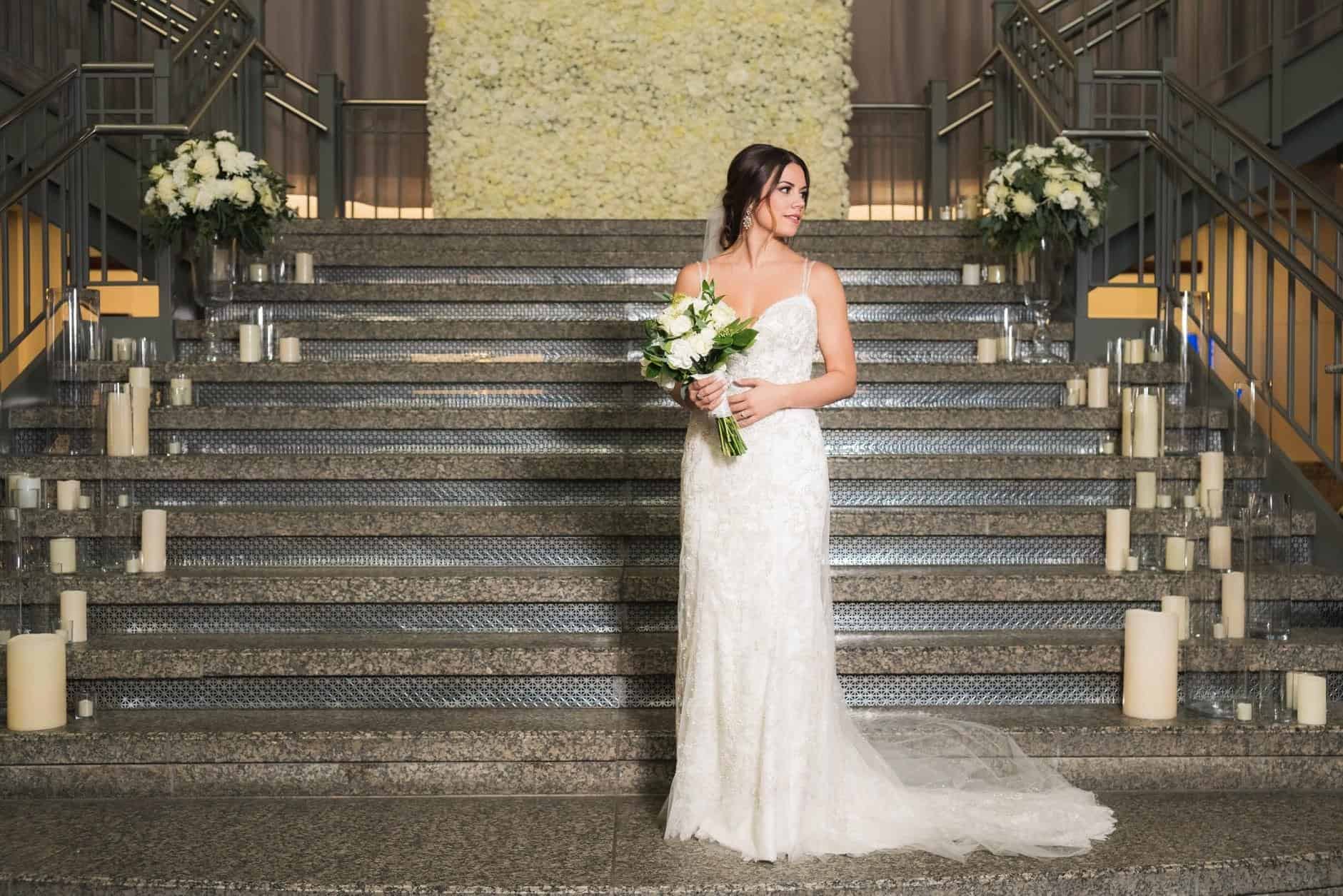 The Dress
Here at Savvy Bridal, we believe that each wedding dress shopping experience should be personalized and uniquely tailored to the needs of each and every bride. Our boutique is rated the top bridal boutique in Kansas City by brides! Many brides-to-be are unsure of what types of dress styles are available before they go dress shopping, which can make it difficult to tell your bridal consultant what style you like when it's time to try on!
Thankfully, we have a great variety of gorgeous dress styles to view BEFORE you step foot in our boutique! Browse our wedding dress styles on our online Gown Gallery here.
At Savvy Bridal we pride ourselves on curating the perfect selection of designers and styles to match the desires and preferences of our brides.
Size 0-24 can be ordered by our Special-Order designers, based on your custom measurements taken right here in-store by our professional bridal consultants. Gowns can be ordered in any color desired depending on the gown and designer!
Here's what #SavvyBride Elizabeth had to say about her wedding dress shopping experience, "I had no idea what I wanted when I came in. The stylist helped me by pulling several different dress shapes as a starting point…"
"Once I realized what silhouette I liked she was able to help me find the perfect dress." – #SavvyBride Elizabeth W.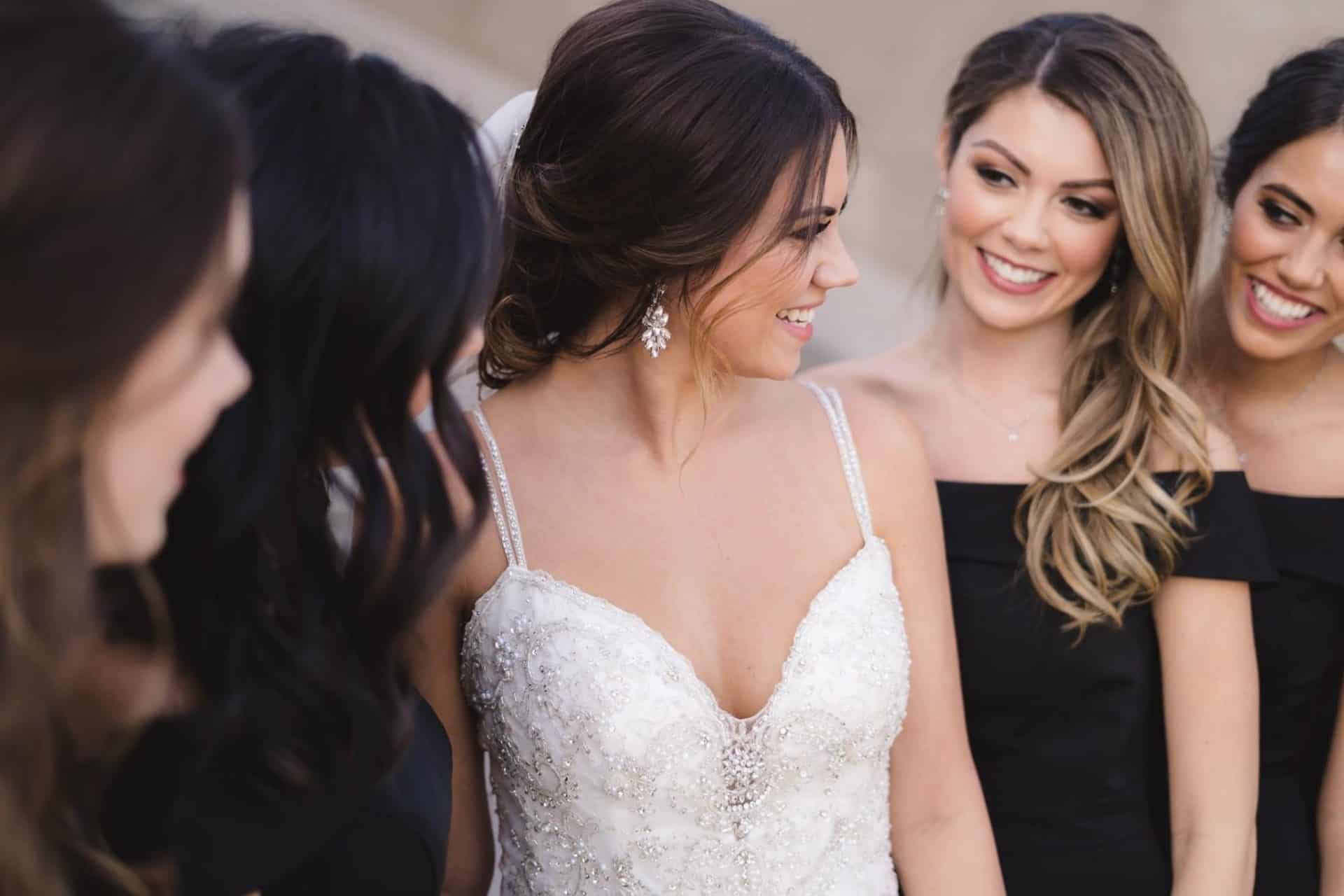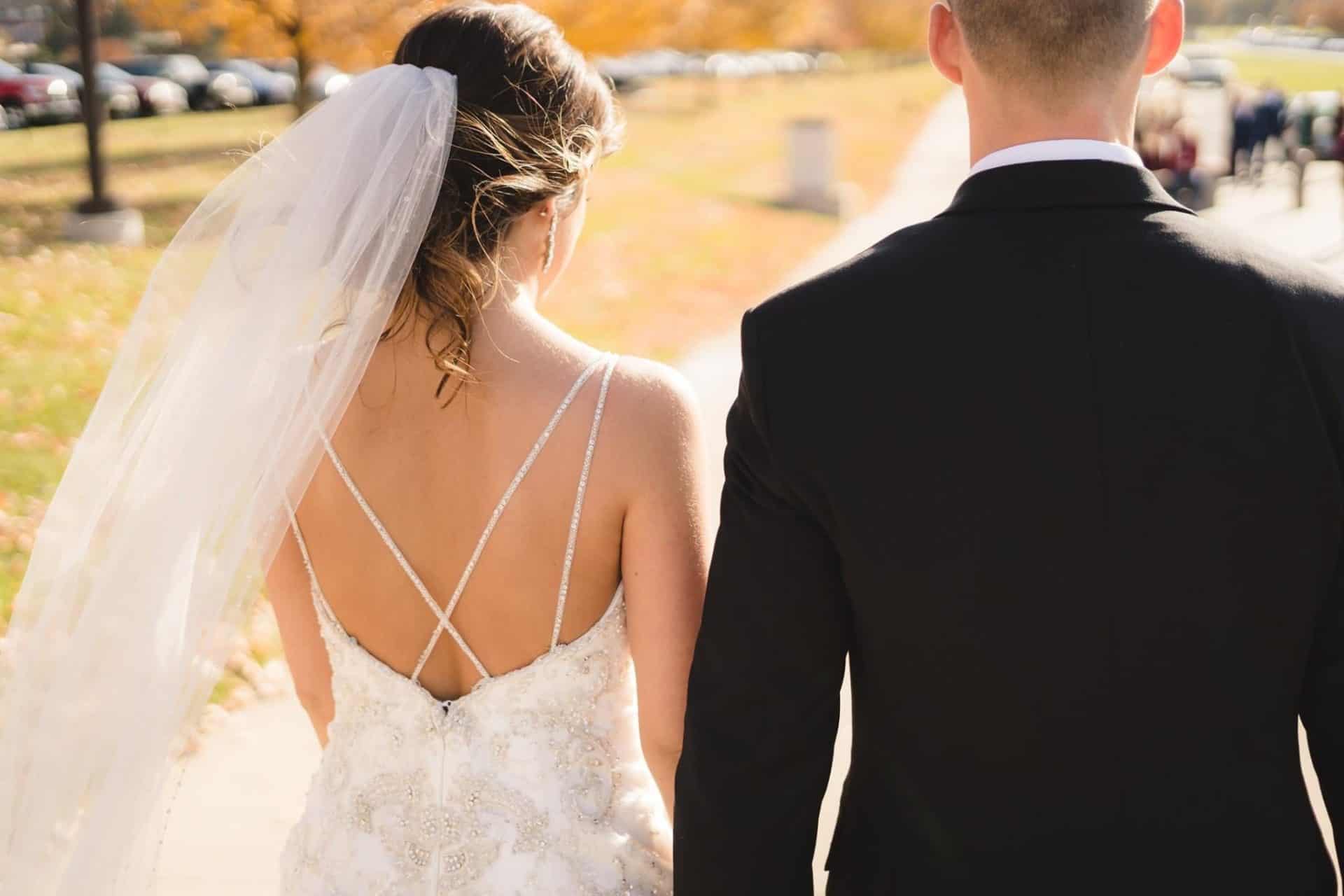 The Special Day
The most important thing for Elizabeth and Jonathan during their planning processes was that they wanted to ensure that their wedding was timeless. They wanted to be able to look back at their wedding photos and still love them, so they avoided anything that was too trendy during the fall of 2019.
The couple went with a neutral, yet classic color scheme, and included personal touches by having table numbers that showed pictures of the bride and groom at the ages that corresponded with the table numbers! How sweet is that?!
"Our first look was such a special moment. The second I saw him, my anxiety went away and I felt so much happiness and excitement for the rest of the day and the rest of our life together!" – #SavvyBride Elizabeth W.
Elizabeth + Jonathan // November 9, 2019 // Kansas City, MO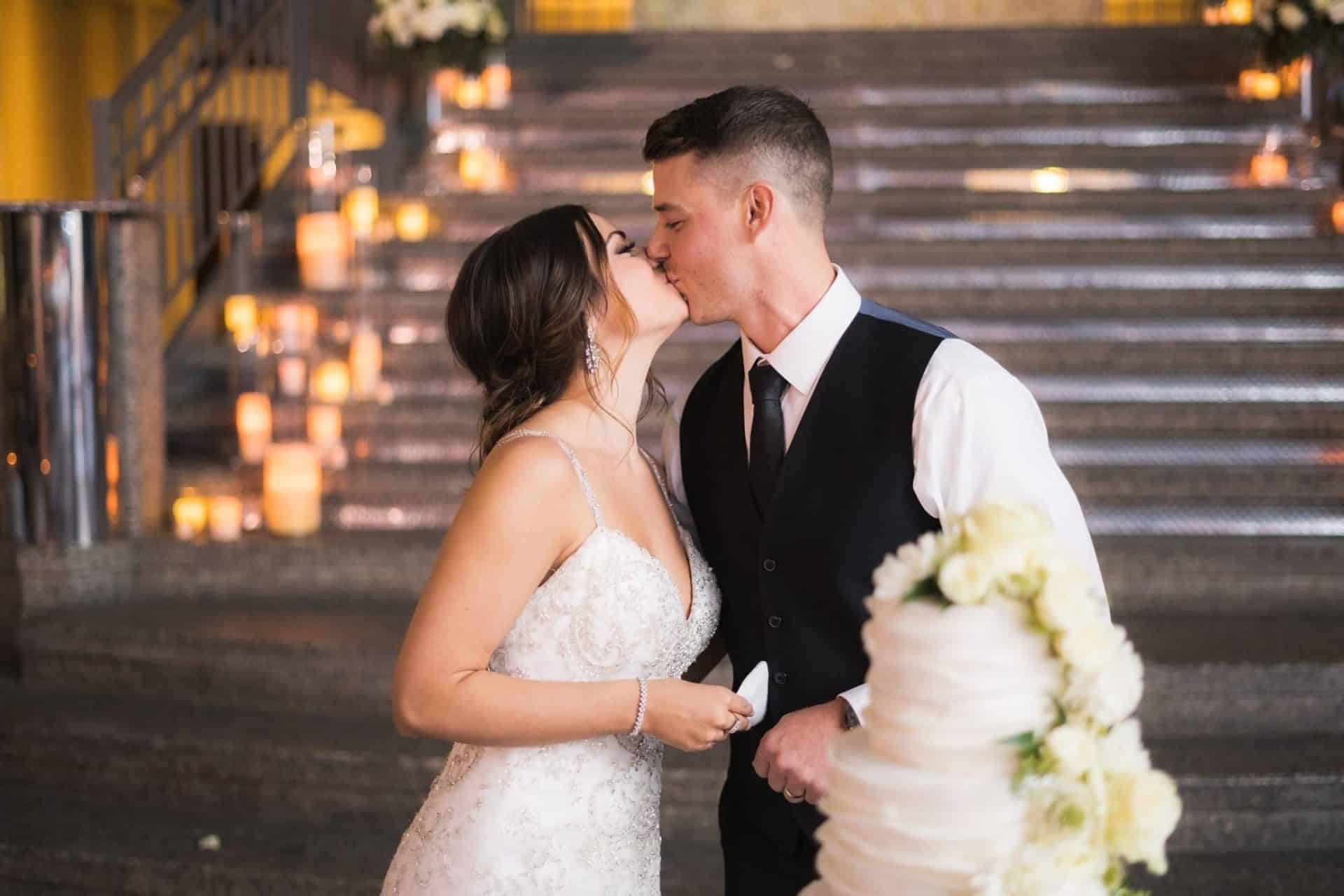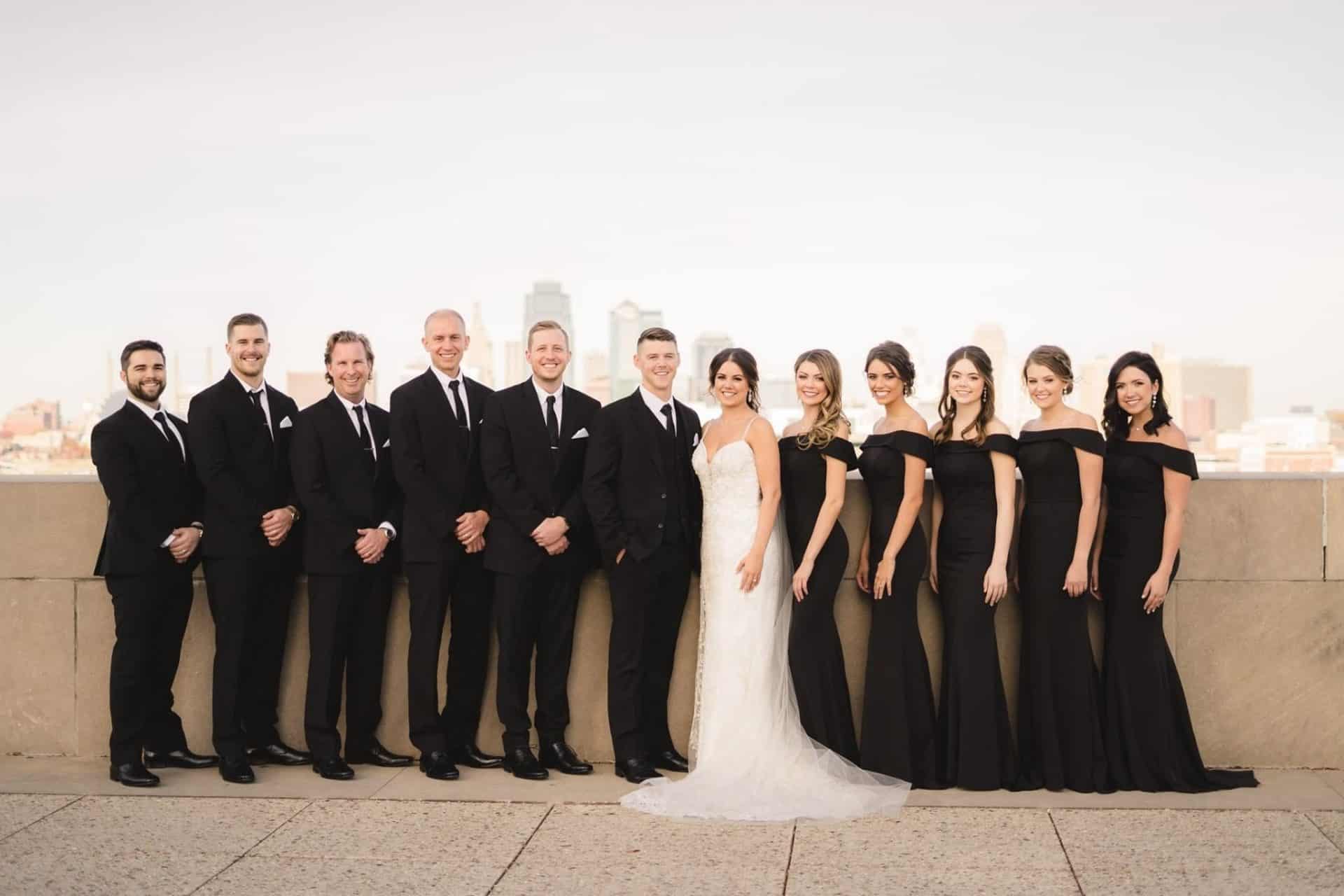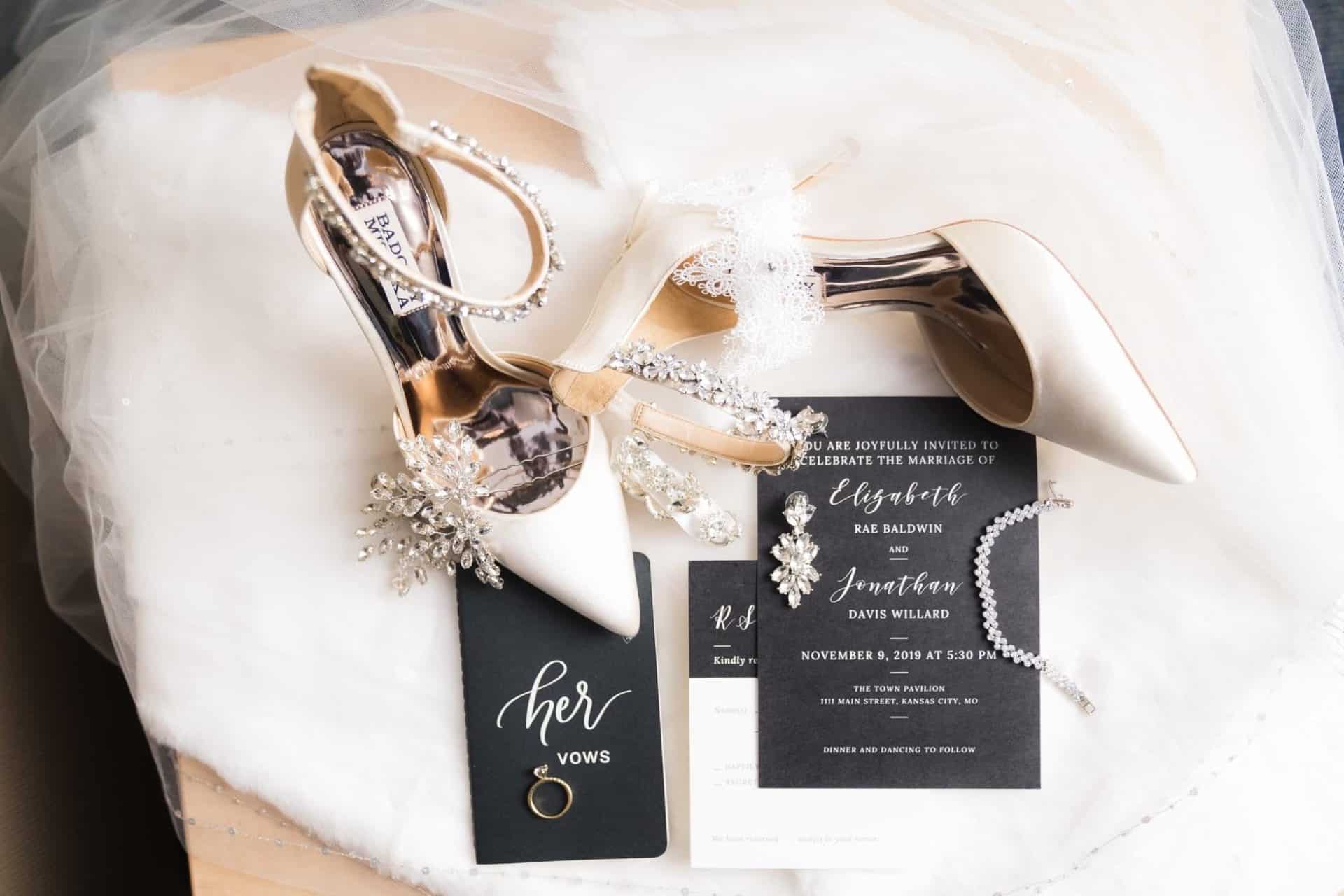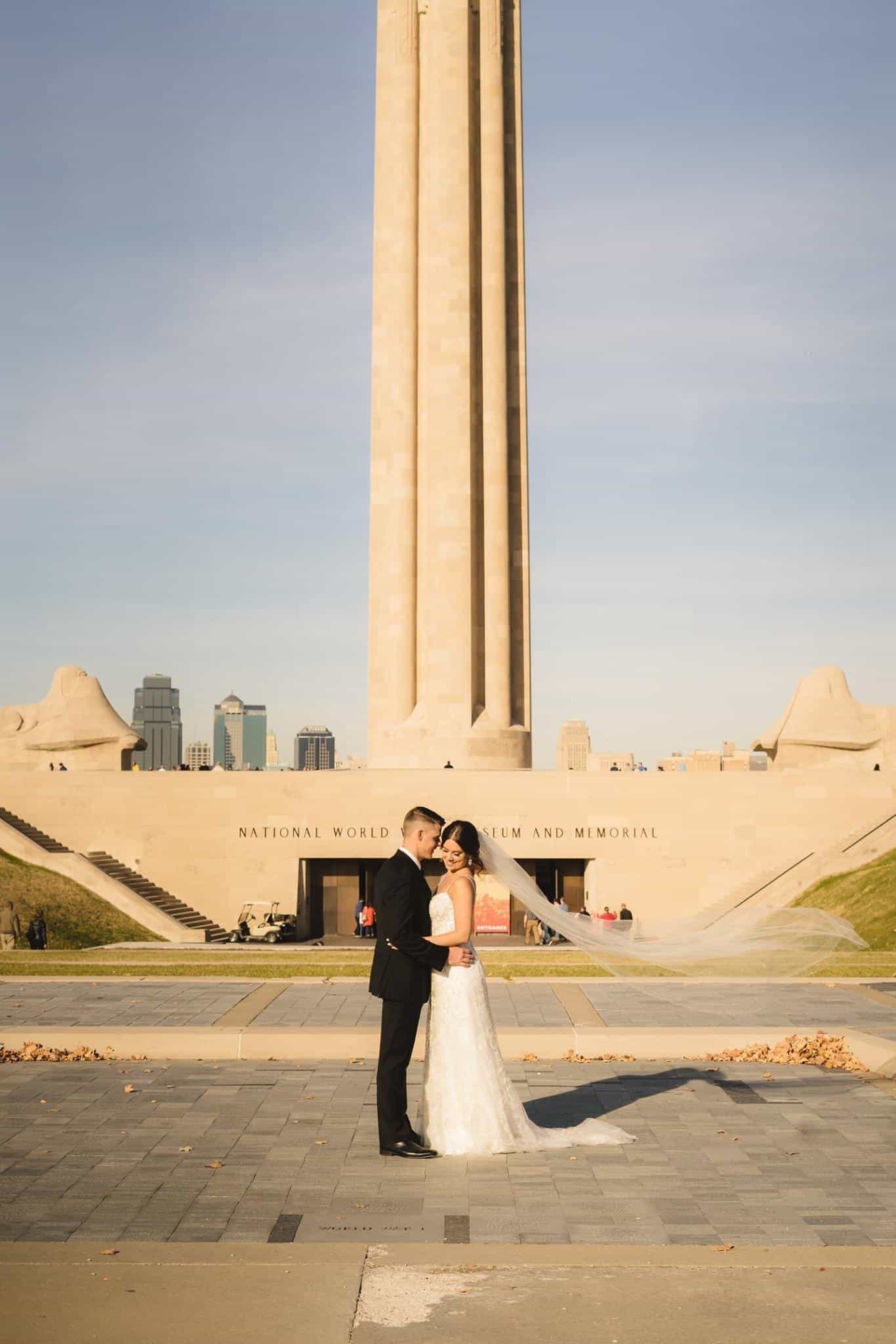 Absolutely stunning on top of Kansas City's Liberty Memorial!
The Vendors
Bridal Gown – Savvy Bridal Boutique
Photography – Michael and Lauren Photo
Venue – Town Pavillion KC
Hair & MUA –  Paradise Hair, Makeup, and Airbrush Tanning
Floral – Awesome Blossoms
Entertainment – Fernando Productions
Catering – Katie's Catering
We are seeking real #SavvyBrides to feature on our Instagram and blog! If you recently purchased your gown at Savvy and have your wedding photos, we'd love to feature you! Send your love story and 8-10 of your favorite wedding photos for a chance to be featured. We can't wait to hear from you!
Share your Love Story here.
Start your wedding dress shopping experience with Savvy Bridal today by scheduling an appointment online.
Learn more about our Curated Dress Collection here.