Should You Change Into a Different Dress for Your Wedding Reception?
While every girl desires to have a gorgeous gown to be admired on her special day, have you considered the functionality of your wedding dress? If your gown is restricting movement or if you want to protect it from being damaged, it's a good idea to change your wedding dress for the reception, allowing you to sit and dance comfortably.
Consider the benefits of getting a second dress for your wedding reception and why it can help you enjoy your special day even more.
4 Reasons to Change Into a New Dress for Your Wedding Reception
If you're asking yourself whether you should get a second dress for the reception, there are a few incidents and events you need to take into account, like dancing, photos, and eating. When choosing a wedding dress, it's important to think of the entire night, all the way from the first look to the last dance.
Having a second dress means you can choose a gown that is better for mobility, shows your personality, and is not as vulnerable to rips and stains.
1. Protect Your Wedding Dress
Your wedding dress holds immense sentimental value, and preserving it is essential to keep the memories of your wedding day precious for the rest of your life. That is why changing into a second dress may be beneficial, so you can have peace of mind that your gown will be safe.
We all know that a wedding reception involves plenty of dancing, delectable food, and an abundance of champagne. While these elements make for an unforgettable celebration, they can also pose a risk to the condition of your dress. By changing into something more suitable for the moment, you can keep your wedding dress stain-free and reduce the likelihood of wrinkles.
2. Diversity in Wedding Photos and Videos
You can't save many things from your wedding day: food, fresh flowers, open champagne bottles, and more. However, your wedding photos and videos will last forever. That's why you need to select a photographer and videographer that you can trust to capture the many highlights of your wedding day.
Wearing a second dress later in the evening will add diversity to your pictures and videos. This will add variety and allow you to get creative with your poses, themes, and setting. You can also change your accessories and hairdo to match the second dress to create a more cohesive look.
3. More Freedom On the Dance Floor
Dancing is one of the most memorable moments of the night, where you can let loose to the playlist of your choice. While guests enjoy this time, it can be difficult for the bride because of a restricting gown.
To fully immerse yourself in the dance party, wearing a shorter, looser, and less formal dress gives you the freedom to savor every moment without worrying about tripping or damaging your gown. This is also a perfect opportunity to flaunt your wedding shoes!
4. Show Off Your Personality
Your wedding day is about you and your spouse. Wearing a formal dress all night can feel overwhelming, so having a separate reception dress allows you to feel confident and relaxed. It lets you express your unique personality on and off the dance floor. A well-chosen reception dress offers both comfort and style, allowing you to enjoy time with loved ones.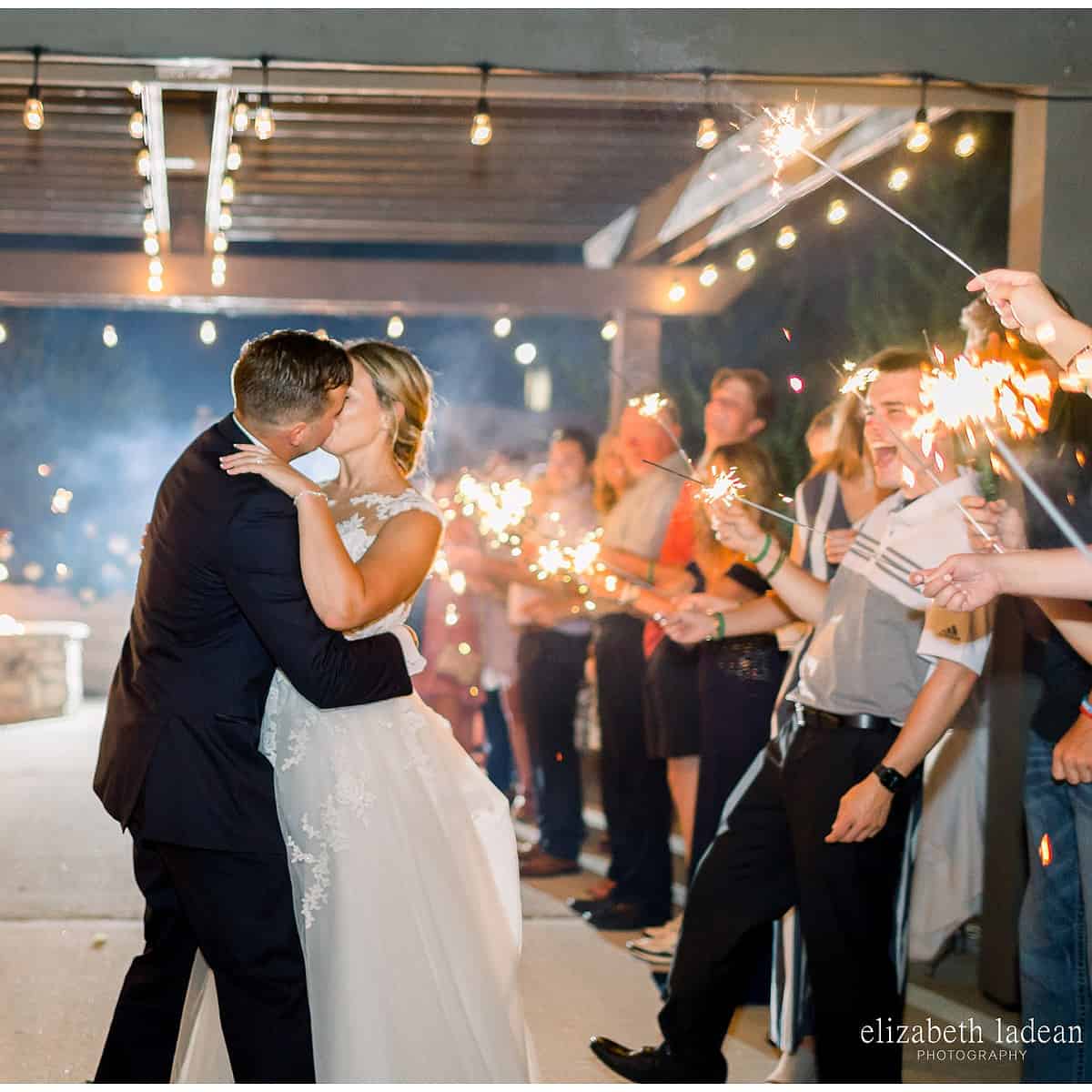 Reasons to Wear One Dress for Both the Ceremony and Reception
While there are benefits to changing your wedding dress before the reception, some brides may prefer to wear the same outfit. If you're unsure whether you'd prefer one dress over two, you may want to consider the reasons to stick with one.
Taking Time to Change
One of the most common things newlyweds say is their special day went by in the blink of an eye. Changing into a reception dress will take more time away from your guests and loved ones and not give you the ability to make more impactful memories.
You'll Only Wear Your Wedding Dress Once
You've likely dreamed about your wedding dress since you were young. While changing dresses after the ceremony can be more convenient and safe, it can also take away from the time you'll be wearing your dream gown.
Additionally, you may not have another occasion to wear your wedding dress, or dresses, once your special day is over, so spending the funds on more than one gown may not be the best course of action for you.
5 Ideas for Wedding Reception Dresses
So, what does the ideal reception dress look like? While every bride has different aesthetics and needs, there are a few options that you can choose from:
Short and Flirty:

Opt for a playful and flirty short-length reception dress that allows for ease of movement and showcases your legs.

Convertible Dress:

Consider a convertible dress that offers versatility, allowing you to transform it from a ceremony-worthy gown to a chic reception dress by removing a detachable skirt or

train

.

Contemporary Jumpsuit:

Make a fashion-forward statement by opting for a stylish jumpsuit or pantsuit that combines modern sophistication with comfort.

Minimalist Elegance:

Choose a sleek and minimalist reception dress with clean lines and understated details for a timeless and sophisticated look.

Colorful Delight:

Break away from tradition and opt for a bold reception dress to add a vibrant and joyful touch to your celebration.
Are you thinking about changing into a different gown for your wedding reception? If so, turn to the expert stylists at Savvy Bridal to help you choose the perfect look that offers convenience and personality. Contact us today and schedule an appointment with our team; whether you are in Kansas City or St. Louis, we'll help you find the right dress for you.