10 Ways to Stay Cool in Your Wedding Dress
10 Ways to Stay Cool in Your Wedding Dress
Summer weddings are beautiful with bright colors, lots of sunshine and dancing from sunset into the perfect summer evening. While you spend months planning out the details for your perfect summer party, ways to stay cool on your wedding day should be top of mind. With some creativity, planning, and a few of the tips below, you can worry less about sweating in your wedding dress, and look picture perfect throughout the evening.
1. Choose Your Wedding Dress Wisely
Wedding gowns can be thick and heavy, and hot! This is a nightmare scenario for a summer bride. Choosing a light(er) weight dress is ideal for the summer bride. Less fabric keeps you cooler and that means you are much less likely to sweat in your wedding dress.
Trendy wedding dresses such as slip dresses, thigh-high slits and sheath dresses, are great options for the hot summer months. Add some pretty details such as lace or pearls to amp up the style on these minimalistic gowns, and you can still look fabulous while staying cool in your gown.
2. Wear Breathable Shoes
Your feet will be working overtime the day of your wedding. Don't forget to take care of them with the right type of wedding shoes for your walk down the aisle. Your feet are guaranteed to swell from overuse and the heat, slan ahead by ditching the heels and opting for something more appropriate for the weather.
Choose breathable shoes such as flats or sandals to avoid blisters and being uncomfortable. If you just can't leave the heels behind, have a backup pair of comfortable shoes that you can change into for the reception.
3. Set Your Makeup
Summer heat can wreak havoc on your makeup. Add in all of the hugging and the emotions from your big day, and makeup can quickly become a challenge. Working with a professional is a great way to make sure your makeup stays set in place for the big day. The experts know tons of tricks to keep your makeup from smearing, smudging, or melting in the summer heat. If you are unable to work with a professional, a setting spray or powder will be your best friend. This can help your makeup stay in place for hours, ensuring the look will last through pictures. Plan some time throughout the day to touch up your makeup, and reapply when necessary.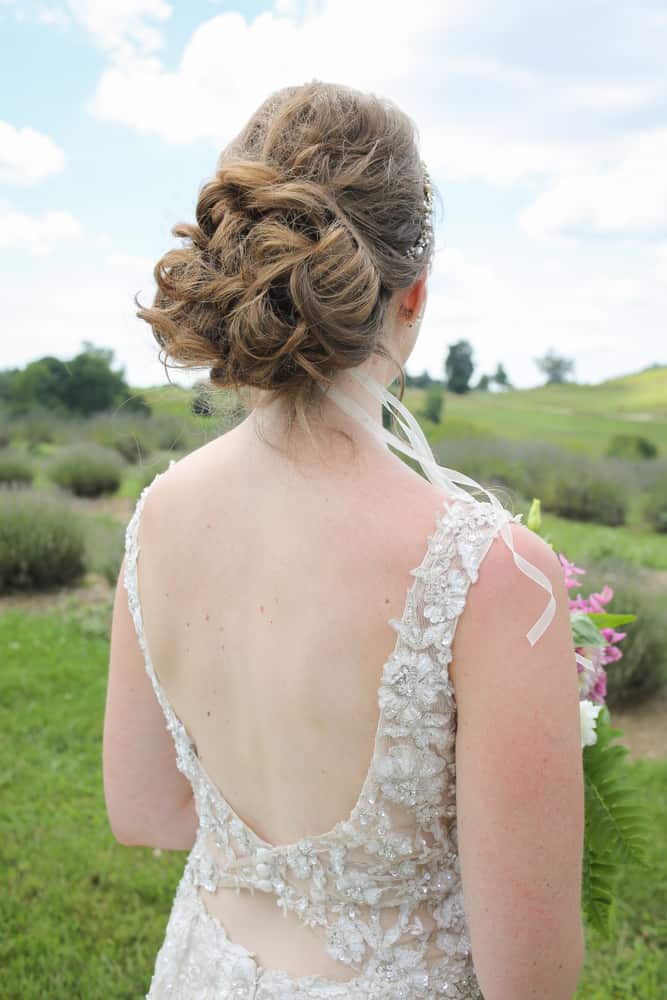 4. Keep Your Hair Up
If being hot on your wedding dress is a concern, an updo is the way to go. Updos can add elegance and glamour to your bridal look, and they are also a perfect hair option for the summer bride. Not only will an updo help keep you cool, but it also ensures that the wind and humidity won't ruin your bridal hairstyle before the big event has kicked off. An updo will look polished well into the night.
5. Skip the Bra. Wear Breathable Undergarments
Many wedding dresses have the option of hidden support. If you have chosen a dress like this, you can ditch the bra. Wearing natural, cotton undergarments will also keep you comfortable and feeling fresh throughout the day.
Underskirts are another area where adjustments can be made so you can stay cool in your wedding dress. Depending on the style of gown you chose, you may be able to ditch the underskirt altogether. If it is a must to give your dress some shape, choose a mid-thigh underskirt, or one with a hoop that will pull the fabric away from your body. This also allows some air to flow around your body, keeping you cool throughout the evening.
6. Add Cooling Patches Under Your Dress
Stick-on cooling patches are a great option to provide some relief from the heat and keep you cool once your dress is on. These patches stick to your skin under your dress and can provide up to eight hours of cooling relief. Made of a cooling gel and water, these sticky pads are incredibly effective. Often used by parents to reduce fever in children, these patches will definitely keep your body temperature down and keep the sweat at bay.
7. Use Cooling Body Products
A hardworking deodorant will be vital for your big day. Men's deodorant typically works harder than women's. Even better, men's deodorant has more neutral scents. Just make sure you try it out before the big day to avoid any potential reactions.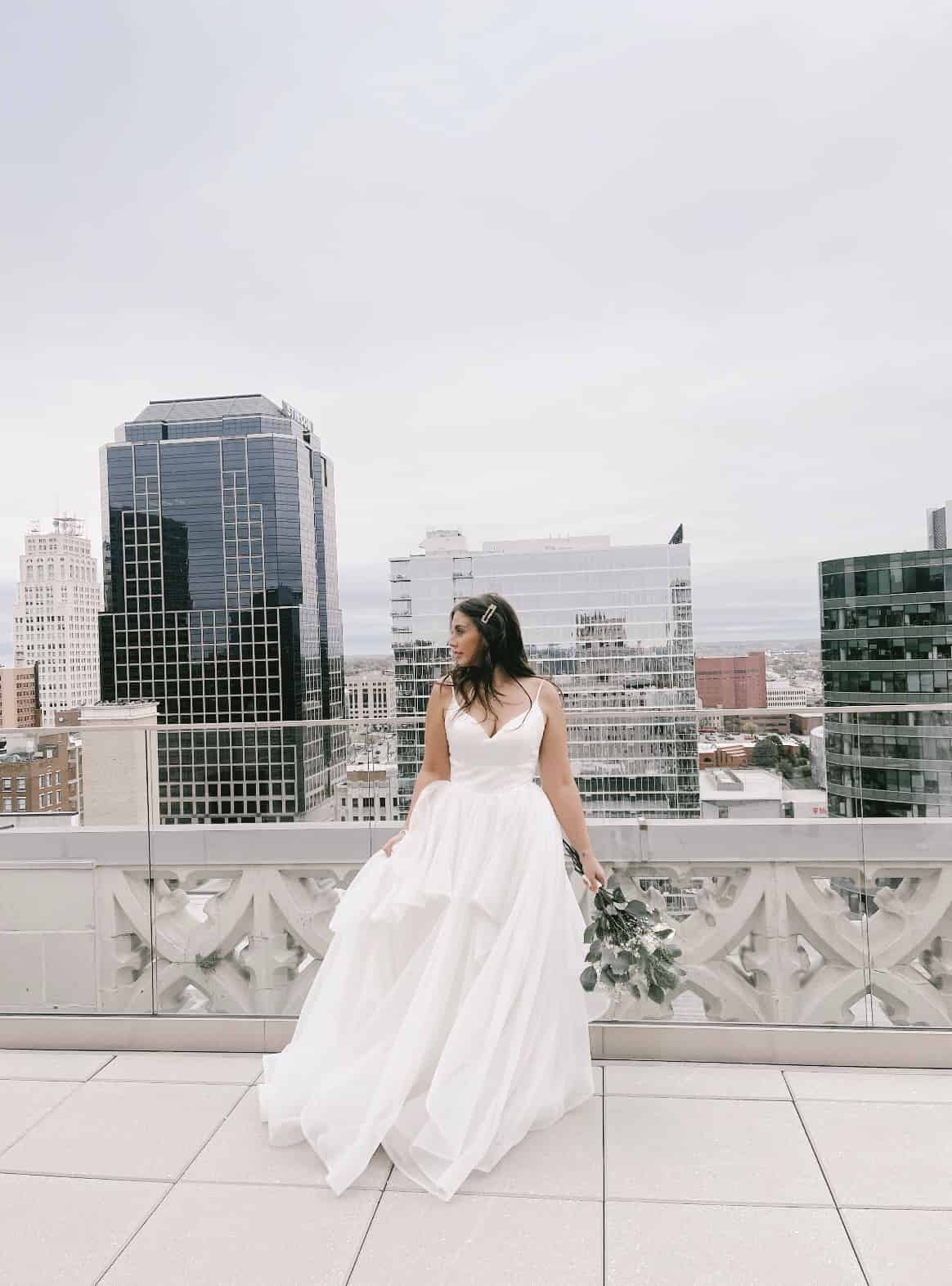 8. Keep Cooling Items on Hand
Having a small bag packed with items to keep you cool will be a lifesaver for a hot summer day. Pack this bag with goodies like extra cooling patches, a hand fan or a spray bottle to spritz yourself with. Don't forget bottles of water as well. Staying hydrated is key as you are battling the heat.
9. Utilize Indoor Space as Much as Possible
Take advantage of the moments you have access to air conditioning on your big day. If you can, stay inside until the moment you walk down the aisle so your look remains as fresh as possible. Consider taking advantage of indoor spaces for photos before the ceremony, or between the ceremony and reception for a short break from the heat.
10. Stay in the Shade
Your photographer knows how to use light to make the photos from your wedding day look gorgeous. Fortunately, that often means working with lighting behind you and keeping you in the shade. Use the shade as much as possible to stay cool and keep sweat at bay.
Summer weddings are worth the extra planning and logistics to work around the weather. As the most popular season for a wedding, millions of brides beat the heat each year to say "I do." With a few of the above tips, you will be able to make the most of the beauty of your summer wedding and stress less about staying cool in your wedding dress.