Who Should You Bring Wedding Dress Shopping?
Trying on wedding dresses is an exciting milestone in the wedding planning process. All brides dream of finding "the one," the dress that takes their breath away. Many brides choose to share this special experience with those they love, but it can be overwhelming to determine who should be included in the wedding dress shopping.
At Savvy Bridal, we recommend that brides thoroughly consider who will be wedding dress shopping with them. Here are a few people that the bride might want to invite dress shopping:
Mom
Dad
Mother-in-law to be
Grandparents
Siblings
Aunts
Cousins
Bridal party members
Close friends
While this list could lead brides to show up with a dozen people for their appointment, we encourage that all brides bring only those who are supportive and the most important people for the big day. Many brides with large shopping parties quickly realize that having so many voices can be overwhelming.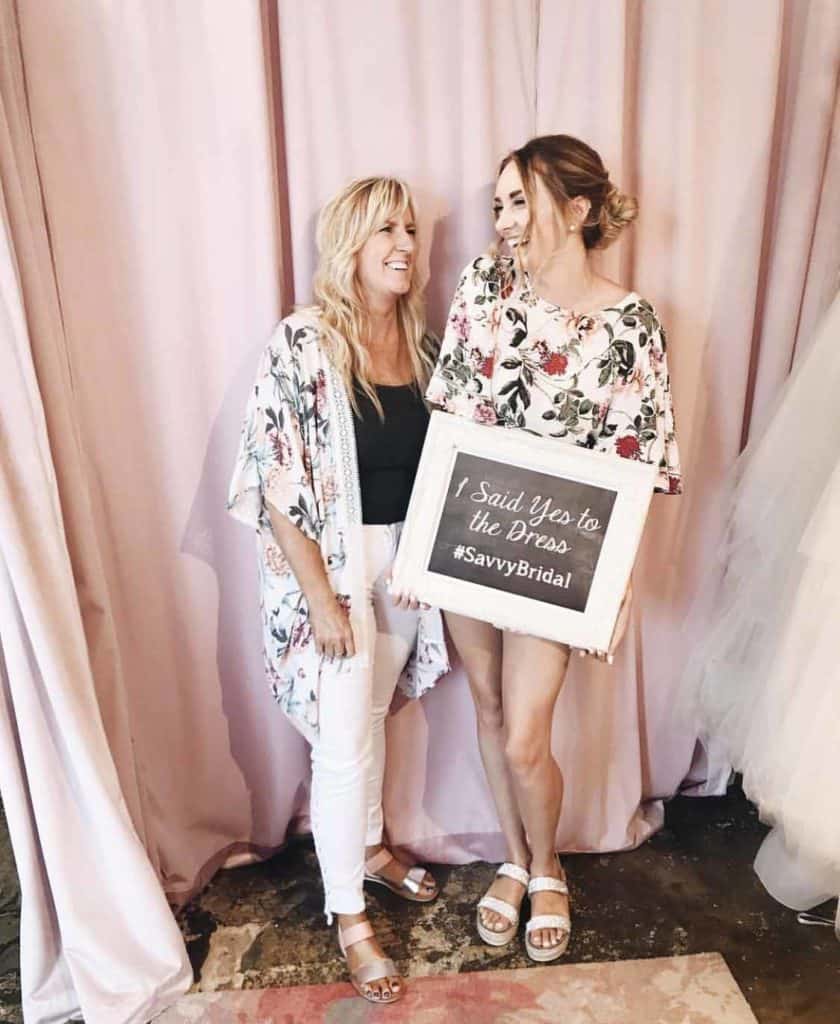 Who Should You Really Bring Wedding Dress Shopping?
The wedding dress shopping experience is truly special. Those you bring with you can make or break your experience. For that reason, here is some information about the people you might want to bring with you.
Supportive Family and Friends
Think of the people who are most likely to have your back and provide encouraging, supportive feedback on gowns. Those are the kinds of people you should invite to your appointment. Generally, moms are the first person that brides choose to include in their wedding dress shopping trip; however, sisters and grandmothers are also commonly included.
More recently, some brides have started including their soon-to-be mothers-in-law to join them. If your mother-in-law is already like a mother to you or will be a positive addition to the day, it is a nice gesture to include them in this special shopping trip.
If you have a family member who is paying for the dress, it is also polite to invite them shopping with you. Not only does this allow them to have the dress shopping experience with you, but it can also help prevent any monetary surprises for the person paying for the gown.
Bridal Party Members
Bridal party members are often brought along on dress shopping trips. Since these ladies (or men!) have a critical role in a bride's wedding day, it is no surprise that they would be included in the wedding dress shopping, especially if they happen to live nearby.
Even if a bride doesn't bring her entire wedding party—because let's be honest, some bride tribes are rather large—the maid or matron of honor can come along for added support.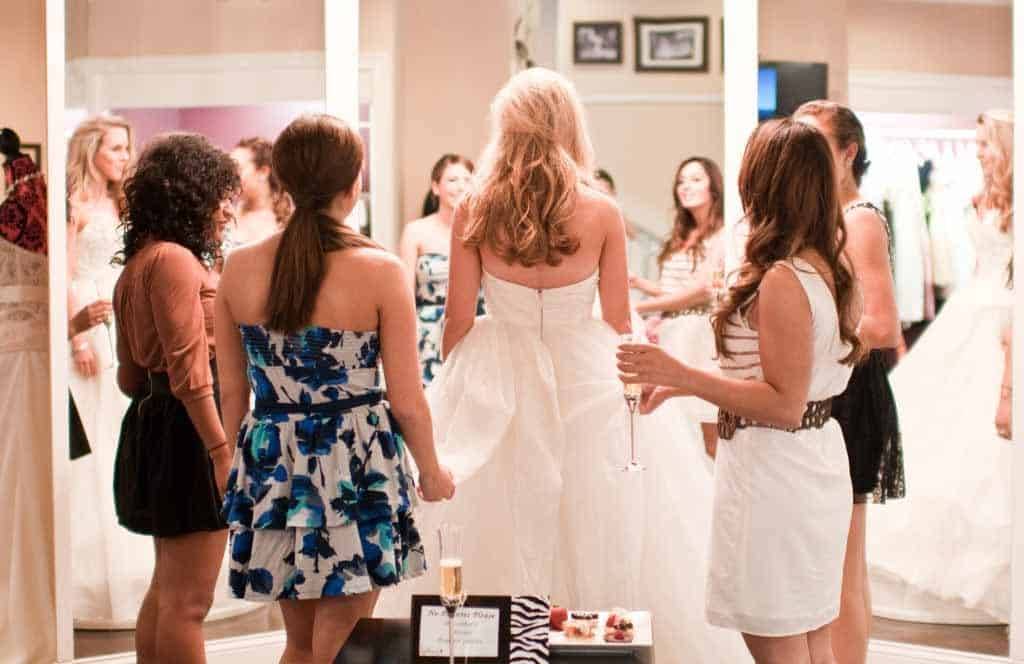 How to Determine the Number of Guests You Want to Bring Wedding Dress Shopping
As we mentioned before, we would strongly recommend limiting the number of people you bring to your bridal salon appointments. Remember that the more people you bring, the more different opinions you will receive. Having a bunch of different opinions can lead to unnecessary stress for brides.
To prevent feeling overwhelmed by too much feedback, try to think about the appropriate number of wedding dress shopping companions for you. You are truly the only one who knows how many people you should bring wedding dress shopping. The best thing you can do is to limit your guests to just the most important people in your life. If other people want to help you, you could ask them to help you shop for accessories, shoes, or other wedding needs instead.
We also urge you to remember that bridal shops have limited spacing. To ensure that your party is manageable for the salon, good idea to research or call each bridal shop you plan to attend to see how many people they will allow in your party.
At Savvy Bridal, we recommend that you only bring three to five guests to any appointment. Please note that during the COVID-19 pandemic, we have additional restrictions on party numbers in the boutique.
What If You Want to Shop for Your Wedding Dress Alone?
Some brides don't want input from others on their wedding gowns, or they don't have people to bring with them on this adventure. Instead of asking people to shop for a wedding dress with them, these brides choose to go at it alone. Are you considering shopping for a wedding dress by yourself? If so, here are a few tips for you:
Plan Ahead: Start looking at inspiration before you go shopping and determine an appropriate budget before stepping foot in a bridal salon. Have a few different ideas for dresses that you would like to try on to give your consultant a starting point for your wedding dress style. However, be sure that you are willing to look at recommendations from your bridal stylist, as she will know what types of dresses will look good on you based on your body type and skin tone.
Keep an Open Mind: Staying openminded is going to be critical should you decide to go shopping alone. Since you aren't going to have a sounding board as you would with a group, you will want to try on a few different styles of gowns before you narrow it down. We recommend seeing numerous styles and fabrics before you tell your consultant that you only want to look at lace ballgowns or tulle fit and flare gowns.
Start Early: Wedding dress shopping should never be left until the last minute. At most bridal salons, you will need to order a dress months in advance. The longer you wait to shop for a gown, the more stress you are likely to feel as you wait for it to arrive. Remember that you also need to leave enough time for alterations to be performed on the gown.
Dress Shopping at Savvy Bridal During the COVID-19 Pandemic
At Savvy Bridal, our goal is to make sure all our brides and their guests are as comfortable as possible at all times, but especially during the global pandemic that we are all facing. Our fitting rooms are designed to be six feet apart, and there are private rooms for each bride, which keeps them away from other groups in the shop.
Throughout the COVID-19 pandemic, we are limiting the shop to just five groups at a time. Our goal is to make sure each of the five groups that can be in the shop at once can stay at least six feet away from all of the other groups. For this reason, we ask that you are on time for your appointment.
We also ask that brides try to limit the number of guests they bring into the shop. For weekday appointments, we are allowing six guests per bride. On weekends, we ask that brides limit the party to just four guests.
All of our bridal stylists will be wearing face masks to abide by current mandates that have been put in place for Kansas City businesses. Brides and guests are also required to wear masks when they enter the shop. However, brides are free to remove masks for a few minutes when they are in the dresses to get a better idea of how they will look in the gowns. During this time, you can snap some photos.
After each appointment time, all areas will be sanitized for maximum safety for all brides and their guests.
Learn more about our COVID precautions here.
Start your wedding dress shopping experience with Savvy Bridal today by scheduling an appointment online.