What's the Deal with Bridal Sizing?
Wedding dress sizing can be confusing, and if you're not sure what to expect going into your bridal appointment, you may be confused when your bridal stylist hands you a different size than what you're used to wearing. Fortunately, sizing is just a number, and there are many reasons why wedding dresses are sized the way they are.
We find that our brides-to-be at Savvy Bridal have many questions about bridal sizing. To clear up any confusion and alleviate any stress around sizing, here is a look into how bridal sizing actually works and what to expect during your bridal appointment. With our help, you'll know when you're ready to say "Yes!" to the dress.
Guide to Understanding Bridal Sizing
When it comes to the wedding dress industry, sizing has remained very traditional. In the past, most leaders in the industry started in Europe, and nowadays, many wedding dress designers are still European and not based in the United States.
Bridal size charts, therefore, are more aligned with European sizing, making wedding dresses appear smaller than they really are. Although ready-to-wear sizing in the United States has adjusted with the times, bridal sizing has remained true to original European sizes from the 1940s.
If you feel like your normal size fits a little too snug when you're trying on that special gown, don't stress. Because sizing guidelines have remained the same for many years, they've failed to evolve with the times. Women's body types are not the same now as they used to be decades ago, and unfortunately, bridal sizing has not kept up with that change.
Additionally, wedding dresses don't have a universal size chart. A bridal size chart is usually dependent on the dress designer, and most of the time, brides-to-be won't even know their correct size until they start trying dresses on. Sizing can vary depending on dress styles and patterns, especially since many designers use different size charts.
As a rule of thumb, it's always good to assume that your bridal size will be one to two sizes larger than your street clothes. However, this could change depending on the style of the dress, its country of origin, alteration capabilities, and your figure.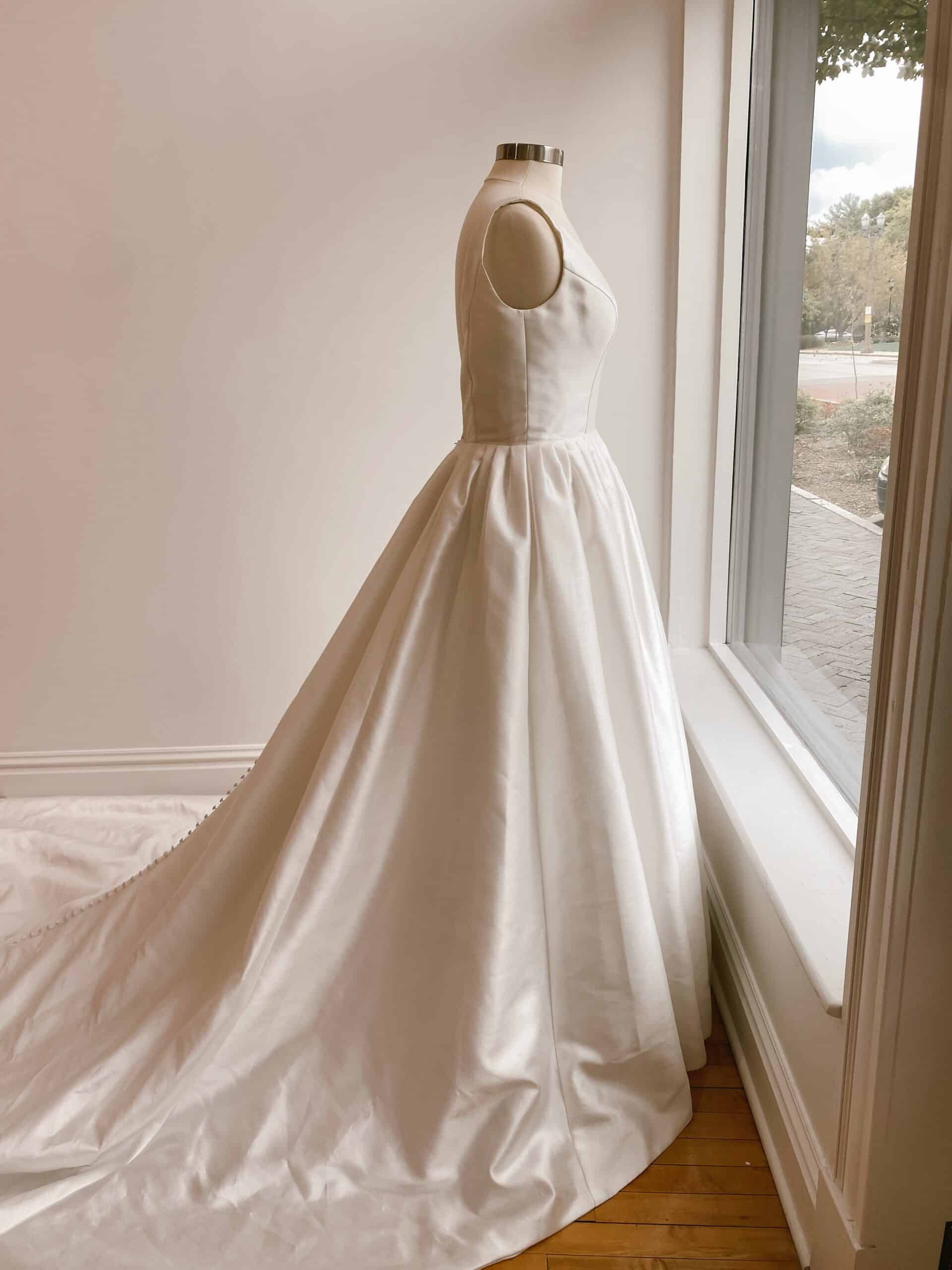 How Does Bridal Sizing Differ from Street Sizing?
In general, wedding dresses run small. That's why you may notice that your bridal size seems bigger than your street size—at least in number.
Another factor to consider is alterations. Everyday clothing is rarely altered, and most people will fit the size they buy off the rack. Wedding dresses, on the other hand, are expected to be altered to ensure they fit you perfectly on your wedding day.
Your bridal stylist may recommend a larger size during your gown fitting so there's enough material to alter and take in later on.
How to Measure Yourself for Your Wedding Gown
Some bridal size charts from designers can be found online, so you may be able to measure yourself and find a number close to the right size. This will give you a better idea of what to expect from certain designers or brands and even make you more prepared for your bridal appointment.
At most bridal shops, your size will be determined by the measurements of your bust, waist, and hips. When measuring yourself, you'll want to wear the undergarments you plan to wear with your dress on your wedding day. Here is how to properly measure yourself at home with a measuring tape:
Bust: Wrap the measuring tape at the fullest part of your bust so that the tape is under your arms and around your back.
Waist: To find your natural waistline, stand up straight and bend slightly to the side. The natural crease your body creates is where your waistline is. You can then wrap the measuring tape around the narrowest part of your waistline.
Hips: Measure your hip size by putting your feet together and wrapping the measuring tape around the fullest part of your hips and backside.
If you measure yourself and find that your measurements may fit more than one size, we recommend using the largest number out of the three to determine your proper bridal sizing.
We also recommend that someone helps you with the measuring process since it'll be easier to properly place the soft measuring tape. It's always best to seek help from a professional bridal stylist during your bridal appointment to find the most accurate size for you.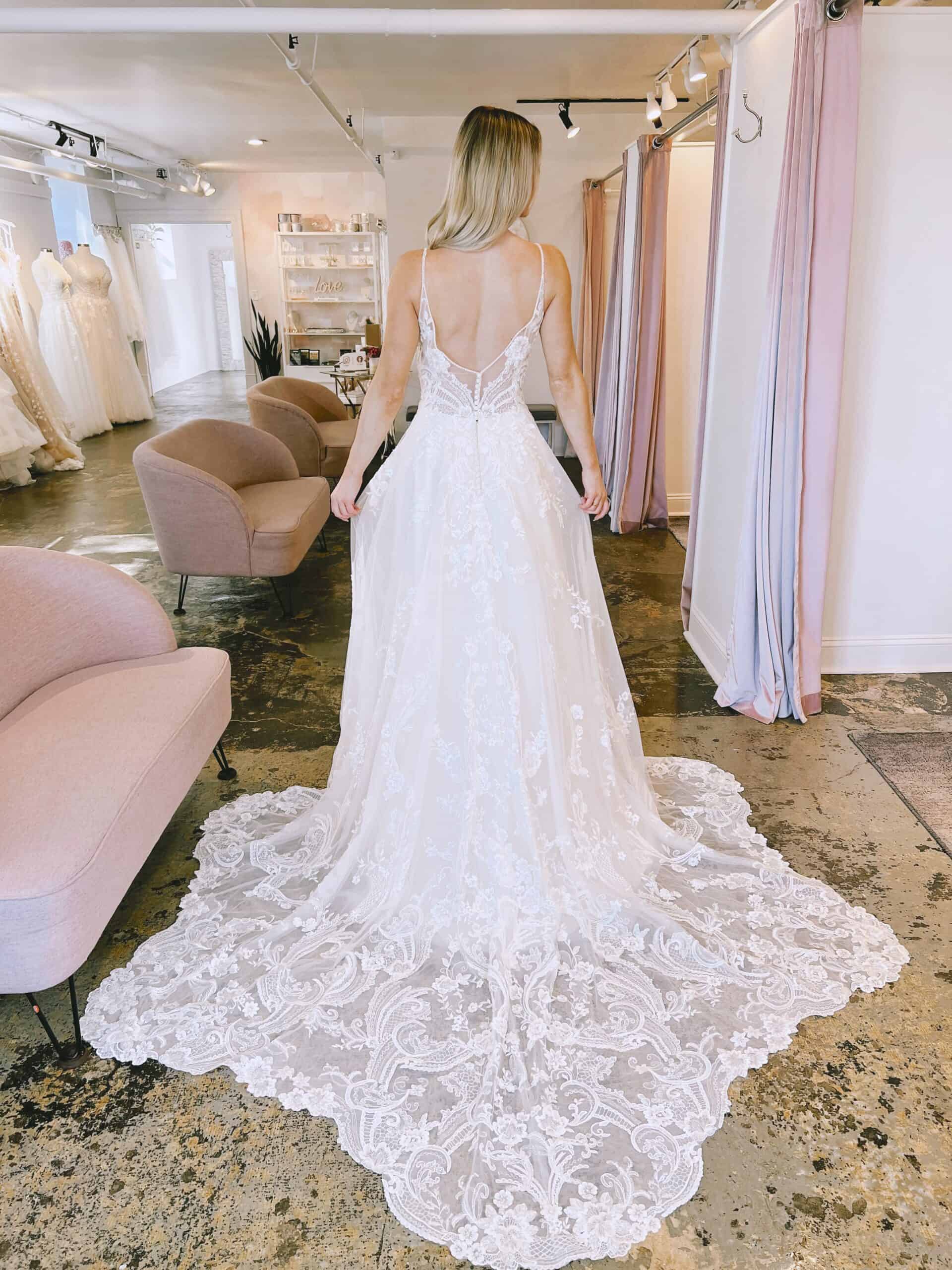 How Can Savvy Bridal Help You Determine Your Size?
When it comes to bridal sizing, we always remind our brides-to-be that it's not about the number—it's about your measurements. Your bridal appointment is all about finding a perfectly fitted gown that will make you feel beautiful on your special day.
Our personalized bridal experiences ensure that no matter what style of gown you are looking for, we can help you find the perfect dress for your body type. The bridal stylists at our Kansas City wedding dress stores are here to help make the right measurements and alterations, so you don't have to stress too much about sizing.
Savvy Bridal can find you the perfect gown from any wedding dress chart. To make an appointment, give us a call at 816-859-5699 in Kansas City, 785-424-7120 in Lawrence, and 314-312-6396 in St. Louis.