How Long Will It Take to Get My Wedding Dress During the COVID-19 Pandemic?
Determining the perfect window of time for wedding dress shopping is a bit of an art. On the one hand, you don't want to go too early. If you do, you are more likely to fall in love with a dress you can't afford if you haven't already set a budget, you need to have an idea of your wedding and bridal gown style, and your size could fluctuate between the time you place the order and your wedding date if you are way too early. However, most dresses are custom ordered, and they take time to come into the shop. Many brides have a hard time navigating this delicate window, and the COVID-19 pandemic has only made things harder.
How Long Does It Take to Get a Wedding Dress?
While it traditionally takes between five and eight months for a dress to come in from the date of your purchase, things have changed due to the COVID-19 pandemic. Now, we are seeing it take more like eight to 14 months for dresses to come in, which means that some brides could have to wait more than a year for their wedding gown to arrive.
Keep reading below to find out what we're doing to help get dresses sooner!
Why Does It Take So Long for a Wedding Dress to Arrive?
Even under normal circumstances, many brides are surprised to learn that wedding dresses can take months to arrive. Now that the coronavirus has affected a large part of the world, brides might not realize that the timeline could be further extended.
Typically, dresses take a while to come in because they are special ordered in the correct size for you. With all of the intricacies of a wedding gown, it is no surprise that each dress can take months to create. Keep in mind that beading, sequins, and appliqués take a lot of time to attach to a dress.
Each designer will also need to produce dresses for brides who put in orders before you or need their dress before you need yours. Considering this, designers try to ensure that they leave enough time to get all the dresses done in time with their available workforce.
Shipping also takes a lot of time because dresses come from all over the world. Since dresses have to be carefully transported thousands of miles, it is bound to take extra time. Dresses can also get caught up in customs, which adds to the delivery time.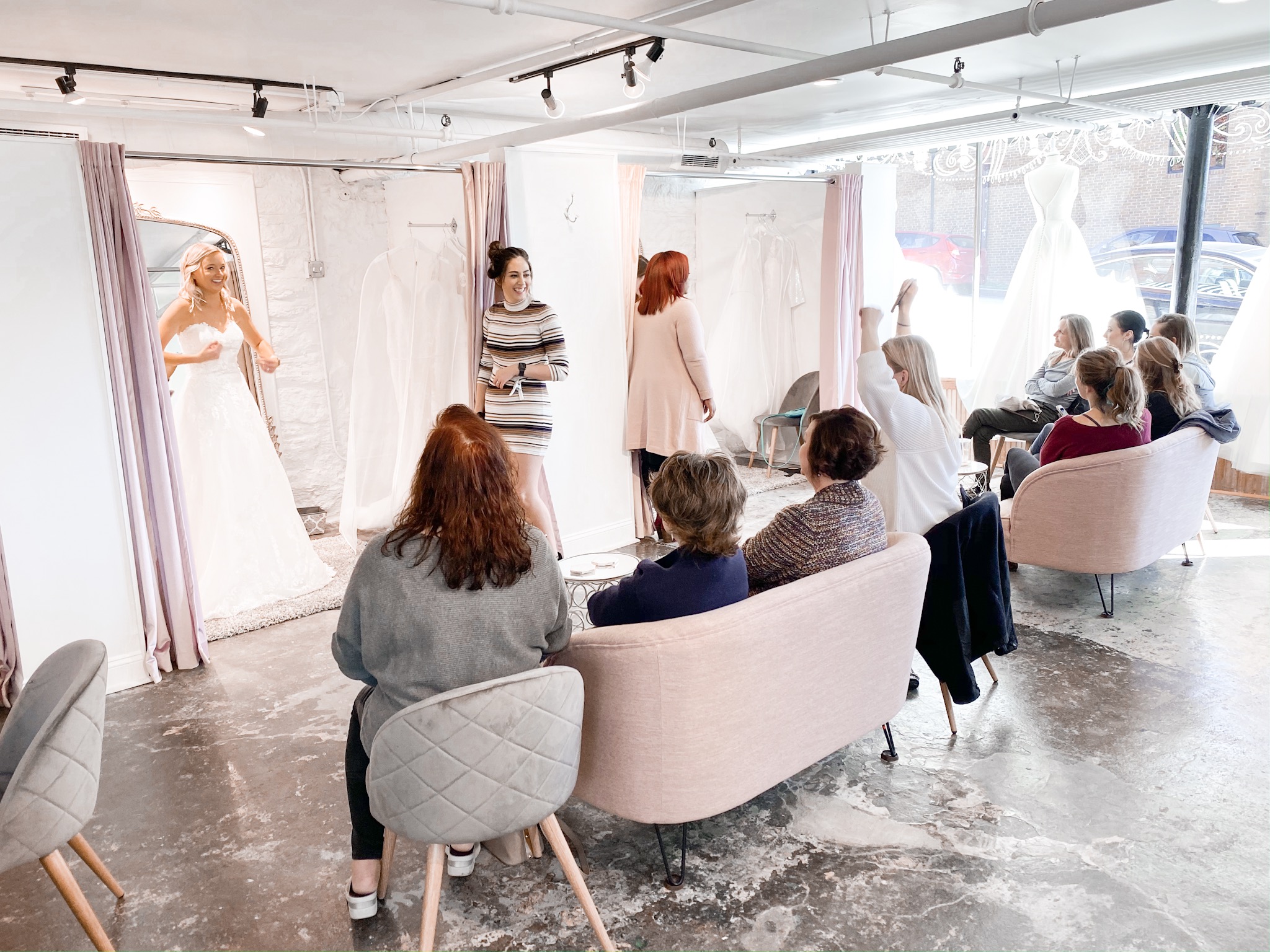 How Is COVID-19 Affecting Dress Arrival Times?
Now, dresses are taking even longer to arrive, and brides who are already anxiously awaiting their wedding day have something else to worry about. COVID-19 is causing delays for a few different reasons.
First, factories in some of the harder-hit countries had to shut down for weeks as employees either recovered at home or stayed in to avoid catching the virus. In many parts of the world, mandatory factory closures have caused delays in wedding dress production, meaning that companies are likely already behind on existing orders. New orders are being pushed further out to ensure that the brides with the earliest wedding dates are taken care of first.
What to Do If Your Dress is Delayed Due to COVID-19
Contact your bridal shop. If you purchased your gown with us, we will see what we can do to help you get your dress on time.
Research the wedding dress designer's policies. In some cases, you might be able to place a rush on the dress to get it delivered sooner. Some designers might also refund your money.
Consider postponing the wedding. Unfortunately, brides across the country are postponing their weddings due to the pandemic, and if the dress of your dreams won't arrive in time, that might be the best option for you.
Shipping problems can also contribute to the delayed arrival times of wedding dresses for the next few months. The first issue here is that logistical breakdowns are occurring as people are quarantining. Additionally, during the coronavirus pandemic, many consumers have switched to online shopping. The increase in shipped goods across the U.S. could lead to slight delays in the domestic shipping process. International shipping could lead to more extensive delays, especially in countries where people are still being asked to quarantine at home.
How Can I Ensure That My Dress Will Arrive on Time?
Many bridal shops have been or are still closed across the United States. For brides who haven't even had the chance to go shopping over the last few months, this can be a real cause for concern. However, Savvy Bridal in Kansas City has reopened, and we are here to help brides who need dresses for their big days.
To learn more about how we are keeping our brides and employees safe, click here.
If you are in an area where bridal shops are still closed, you might need to start with some online browsing. Finding a few dresses that you like can help you get through your bridal shop appointments a little more quickly. If stores are still closed as your wedding date gets within ten months or so, you might have to consider alternative options.
The best piece of advice we can give you right now is to figure out your budget and start dress shopping as soon as possible. While we usually wouldn't recommend that you purchase a dress too early, with the changes that COVID-19 has caused in dress arrival times, we are encouraging 2021 brides to start shopping now.
For 2020 brides, just because arrival times are taking longer than usual doesn't mean that you can't still get a dress in time for your wedding.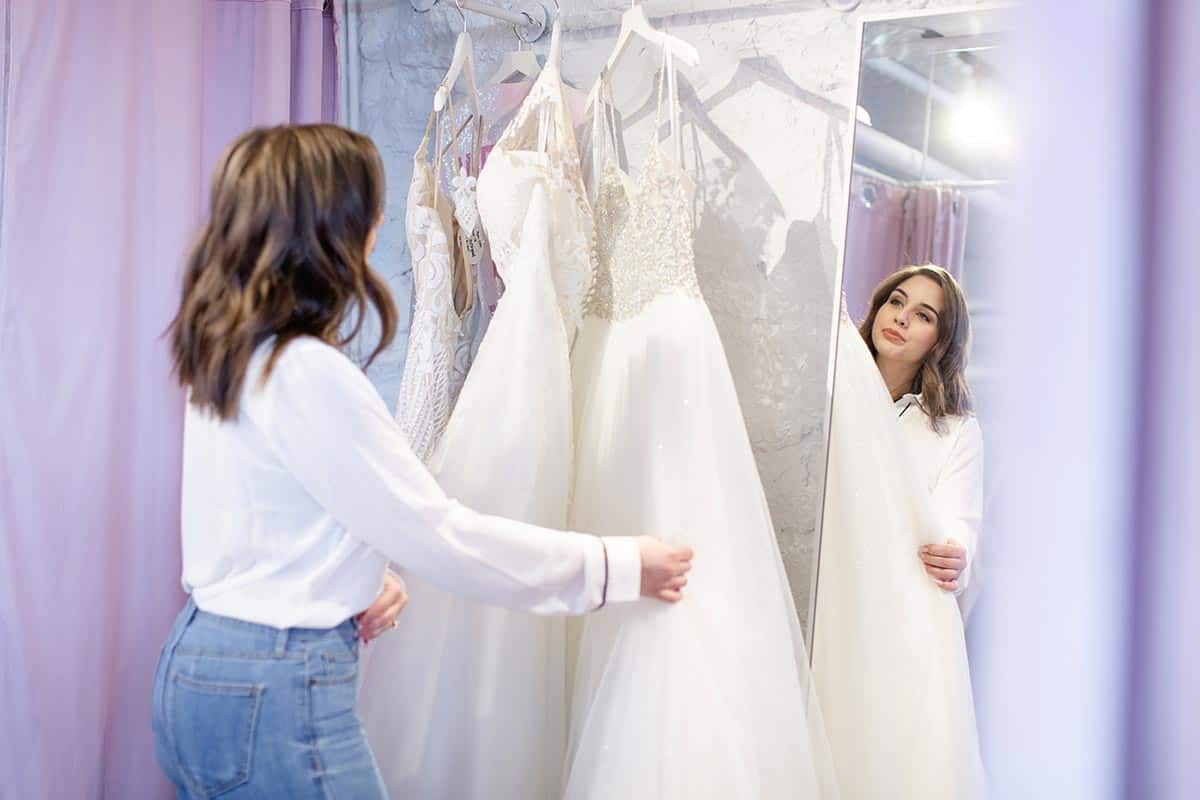 How Do I Get a Dress If My Wedding Is Only a Few Months Away?
If you are a bride that needs a dress in a hurry, there are a few things that you can do. The first thing you can try is to rush your order. In some cases, designers will accept rush orders, and these dresses are prioritized. When you go dress shopping, the bridal consultant asks your wedding date to ensure that you can get your dress on time, and wedding dress manufacturers generally prioritize gowns based on wedding dates as well. Ask your bridal consultant at the start of your appointment if rush orders are an option at that time.
The second is to buy a dress off the rack or ask to buy the sample. In some cases, we might be able to hook you up with our sample or help you find a place where you can purchase theirs. If another bridal shop in your area carries dresses from the same designer, you might luck out.
Additionally, during the pandemic, many designers took the time to create more of their best-selling dresses to help bridal shops increase their inventory for off-the-rack purchases. We have taken advantage of this and purchased a stock of extra dresses to help out our brides. This includes purchasing dresses in both smaller and larger sizes than our typical samples run to allow us to help as many brides as possible.
At this point, we are trying to keep as much inventory in the store as possible to help brides who are afraid that shipping times will make ordering a dress an impossibility.
At Savvy Bridal, when you book an appointment with us, we ask questions regarding your bridal style. We can then see if there are any dresses that fit your description in our inventory that are close to your size that could be purchased and brought home the same day. If that means that you leave the shop in our sample, we will reorder a sample dress so that you can leave with a dress immediately.
Keep in mind, buying a sample is only helpful if it is close to the correct size. It is important to note that a dress that is too small is not going to be an option. A dress that is way too big likely can't be altered in a way that looks as nice as the original dress. Truly, a dress can only be two sizes too big and still work for a bride.
Bridal Sizing Tip
It is important to remember that bridal sizing isn't the same as street sizing. Instead of following U.S. size guidelines, bridal designers use European sizing. So, if you are a street size 6, you should expect to walk out with a wedding dress in either a size 8 or 10.
What Should I Do If I Postponed My Wedding?
Couples who have chosen to postpone their nuptials likely have questions as well. For example, what if you are a bride who already has a dress on the way? You are probably wondering if your bridal shop is willing to hold the dress for you until closer to your wedding date. You might have questions about when you should have alterations done or worry that the dress might not fit after postponing the wedding for a few months. At Savvy Bridal, we ask our brides to come to us with any questions that they may have about the status of their wedding dresses, even if they have postponed their wedding.
Contact Savvy Bridal today to start shopping for the dress of your dreams. Our Kansas City bridal shop is back open during our regular business hours to serve brides in our area. You can schedule an appointment online or by phone at 816-859-5699.