Meet #SavvyBride, Rebecka! She and her husband Michael were married in the fall of 2019! This bride and groom enjoyed an outdoor wedding on a beautiful fall day and then celebrated at the historic Town Square event space in Paola, KS. The "Town Square" event space is a beautifully restored two-story building located on the Historic Park Square in the heart of Paola, Kansas. The venue has instant warmth and charm with gorgeous hardwood floors, exposed brick walls, and tin-stamped ceilings that take you back through history.
Let's take a look at this #SavvyBride's love story, in her own words!
The Proposal
"All through college, we had always talked about trying to travel to every national park as part of our bucket list. I was just coming off of a work deadline and Michael told me he had a little getaway planned…
Little did I know, he had planned a road trip through several national parks over the next week. On day five while hiking through Grand Teton National Park, after I had convinced myself it was most likely not a road trip to propose, he proposed!
After six amazing years of dating, I was finally his fiancé! It was so perfect! Just the two of us alone, standing along the river at the base of the mountains. Taking in all of the emotions and spending time with just the two of us knowing." – #SavvyBride Rebecka J. 
You've got the ring. Next stop, Savvy.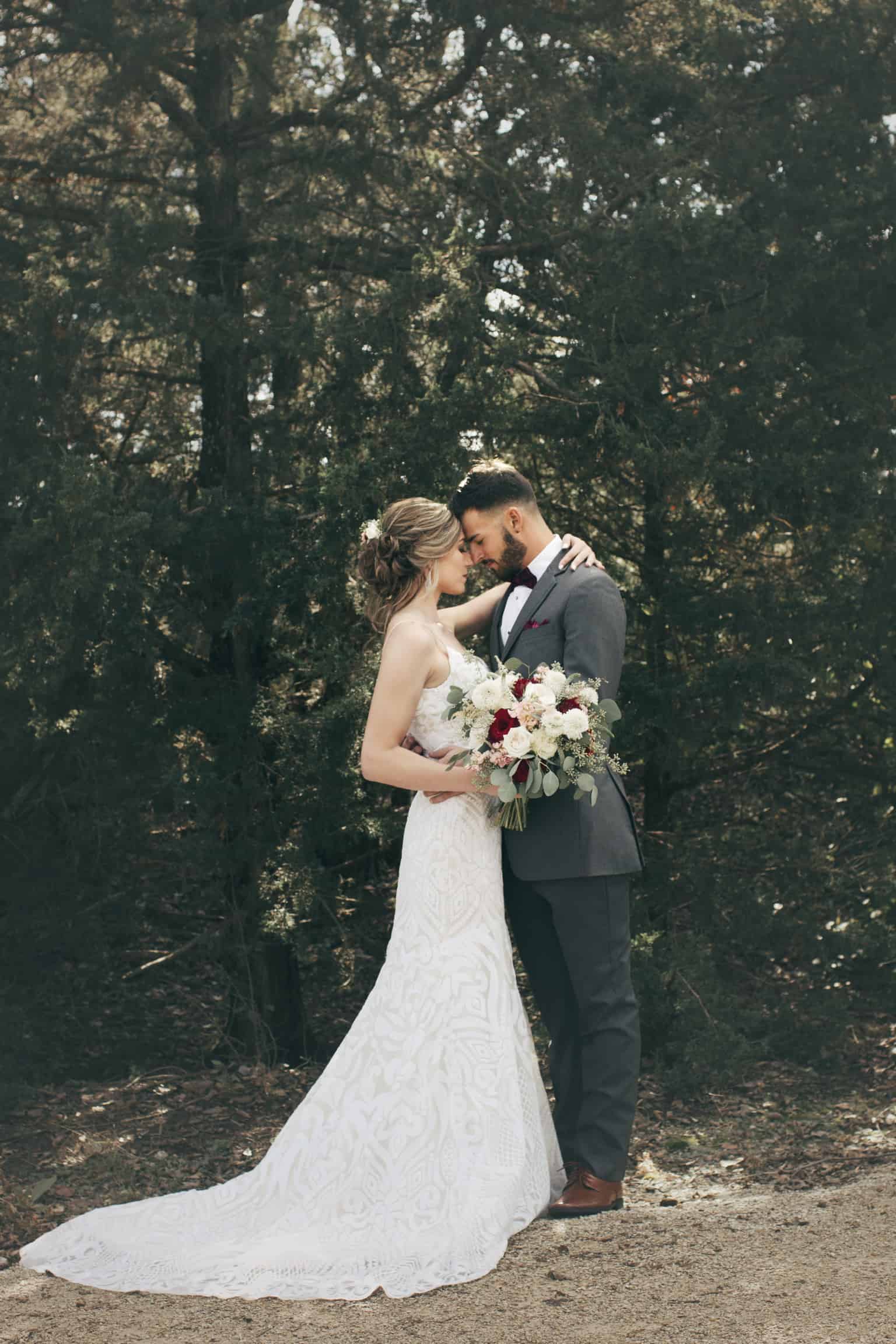 The Dress
Here at Savvy Bridal, we believe that each wedding dress shopping experience should be personalized and uniquely tailored to the needs of each and every bride. Our boutique is rated top bridal boutique in Kansas City by brides. Learn more about who you should bring with you when wedding dress shopping here.
Here's what #SavvyBride Rebecka had to say about her wedding dress shopping experience, "I didn't know what I was looking for so I went to a different bridal store with only my MOH to figure out what style I liked. I really thought I wanted a mermaid/trumpet style with sleeves. Once I tried several on, I knew I was loving the sheath style. I made my appointment with Savvy and couldn't wait to find the one.
The day before my appointment, they posted a photo of a new dress that has just arrived and I knew it was the one. I sent a photo to my MOH and she agreed! When everyone arrived to help me "choose" my dress, I did try on a few other styles just to be sure…" 
"I put on THE dress and fell in love. I could picture myself marrying Michael in it and I knew it was perfect." – #SavvyBride Rebecka J.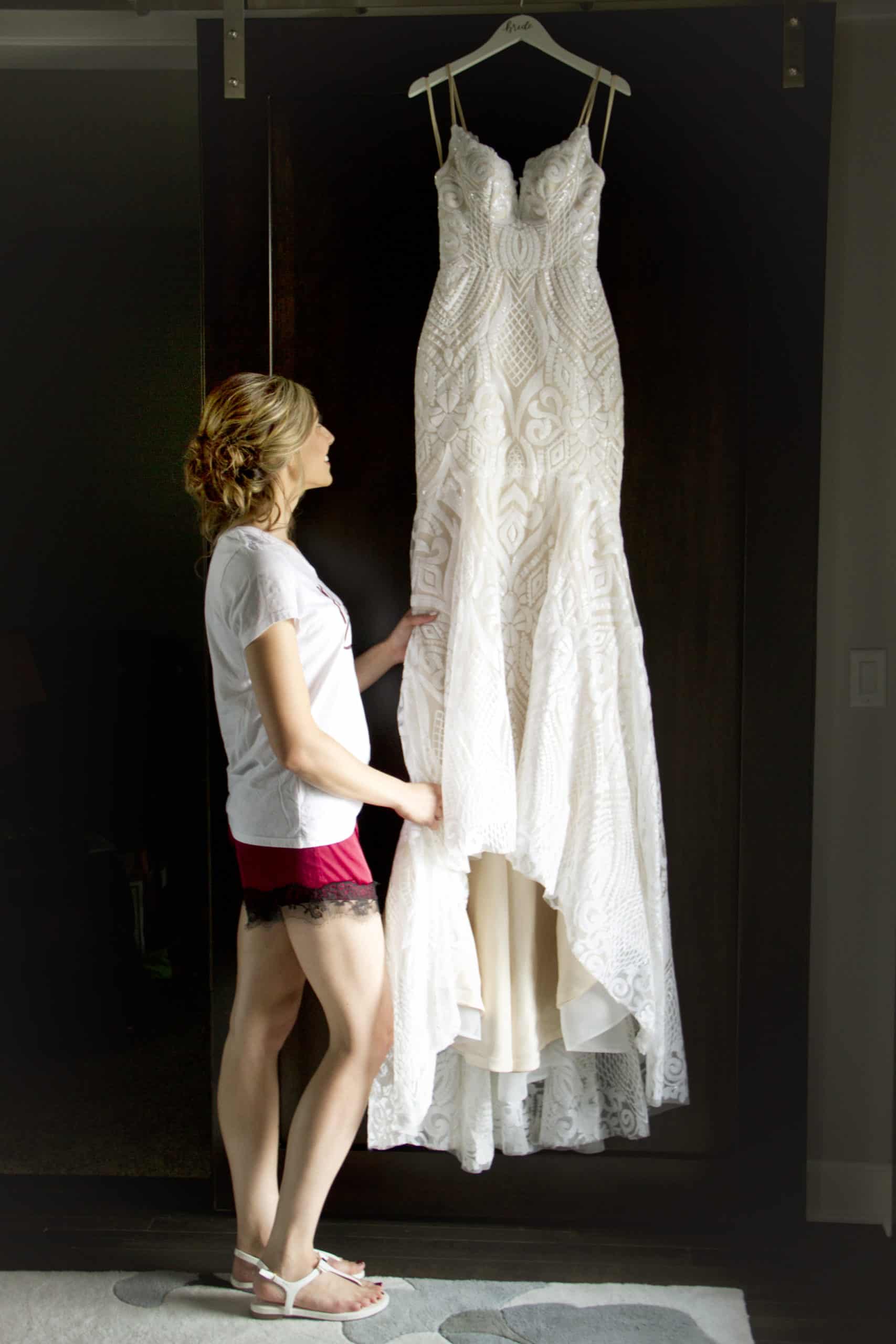 The Special Day
Rebecka and Michael's colors were charcoal and burgundy with rose gold accents. Their theme was modern with lots of geometric metal accents. This #SavvyBride and her hubby did all of the planning so that their day was exactly how they envisioned it to be. It's not unlike this couple to do something without consulting anyone of their thoughts. The wedding decor was even a surprise to the couple's parents when the crew came in to decorate the venue! The most "Rebecka + Michael" part of the wedding was the fact that they couldn't narrow down cake flavors…so they went ahead and had 8 different cakes and a pie!
"Our first look was on a bridge my dad had helped repair when I was growing up. That moment was so special…It was so peaceful and romantic to take a moment for just the two of us, with only the videographer and photographer watching. We were able to be emotional and present with each other. I am forever thankful we did a first look." – #SavvyBride Rebecka J. 
Rebecka + Michael // October 19, 2019 // Osawatomie, KS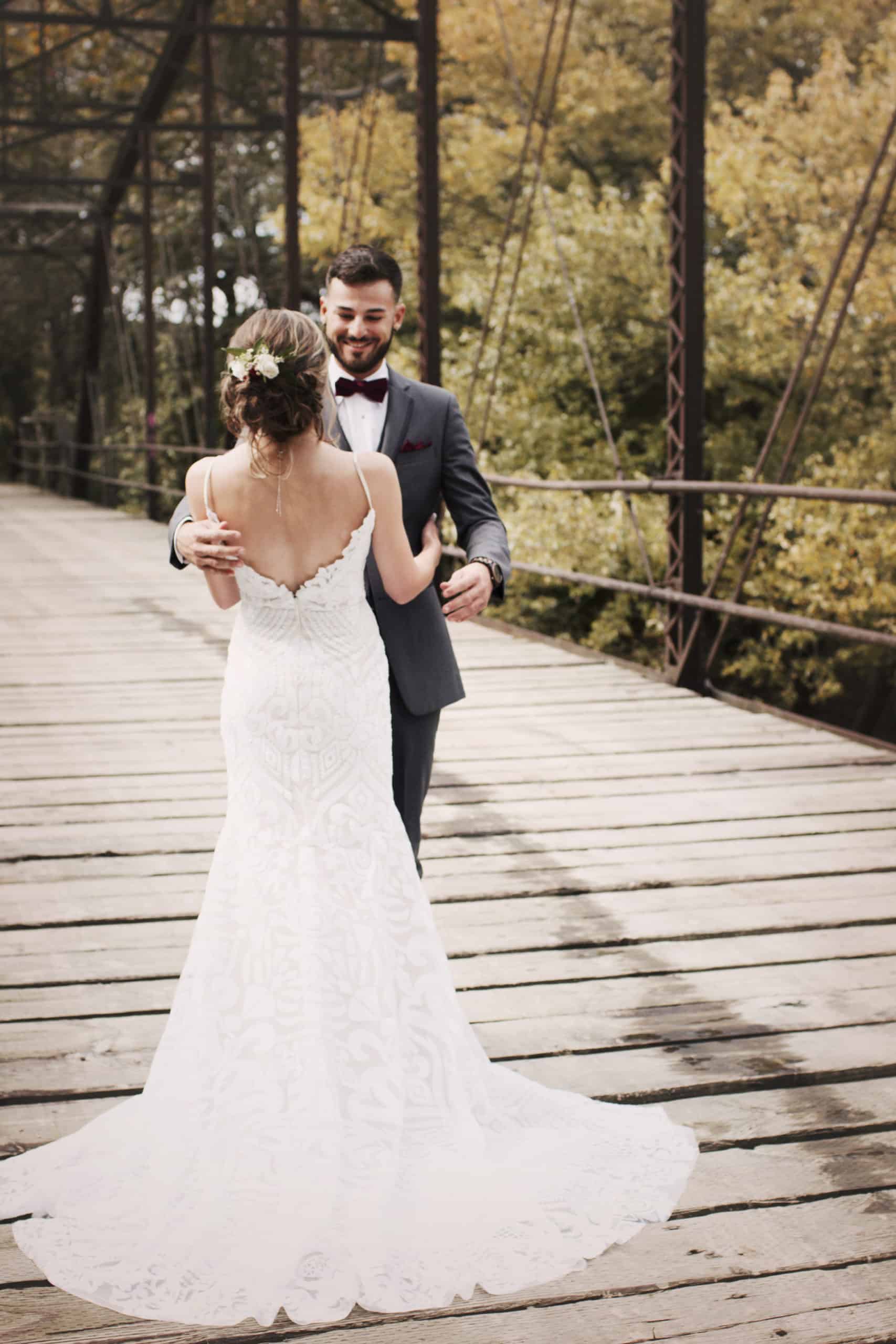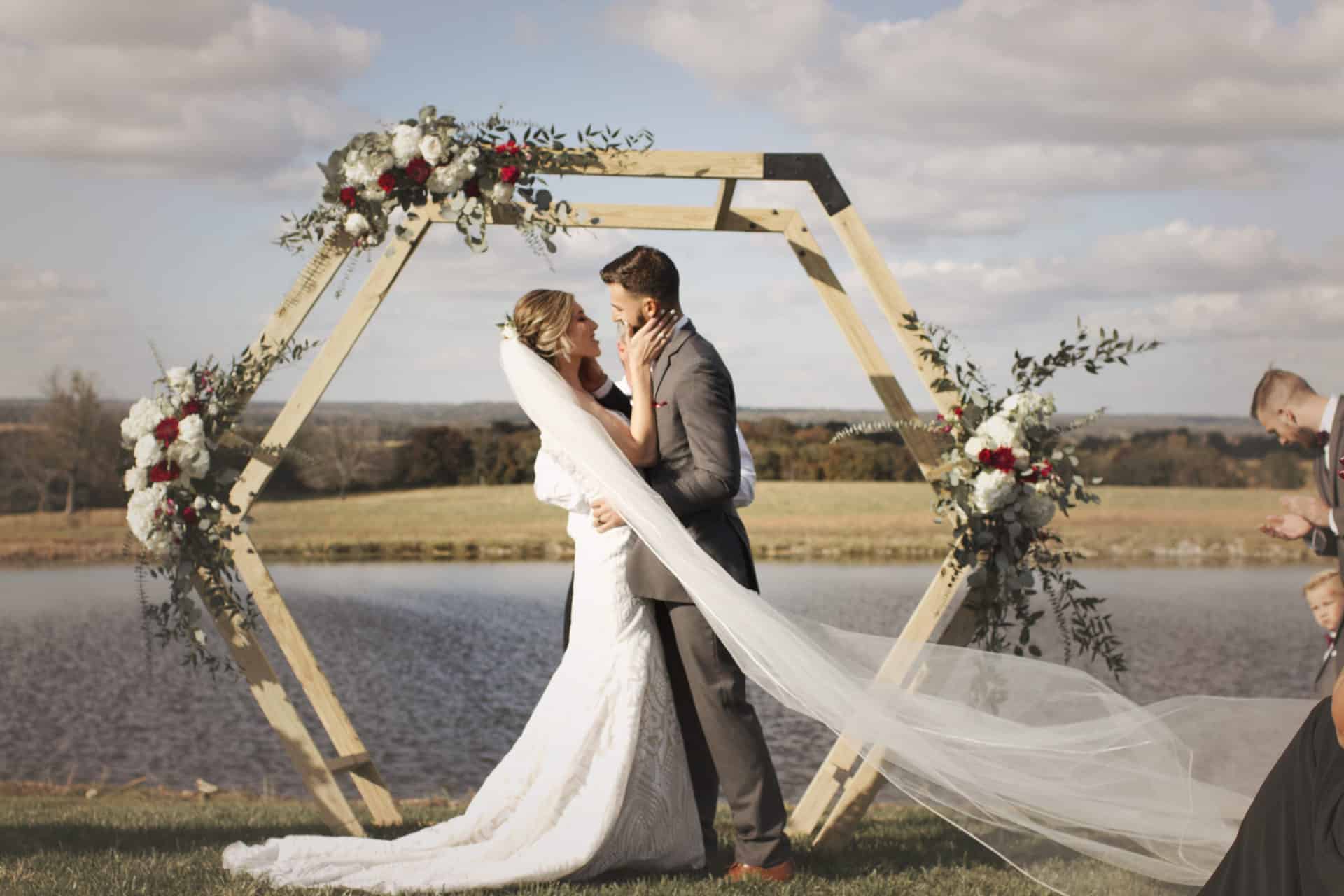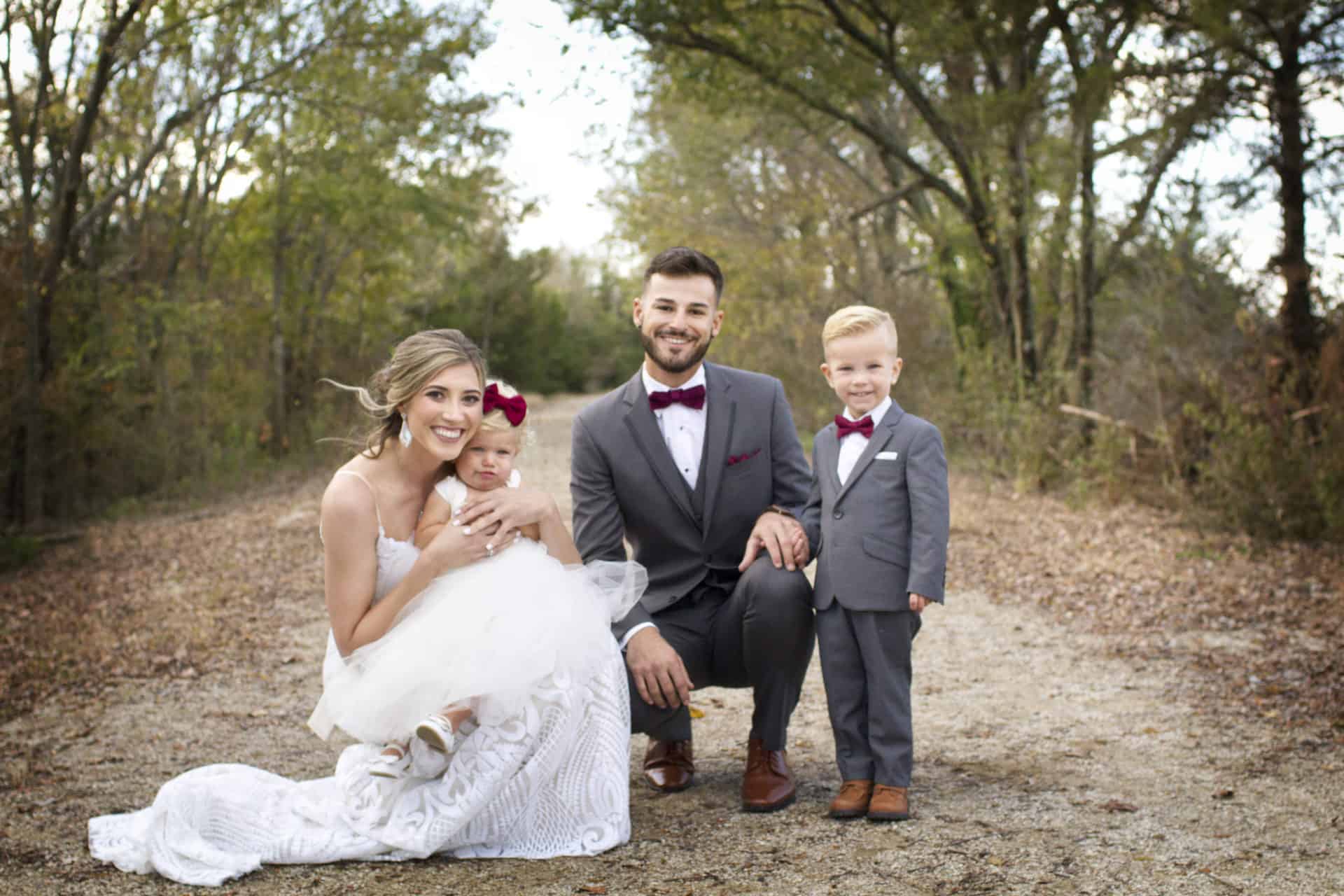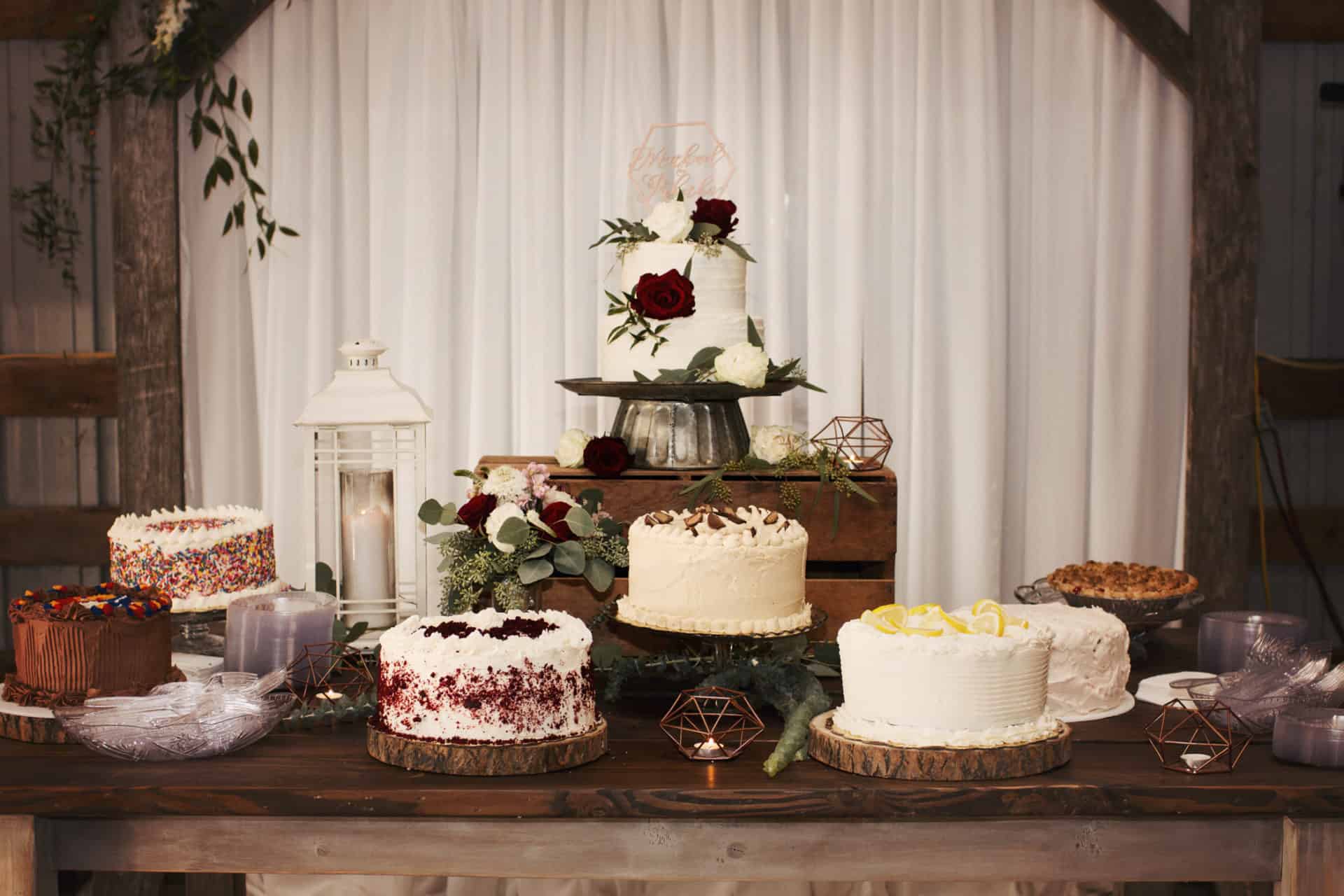 Look at that gorgeous dress…and sunset!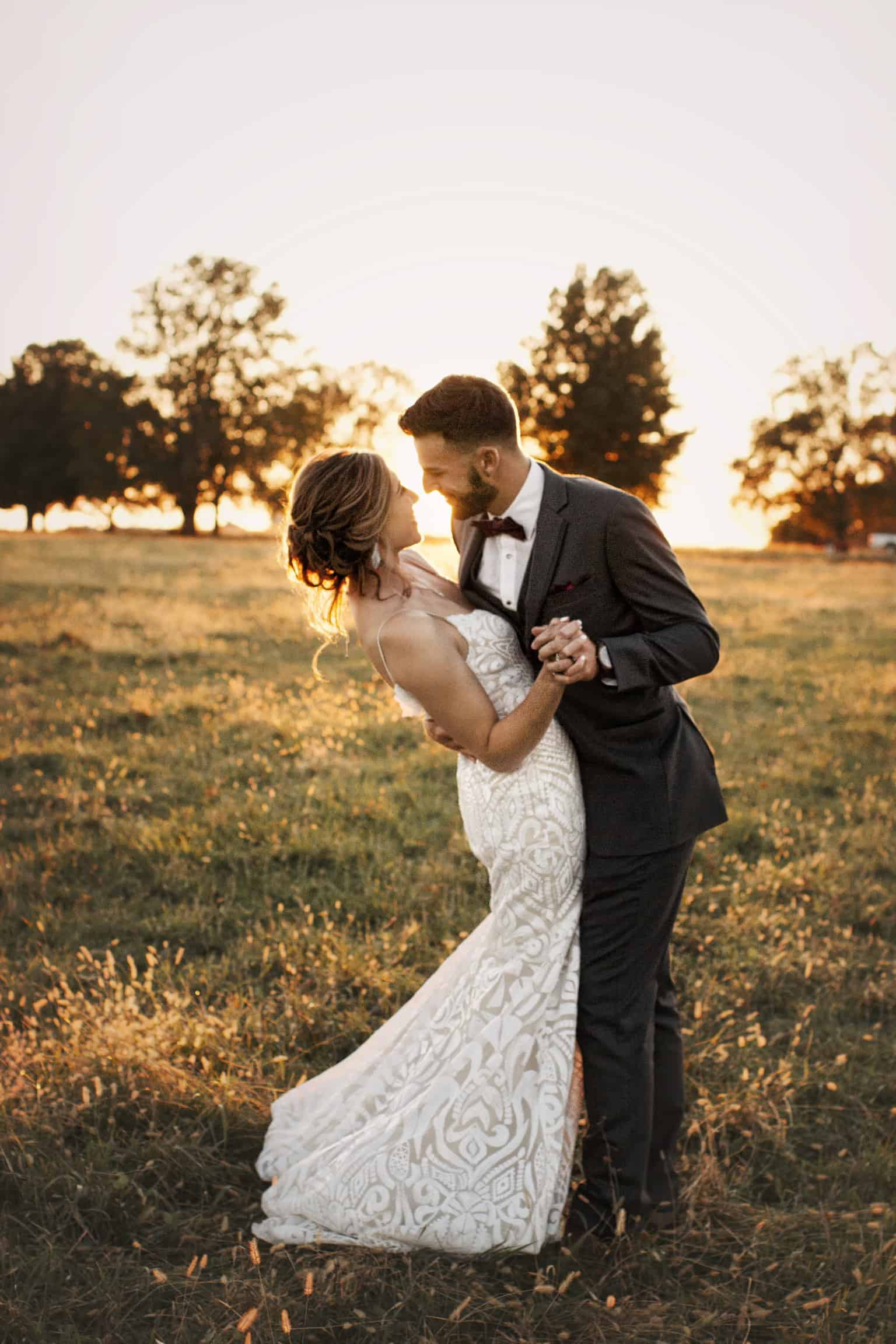 The Vendors
Bridal Gown – Savvy Bridal Boutique
Photography – Jenn's Portrait Photography
Caterer, Cake & Wedding Decor – Town Square Events
Videography – Moontage Films
We are seeking real #SavvyBrides to feature on our Instagram and blog! If you recently purchased your gown at Savvy and have your wedding photos, we'd love to feature you! Send your love story and 8-10 of your favorite wedding photos for a chance to be featured. We can't wait to hear from you!
Share your Love Story here.
Start your wedding dress shopping experience with Savvy Bridal today by scheduling an appointment online.
Learn more about our Curated Dress Collection here.