What To Expect at a Wedding Dress Fitting
From the beautiful flowers to the delicious cake, there are so many different highlights of your wedding day. However, one of the most significant elements that can make your wedding stand out is the one thing every girl has dreamed about since they were young – the wedding dress.
With so many different styles and designers to choose from, the process can seem overwhelming. However, once you find that perfect look, it's only a matter of time before you walk down the aisle wearing it.
Before your big entrance, though, you need to ensure that the dress of your choice is perfectly fitted to your body and comfortable to move around and dance in. To make this happen, you'll need to schedule multiple fittings before the big day, ensuring your dress will be sewn to your specific measurements and standards.
So, what should you expect at a wedding dress fitting? We'll give you all the information you need to make sure these necessary appointments go off without a hitch and end with you getting happily hitched.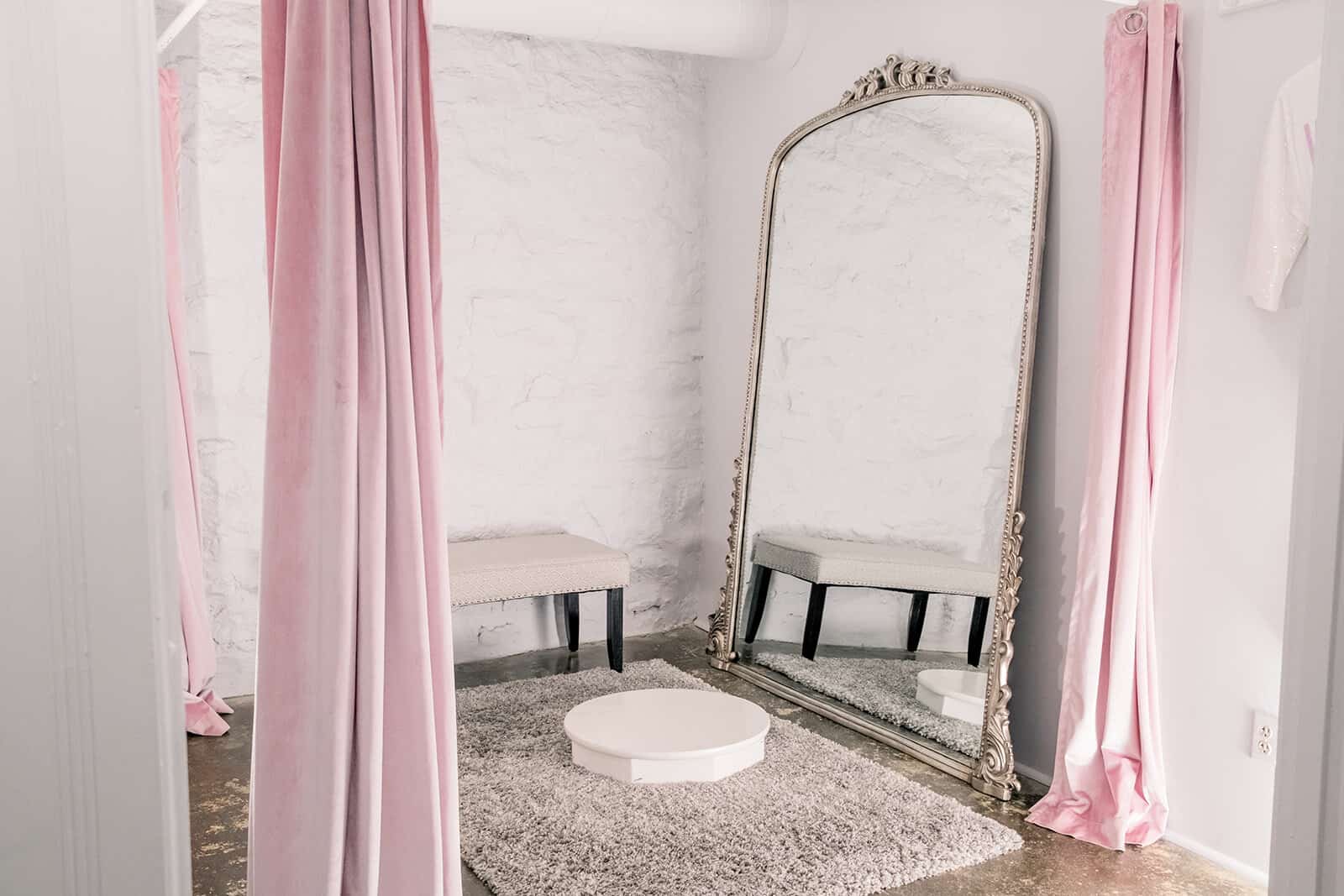 What Happens at Your First Wedding Dress Fitting?
The first fitting is the most crucial in the process of creating your perfect wedding dress. For ideal results, it's best to plan this appointment about two or three months before your wedding, so any necessary alterations can be made, and you still have a comfortable amount of time before the big day.
With all of the chaos and moving parts of this journey, you're probably wondering what to bring to your first wedding dress fitting. You do not want to come empty-handed to this initial appointment. During this time, it's best to come prepared with the following:
Trustworthy friends and family members to provide honest advice and insight.

All

accessories

and shoes you will be wearing.

Undergarments that fit well with your dress.
When you arrive at your fitting, it's best to wear clothes that you can easily change out of. Don't forget to wear appropriate undergarments and bring the shoes you plan to walk down the aisle in. During this fitting, the stylists will make sure everything is properly sewn, attached, and at the proper length. They'll pin any parts that need to be altered and tell you their plan going forward.
What Happens at Your Second Wedding Dress Fitting?
About five to six weeks before your wedding day, initial alterations should be completed, and your dress will be ready for you to try on again. Attention to detail is critical at this point in the journey so you can recognize anything that isn't up to your standards or is still causing problems. To make this process run more smoothly, it's best to come prepared with a list of specific things that need to be checked, such as certain alterations that were made.
For consistency's sake, you will want to be accompanied by the same people that helped you at your first fitting so you can have reliable advice and sets of eyes. Additionally, you will also want to bring and wear the same undergarments, shoes, and accessories since the dress was made to accommodate these features.
At this stage, your dress should fit like a glove. Take the time to make sure any concerns from the first fitting have been taken care of, and don't hesitate to mention any new issues you notice. It's also a great moment to give the dress a whirl by dancing and moving around – you want it to be both gorgeous and comfortable in action.
What Happens at Your Final Wedding Dress Fitting?
At your final wedding dress fitting, you want to ensure that everything is perfect. Having this appointment as close to the wedding day is ideal so there is little room for damage but enough just in case anything happens.
Just like the last two appointments, you will want to bring the accessories, shoes, and undergarments you will be wearing so you can see the final look before the big day. You will also want to bring your trusted loved ones, such as your mom, maid of honor, bridesmaids, or others who will be helping you get ready before the wedding. Now is a good time to figure out what order you will be putting things on and how that process will play out.
Once you have a plan for getting ready, you will need to make arrangements for transportation of your dress from the boutique shop. Whether that means you are bringing it yourself or one of your trusted confidants, make sure there is a clear and precise plan in place to avoid damage and wrinkles.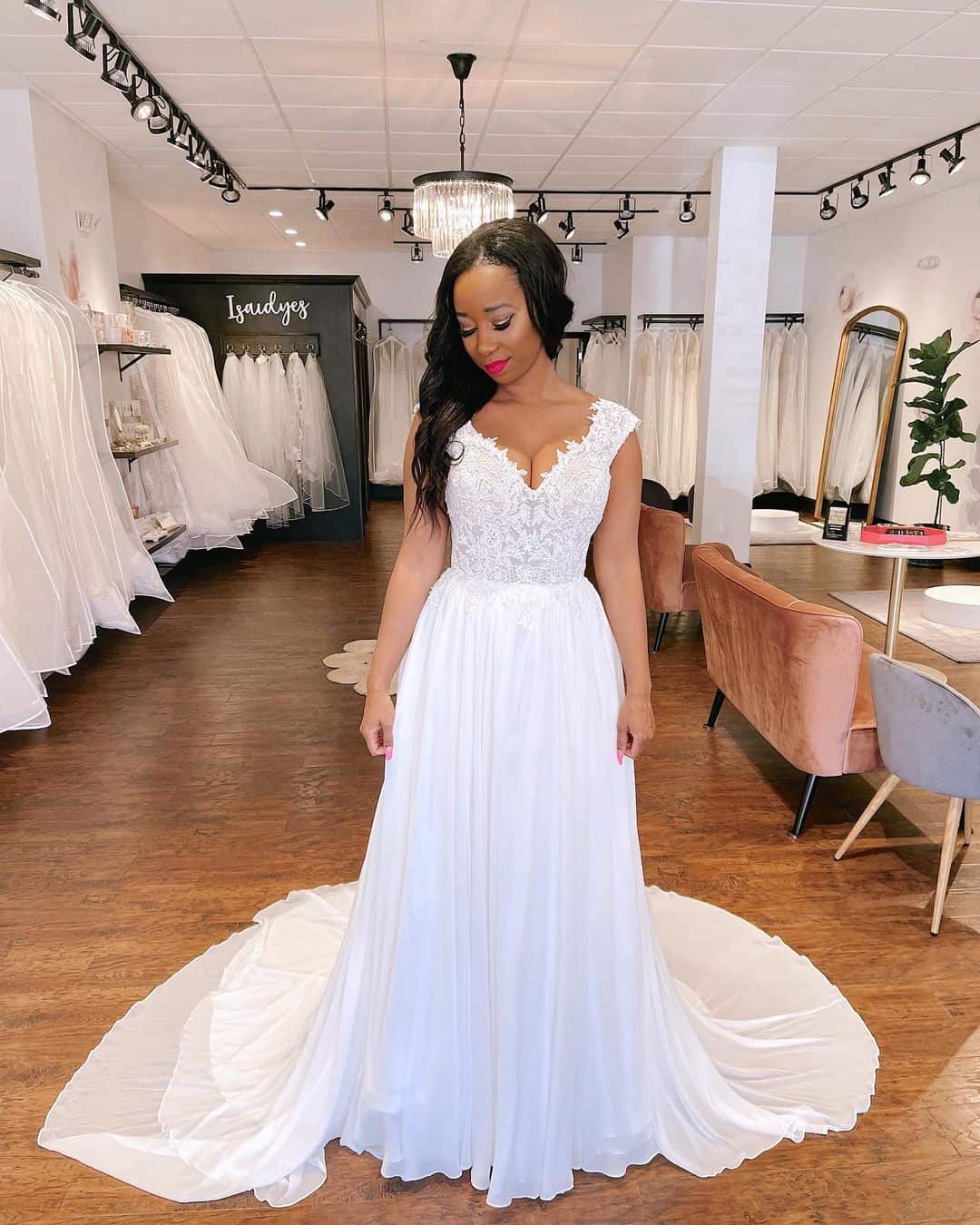 Questions to Ask at Your Wedding Dress Fitting
No matter what stage of your dress fittings you're at, you probably have a ton of questions for your stylist, seamstress, and other key people involved in creating the perfect look. To help you get the answers that you need, here are some frequently asked questions you may find beneficial to ask at your various fittings:
What to Ask at Your First Wedding Dress Fitting
Are there any adjustments needed to achieve the desired fit?

Can you explain the alterations that will be made?

How will the dress length be determined?

Should I consider any specific undergarments for the best fit?

Do you recommend any specific jewelry or accessories that would complement the dress?

What's the timeline for completing the alterations?

Are there any concerns about the dress's structure that I should know?

Can we discuss potential changes to make the dress uniquely mine?
What to Ask at Your Second Wedding Dress Fitting
Are there any new adjustments needed after the first fitting?

Can you show me how to bustle the dress?

Are there any tips for sitting and moving gracefully in the gown?

Is there anything else I should know to ensure a flawless look on the big day?
What to Ask at Your Final Wedding Dress Fitting
How should I store and transport the dress leading up to the wedding?

Can you demonstrate how to put on the dress without damaging it or the alterations?

Are there any last-minute touch-ups that will be done closer to the wedding?

What should I do if I encounter any issues with the dress on the wedding day?

Can we review the entire look, including accessories and veil?

Can I move and dance around so I can ensure comfort?

Are there any specific care instructions for the dress after the wedding?
Our stylists at Savvy Bridal in Kansas City and St. Louis are here to help you create the perfect look for your wedding day. While we do not offer alteration appointments ourselves, we can provide you with trusted insight and advice during your fitting and recommend seamstresses for any alterations. We partner with local seamstresses, so when you do need alterations, you can trust that they will be handled properly.
Contact us to schedule an appointment with our team, and let's start this exciting journey together.