6 Tips for Choosing a Beach Wedding Dress
Many brides-to-be dream of having a destination wedding where they can say "I do!" with the gentle sound of crashing waves, the soft sand beneath their feet, and the beautiful ocean backdrop. The whole scene is quite idyllic and can create a memorable wedding celebration for all parties involved.
Of course, choosing to have a beach wedding also means finding a gown that takes all aspects of the setting into consideration. Picking a wedding dress for a beach wedding can come with some stipulations, so it's important to consider all factors of both the dress and the ceremony to ensure you're picking the best beach wedding dress that's both functional and flattering.
1. Style and Formality
While many brides may opt for a simpler gown in the event of a beach wedding, this doesn't mean that you must adhere to the same rule. Above all else, it's best to choose a gown that not only offers some convenience but is also flattering to your body type. For some brides, this may be a gown with more complex detailing.
When selecting a wedding dress for a beach wedding, consider opting for effortless silhouettes that reflect the laid-back ambiance of the beach. A-line, sheath, and empire waist dresses are great options, as they offer a relaxed and graceful look.
Additionally, the style of your beach wedding gown will likely also be influenced by the level of formality you are expecting on your wedding day. Despite the beach seeming relatively casual as a wedding setting, it can easily be formal and intimate if the bride and groom decide they want it to be.
However, there may still be a few limitations when it comes to formality. You may want to consider avoiding heavier wedding dresses, such as ball gowns or mermaid-style dresses, as they may be more difficult to maneuver on sand or in a breezy beach environment. A heavy wedding dress may also leave you sweaty and hot if the temperatures are high.
2. Fabric
Beach weddings often take place in warmer climates, so it's best to opt for more lightweight and breathable fabrics when choosing a beach wedding gown. Materials like chiffon, organza, and silk are excellent options as they allow air to circulate, preventing you from feeling too hot or sweaty. These fabrics also have a beautiful flowy quality that will complement any beach setting.
3. Length
Keeping the length of your wedding dress in mind when having a beach wedding is essential. Floor-length gowns can be stunning, but they may pose challenges when walking on sandy terrain. Instead, consider choosing a dress with a shorter hemline, such as tea length or even a hi-lo style, to prevent it from dragging in the sand.
Alternatively, a gown with a detachable train can give you the best of both worlds–a longer train for the ceremony and a shorter length for ease of movement during the reception.
For some brides, a full-length gown may be the dress of their dreams. If you opt for a gown that touches the ground, consider having someone hold up the end of your dress as you walk down the aisle, or invest in a wedding dress cleaning service after your big day is over.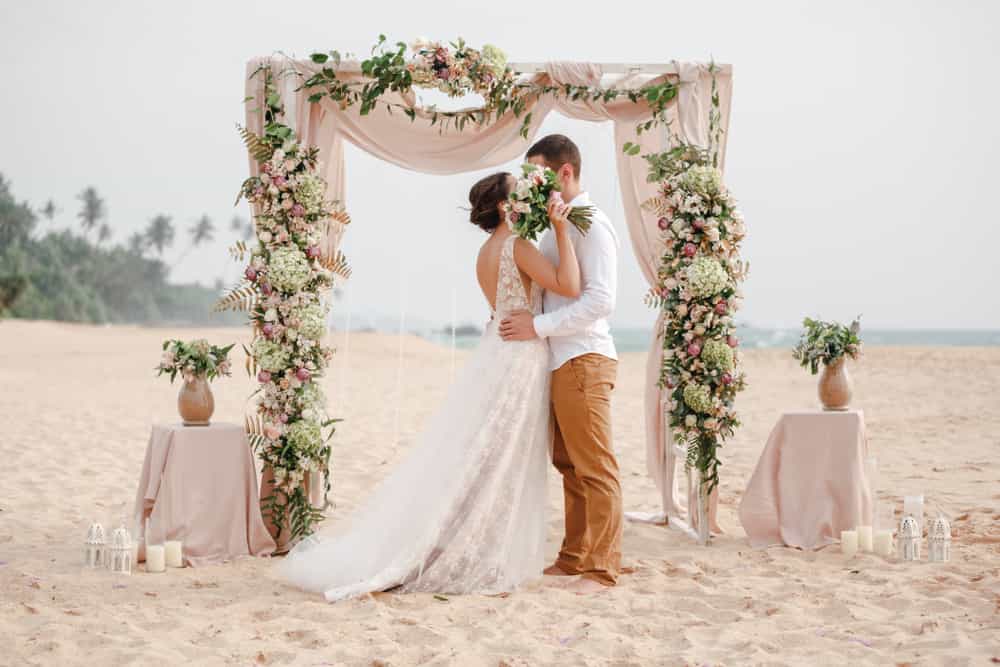 4. Transportation Issues
Unless you live near the ocean, you'll likely be traveling to and from your beach wedding. This means that you'll need to be able to safely transport your wedding gown to where the ceremony will take place.
If you're flying via airplane to your destination, choosing a heavier wedding dress can pose some issues. Dresses with an abundance of skirting or a long train will occupy more space in your suitcase, or may require an extra fee to transport from one place to another if you bring it on the plane with you in a separate bag.
A lighter dress is more compact than other gowns, making it easier to transport to and from your location, as well as minimizing the risk of your dress wrinkling.
5. Color and Detailing
Incorporating specific beach-inspired colors or details into your wedding dress can add a whimsical touch, giving the gown more personality. Consider dresses with delicate lace patterns reminiscent of seashells or intricate embroidery inspired by marine life.
You could also choose a dress that features subtle nautical elements, like a rope belt or seashell embellishments. These unique touches can make your dress feel more unique and allow you to really lean into the beach-wedding theme.
If you're a bride who's looking for something more unconventional, a colored wedding dress can be a great way to stand out from the sandy beach around you. Consider blue or green tones that complement the ocean waters, or choose a statement color to appear more eccentric or sophisticated.  
6. Bonus: Choose the Right Shoes!
Wedding dresses for a beach wedding are not the only factor to consider when choosing your bridal style. You'll also want to consider the type of wedding shoes you plan to wear, as many common bridal shoes may not be as comfortable or functional when getting married on the beach.
Stiletto heels or shoes that are especially delicate are not the most practical options for beach-wedding brides. Additionally, you may want to avoid opting for an overly expensive shoe option, as your footwear is bound to be covered or filled with sand by the end of the night.
Instead, embrace a more suitable footwear choice, such as sandals or flats. You may even decide to go barefoot. If you still want a bit of height, consider wedges, as they can offer some stability and won't sink into the sand.
Above all else, be sure to practice walking on the beach in your chosen footwear before your big day to ensure comfort and confidence.
Finding a wedding dress for a beach wedding shouldn't feel restrictive; in fact, beach brides have just as many options for their wedding dress as other brides do! If you're ready to look for your dream beach wedding gown, schedule your bridal appointment with Savvy Bridal at either our Kansas City or St. Louis locations.