Gown Cleaning and Preservation for COVID-19 Postponed Weddings
Imagine the excitement of your wedding dress finally arriving at your bridal salon, only to have to postpone your wedding day. COVID-19 has thrown a wrench in many couples' wedding plans. Thousands of weddings have been canceled or postponed; for brides who have postponed their nuptials, a primary concern is keeping their dress in tip-top shape.
One sure way to keep your wedding dress looking pristine until the big day arrives is to have it cleaned and preserved. This process ensures that there is no damage done to the dress before you walk down the aisle—and can protect it again once your wedding day has passed.
How Does Wedding Gown Cleaning Work?
Wedding dress cleaning starts with a wet cleaning process that involves the use of safe and effective solvents and gentle brushes and sponges. During the wet cleaning process, the cleaners remove any contaminants that could cause yellowing in the fabric over time. Wet cleaning also helps remove both visible and invisible stains, such as perfume, oils, sweat, and more.
The second stage of wedding dress cleaning is focused on removing stains from the gown. Unfortunately, very few dresses make it through the wedding day without at least one stain. Whether that stain is lipstick, wine, or dirt, cleaners will use special spot-cleaning solvents to remove stains from the fabric of the wedding dress.
The final stage of the cleaning process involves pressing out the dress. The pressing process removes what could otherwise turn into permanent folds in the dress. Dresses can be machine or hand-pressed.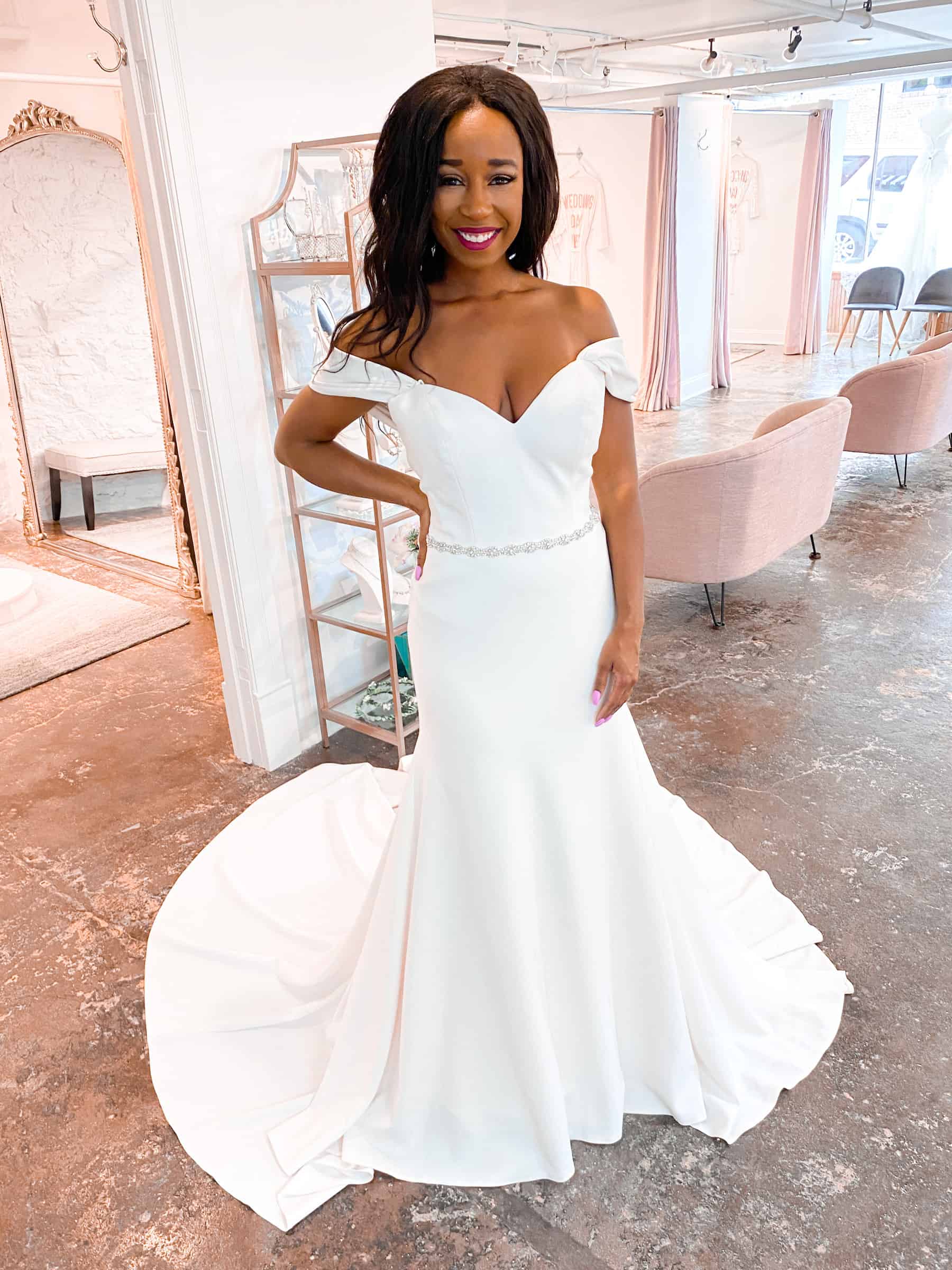 How Does Wedding Gown Preservation Work?
The preservation process involves everything we just covered in the cleaning process. However, the preservation process is more extensive. When you decide to have your dress preserved, a protectant is used to help your wedding dress look pristine through decades of storage. This protectant helps lock moisture out of the gown and prevent future stains or yellowing.
Once the gown is thoroughly cleaned, it is ready to be put in a presentation package. Some gown preservation companies provide different presentation options. These options generally are acid-free to prevent damage to the wedding dress. You can also have other items preserved with your dress. These items will be cleaned and placed in the presentation box with your gown.
At Savvy Bridal Boutique, we have two options for brides looking to have their wedding gowns cleaned and preserved. Please take a look at our options.
How Does Wedding Dress Preservation Help Brides Who Have Postponed Their Weddings?
Carefully storing your wedding dress prior to your big day could be quite a challenge. Heavy, beaded wedding gowns should not be hung in the closest, because the beading or other embellishments could cause the fabric of the dress to tear under its own weight. Hanging a heavy dress on its straps could also cause them to tear or pull apart at the seams. Instead, these dresses are meant to lay flat. But just where are you going to leave a wedding dress to lay flat while you wait months until your wedding?
If you have a spare bedroom, you could leave the dress laying flat on the bed with a white cotton sheet over the top of it. You could also carefully wrap the dress in a cotton sheet and store it in an acid-free cardboard box. When wrapping the dress, it is best to roll the dress up to reduce the number of wrinkles. Store the box in a cool, dry location.
Silk, linen, cotton, and wool dresses need to be able to breathe. These dresses should never be stored in synthetic or plastic garment bags. Synthetic bags won't allow the airflow your dress needs, and plastic bags leech gases that can cause your dress to deteriorate. These bags can also trap condensation, causing your dress to mildew—EW!
Dresses without large amounts of beading or other embellishments made out of polyester will hold up very well on a hanger in a garment bag in a cool, dry place for up to seven months. These dresses should be hung on padded hangers away from direct sunlight with ample room on either side of the dress to prevent wrinkles from forming. Be sure that you use the hanger straps to keep the bodice in good shape because you could notice stretching otherwise.
How to Revive Your Dress After Preservation
As your wedding day draws near, you will need to prepare your preserved wedding gown for the big day. If your dress hasn't been altered, you should take it out of the box a couple of months before your wedding for alterations to take place. You will want to discuss how long alterations will take place with your seamstress to ensure that you leave plenty of time to get all the necessary adjustments completed.
Wedding dresses are often carefully packed into preservation boxes. However, this doesn't mean that they will look picture perfect once removed from the box. You will likely need to take the dress out of the box a few weeks before your wedding and allow it to hang with plenty of space to fall like it should naturally. You might also need to steam out any wrinkles that the folding caused. If your dress needs to be altered, you can ask your seamstress to steam your dress to make it look its very best.
If you are a bride who has had to postpone your wedding due to COVID-19, consider preservation to ensure your dress still looks beautiful on the day you finally get to walk down the aisle. Contact Savvy Bridal Boutique for help starting the cleaning and preservation process.