Wedding Vendor Q&A: Deborah Williams of Shining Stars Catering
Kansas City's Shining Caterer
If its name didn't tip you off, the reviews for Shining Stars Catering would make it clear the company is a bright spot among Kansas City wedding vendors. It's been named Best of The Knot every year since 2012 as well as to The Knot Hall of Fame, in addition to racking up accolades from Wedding Wire. We chatted with Owner and General Manager Deborah Williams about the catering company's beginnings, today's tastiest trends and more.
How did you get started with catering?
I have had an interest in the culinary arts since I was a young girl. I started out experimenting in the kitchen as a pre-teen and through high school and college. I married an Army man and started catering Army events in my early 20s throughout his military career and twenty moves, learning about regional specialties and cooking styles.
Once my husband retired from the military and we settled in Kansas City, I opened my catering business. I started out by putting a catering kitchen in the basement of my house and did everything from A-Z on my own the first few years. We grew quickly and within a few years, we purchased a commercial building. Now, we are headquartered at The Kansas City Club downtown and have a flourishing business. It took a lot of hard work to get here, but my husband and two of my sons work for Shining Stars, and we are a great team!
What do you enjoy about it and catering weddings in particular?
There is nothing like it! You are part of the most special day in that couple's life. It is such an honor to be selected, and we take that honor seriously. The best part about catering, especially weddings, is the night of the event when everything comes to fruition. Everyone is there to celebrate, have a great time and enjoy the night. I love to walk in with beautiful tables set and see the night unfold. It is a joy to see the wedding couple so in love and drink in all that happiness in the room. 
No two weddings are alike, and it is amazing to see how each couple's personalities are reflected at their reception. I feel like we are helping launch them through life's journey as a couple and that is a GREAT feeling! Lastly, and I get teased about this a lot, I love to cut the wedding cake! It is really fun for me. I don't like to eat cake, I just love to cut it and get it ready for serving. My staff always saves this job for me if I am there during that part of the evening!

Are you seeing any trends in what couples are wanting for their wedding day?
With catering, we also provide great menus, but it important for us to be able to customize to the wedding couple. Although semi-formal and formal meals are still very popular, two trends have really been popular these past few years. The interactive station trend is a fun, casual concept that focuses on the wedding couple's food favorites. We focus on either grouping of foods, tapas plate stations, or theme stations, such as Asian flair stations or KC BBQ. Our staff loves this, as they really get to interact with the guests.
Additionally, we have catered a lot of brunch weddings this past year. . .some of them at night and some during the day. We can create unique touches, such as fruit and pastry centerpieces, which guests love. Often we create stations for our brunch weddings, such as breakfast tacos, burritos or quesadillas, donut stations with dippers and toppers, sweet and savory biscuit stations, grits stations with butters, proteins and sauces, and salad stations with green salads, fruit salads and displays or pasta salads with proteins. Additionally, we do a lot of late night stations, everything from popcorn, Chicago hot dogs, sliders and pretzel bites. So much fun for the late-night parties.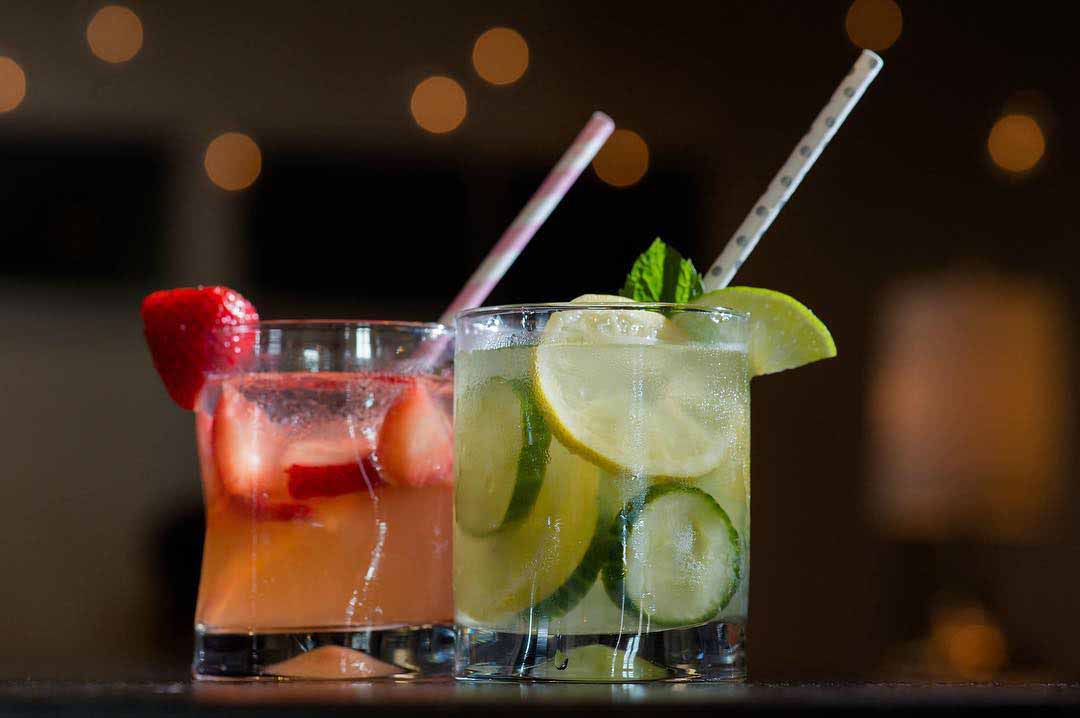 Do you have a favorite story or two from a wedding or working with a couple?
Oh, so many! The most adventuresome are bad weather weddings. We have had tornado weddings, weather sirens going off during receptions and torrential downpours.
Our favorite combat story is a barn wedding we catered last year. The ceremony was being held in an outdoor space, with the food served outside and guests in the barn. Torrential downpours ensued and we lost electricity just as we were starting appetizer service. We had to move the buffet four times to drier locations. We catered the complete service without electric or lights. Being in the country, everything was very dark. The brother of the bride was holding his cell phone flashlight so that people could find their way through the buffet!
It was actually quite romantic, as they had a lot of candles at the guest tables. The wedding couple and their guests did not let this put a damper on their reception. They had a great time, laughed and adjusted accordingly and stayed focused on their special day being fun. It helped that they selected one of the best wedding planners in the business for their big day. We enjoyed working with her as a team to ensure it was a good night for everyone.