Wedding Vendor Q&A: Molly Munyan of Molly Balloons
A Balloon Fascination
The first time Molly Balloons picked up a balloon, she was nine or ten years old. She didn't know where her fascination with balloons would lead, but she was excited to find out. Through a journey of making balloon dogs for children at Chick-fil-a to becoming a high-end balloon artist and entertainer, Molly Balloons has truly made an international name for herself at just 21 years old. I had the pleasure of sitting down with Molly Balloons at Savvy Bridal to learn all about her journey as a high-end balloon artist.
How did you get started doing balloon art?
The first time I ever picked up a balloon, I was 9 or 10. My parents have always been really supportive of the fact that I'm obviously an arts kid. I never wanted to play soccer, so they never signed me up for soccer. I never was going to go to law school, so they never pushed me to go to law school. My mom, especially, facilitated a lot of my creative endeavors. I was always bound to live in the spectrum of visual and performing arts. That's where I've always lived; it's where I'm always going to live; all of my interests have been in there. When I was 14, I picked balloon art back up. I started doing high school football games and then called Chick fil A. I told them I was a local professional balloon artist and asked them to hire me for their kids' events. I then got my Facebook page, my business cards, my apron, and my outfit–I was "Miss Molly Moo" at the time–and I started learning how to do professional balloon art. I faked it until I made it. I only had a handful of designs that I knew how to do, but I was a good entertainer. I was trained, but I wasn't super experienced. Chick Fil A was a really good, safe place to start my career because everyone was really nice. I had fun with it, but I didn't try really hard to get other gigs. People would see me at Chick Fil A and hire me, but I only had other gigs maybe every couple of months. I nurtured it as a side hustle throughout high school while I had all these other creative endeavors.
What other creative endeavors were you involved in high school?
I basically built the mascot program at Olathe East, I did musical theater avidly, and I was always in the ceramics studio. I was also really into psychology and being creative in the arts while learning about people. I started playing around more with balloon art as an actual art form in my junior year of high school. I started playing with new shapes and negative space in headdresses–it was always hats. Senior year I wanted to be homecoming queen, so I learned how to make balloon dresses. It worked; my balloon dress helped me win the crown.

What happened after high school?
I was a terrible student, so after I graduated high school I poured my whole soul into my balloon art and entertainment business. The launchpad of my career was the World Series in 2015. I made a balloon dress for every game of the World Series. Fox4 did a news story about the first World Series balloon dress 20 minutes before the first game. So, everyone stayed tuned with my balloon dresses throughout the World Series. That really helped Molly Balloons gain traction in the city.
How have you grown in your business since your beginning days in high school?
I can now very confidently navigate the events industry. I have gotten so much practice and experience making my balloon art and I have gained so many contacts in the balloon industry that help make me more credible to event managers and potential clients. I've recently started doing set design for photo shoots. That's one of my favorite services right now.
Tell me more about your balloon dresses and how they now play a role in your business.
People will hire me to show up at their event wearing a balloon dress with just me or me and a couple other models and we're interactive photo ops.
Have you made any balloon wedding dresses?
I've made one in St. Louis. And, two of my balloon industry friends are getting married in August in Australia, and she's asked me to help with the bride's dress and the bridesmaids' dresses.
What's your process for making a balloon wedding dress?
I sketch it out with the bride and I build a prototype for her to approve/disapprove of the price.
What's your routine when you do a wedding?
My whole business started as balloon entertainment. I show up with my balloon apron on and I make custom pieces for the guests. I'll match your jewelry color and the size of your personality, and I'll make you a custom piece to wear at the wedding. They're all wearables. In the last year or so, I've grown to do a lot more decor and pushing decor because it's a lot cooler and a lot more fun.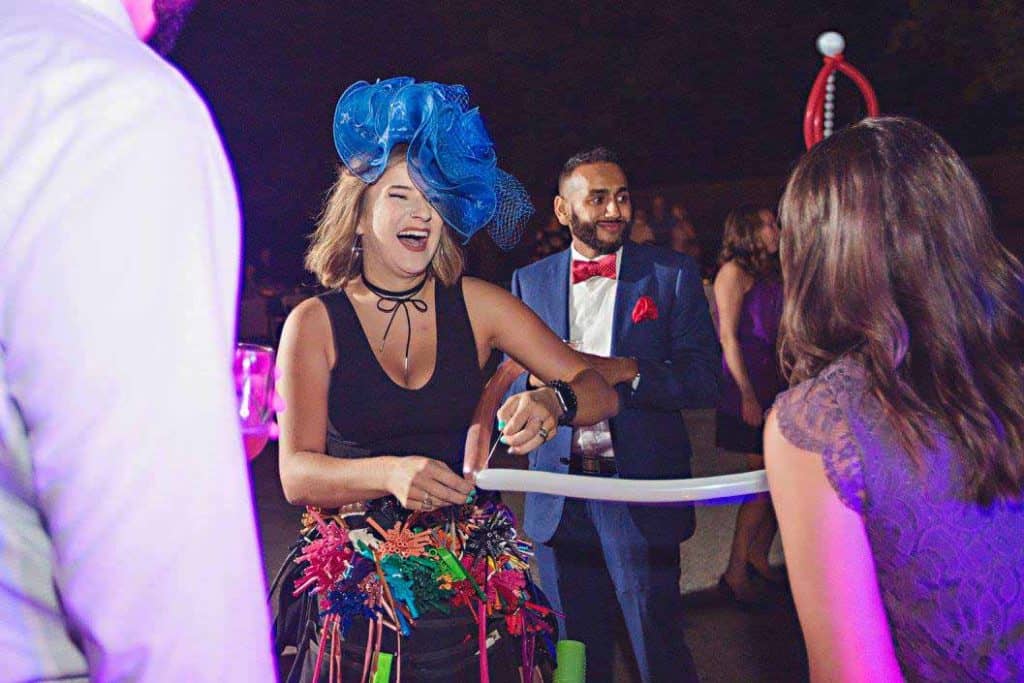 When you say decor, what do you mean exactly?
I've made balloon furniture, but that's not something that I would do at a wedding. Decor could be anything from centerpieces to a huge archway to your name spelled out in a 10' balloon or floral garlands. I'm pushing those a lot right now. The garlands look like paint strokes with balloons.
What does your wedding package look like?
It comes with the entertaining aspect, but I also come with pre-made LED balloon headdresses. So, right when the reception starts, there are 15 people with LED balloon hats to get the party started.
What's your favorite part of entertaining at weddings?
What I'm really proud of with weddings is entertaining at the reception and everyone is there and living a little louder than they would normally. You want to have someone at a party to push the boundaries and invite everyone on a journey of being a little bit more carefree. That's the part I love. It's so beyond making cool balloons. You have to meet people where they are and crank them up a notch and invite them to have more fun.
What's your favorite part of your career?
That's a deliciously difficult question because I love what I do. In Japanese culture, they call your reason for being ikigai. It's a four-part Venn diagram of what you like doing, what you're good at doing, what you can make money doing, and what the world needs. The middle of that diagram is what you're doing here and what you're meant to do. I chuckle at the fact that that's balloons for me. Every part of it makes my soul sing, so it's hard to choose one favorite part. There are exceptionally rich moments that I get extra joy out of, but as a whole, it's all amazing. I like children a lot, but I like finding the child in the adult the best. I like breaking people out of the "been theres" and the "done thats" of the adult mind and throwing them a curveball of really cool balloons. That surprise and delight, I really get off on that.
Tell me about an especially memorable moment or a funny story you've had throughout the years.
I got flown to Qatar to stilt walk for a 14-day balloon gig. It was an international team of balloon artists and we made huge balloon installations. They were gorgeous and in the middle of the mall in Qatar. Six of us stayed and were in a stilts and balloon show. I was a balloon dragon–my legs on stilts were the balloon dragon's back legs and then I had fake legs coming out of my hips and I was the troll riding on the dragon for ten days. We did three shows a day on a $10 million stage. We came onto the stage in our stilts and smoke rose up as we entered. It was so fun, and everything about that job was crazy and memorable.
To see Molly's work, follow her on Instagram and Facebook (@mollyballoons). For inquiries, email mollyballoons@gmail.com.