10 Plus-Size Wedding Dress Shopping Tips for Curvy Brides
Wedding dress shopping should be an exciting time. However, many curvy brides have expressed that they feel stressed and nervous about shopping for their wedding gowns. At Savvy Bridal Boutique, we believe that all brides deserve to have an exceptional wedding dress shopping experience, so we have created a list of tips to help our plus-size brides find their perfect dress.
1.      Research Salons to Find Places with Size-Inclusive Samples
Before you start making appointments at bridal salons, we recommend that you call local salons to see what sizes their samples are. When you call, you can tell the consultant what your typical dress size is to see if they carry samples that will work for you.
Size inclusive sample gowns will allow you to see what a dress will look like on your body but remember that sample gowns rarely fit any bride perfectly. Your bridal consultant will use clips to close the back if the gown is too big or clip the extra fabric to the back if the dress is too small.
Finding bridal shops might be challenging, but don't count out shops that may appear to cater to smaller brides. They can often help you just as well as a shop that only sells plus-size gowns.
2.      Be Willing to Try on a Variety of Styles
It is easy for any bride to get caught up in wearing just one particular style of dress before ever trying anything on. However, we encourage all brides to try stepping into a variety of different styles before settling on a particular cut.
Our expert bridal stylists know exactly what cuts will be the most flattering on your body. If you come into your appointment with an open mind, you might end up finding your dream dress is a gown that you never would've chosen for yourself.
If you don't know where to start, we like to put our brides in an A-line to see how they feel in that style first. A-lines are flattering on nearly every body type, so it is the perfect "beginner's" style at the boutique.
We recommend trying dresses with ruching for the brides who are looking to hide their hips or tummies. Ruching creates an optical illusion of a slimmer body by adding texture to the dress.
You can also keep in mind a few simple tricks. First, thicker fabrics tend to be more forgiving than thin fabrics like crepe. Second, focus on the features you want to show off; if you love your bust, a V-neckline can draw attention to your decolletage.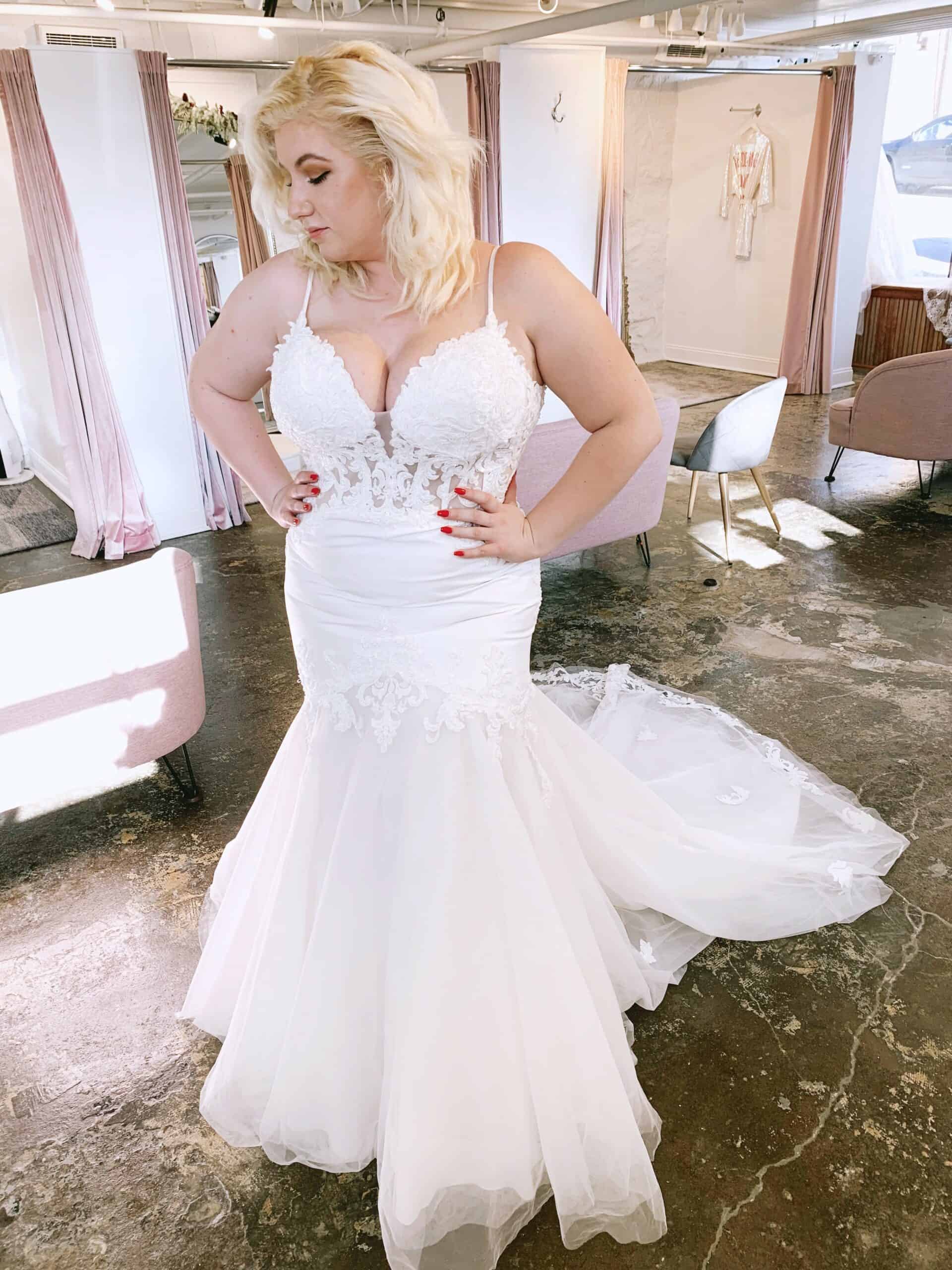 3.      Wear Your Desired Undergarments When Shopping
Many brides don't really start to think about undergarments until the wedding day is near, but wearing your preferred undergarments to your initial bridal appointments can help you better envision your final look the day of your wedding. Plus, you are likely to enjoy the experience more when you are wearing something you feel good in.
Whether you are most comfortable in a lacy thong, high-waisted Spanx, or your favorite bustier, wear those undergarments for your wedding dress shopping trips to start the process on a good note. You might have to choose something else for the dress you ultimately choose, but it is always nice to feel good while shopping.
For undergarment ideas, check out our post "What Undergarments Do I Need for My Wedding Day?"
4.      Don't Give Up on Your Dream Designer
We've seen many curvy women come in disappointed that the beautiful gown they have found from their favorite designer will never fit them. Rest assured, ladies! High-end designers can (and do!) make their dresses in plus sizes. We encourage all brides to try the dress they fell in love with online or in a magazine just to see how they feel in it, regardless of how they think they will look in it.
5.      Bring Supportive People to Help You Shop
Support is huge during wedding dress shopping appointments. As you consider who to bring to your appointments with you, start to think about those who will boost your confidence and hype you up. For some women, it is best to stick with just their mom, while other women bring in a large group. If there is anyone who you think might not make the experience a positive one, leave them at home.
6.      Focus on Look and Fit, Not the Size of the Dress
Bridal gowns don't use the same sizing as regular clothing. Brides aren't always aware of this, and when they hear the size of wedding dress they need, it can be shocking. It is important—especially for plus-size brides—to ignore the number on the tag. Focus on the overall look and fit of the gown instead. If you put on a dress and feel like a celebrity, it doesn't matter what the tag says anyway.
7.      Don't Wait to Shop Until You Lose Weight
Losing weight before the big day is something that many brides strive for, but we have seen too many brides who wait too long to go dress shopping because they are trying to lose weight before the wedding. We recommend shopping at least eight months prior to your wedding day to ensure that your dress can be made and shipped to the salon in time for alterations.
The brides who don't give themselves enough time end up being limited to the dresses in stock at bridal salons near them. Since dresses can be taken in, we recommend getting a dress and worrying about alterations when the time comes.
We also tell our brides to get the dress ordered in their size, not the size they want to be, just in case the weight loss doesn't happen. Again, we can always alter the dress to a smaller size should you lose weight.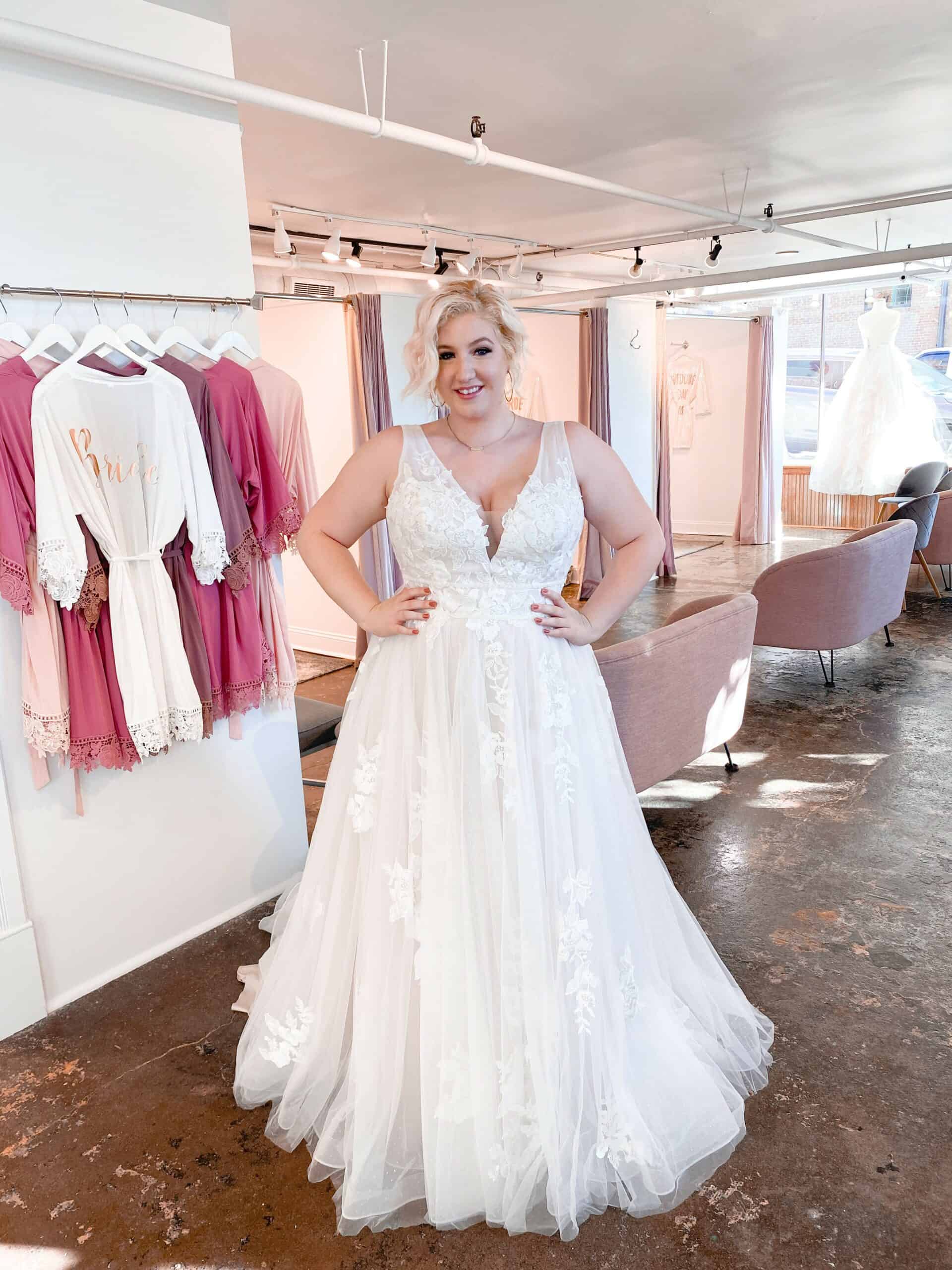 8.      Find Something You Are Comfortable In
Prioritize your comfort on your wedding day. Being in a dress that fits will allow you to do everything you need and want to do on your wedding day. If your dress is too small or you feel like your cleavage will fall out all night, you will focus on those things instead of enjoying your wedding day. For that reason, it is important to find something that you feel good wearing.
9.      Take the Opportunity to Sleep on It, Even If the Dress is Perfect
Trying to find "the one" can be a real challenge for some brides. It is important to remember that wedding dress shopping looks different for every bride; and while some brides will immediately know when they have found the right dress, many others don't have that experience.
We always encourage brides—whether they think they have found "the one" or not—to take a night to sleep on it. When you are choosing a wedding dress, you don't want to force or rush things. A second session to try on the dress could help you finalize your decision.
10. Know that Dress Shopping is Stressful for Every Bride
Wedding dress shopping can be an incredibly stressful situation for brides. Every bride wants to look and feel their very best, so finding the perfect dress is essential. The entire process can be incredibly overwhelming due to the number of choices, the pressure to find the perfect gown, and so many other factors.
It is important to remember—when things get hard—that every bride stresses over choosing the "right" dress. The best thing you can do is bring a supportive group with you when you shop for a dress.
Are you looking for the best plus-size wedding dresses in the Kansas City area? Savvy Bridal Boutique now offers brides two ways to shop. At our Lawrence, Kansas, location, called Simply Savvy Bridal, we offer off-the-rack shopping. Off-the-rack dresses are fabulous for budget brides or those who are in a rush. Simply Savvy Bridal dresses are priced between $500 and $1200.
Our other location is located in the Crossroads district of Kansas City, Missouri. When you are looking for size-inclusive bridal shops in KC, consider Savvy Bridal Boutique.