Top 7 Reasons You Shouldn't Rent a Wedding Dress
With the price of the average wedding dramatically increasing over the last few decades, many brides are looking for ways to save a little cash and still have the wedding of their dreams. One way that some brides have saved a little money on their big day is to rent a wedding dress. However, there are many reasons that renting a wedding dress might not be a great idea.
Savvy Bridal knows that renting a wedding dress is an attractive option for many brides. But our expert bridal stylists are here to provide deeper insight on the reasons that you might want to reconsider renting your wedding dress.
Renting a Wedding Dress
Rent the Runway and similar websites have gained popularity over the past decade as a way for women to wear designer outfits without forking over the cash required to purchase them. As demand for rental gowns has increased, wedding options have been made available for brides. Rentals often include simple dresses at lower rates. Cheap wedding dress rentals will be a fraction of the price of a purchased wedding dress, as bridal gowns average over $1,500.
While you can save a little money—although, this isn't always a guarantee—you won't get a perfectly-fitted dress that you can keep forever or use how you see fit. Rentals don't provide a truly custom wedding dress, which is problematic for some brides.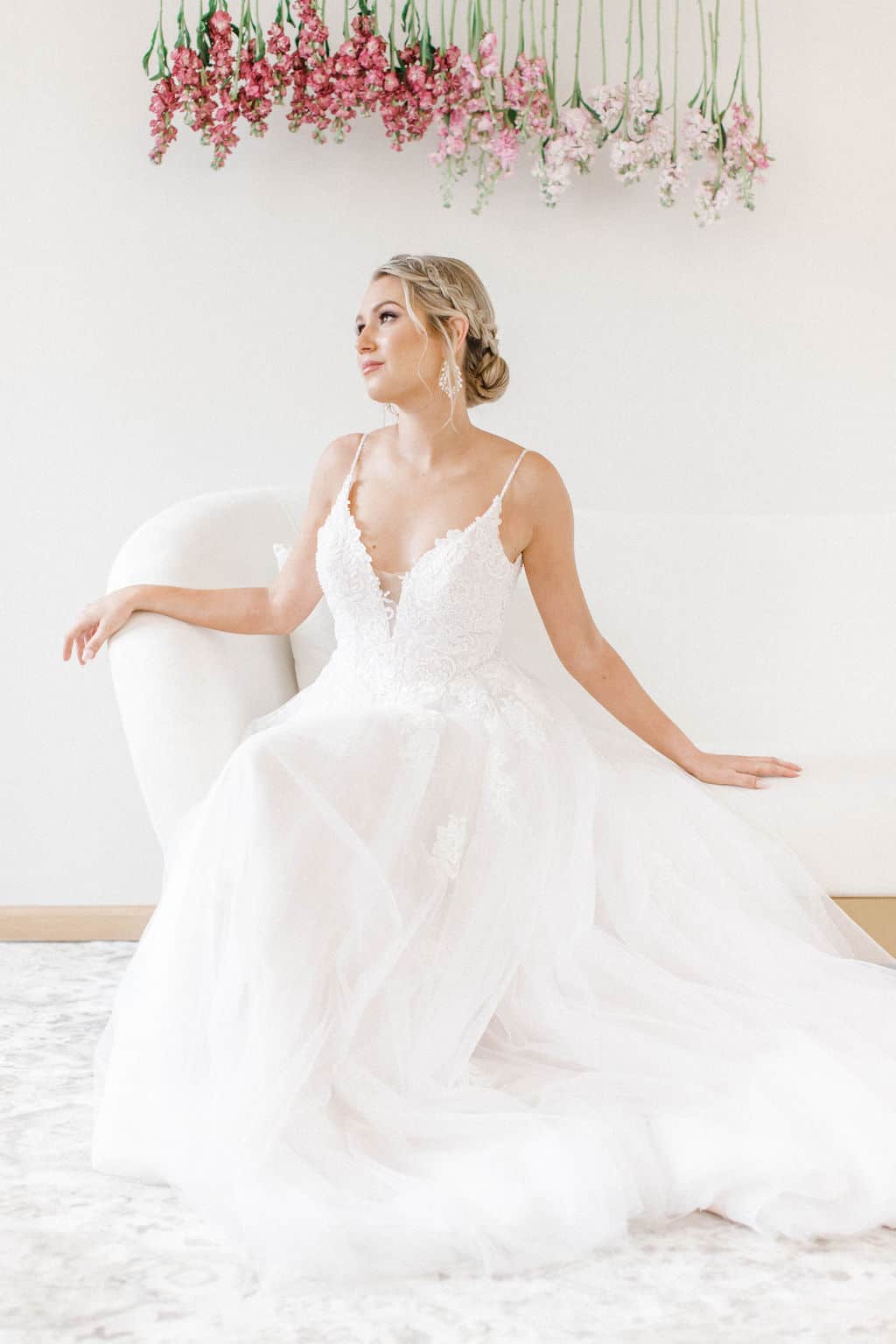 Why You Shouldn't Rent a Wedding Dress
Renting a wedding dress isn't for every bride. Here are a few reasons why we have seen brides shy away from wedding dress rentals.
1.     You Might Encounter Limited Options for Dresses or Sizes
Buying a wedding dress means that you get to choose from all of the possible options at every bridal salon you visit. Rental companies can't buy every single dress to rent out, so you have limited options for styles, and when you combine that with finding the right size, options become sparse.
When you purchase a wedding dress, it is made in your size (or as close to it as possible), and then you receive it with time to have alterations made for a perfect fit. Renting a wedding dress doesn't provide the same sizing flexibility. Even if you can find a dress that fits, it might not look perfect everywhere. Most rental companies will only allow temporary alterations to be made to the dress. Since not every body is the same, it might be challenging for some brides to find something they love that will fit them through rental services.
2.     You Can't Keep It
Many brides develop a sentimental attachment to their wedding dresses. Saving, cleaning, and preserving a wedding dress can keep it in tip-top condition for decades, meaning that it could be used by future generations, displayed in your home, or later made into a dress for a daughter, niece, or granddaughter. If you are a sentimental bride, renting your wedding dress might be something that you regret, as you will have to return it almost immediately after your wedding concludes.
3.     It Can Cause Unnecessary Stress
A lot goes into renting a wedding dress. For the rental company, each dress needs to be rented a certain number of times to be profitable, which means the turnaround time is fast. Shipping and returns can be problematic. If one bride returns the dress late, another bride won't have a dress for her big day. The bride without a dress could even be you! For some brides, this potential stress is not worth a lower price tag.
Contracts with the rental companies ensure that brides take care of the gowns or pay for repairs or replacements should damage occur. However, these contracts only protect the rental company, and some brides find that the terms are confusing or scary. If you decide to rent a wedding dress, be sure that you thoroughly read all of the conditions and find any potential fees you could be responsible for should anything happen to the dress.
Sizing problems are incredibly stressful for brides. The first issue is that many brides don't know what their bridal size is. You should always get measured by a professional to ensure that you are getting accurate sizing. Using the sizing charts on the rental websites can also ensure that you are getting the best fit.
When you rent a dress, it is important to remember you could be limited in any changes that you want or need to make, including those that ensure the dress is a perfect fit. Waiting until the last minute to get the dress and the correct fitting can lead to stress and anxiety for brides leading up to their wedding day.
Finally, the stress of potentially damaging a dress could be a lot for some brides. This is especially true for those who plan to have lots of food, drinks, and dancing at their receptions, or those who are getting married or taking photos outdoors. If any damage occurs to the dress, the bride or renter will be responsible for paying for repairs or a complete replacement if the dress can't be fixed.
4.     You Could Spend More Than You Think
Wedding dress rental costs vary. Most brides are very aware that a wedding dress is typically only worn once, so they don't want to spend a ton on it. While you can often rent a gown for less than purchasing it outright, renting isn't always a money-saver.
You have to consider more than just the cost of the dress. For example, consider the costs of paying for any damage to your rented gown. A tear or stain could lead to outrageous costs for the bride. If you decide to rent a dress, you should check out the damage policy and allocate funds to pay for any potential damage just in case something happens.
Additionally, some wedding dress rental companies require renters to pay for shipping both ways. Shipping a bulky gown can get expensive, and late fees for any shipping delays or past-due arrivals could leave you paying a hefty bill.
5.     The Dress Could Show Up in Less-Than-Perfect Condition
More than a dozen other brides could wear a rented wedding dress before you wear it on your big day. With so many different wearers, there will likely be some wear-and-tear to the gown. Loose and dangling sequins, small tears, and dirt could all be potential problems that brides face when renting a gown.
Not all rental companies will allow you to get these issues fixed, either. Some rental companies only allow their in-house or preferred seamstresses to make any alterations or fix any damage to their dresses. Cleaning may or may not be allowed, as well. Make sure that you read the contract thoroughly to see if you can do anything to fix any potential damage to the gown should it not be in good condition upon its arrival.
6.     There Is No In-Person Dress Shopping with Family and Friends
One major milestone in wedding preparation is dress shopping with friends and family. When brides choose to rent a gown, they don't get to have that "Say Yes to the Dress" moment. For some brides, this milestone is significant. If you want to take your bride tribe and family wedding dress shopping with you, you might want to consider purchasing a dress.
7.     You Don't Have Much Time with the Dress
With rented gowns, brides have very little time with their dresses. Often, the dress will arrive very close to the wedding date, which leaves very little time to make adjustments or get a replacement dress if it doesn't fit. Plus, the rental company might not have the same dress available in a different size should the one you receive not fit properly.
Once your wedding is over, it is a mad dash to get the dress returned on time. Most rental companies will charge high fees for late returns, so if you are jetting off to your honeymoon right away, you might have to make alternative arrangements to get the dress back to the rental company on time. Remember, if you return the dress late, another bride might not get the dress on time for her wedding.
At Savvy Bridal, we want to help brides with all budgets. If saving money is your biggest concern, Simply Savvy Bridal, our Lawrence, Kansas, location, has off-the-rack dresses to suit lower budgets from $500 to $2,000. Our Crossroads location has dresses ranging from $1,000 to $3,500.
To set up an appointment, call us today at 816-859-5699 (Crossroads) or 785-424-7120 (Lawrence).